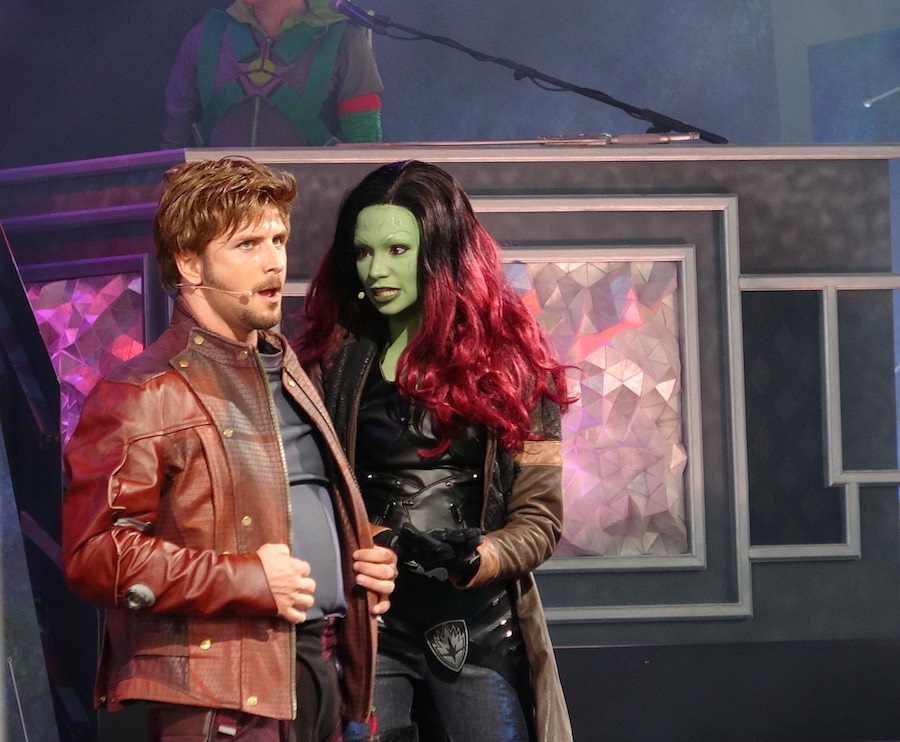 Theme park music shows are always an iffy proposition. You could end up with something amazing like Katonga at Busch Gardens Tampa, or you could end up with something awful like…well, pick any other major theme park show with singing and dancing, and there's a chance that there's a bad version of it. Enter Guardians of the Galaxy-Awesome Mix Live at Epcot. Wait. First there's Finding Dory, then there's a Guardians ride, and now a Guardians show? You can hear the fans saying, almost in unison…There goes Epcot. The show premiered over the weekend, and it actually lived up to the name. It was an awesome mix of story, and music, and just plain fun.
The Storyline
Star-Lord makes a deal with Nova Prime and the Xandarian government to bring an outreach program to his home planet of Earth. The mission is to share Xandar's rich heritage and culture with Earth's people, and to avoid intergalactic war. Luckily, Peter Quill knows  just a place where people of all nations mix together and work out problems as one culture. Epcot! The Xandarian Chamber Orchestra comes to spread goodwill to Terra by sharing their love of music…only, it kind of sucks. In comes Star Lord and Gamora to save the day. There's some continuity issues in the Marvel timeline (especially after Infinity War), but we never let theme park logic get in the way of fun before, so why start now?
Video-Check out the fun of Awesome Mix Live with the Guardians of the Galaxy
The show is really more fun than it should be, with dancing, singing and appearances by Star Lord, Gamora and an onscreen presence of Baby Groot. He really got a lot of "AWWWWWS" with our crowd. The Guardians themselves don't really sing, simply because Peter Quill is not a singer. He's a dancer, and he does dance. The singing is done by the band, and they do an amazing job with it. The show is fairly short, at just around 20 minutes and it has a great play list that includes songs from the movies, as well as classic stuff that you know Quill would have on his Walkman (or in this case Zune).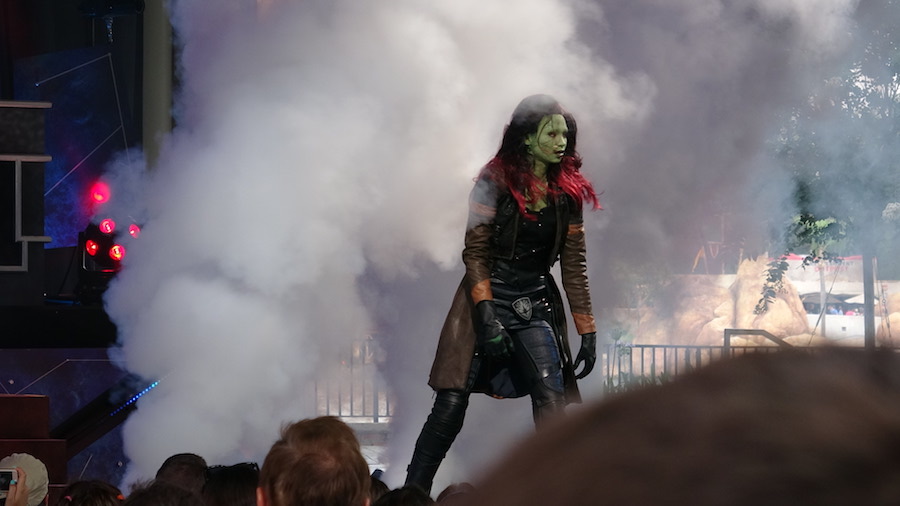 Gamora also joins in on the fun with a little of her fighting skills on display. She doesn't dance, but she does do some pretty great kicks and fighting moves. Overall, the show sticks pretty true to the characters and how they're portrayed on screen. Peter Quill isn't a singer, Gamora isn't a dancer and Drax and Rocket wouldn't be caught dead at a stupid music show. While it might seem out of place a bit at Epcot, the cast and crew do a great job with the story and the performances.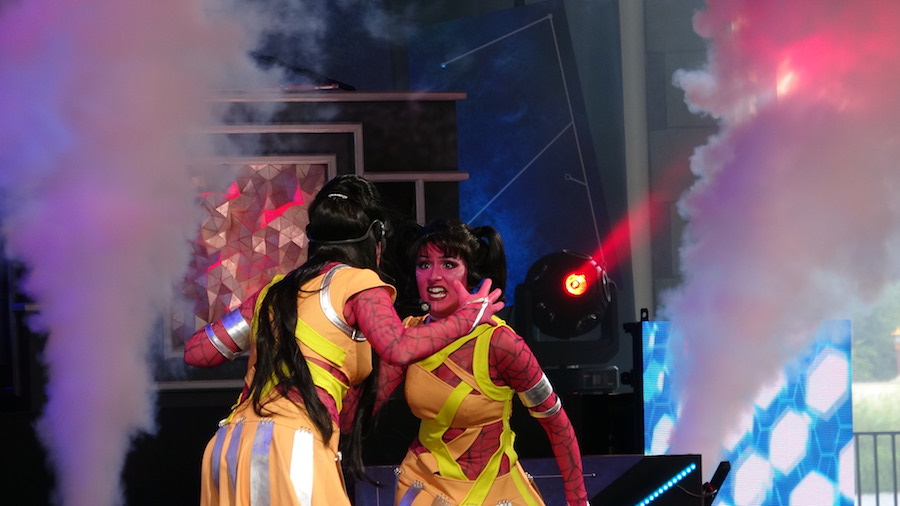 And while we're talking performances, the Xandarians really steal the show. The singing is phenomenal, and the band does a great job with the music and the interactions with the Guardians. The crowd even gets involved, as Star Lord encourages everyone to dance and participate. Our crowd was really into it, which always makes a difference.
Click here if you can't view the slideshow
The show is in the middle of World Showcase, at the American Adventure. Do your best to get to the show at least 30 minutes early, as you want a seat pretty front and center. Don't get too close to the stage, as it's can be too close. We had the misfortune of sitting off to the side, and our view consisted of people getting up and a pole. Luckily we were able to get some pretty good views, but really front, and just out of the walkways is where you want to be. The show times start at around 1:30 which makes it the perfect time to grab a drink and catch some shade in the heat of the Florida summer.
The Awesome Mix will continue all summer long, and is just the first you'll see of The Guardians of the Galaxy in Epcot, with the construction of the new Guardians coaster just across the lake.
Stay tuned for more from Disney, and be sure to get social with us on Facebook and follow along with us on Twitter @BehindThrills for the latest updates!
For our latest theme park videos please be sure to subscribe to us on YouTube!
For more information about Walt Disney World, including tickets, visit