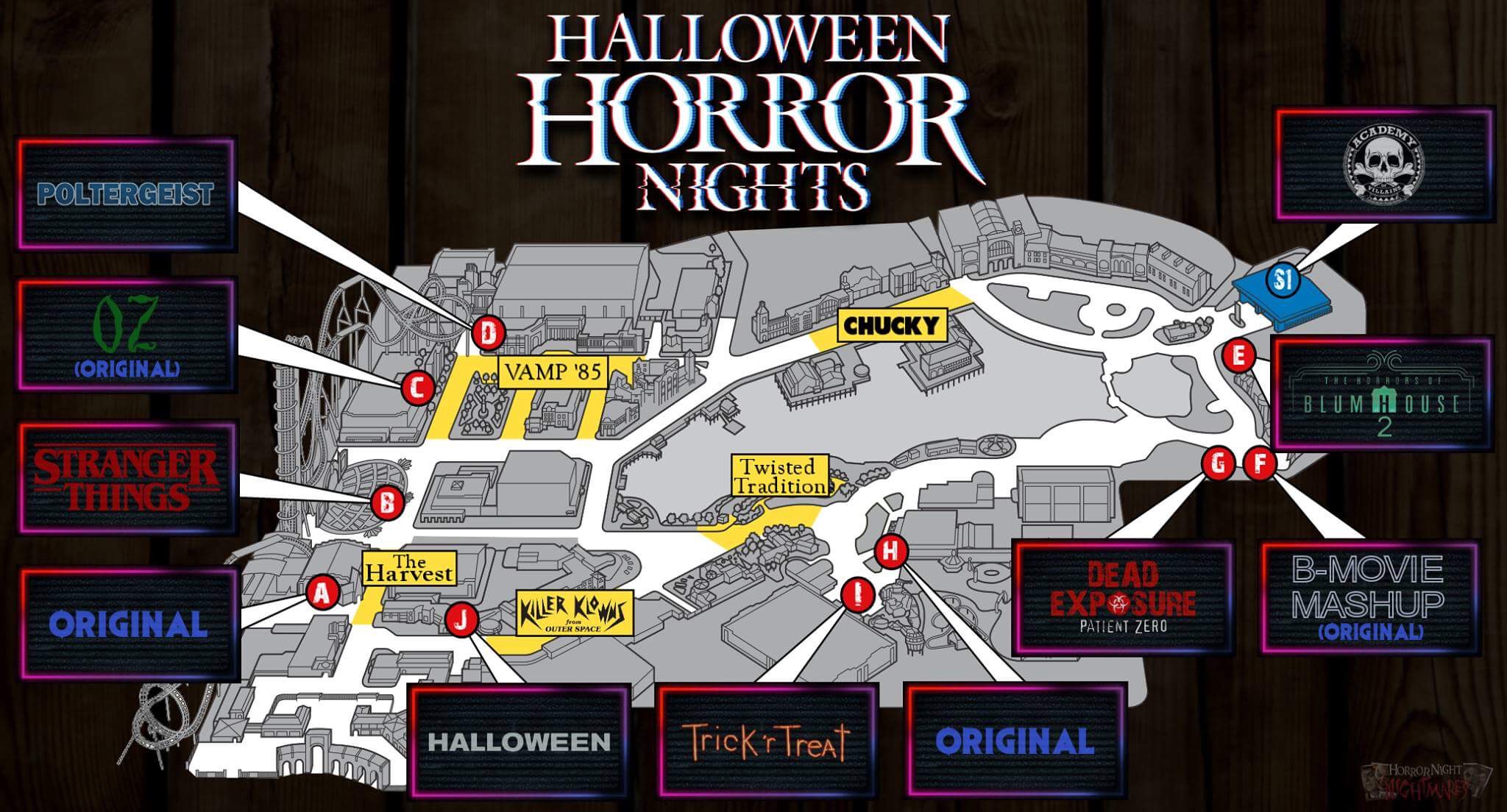 Last week we gave you a LONG list (click here) of houses and properties that could (maybe even would) appear at Halloween Horror Nights at Universal Orlando this year. Then the very next day, Universal unleashed a bit of a doozy for us, as they would have TEN houses and five scare zones (click here). 
Now our friends over at Horror Night Nightmares, have released an awesome Speculation map for us to…well, speculate on!
Please note that none of these locations and names are official until Universal announces them, but they have a pretty good inside track on what's going on. So while, they're not official, Horror Night Nightmares is a pretty good place to watch in the coming weeks.
Mostly, the map puts into perspective where the new houses and scare zones will go, but they do narrow our list down a little further, and fill in some of the blanks.
First are the streets. We know that Vamp 55 will go in the New York area, Twisted Traditions in the Central Park area and we've guessed that would leave The Harvest up front near Shrek and Minions. The new details comes in with Childs Play and Killer Klowns from Outer Space as scare zones. Killer Klowns could be going to be in the Hollywood area, which is the perfect placing for them, as it gives plenty of room for great props and hopefully a giant Circus Tent Spaceship. While I'd love to see the Klowns take over a house, the street makes for some really playful scares. Then there's Chucky. We speculated that Child's Play would get a house, but it looks like it's going to be a street. The San Francisco area will be tight and compact, but does Chucky really need that much room anyway? Besides, everyone will be trying for pictures with the killer doll anyway.
Next up are the houses. We're going to skip the locations, because Universal has already proven that they can do amazing things in just about any space, so locations just don't matter. But the houses are fleshed out a bit. Poltergeist being at the top of the list. Poltergeist has the potential to be seriously messed up, with the graveyard, the clown, the tree, and hopefully we get that never ending hall way effect. Seriously looking forward to this one, if it happens, and looking forward to the chilling yet cute theme.
Next up is Blumhouse of Horrors 2. The first Blumhouse of Horrors was a bit of fun, with movies like Insidious: The Last Key, Sinister 1&2 and The Purge…okay maybe not the Purge. This year, we can look at the line up of Blumhouse films and just take our picks. There's Happy Death Day, The First Purge (count on that one), Get Out (please please please!) Truth or Dare, and Benji…yes, they did a Benji remake. Yes, Blumhouse also did the new Halloween, to which we just got the new trailer ,but, there's rumor that Halloween will have it's own house.
Next up is one that we absolutely hope is true, B-movie Mashup. The entire theme to the event is said to be 80's horror, and there's no better way to exploit 80's horror than a video store. So many of my Saturday nights were wasted with horror of the 80's. There's tons of great new ways to go as well, with Cat People Rawhead Rex, the list is seriously endless.
Then there's also the rumor of an original house, OZ…Universal has been down this yellow brick road before, and has used characters inspired from the Wizard of Oz in their houses and scare zones. Of course, 2008 brought in one of the greatest scare zones, Path of the Wicked, which showed what happened if the Wicked Witch WON. It was brilliant, and had flying monkeys! Let's keep our fingers crossed for that as a full blown house as well.
So what do you think of these new rumors? Do they sound solid enough? Does it make you any more excited for the event than you are now? Well buckle up kids, because the fun is just starting! We have at least two months until a full reveal and there's sure to be lots of little tricks along the way.
Stay tuned for more from Halloween Horror Nights, and be sure to get social with us on Facebook, Twitter, and Instagram @BehindThrills for the latest updates!
For our latest theme park videos please be sure to subscribe to us on YouTube!
For more information about HHN, including tickets, visit the official website by clicking here!