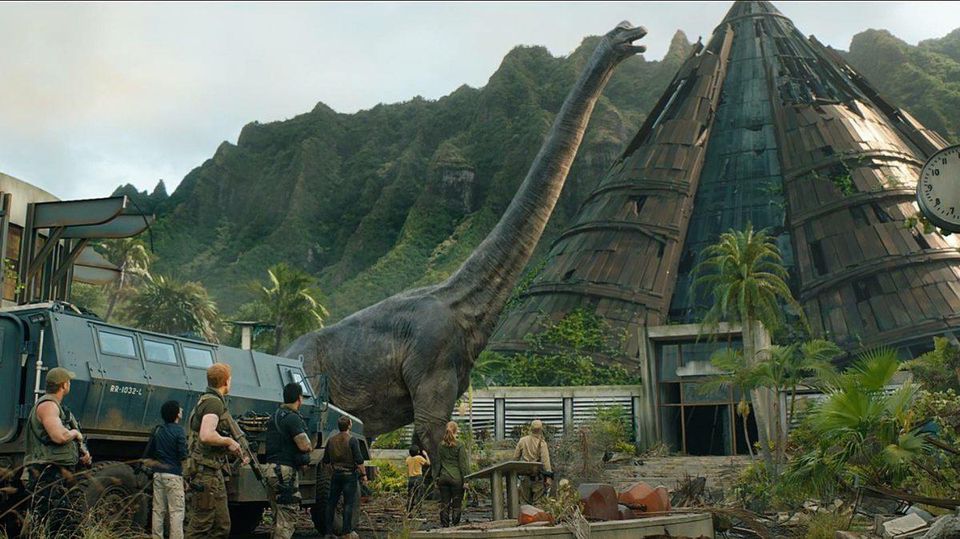 These creatures were here before us, and this Friday they are going to be here again as Jurassic World: Fallen Kingdom roars into theaters all over the world. The dinosaur sequel will see a return to Jurassic World where things have gone downhill from the last film. Carnage, chaos and Jeff Goldblum is sure to ensue…we can't wait!
Universal CityWalk at Universal Studios Hollywood is bringing in the massive beasts in a massive fashion, as the new Universal Cineplex will have a huge display for the new film. First, there's the Jurassic World double feature, with the first and second films back to back. Second, Universal CityWalk will roll out tons of amazing fun for the film.
Here's what's happening:
A life-sized Tyrannosaurus rex, towering 13' tall by 36' wide and weighing three tons, dominates CityWalk adjacent to the Universal Cinema for a once-in-a-lifetime photo opp through June 24.
 Original props from Jurassic World: Fallen Kingdom, including the iconic Gyrosphere, on display through June 24.
Authentic costumes worn by the film's stars, Chris Pratt (Owen) and Bryce Dallas Howard (Claire) exclusively on display within the Universal Cinema through July 1.
 

Jurassic World: Fallen Kingdom

 takes a bite out of 

Voodoo Doughnut

 with an all-new Raptor claw-inspired doughnut, available through July 7.
And that's just OUTSIDE the park. Inside the park, the world of Jurassic World comes to life even more, with the Raptor Encounter, featuring Blue, direct from Jurassic World!
And of course there's Jurassic Park: The Ride at Universal Studios Hollywood. The classic attraction is closing forever on September 3rd…or should we say, going extinct? The ride will make way for a new Jurassic World version of the attraction, coming in 2019. This summer is your last time to ride the original attraction, before it changes forever.
Universal Studios Hollywood has been all about Jurassic Park this year, with tons of huge news and even a special Jurassic Park 25th anniversary screening, featuring cast and producers of the original film. The fervor is going to be even bigger next year when the new version of the ride comes out.
How excited for Jurassic World are you?
Stay tuned for more on Universal Studios Hollywood and get social with us on Facebook and follow along with us on Twitter @BehindThrills for the latest updates!
For our latest theme park videos please be sure to subscribe to us on YouTube!
For more information about Universal Studios Hollywood, including tickets, visit the official website by clicking here!