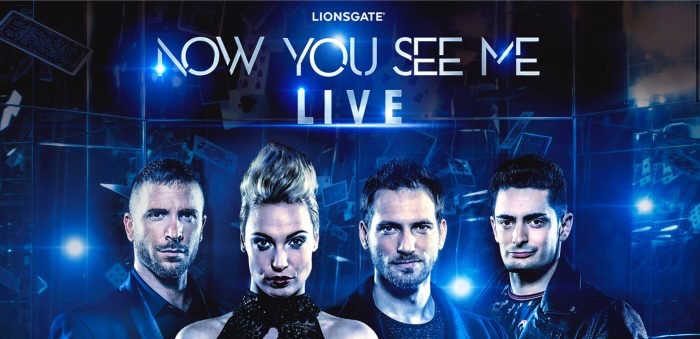 A live traveling stage show, based on the hot movie series, "Now You See Me" is bringing the Four Horsemen back and a new form of magic you've never seen in person.
Lionsgate together with its partner The Works Entertainment, is launching a state-of-the-art magic show with cutting-edge technology, surprise twists, and never-before-seen illusions from some of the greatest magicians in the world. The global tour will kick off in China, one of the highest grossing international markets for the film series, this November.  The Works Entertainment are the producers and creative team behind the world's best-selling magic show 'The Illusionists.'
At the center of the show are The Horsemen – four of the leading illusionists in the world who will stun audiences with mind-bending magic: "The Showman" James More, viral magician from Britain's Got Talent; "The Manipulator" Florian Sainvet, two-time French Magic Champion and finalist of France's Got Talent; "The Escape Artist" Sabine van Diemen, from Holland's Got Talent and West End Productions' The Illusionists; and "The Mentalist" Enzo Weyne, from France's Got Talent and the best-winning magic show by French Federation of Prestidigitator Artists.  A fifth cast member, the show's host, will be unique to each market and host the show in the local language of the touring region.
"We are thrilled to partner with The Works Entertainment for this live, interactive magic spectacular, especially given their strong pedigree and their understanding and appreciation of the Now You See Me brand," said Lionsgate Senior Vice President of Global Live and Location Based Entertainment Jenefer Brown. "We know NOW YOU SEE ME LIVE will give fans worldwide a new way to engage with a franchise they know and love, and we look forward to launching it in China, a region that has been overwhelmingly supportive of the films."
"The Works Entertainment is delighted to partner with global content leader Lionsgate on this innovative and incredible new magic production," said Executive Producer, The Works Entertainment, Simon Painter. "After the success of 'The Illusionists' franchise worldwide, NOW YOU SEE ME LIVE will push stage magic and illusion into the next generation. We cannot wait for audiences to enjoy this groundbreaking theatrical experience."
The show will be coming to cities around the globe, with dates and cities to be announced in the future.
Now You See Me will also be a part of the new LionsGate indoor theme park, Lionsgate Entertainment World, which is scheduled to open in Hengqin, China in 2019.
Stay tuned for more, and be sure to get social with us on Facebook and follow along with us on Twitter @BehindThrills for the latest updates!
For our latest theme park videos please be sure to subscribe to us on YouTube!