It's been a few weeks since the huge 3-day Jurassic Park 25th Anniversary Celebration took place and one extended hospital stay later, we're here to tell the tale.
Held just infront of the Jurassic Park attraction on the lower lot of the park, the Jurassic Park celebration aimed to gather fans of the franchise, allow them to meet, entertain them with the latest in JP/Universal tech and give them an inside look at the making of the film with props and panels as well as showcased the future of the IP with the Activity Center. There was a certainly a lot going on for fans. Having attended a similar event in 2014 for the Transformers Fan Celebration, this was definitely a major improvement in almost every way.
One of the sleeper hits of the whole event was the themed deserts. Here you'd find a cake pop raptor egg nestled in an incubator, a chocolate mosquito nestled inside of orange tinted jello and so much more.
There was also an exclusive dinner plate which included fresh steamed and buttered broccoli, mac and cheese, and large 'Jurassic' beef ribs in home-style BBQ sauce.
During each of the three nights the main event was the panel discussion hosted by Colin Trevorro, the director of Jurassic World. This included a few of the film makers from the first film such as Frank Marshall and Phil Tippett among others, as well as an original cast member from the film such as Larua Dern and Jeff Goldblum (who came on different nights).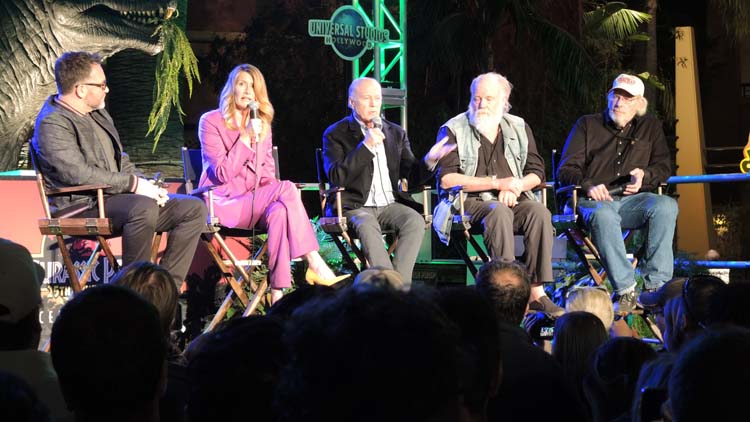 You can watch the full panel (with Laura Dern) here!
In the overflow queue area of the Jurassic Park attraction you'll find a huge gallery of original props and costumes used in both Jurassic Park and World franchises. This gave fans a closer than ever look at some of the most iconic peices from films. This included the raptor skeleton that was dug up, the original raptor egg incubator, and so much more.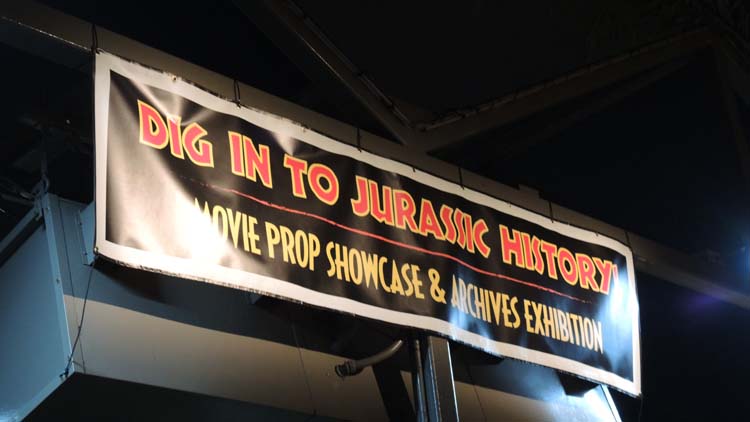 Take a closer look at each of the props on display!
In the extended queue area you'll also find the Activity Center. This is where various IP holding vendors showed off the latest merch, games, toys and more to fans and allowed them to get their hands on upcoming product as well as additional props and photo ops.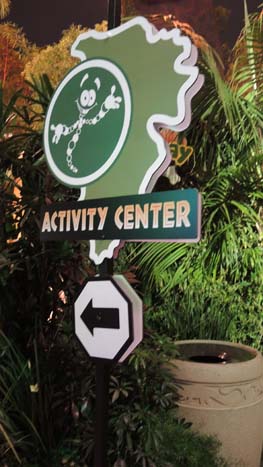 See the latest JP goodness from all sorts of vendors!
If that wasn't enough, twice a night there was also a mini-show which featured 'Blue' and another raptor escaping containment. It was a fun little 5 minute show that took place just prior to the panel and before the park closed for the night.
Check out Blue's daring escape!
So why was the event so successful? It was for a number of reasons. Pop culture is huge right now and many fans who grew up with the film series are now at the age of passing it down to their youth. Very similar to Orlando's Harry Potter Celebration this event allowed for fans, and families to interact with characters, each other, and the people who made the films come to life. It had a very Comic-Con like vibe for the time that I was there and I would not have wanted it any other way. It's clear that people are still passionate about these movies and will continue to be as long as the films remain accessible. I had a blast, and the fact that Transformers: The Ride and The Mummy were also open to guests was just icing on the cake. We hope Universal Studios Hollywood can continue to bring fans together this way both with special events and with daily park operations with immersive lands much like it has done with Hogsmeade and this Jurassic Park Celebration.
Stay tuned for more on Universal Studios Hollywood and get social with us on Facebook and follow along with us on Twitter @BehindThrills for the latest updates!
For our latest theme park videos please be sure to subscribe to us on YouTube!