Bloody hell Harry! A massive, and we mean MASSIVE new Hogwarts Lego Castle set is coming to stores this September. It's the second largest Lego set ever sold (just behind the Millennium Falcon) and the largest Lego Harry Potter set to date.
The Hogwarts Castle set comes with over 6,000 pieces, and sets up a lot of your favorite scenes, such as the majestic night ride to the castle from the boats, the Whomping Willow and the Ford Anglia, Chamber of Secrets and so much more. It comes with four minifigures of the founders of Hogwarts, but the coolest thing is that it comes with 28 microfigures, that add to the adventure.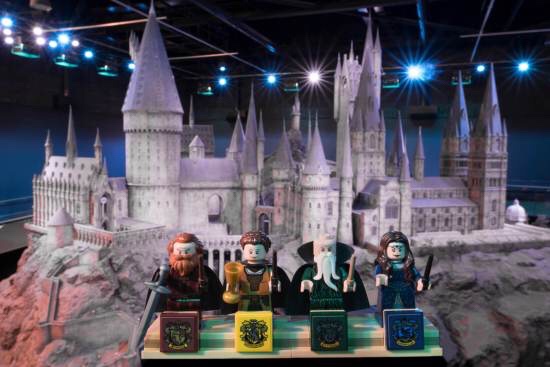 The price will be around $400.00 dollars, and the set is going to be available around September 1st, 2018. It'll definitely be on your favorite Harry Potter fans Christmas list.
Here are the full details of everything it comes with, and all the adventures you can have with it.
Includes 4 minifigures: Godric Gryffindor, Helga Hufflepuff, Salazar Slytherin and Rowena Ravenclaw, with a buildable minifigure display stand.
Also features 27 microfigures: Harry Potter™, Ron Weasley™, Hermione Granger™, Draco Malfoy™, Albus Dumbledore™, Professor Snape™, Professor McGonagall™, Remus Lupin, Professor Dolores Umbridge™, Argus Filch, Lord Voldemort™, Bellatrix Lestrange, 3 students from each of the 4 houses, 2 chess pieces and the Architect of Hogwarts™ statue and 5 Dementors, plus Aragog the spider and the Basilisk figures, and a buildable Hungarian Horntail dragon.
Features a buildable microscale model of Hogwarts™ Castle, hut of Hagrid™, Whomping Willow™ tree and 5 boats.
Hogwarts™ Castle features the Great Hall with buildable 'stained glass windows', house banners, benches, tables, flaming torches and moving staircases; potions classroom with racks of jar elements; Defence Against the Dark Arts classroom with assorted potion jars, gramophone and a closet containing a boggart; Chessboard Chamber with chess piece elements; Room of Requirement with assorted elements, including the Goblet of Fire and the vanishing cabinet; Chamber of Secrets™ with the Basilisk and Tom Riddle's Diary; hidden Devils Snare room with vine elements; Gryffindor™ common room with fireplace and seating; Professor Dolores Umbridge's office with desk, chair and pink furnishings; library with bookcase and desks; and Professor Dumbledore's office with the Griffin statue entrance and Memory cabinet.
Hagrid's hut features Aragog the spider and buildable pumpkins.
The Whomping Willow™ includes the buildable blue Flying Ford Anglia car in its spinning branches.
Also includes 5 buildable boats.
Take a seat in the Great Hall and feast with the Hogwarts™ professors and students!
Sneak your way into the Chamber of Secrets™ through the secret entrance and face the Basilisk!
Attend a Defence Against the Dark Arts class to learn how to protect yourself from dark magic!
Climb the moving staircase!
Study for your Ordinary Wizarding Level exams in the library.
Accessory elements include the Sword of Gryffindor™, Helga Hufflepuff´s cup, wands, potions, house banners, flames, a cauldron and 2 magnifying glasses.
Microfigure accessories include 2 chess statues and the Architect of Hogwarts™ statue.
Hogwarts™ Castle measures over 22" (58cm) high, 27" (69cm) wide and 16" (43cm) deep.
Gallery-Check out even more pictures of the massive Hogwarts Castle Lego Set
href="http://facebook.com/behindthrills">Facebook and follow along with us on Twitter @BehindThrills for the latest updates!
For our latest theme park videos please be sure to subscribe to us on YouTube!