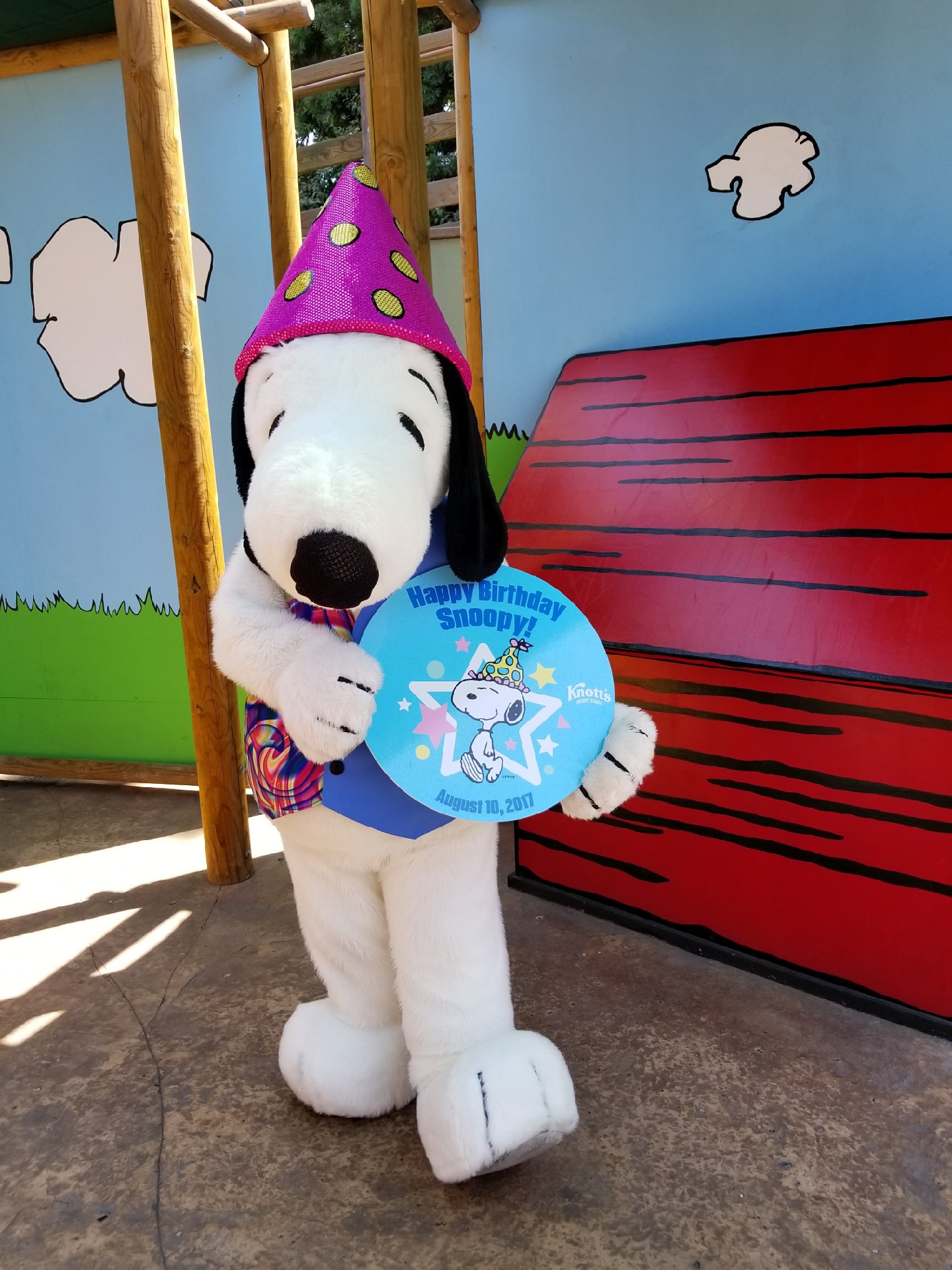 Everyone's favorite Beagle, Snoopy, is celebrating his birthday on Friday, August 10th! In honor of his special day, Knott's Berry Farm will be celebrating all day long with special activities and social media giveaways. Charlie Brown's best friend and pet beagle, Snoopy, was first introduced to the world by Mr. Charles M. Schulz as part of his PEANUTS comic strip back in the 1950's. Snoopy's legacy has left his paw print in history and everyone's hearts throughout the years. He continues to bring smiles to all who meet him by helping families create sweet and fond memories when they stop by for a big Snoopy hug at Knott's. To show the world's most famous beagle some birthday love, here are a few ways guests can join in on the fun for his birthday celebration:
Take a photo with Snoopy – Snoopy loves snapping photos with his friends especially on his Birthday. A special Snapchat Filter will be available exclusively for Snoopy's birthday for guests when visiting the park on August 10th.
Sport your favorite Snoopy Gear – One of the best ways for guests to show their excitement for Snoopy's birthday is by sporting their favorite Snoopy gear. The Camp Snoopy store at Knott's is filled with the best PEANUTS gear around including birthday Snoopy ears designed especially for the occasion.
Watch Snoopy in the new summer show, Beach Blanket Beagle – Guests are invited to stop by and cheer on Snoopy, the world's greatest surfing beagle, as he takes part in the best beach day ever. Beach Blanket Beagle performs on select dates at the Charles M. Schulz Theatre now through August 19th.
Grab a Snoopy Treat – Birthday treats are Snoopy's favorite, so it's only right to indulge in at least one or more to celebrate the occasion. The park offers several PEANUTS-themed treats throughout the park, including at the Mrs. Knott's Bakery Express located in the Knott's Market Place.
Take part in special park giveaways – Guests will have the opportunity to win some neat birthday giveaways in the park by following along on the Knott's Berry Farm social media accounts. Throughout the day Knott's will be posting clues about secret locations in the park.  The first few guests to solve the clue and arrive at the location to meet the Snoopy Team will win a special prize.
Stay tuned for more from Knott's Berry Farm, and be sure to get social with us on Facebook and follow along with us on Twitter @BehindThrills for the latest updates!
For our latest theme park videos please be sure to subscribe to us on YouTube!
For more information about Knott's Berry Farm or to purchase tickets (which are available now), visit the official website by clicking here.