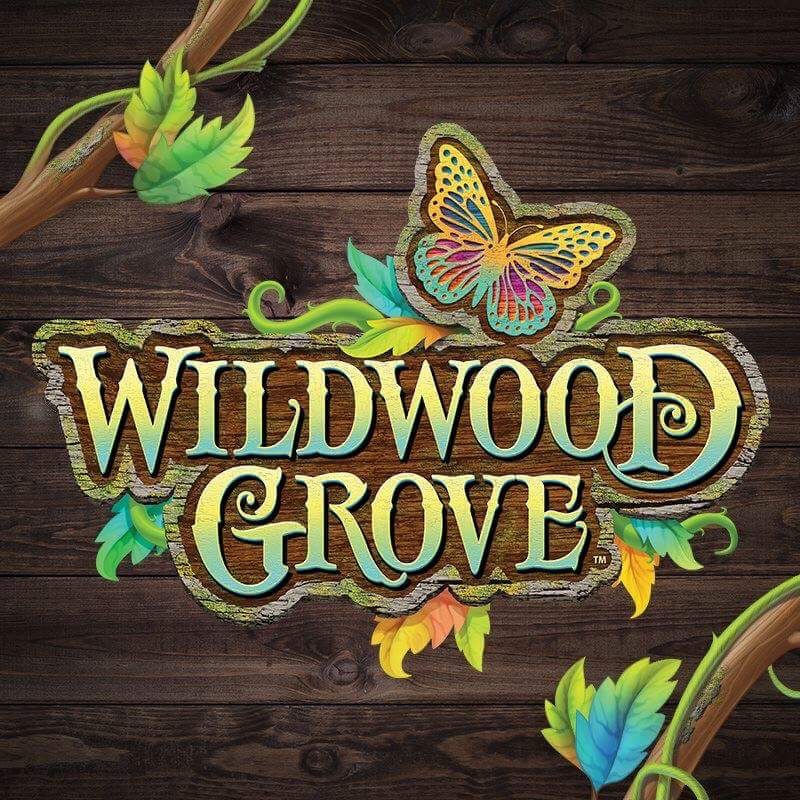 I first visited Dollywood in 2007 as a stop on a massive road trip. We didn't expect a whole lot, as the park just looked very simple from the outside. I was dead wrong, and it quickly became one of my favorite parks of all time. Since my first (and only) visit to Dollywood the park has grown exponentially, and hasn't just added new rides…but also has just expanded on the theme of Smoky Mountain fun. While that doesn't sound like much of a theme, trust me when I say that Dollywood is one of the best themed parks in the world. And the theme all stems from the imagination of Dolly Parton. From the one of a kind coasters, to the unique rides, and especially the shows and season events, Dollywood captures a simple and yet more fun side of life, in a very immersive way, and using some of the best attractions in the country.
Now Dollywood is stepping up their game yet again with an all new immersive area called Wildwood Grove. The area has a story, unique family rides, one of a kind characters, and an iconic new centerpiece. And needless to say I'm instantly in love with it.
Video-Dollywood announces Wildwood Grove
The new land will have something for just about everyone, but will be aimed at families, with 11 unique experiences that almost everyone can do together.
"I've told you before about how I'd let my imagination roam free when I'd be out exploring in the hills around our home in the Smoky Mountains,"  Dolly Parton said. "I'd pretend that the frogs and butterflies were my friends. I'd imagine about what it'd be like to fly with a dragonfly or to follow a bear family through the woods. Now all these things are coming true for our guests to experience in Wildwood Grove; it may be my new favorite part of Dollywood!
This area is going to give families a place to explore, play and imagine together—but more importantly—it's a place where they can spend more time together," she explained. "I believe everyone has a song in their heart that needs to be set free. Wildwood Grove will be a place where families can learn together about what their heart song truly is."
The Dollywood Company President Craig Ross echoed Parton's sentiments about how Wildwood Grove provides a range of experiences for every member of the family.
"I think our guests are going to be excited about the diverse combination of attractions they will find in Wildwood Grove," Ross said. "It continues our commitment to provide guests a variety of unique experiences and attractions that every visitor to the park can enjoy. We've also incorporated many of their requests for certain amenities that help make their visit more enjoyable. In Wildwood Grove, you'll find more charging stations, a climate-controlled indoor space for play, larger respite locations, additional play areas which are more inclusive for everyone, and more entertainment opportunities for every member of the family.
"We have continued to expand and develop Dollywood over the last several years but Wildwood Grove is the first expansion of the park's footprint since we added Wilderness Pass in 2008," Ross continued. "It is rare in our industry that a park adds a new land in its entirety. Attendance has continued to increase—we've set attendance records each of the last six years and we're having a strong season this year—so this new area helps satisfy consumer needs as guests have more room to spread out, imagine and explore another chapter in the epic Dollywood story."
While we don't know the exacts of the story of Wildwood Grove, we do know that it's a very magical place with five very different but binding areas. Guests will enter the land through a massive hollowed out log, and be transported into the magical world of Wildwood Grove. In the center of the land is the massive Wildwood tree, a very special tree that grows from the rocks and boulders of the surrounding mountain. It will serve as a kind of natural stage, and will play host to a variety of musical acts and shows throughout the day. The leaves of the tree are filled with thousands of butterflies.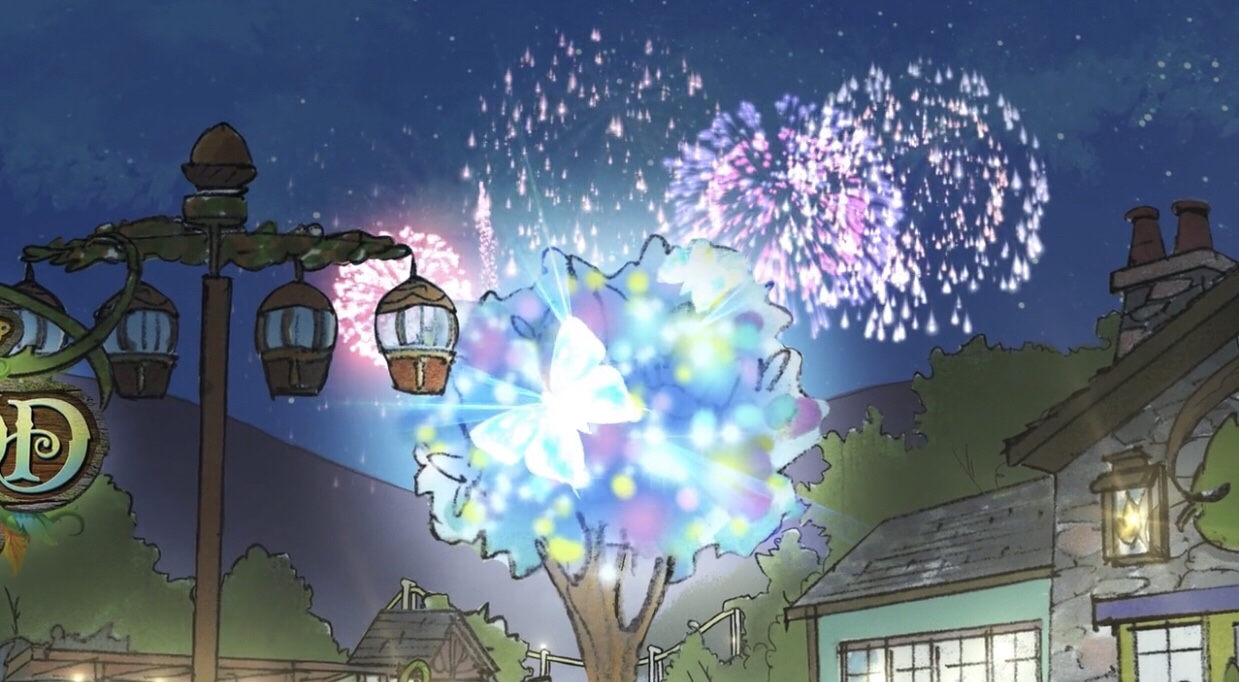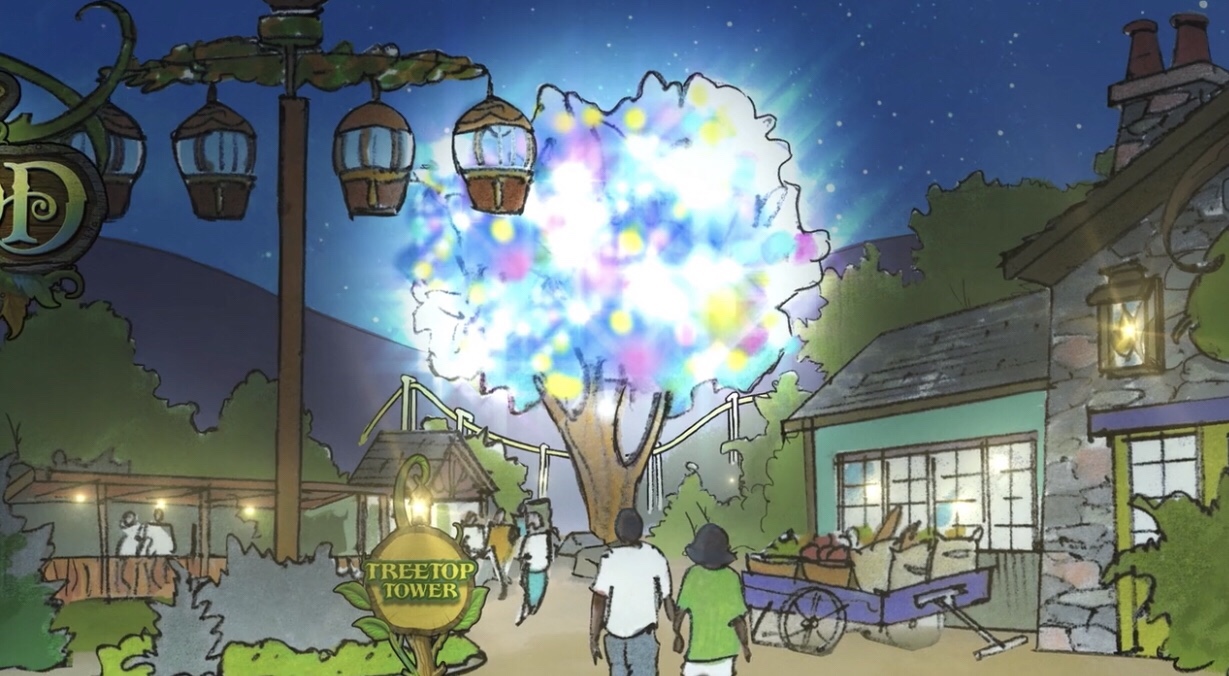 At night, the entire area will come to life with lanterns and lights, flickering like fireflies. Once the sun goes down, the tree lights up with a show that has the butterflies (leaves) come to life in light and color. We don't know the details of the show, but it sounds from the description like it will use projection mapping to bring the tree to life. With the mountain serving as the back drop, it's sure to be stunning.
The area will also feature another signature Dollywood dining area, with Till & Harvest.  The new restaurant will feature Southwest fresh favorites, including burritos, salads and more, all with a Southern twist. In addition to traditional entrees and a topping bar with assorted salsas, guests can add items like pulled pork and fresh coleslaw to their selections. A walk-up window provides sweet treats like churros and ice cream.
The big question is, what kind of rides will there be? The new area will feature six unique rides, each fitting in with the overall theme of the land.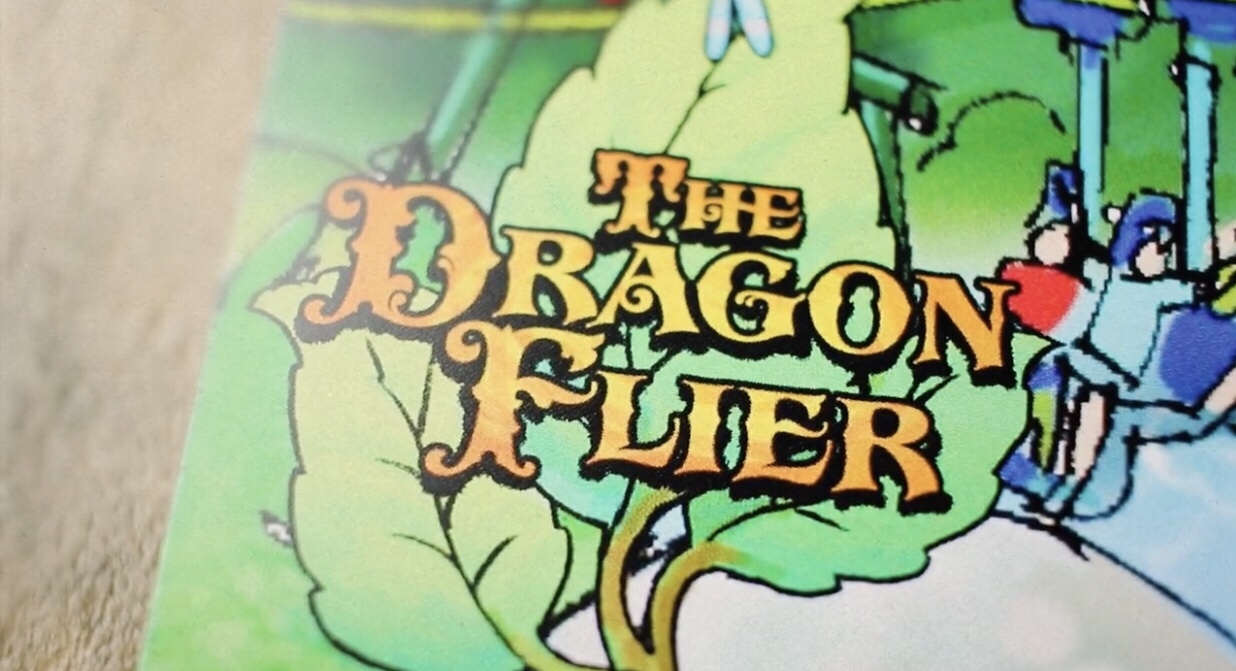 The Dragonflier— This thrilling suspended roller coaster lets guests soar with a dragonfly as it dips and darts along the gushing geysers and lush landscape of Wildwood Grove. The Dragonflier will be a Vekoma, and will not be a massive thrill machine.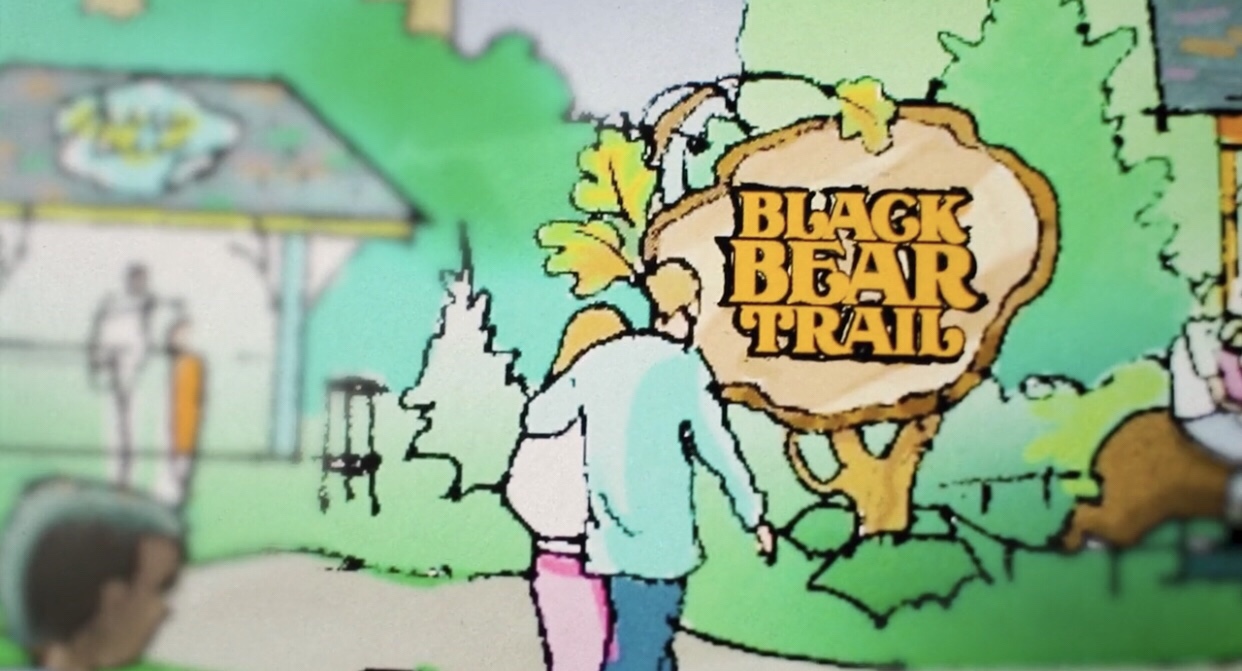 Black Bear Trail— Riders hop on the back of these friendly bears for a spirited trek through their natural habitat. The Metabilau Emmeln Pony Trek will trade out bears for the familiar horses, and will likely be able to accommodate more than just small children.    Families will enjoy meandering through the woods of this unique Smoky Mountain experience.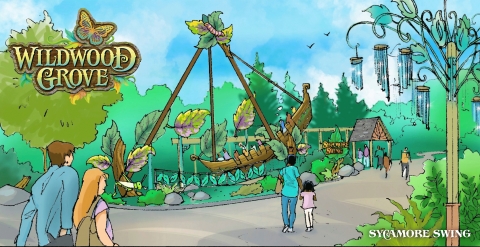 Sycamore Swing— Guests aboard this thrilling "leaf boat" swing back and forth just like a leaf falling from a giant sycamore tree.
Treetop Tower— This family tower gives guests a sky-high view of Wildwood Grove as they soar nearly 40 feet in the air. Riders, seated inside giant acorns, spin around the top of a tall oak tree before gently drifting back to the grove floor. Both these rides will be by ride giants Zamperla.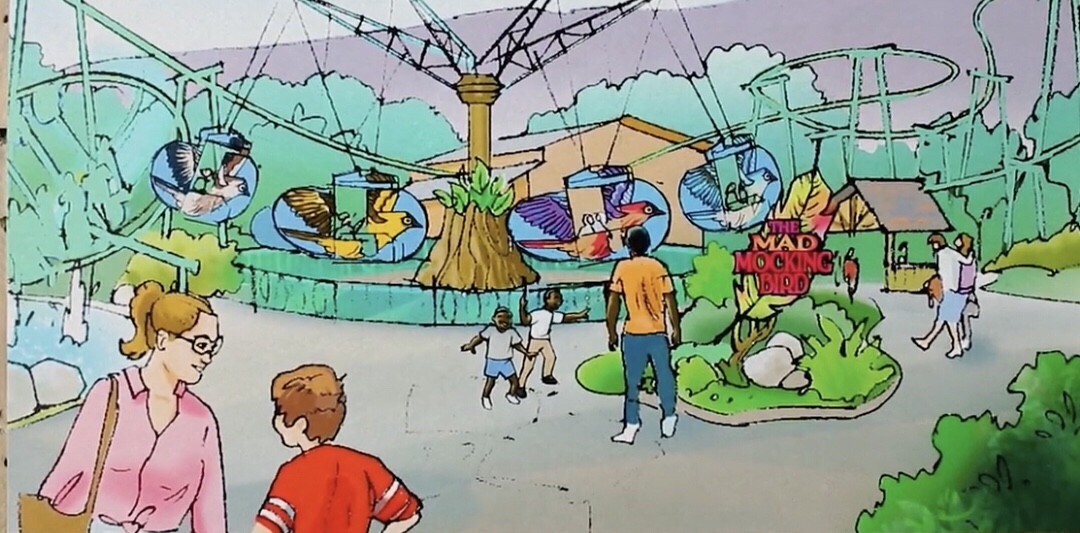 The Mad Mockingbird— Tennessee's state bird—the mockingbird—gives visitors a lift as it flies in a high speed circle around a tall tree. Riders control their Larson Flying Scooter ride experience by moving a sail as the birds rush above the ground.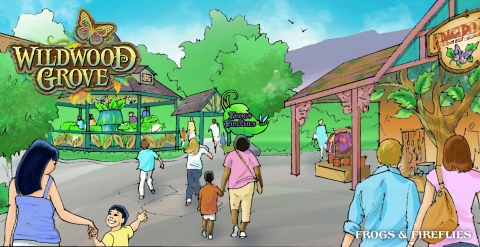 Frogs and Fireflies—These friendly frogs hop up and down as they chase each other around the lily pad trying to catch the flickering fireflies fluttering from the tall reeds and grasses. The Zamperla Jump Around ride will make a perfect fit for guests.
Overall the addition fulfills a promise of $300 million in investments over a ten year period. The company has actually come ahead of schedule by about four years. The Wildwood Grove area will represent the largest investment to date for Dollywood with $37 million dollars.
There will be more details as the ride gets closer to opening. What do you think of the brand new land?
Stay tuned for more from Dollywood, and be sure to get social with us on Facebook and follow along with us on Twitter @BehindThrills for the latest updates!
For our latest theme park videos please be sure to subscribe to us on YouTube!
For more information about Dollywood, including tickets, visit the official website by clicking here!