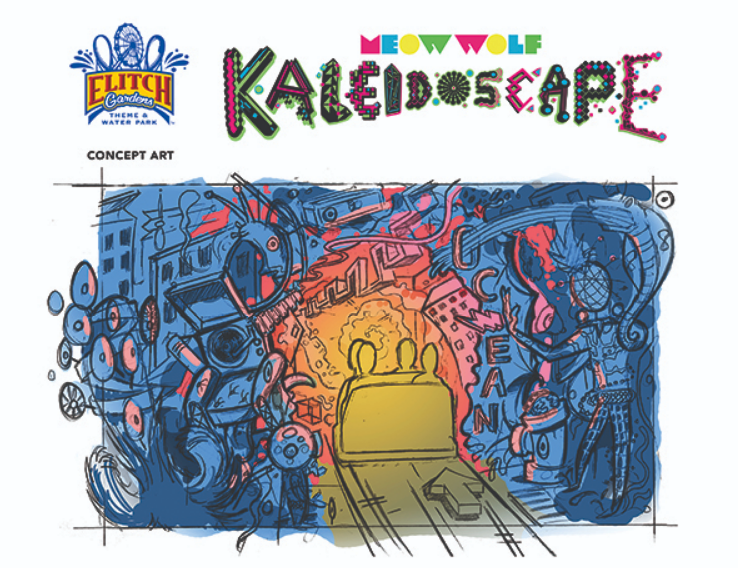 If you've never been to a Meow Wolf installation, you're missing out on one of the most unique and interactive attractions in the world. Meow Wolf uses an army of artists to bring interactive art installations to life. What does that mean? It means that imagination is set free, and then you're set free to explore it and use your imagination to go to worlds and portals that you never knew existed.
And now Elitch Gardens in Colorado is opening one of those portals in 2019, by converting their classic shooter dark ride, Ghost Blasters into a new attraction designed by Meow Wolf called Kaleidoscape.
"All of us at Elitch Gardens are thrilled to be partnering with Meow Wolf to create this unique, mysterious and artistic new ride. The park is a long-standing Denver staple known for offering one-of-a-kind family fun and this new ride will continue that tradition in its most original way ever," said Layne Pitcher, Elitch Gardens' Marketing Director.
"Meow Wolf artists love amusement park rides," said CEO Vince Kadlubek."They are works of art with architecture, pacing, sensation, color, theme and more. To create a dark ride has been a true dream of ours and we're deeply honored to work with Elitch Gardens to create the first ride in the world that is also a multimedia piece of contemporary art. Over a million visitors have experienced House of Eternal Return in Santa Fe and we aim to pack as many mind-blowing visuals as possible into Meow Wolf's Kaleidoscape—an adventure that will be a prequel experience to our blockbuster Denver exhibit in 2020."
While all that sounds amazing, it's just simply PR speak for "come to our park and ride this ride". We don't know at all what the ride will entail, or what it will be about. Most people don't even know what "Meow Wolf" is, or why it's a big deal.
So essentially, a group of artists got together and created a permanent art installation in Santa Fe, New Mexico called "House of Eternal Return". They had the help of Game of Thrones creator George RR Martin. What is it? It's an unassuming house in the industrial section of the city that is a full on world of portals and interactive light and sound displays.
It's an experience that you can't really put into words, and something you have to try for yourself. But how will it translate into a theme park ride?
We have no idea, but we have to assume that it will be similar to the old "Knights in White Satin" ride at the now defunct Hard Rock Park. That ride took guests on a psychedelic trip with the soundtrack of the Moody Blues song, Knights in White Satin. And based on the concept art, and description of the attraction, that's the first thing we think of.
It's not very often that theme parks go beyond the ordinary with new attractions, but Meow Wolf and Elitch Gardens seems to be doing just that, and we're very excited to see what they have in store in 2019.

Stay tuned for more, and be sure to get social with us on Facebook and follow along with us on Twitter @BehindThrills for the latest updates!
For more information about Elitch Gardens, visit the official website by clicking here!
For our latest theme park videos please be sure to subscribe to us on YouTube!