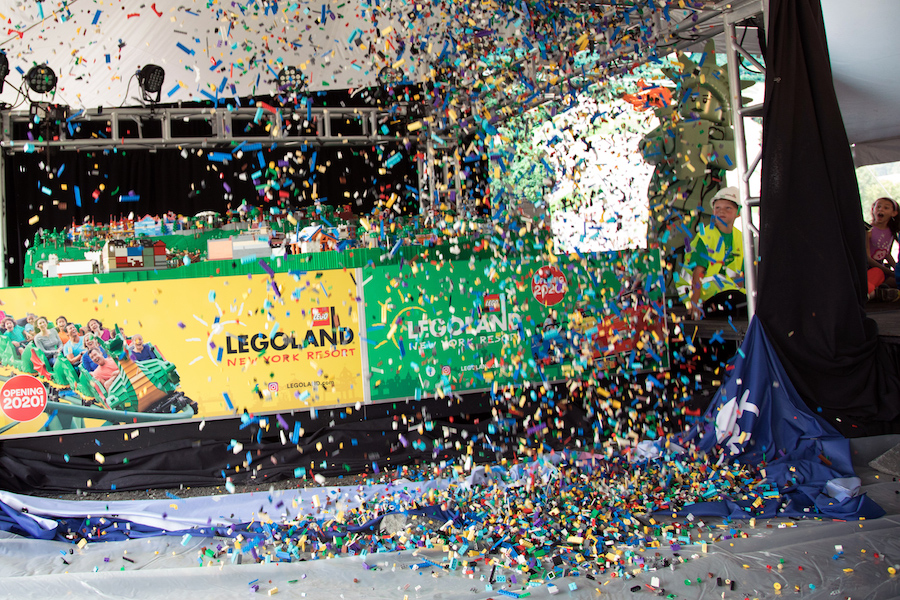 Legoland New York made a huge step on Thursday with the unveiling of the model of the park, as well as revealed plans and the first initial lands that will make up the park when it opens in the Spring of 2020. The new park will be located in Goshen, New York and will be the third Legoland Park in the United States. When it opens, it will also be the largest to date. Members of the media and locals were on hand to see the unveiling of the new model, and learn more details.
Video-Get a glimpse of the all new Legoland New York coming in 2020!
The park will be built on 500 acres, and will use just 150 acres to build the entire resort, including the all new Legoland New York Hotel. That puts it in the middle of a lot of wilderness and land, and should also help build up the feel of the park, as it will be nestled away from just about everything else.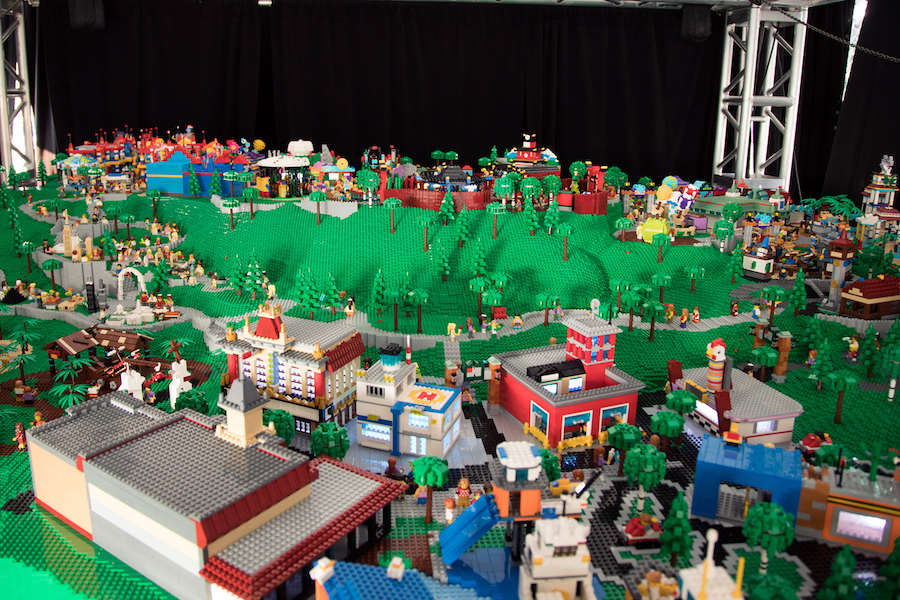 The park will include several huge lands, and over 50 attractions when it opens. The new lands will range from Lego Friends, to Ninjago and even some favorites like Knights Kingdom and Miniland.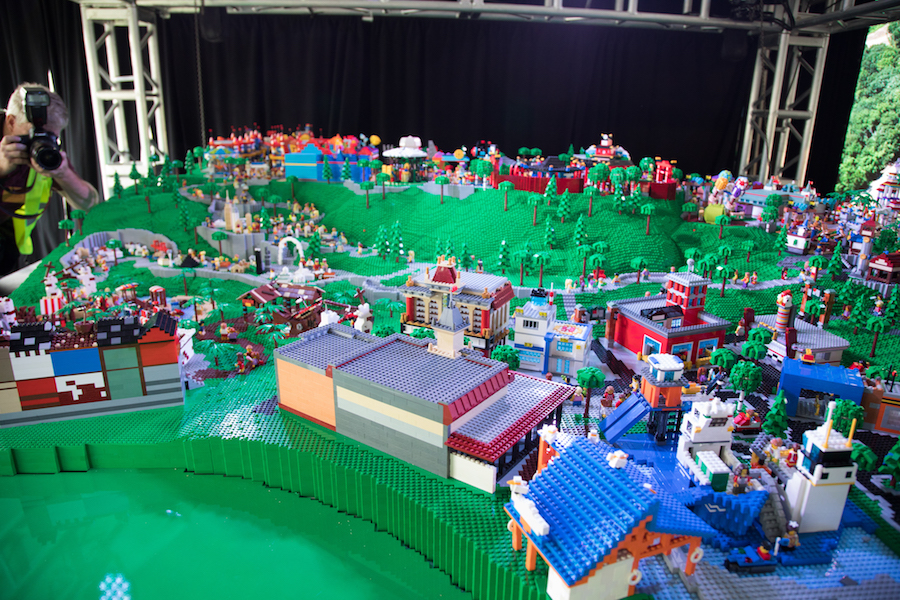 Here's the full list so far:
The Factory is the beginning of the LEGOLAND New York experience. Once you pass under the iconic arch, you're in a world that appears to be built of LEGO bricks – and your first stop is the Great LEGO® Adventure! This ride, which is exclusive to LEGOLAND New York, will let you feel what it's like to be a LEGO Minifigure, as you travel through the manufacturing process, into a box, and into the hands of a child just waiting to build!
Bricktopia is the land with no rules, where all those bricks are put to work to build anything you can imagine! Here you'll work with Master Model Builders to build and test your LEGO creations – whether they're designed to ride, float or fly – and see if your tallest tower can stand up against the Earthquake Table. You can also take a spin on the Imagination Celebration ride, or jump on the Stepping Tones to trigger crazy LEGO instruments!
LEGO® NINJAGO® World is where aspiring ninjas can master the ancient art of Spinjitzu. You'll start in Training Camp, where you'll learn to spin, climb, and become a master of the elements. Then put your training to the test on NINJAGO: The Ride, where you'll help defeat the Great Devourer using just your hands as weapons.
Heartlake City is the home of the LEGO Friends: Emma, Olivia, Stephanie, Andrea and Mia. You'll get to meet them all at the outdoor stage, then take a balloon ride over Pinefall Woods! While you're there, you'll want to sample some delicious Granny's Apple Fries. This tasty treat is legendary among LEGOLAND visitors!
Knights' Kingdom, home of the LEGO Castle, is a land where you'll receive a royal welcome! In this land of knights, princesses, wizards and dragons, you'll find the Dragon Coaster – not too big or scary, but perfectly sized to give kids their first roller coaster experience. Younger knights can help a new flock of baby dragons learn to fly at Dragon Rider School.
LEGO® City is home of the Minifigures – and it needs heroes! Learn to be a LEGO City firefighter and help save the day at Rescue Academy, or, attend LEGO Driving School and get your official LEGOLAND driver's license. Restaurants, shops and a theatre – there's always something to do in this bustling metropolis!
Pirate Shores is the place for young buccaneers to find adventure! Climb aboard a galleon and say "Anchors Aweigh" as storms pick you up, toss you from side to side and spin you around! Or take a trip on the Rogue Wave Riders and do battle with water spouts and hungry beasts!
Miniland is the heart of every LEGOLAND Park, a massive panorama of LEGO built cities from across the country, with interactive features around every corner. Go from the Statue of Liberty to Times Square in just a few steps, and see bustling streets full of busy, animated pedestrians – even a moving subway!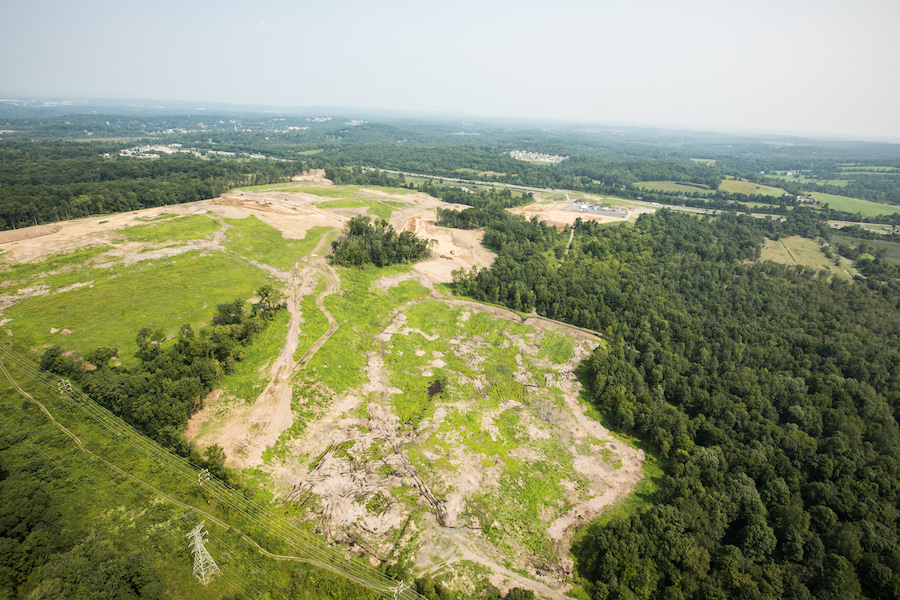 "LEGOLAND New York is coming and it's time to get excited," said LEGOLAND New York's Public Relations Manager Matt Besterman. "This will be the ultimate must-see destination for families in the Northeast." Helping to unveil the model and illustrate the Park's design were a group of local children, including friends and family members of the Park staff and construction team. The children dressed in costumes to represent each land of the Park.
"For those who may only be familiar with our indoor LEGOLAND® Discovery Centers, a LEGOLAND Park is on a different scale altogether," Besterman said. "This 150-acre theme park is a multi-day experience with more than 50 rides, shows and attractions – all designed for kids ages 2-12 and their families."
Stay tuned for more from Legoland New York, and be sure to get social with us on Facebook and follow along with us on Twitter @BehindThrills for the latest updates!
For our latest theme park videos please be sure to subscribe to us on YouTube!
For more information about Legoland New York, visit the official website by clicking here!