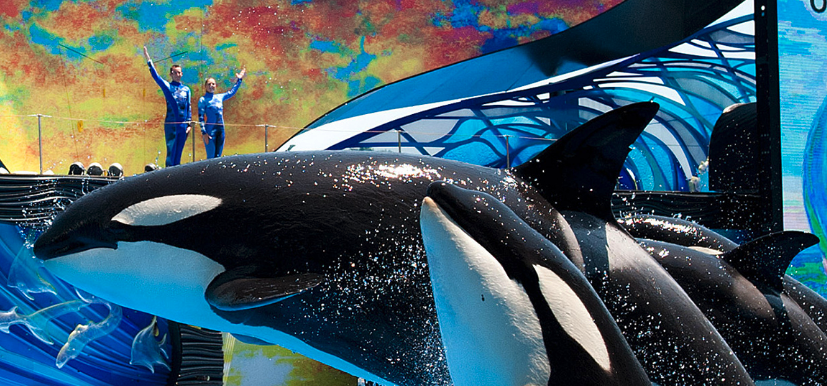 UK tour giant, Thomas Cook announced over the weekend that they will stop trips to SeaWorld Orlando, and Spains Loro Parque because of pressure from animal activists groups and opinions over dealings with Orcas, dolphins and other cetaceans. The group says that "90 percent" of their clients are pushing for the company to stop doing business with SeaWorld, a move that a lot of animal rights activists, including PETA are applauding.
The CEO of Thomas Cook said in a blog post that they would no longer sell tickets to attractions with Orcas.
"Today we are announcing a new addition to our animal welfare policy based on that same principle. From next summer, we will no longer sell any animal attractions that keep orcas in captivity.
This was not a decision we took lightly. We always said that we would continue to review our policy, conscious that the more we got into this area, the more we would learn, and conscious also of changing customer sentiment. We have actively engaged with a range of animal welfare specialists in the last 18 months, and taken account of the scientific evidence they have provided. We have also taken feedback from our customers, more than 90% of whom told us that it was important that their holiday company takes animal welfare seriously. That has led us to the decision we have taken today."
The statement comes after the company insisted that all parks they sell tickets to receive a minimal score by the Association of British Travel Agents (ABTA) Global Welfare Guidance for Animals In Tourism.
In fact, SeaWorld received a score of 100%.
SeaWorld also released a statement on the controversial move, and challenged the report of Thomas Cook, which stated 90% of their customers didn't want Orca based attractions.
The SeaWorld statement says that "Recent UK-based research by YouGov shows that 82 percent of parents with children 18 and under believe there is an educational value in visiting zoos, aquariums, safari parks and marine parks, and 74 percent believe they play an important role in conservation."
SeaWorld acknowledges the concerns of the 90% in their statement but also states that Thomas Cook "fails to show any correlation between those concerns and the welfare of the animals".
Here's the full release:
Over the past 50 years, SeaWorld has welcomed hundreds of millions of people into our parks, many from the UK, to celebrate the ocean and its magnificent inhabitants, to ride exciting rollercoasters and to participate in incredible events. Because of these visits, we've been able to help rescue over 31,000 animals in need, and support conservation initiatives worldwide, including vital efforts for wild killer whales.

Yesterday, Thomas Cook announced a decision to stop selling tickets to SeaWorld by summer 2019 – but their basis for doing so was not based on science, fact or reality. Thomas Cook claims that 90 percent of their customers are concerned about animal welfare. We applaud those concerns and join them in their desire to ensure all animals at zoological facilities are cared for. However, Thomas Cook fails to show any correlation between those concerns and the welfare of the animals at our parks.

In fact, their announcement came on the heels of SeaWorld receiving a 100% passing score, based on the strict minimum standards required by the Association of British Travel Agents (ABTA) Global Welfare Guidance for Animals In Tourism. This threshold affirms that all animals at our parks are well cared for. Additionally, these findings are consistent with SeaWorld's certifications and accreditations by leading global animal welfare organizations, including American Humane, the Association of Zoos & Aquariums and the Alliance of Marine Mammal Parks and Aquariums, among others.  We are proud of the care we provide our animals and welcome the public to come see for themselves the incredible work our team does every day with the animals in our care and those needing our help in the wild.

This decision also runs counter to the public's desire to see and experience animals up close.  Recent UK-based research by YouGov shows that 82 percent of parents with children 18 and under believe there is an educational value in visiting zoos, aquariums, safari parks and marine parks, and 74 percent believe they play an important role in conservation.  Like us, the public cares deeply about animal welfare– and many learn about those important thresholds when they come to venues like SeaWorld.

Our animal care specialists treat our animals like an extension of our family – from daily check-ins, understanding their behaviors and health needs and studying how they engage with other animals in their habitats.  Thomas Cook's decision was driven by the vocal minority of anti-zoo activists, who seek to extinguish educational and research opportunities from the public to learn and be inspired.  We will continue to advocate for what we believe in and push forward with the help of our visitors and fans to continue to do important conservation, research and education work.

We are pleased there are many options for consumers, especially in the UK, to plan, come and experience our parks first hand and we want to thank them for their ongoing support. They know their visits help support SeaWorld's mission to protect and preserve animal populations, both those in our care and in the wild, and get world-class experiences in our theme park, inclusive of rides, events, food, and, of course, our animals.
To show support for SeaWorld, the American Zoological Association, the group that helps to regulate the safety of zoos and the animals in them also had this to say:
The Association of Zoos and Aquariums' accreditation standards are regarded as the 'gold standard' for modern zoological facilities worldwide. Our standards are publicly available and are continuously improving to reflect new science in animal care and welfare. SeaWorld Orlando is a responsible member and leader within our community that has consistently achieved accreditation for the last 35 years. Not only do the dedicated professionals at SeaWorld provide their animals with exceptional care, but they also provide significant support for the rescue of injured marine mammals and sea turtles. Guests to SeaWorld Orlando can be assured that their visit is educational, family-friendly, and supports SeaWorld's efforts to help save animals from extinction.
Let's also add that the ABTA accreditation was voluntary. SeaWorld and Loro Parque did not have to agree to them, but it was something that was insisted upon by Thomas Cook. And since SeaWorld is a theme park, and not a zoo, the AZA accreditation they undergo every year is not mandatory, meaning that SeaWorld does not have to take part…yet they do!
So what gives?
You have a general public that really wants to learn more about animals in the UK, and you have a passing score. As it would seem, there's more to it than just "the welfare of the animals".
As our friends over at Themed Reality points out, Thomas Cook entered a deal with Fosun International Group for a joint venture to bring tourists to China. Thomas Cook also had about 12% of their stock purchased by Fosun owner Guo Guangchang, the founder of Fosun. Fosun and Thomas Cook also entered into a deal to bring tourists to the new Sanya resort area, where there are several parks that offer not only aquariums, but also swims with dolphins and even Beluga whales. Plus there's about to be several more parks in China, with no fewer than six SeaWorld type parks (only not SeaWorld, because you know…Blackfish said they're bad), all with dolphins, aquariums…and Orcas.
Then there's also the Taiji connection, as our friends at Themed Reality also points out.  If you're not familiar with the plight of Taiji, simply put Taiji is a place where dolphins and whales are hunted for their meat. The dolphin drives are pretty barbaric, and from those drives smaller cetaceans like dolphins are caught where they are sold to aquariums. Remember that Sanya area? They are home to an Atlantis resort, which has dolphins caught int he Taiji region.
Now, I know what the activist in you is going to say…"BUT SEAWORLD AND LORO PARQUE CAPTURES WHALES AND DOLPHINS ALL THE TIME!". In that, you'd be wrong. SeaWorld has not taken an Orca from the wild in almost 35 years, and in fact they have been breeding them with other whales all around the world, including at Loro Parque. The two companies went even further and have been very vocal about not supporting the dolphin drives in Taiji, but also ending them. They agree with PETA UK on that one.
So, again. What gives?
It's pretty simple, Thomas Cook is just doing a cheap PR stunt to give itself a boost. There could be more, especially given that Fosun is a pretty big competitor with another Chinese development company that also has ties with marine parks and tourism, but we'll keep following it.
UK visitors make up around 5% of SeaWorld's visitors company wide. While it's not clear how many of those tickets are bought through Thomas Cook, the number is said to not be that significant. It really seems like a case of Thomas Cook pushing a hot button topic and getting a little bit of notoriety, and therefore more ticket sales. All the evidence at least points that way. They are telling animal rights activists they are banning selling tickets to those parks, while they still sell tickets to those parks in another region. It only seems like they're targeting SeaWorld and Loro Parques because it's the popular thing to do.Activists are pretty much being lied to, and having their focus put back on animal park controversy. Meanwhile, Killer Whales in the wild are dying off at an alarming rate. There are reports of poison affecting the Orca mothers milk, and trash just keeps piling up in the oceans. We are killing the natural world, but everyone is still too busy worrying about the well taken care whales at SeaWorld and Loro Parque that were born there to do anything about it.
That was the case when Blackfish came out, and it's still the case today. Good to know that people are at least consistent with that.
Stay tuned for more from SeaWorld, and be sure to get social with us on Facebook and follow along with us on Twitter @BehindThrills for the latest updates!
For our latest theme park videos please be sure to subscribe to us on YouTube!