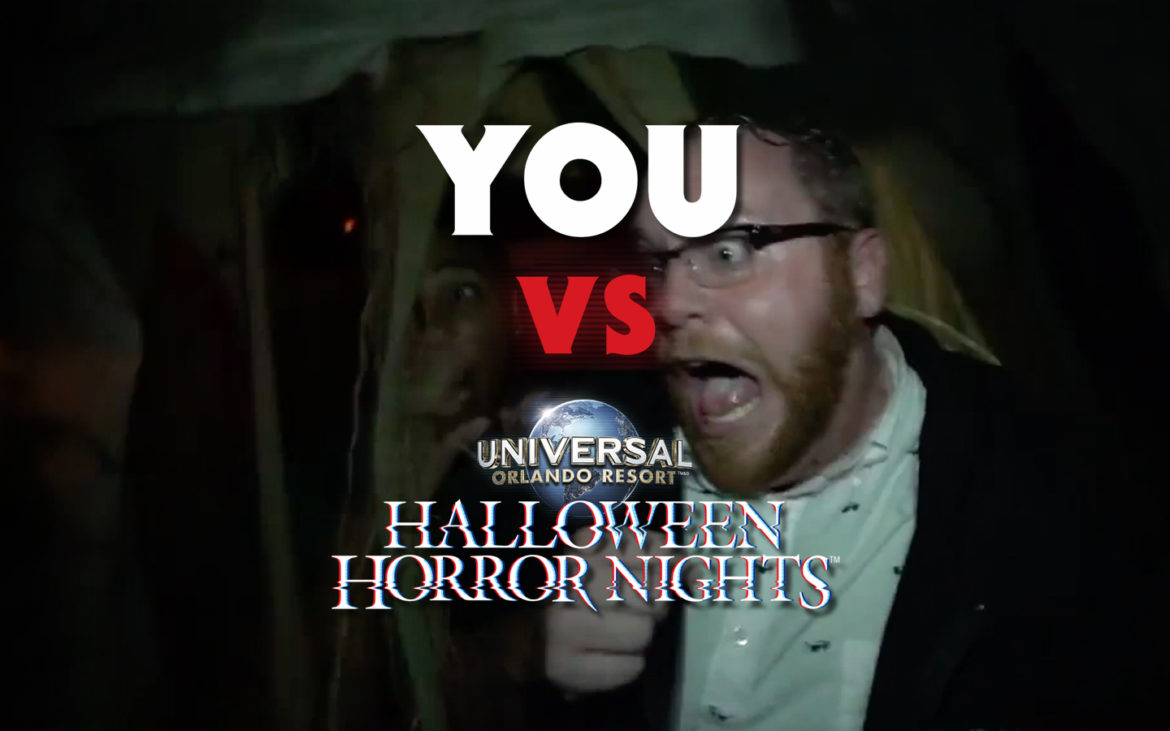 Universal Orlando's Halloween Horror Nights is kicking up the fear a little bit with an all new social media challenge. Are you up for it? You could win tickets to the event, as well as get your face on camera for the event. Before you say yes, don't you even want to know what it is?
To enter, simply go to Twitter and tweet "I Accept the #HHNChallenge". That's it.
If you win, you'll have to go through one of the ten haunted houses at this year's Halloween Horror Nights, with a body mounted camera. There's also something about holding 15 pounds for 20 minutes…or something. Details, pssht.
Here are some of the rules though:
Either you or your guest will be strapped into a reverse point-of-view camera vest for the house experience which will record and capture your reactions and experiences. In order to complete the house experience, the participant must be able to hold up to 15 pounds for at least 20 minutes while moving through the house.
Universal Orlando Resort may, at its sole discretion, select to commercially use photographs, recorded video and film footage of you, your reactions, and your experiences at this event to further advertise, promote, and publicize Halloween Horror Nights 2018 and future years of Halloween Horror Nights.
All participants must sign a liability and publicity release form prior to participation.
All participants will need to be in compliance with the event dress code. Information regarding dress code will be distributed to invitees within the invitation email.
All participants will be prohibited from using cellphones, cameras and other recording devices in designated areas.
All participants must adhere to the existing rules and regulations of Halloween Horror Nights and Universal Orlando Resort.
You have from now, until September 7th at 5p.m. EST. The meet up will take place on Wednesday, September 12th BEFORE HHN OFFICIALLY OPENS!!
You must be over 18, and if your guest is under 18 you must be their legal guardian…so kids, talk mom into it! It'll be so much fun to watch her pee her pants!!
Get your entries in by September 7th, good luck…and pleasant dreams!
Halloween Horror Nights kicks off officially on September 14th, and tickets are now on sale.
Stay tuned for more from Halloween Horror Nights, and be sure to get social with us on Facebook, Twitter, and Instagram @BehindThrills for the latest updates!
For our latest theme park videos please be sure to subscribe to us on YouTube!
For more information about HHN, including tickets, visit the official website by clicking here!