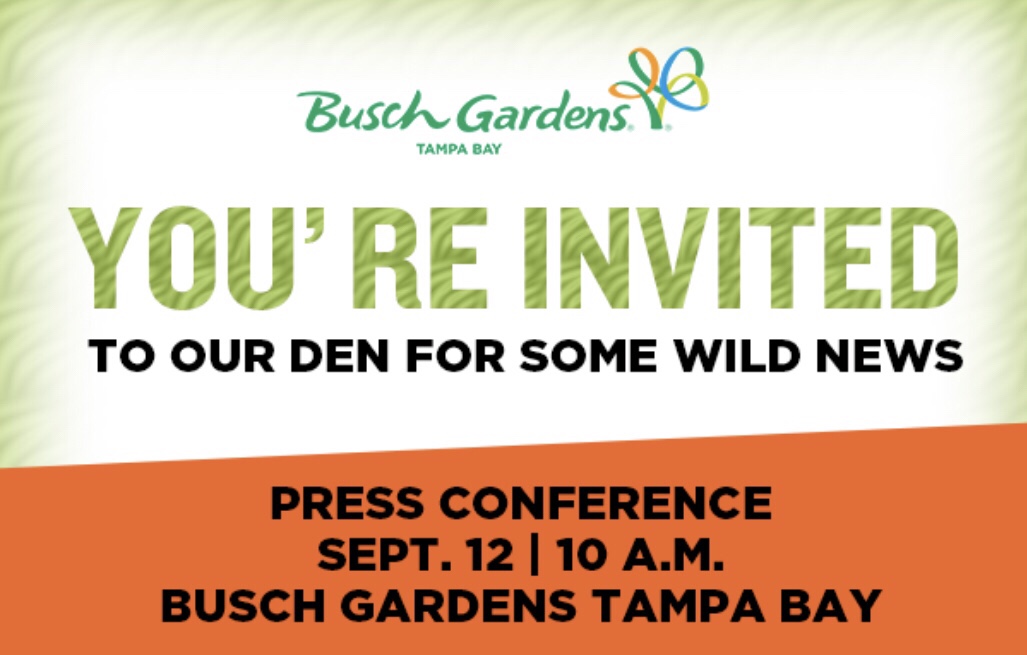 All summer Busch Gardens Tampa has been toiling away and getting rid of one of it's big water rides, as Tanganyika Tidal Wave has been removed completely from the park, and permits were filed. While we've rumored, and speculated, and plain ole guessed, it looks like we might be getting an answer as to what exactly is replacing the long standing water ride.
On Wednesday, September 12th, Busch Gardens Tampa will be holding a press conference as we step into their "den" for some "Wild News".
But what? What will the big news be, and what will it be all about? We don't know for sure, but that's not going to stop us from making some educated guesses.
Project Teel
First up let's look at the plans that were filed from Busch Gardens for a new attraction, and land for future development. The project was filed under "Project Teel", and shows a new attraction.
If we look at the plans filed with the permit, we get a better idea of just what is coming. By the looks of the top picture we have an area that's clearly taking up the path of the former Tidal Wave attraction, and that many believes looks like the footprint of a small coaster. The second picture shows off a pathway and area for development that could be anything from bathrooms, and restaurants and even another ride. The pathway goes off into nothing, and it leaves a space between the Jungala area and the new attraction.
Many are speculating that the area for the ride is the perfect size and shape for a Sky Rocket II by Premier Rides. It would also make sense for the Sky Rocket, mostly because there are already two other coasters of the same kind owned by the company at Busch Gardens Williamsburg and SeaWorld San Diego. Tempesto and Electric Eel both use the Sky Rocket coasters, which use one train, and sends riders shooting off through the station, before gaining enough momentum to send them up a giant loop and into a corkscrew before going into another loop and stopping once again at the station.
Video-Take a ride on Electric Eel 
There are other plans for this area beyond 2019, but this is what we believe will be announced on the 12th. There's also been patents filed earlier in the year for names of the new attraction, three of them. Twisted Tiger, Tigris, and Uproar. Let's back track and look at that invite again, the wording says "You're invited to our Den". That kind of says it all right there. Tigers homes are called dens, so the new attraction will be tiger themed.
But which of the three names will be used? Our money is on Twisted Tiger. Why? The twisted nature of the track, and the current trend of alliteration in the names chosen for new park attractions. Cobra's Curse, Sand Serpent, Falcon's Fury…even Electric Eel at SeaWorld San Diego. Twisted Tiger just seems to match and flow better than the other two.
That can't be all?
So like we showed in the second permit picture, there seems to be more planned at a later time. While it's possible that BGT will make the announcement, it's not really likely. They'll probably play it close to the chest and just develop the area. We've been all over the park in the past couple of months and have noticed tons of markers all along what seems to be a straight path from the back of the park to the front, near Gwazi. We are going to say that within the next three years we will see yet another coaster announced, that will take up the entire length of the park, from front to back. It will likely start near Jungala (where the tigers are currently kept) and will extend all the way up towards where Gwazi now stands.
If you're holding your breath waiting for a Gwazi replacement, I would exhale, because as of right now it just doesn't seem to be in the cards. We also don't think there's EVER a chance that Rocky Mountain Coasters would come in and remake the coaster either. There's a lot of the coaster gone, as the woods been used for many other projects around the company. And there's allegedly other issues with the coaster, right down to the structure that prevents it from being reused. We aren't 100% sure about that last part, but we have been told that if the area is to be reused for another coaster, the footers of Gwazi would have to come out. Again, all rumor at this point, but it's always a possibility. IF there is ever to be another wooden coaster, or even a Rocky Mountain hybrid, it will be in another location and won't use the Gwazi structure at all.
Recap-What will the 2019 announcement be? We're going to place our bets on Twisted Tiger, a Premiere Rides Sky Rocket coaster, with a tiger theme. Knowing Buch Gardens, there will also be an emphasis on the tiger habitat, which could also get an overhaul, and a new restaurant. SeaWorld Entertainment is all about putting the emphasis on the animals, and the connection with them, and taking everything from park to planet. Tigers are extremely endangered, so this is the perfect moment for a learning opportunity.
Then again…we could be completely wrong. We'll find out for sure on September 12th!

Stay tuned for more from Busch Gardens Tampa, and be sure to get social with us on Facebook and follow along with us on Twitter @BehindThrills for the latest updates!
For our latest theme park videos please be sure to subscribe to us on YouTube!
For more information about Busch Gardens Tampa, including tickets, visit the official website by clicking here!