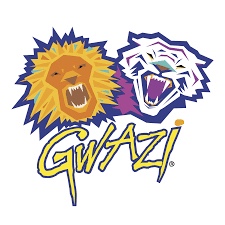 It was a pair of mythical beats in a never ending battle for supremacy. And the legend behind the coaster was pretty good too. Gwazi was the first dueling wooden coaster, and the only one on Florida. It was legendary, and a pretty good ride. It was rough…but pretty good. The coaster has been sitting dormant for a few years, with the structure remaining largely in tact. The station has been used for a haunted house at Howl O Scream for the past few years. The cars were repurposed and reused for InvadR at Busch Gardens Williamsburg in Virginia, and the wood has been used for various different projects around SeaWorld Parks and Entertainment.
The fate of the coaster seemed uncertain, as insiders vehemently denied anything happening to the coaster or the land around it.
Until today.
Busch Gardens Tampa announced a brand new coaster for 2019, Tigris. The coaster will be launched and will take up the space used by the old Tidal Wave attraction. But the pro also announced they're building a new "thrill ride" for 2020. It will take over the spot now occupied by Gwazi. It wasn't said what, but some major hints were dropped.
'We wanted to make this a Hybrid announcement'
'Gwazi has always been a Rocky ride'
And we know it needs a 'Mountain of work'
'So in 2020, Construction on something will begin'
Those hints lead to a brand new coaster, made by Rocky Mountain Construction. That's the same company Behind mind bending, wood-steel hybrid coasters like the new Steel Vengeance at Cedar Point. While it's not confirmed, it's pretty much a lock at this point. While we don't know details, we do know it's happening. It remains to be seen if it will be an overlay of the current attraction, or a complete tear down.
What do you think of the new announcement?
Stay tuned for more from Busch Gardens Tampa, and be sure to get social with us on Facebook and follow along with us on Twitter @BehindThrills for the latest updates!
For our latest theme park videos please be sure to subscribe to us on YouTube!
For more information about Busch Gardens Tampa, including tickets, visit the official website by clicking here!