Halloween Horror Nights has finally returned and horror lovers around the globe are once again flocking to their local Universal park to immerse themselves in their favorite horror classics. This year Universal Studios Hollywood brought the worlds of Poltergeist, The First Purge, The Horrors of Blumhouse, Halloween 4, Trick 'R Treat, Universal Monsters, and Stranger Things to life at this year's event with Stranger Things being the tent-pole. We had the privileged of attending opening night to check out the latest offerings. So what were the winners and losers of HHN Hollywood 2018? You'll be happy to know that there are no real losers this year.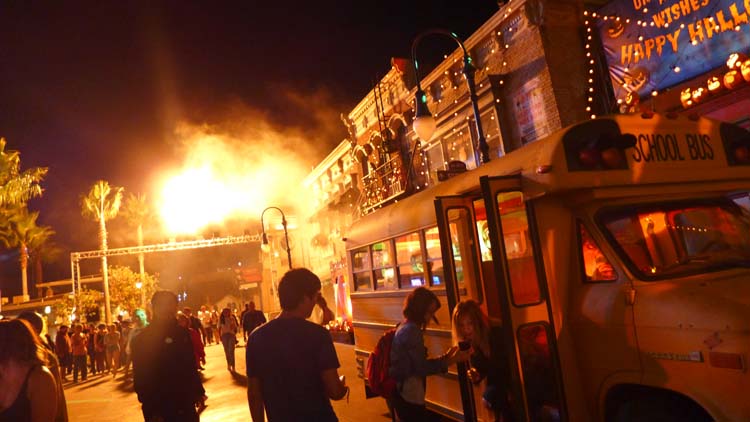 1. Universal Monsters 
The unexpected sleeper hit of HHN Hollywood this year. From its absolutely brilliant soundtrack performed by Slash himself, to the wonderfully gothic scenic. Even the indoor/outdoor portions of this attraction. Everything works and it's very clear that a lot of love went into the creation of this maze. Fans of the classic Universal Monsters will meet Dracula, The Invisible Man, Frankenstein and his bride and monster. This is a must do for fans of horror, especially those who have a sweet spot for the Universal classics.
2. Stranger Things
What is sure to be the longest wait each night and rightfully so, Stranger Things is an awesome addition to HHN utilizing Soundstage 29 (renamed 55). It's not common that HHN Hollywood gets to use a soundstage for one of their mazes – fans have the rare chance to enjoy full sized set pieces, a sprawling layout and overall longer experience not possible with other other tent based locations. The maze follows the events of season 1 and you get to join the search for Will Byers all while being stalked by the Demogorgon. During your search you find yourself entering the Byer's home, the Hawkin's Labratory, The Upside Down, Hawkin's Middle School and Mirkwood. The only criticism I have is the fact that this maze has no facade. You enter into a giant black box and are suddenly within Mirkwood, a simple facade goes a long way. Arrive early if you want to hit this one, wait times hovered 1.5 – 2 hours throughout opening night.
3. Poltergeist 
The 1982 classic film Poltergeist frightend me as a child. It's quite apparent after experiencing the maze at HHN, most of the imagery, many of the situations and concepts (as well as the film's haunted production) still very much so frighten me. Which is why I loved the maze. It starts with a recreation of the Simi Valley based home belonging to the Freeling family. This is by far the best facade of the event if not one of the best facades ever created for Hollywood. It feels extremely authentic and for a moment when standing directly in front of the home you feel like you're in the middle of a suburban neighborhood. Once you enter you begin to the explore the many rooms during the events of the film as slowly over time the haunted activity gets more and more severe leading to the climax where you have to find your way through a maze of open coffins and rotting corpses. This maze was unanimously a hit for horror fans I talked to during the event and I look forward to walking through again later this month.
4. Halloween 4
I've never seen Halloween 4, but I know a fun maze when I see one and Halloween 4 offers everything that I would expect from a Halloween maze. Located within the WaterWorld queue this is the only other maze with the luxury of additional space not found within the traditional tent mazes and it shows. This is the 2nd longest maze of the event and benefits from larger sets that feel almost full size such as Penney's Diner as well as a garage. While the maze itself was enjoyable I am starting to feel a serious case of Michael Myers fatigue at Horror Nights Hollywood. I think it's finally time to kill this boogieman and move on for 2019.
5. Trick 'R Treat
The remaining three mazes are a tie for 5th, 6th and 7th. Trick 'r Treat being the former because of how much I loved the cult film from Mike Daugherty. Though it's hard to say the film's anthology format translated that well into a physical maze. In the film you're shown 4 story lines which happen simultaneously on Halloween night. Though its not presented in a sequential order with everything culminating at the end of the movie for a 'oh wow' moment. I didn't get a sense of any of that within this maze. What is presented is a serious of vignettes and moments. 1 large scale scene for each of the sub-stories and the last 1/4 of the maze being dedicated to Sam's showdown with Kreeg at the climax of the film. Those unfamilar with the film may be confused. But those fans of the films looking to see live action versions of moments from the film will not be disappointed. Don't expect any of the revolutionary story telling seen in the movie.
6. The First Purge
This also marks the first year Halloween Horror Nights in Hollywood receives a maze based on The Purge franchise, despite it being an integral scare zone for a few years now. This time The First Purge (the most recent film) gets to scare guests and the scares are somewhat hit and miss as I believe the series lends itself very well to a scare zone but not so much to a maze. The talent was by far the highlight of this maze. They had a lot of energy and were completely on point. The sets themselves were very real world and I personally didn't find them very interesting to explore though they were very well done. Lots of people seemed to enjoy it, though it definitely isn't for everyone.
7. The Horrors of Blumhouse Vol. 2
The Blumhouse of Horrors is back for its 2nd year. Unfortunately this year I have not seen either of the films used in the maze. Even though it's at the bottom of our list that's not to say it wasn't a bad house. Lots of folks seemed to enjoy it thoroughly. However, much like The First Purge it isn't for everyone. The maze is split up into 3 parts, though only two are advertised. Truth or Dare which primarily takes place within a Mexican Mission. Unfriended which shows the deaths of many of the main characters and a surprise ending based on an original concept for a movie called "The Girl". All three are strong though the 3rd act does seem to suffer from the most black walls (a common trick used to divide scenes at Horror Nights Hollywood that many fans disapprove of).
Final thoughts on the mazes, they're all solid. Despite coming off a heavily criticized 2017 for overuse of black walls and seemingly incomplete feeling mazes, I don't believe there is a single bad one in the mix. In fact, I'd go as far as to say this is probably one of the best years in the past 5 years from a scenic perspective. This is also coming from someone who has either not seen, or didn't care for half of the properties used. There are still the issues that seem to plague only the Hollywood event. Yes, black walls still exist though they're no where near as severe as years prior. Yes you still have to walk half a mile to get to the backlot and yes most of the mazes are scaled down due to being fit within tents. The reintroduction of a sound-stage maze is overall a pleasant surprise a huge breath of fresh air.
The scare zones also seemed to be big improvements from years prior. Another common complaint in years past unique to Hollywood was that many of the scare zones felt like afterthoughts where many of the props felt like Photo Ops on rolling carts. This was not the case at all.
Hell's Harvest
This scare zone seemed to deviate from the HHN Hollywood norm the most. The addition of the Boney Bothers animatronics (to distract guests) and the Paegon theme worked really well.
Trick 'R Treat
Trick 'r Treat follows the same property as the maze. It's the smallest zone in Hollywood this year but acts as more or less the staging area of the opening scaremony. The bus photo op and colorful lighting made it one of my favorite scare zones to hang out in during the later end of the night and seemed to act as a hub of photo ops. The costumes were all great though a Sam scareactor would be an awesome improvement.
Monster's Masquerade 
The 2nd smallest zone is Monster's Masquerade. This is essentially the exit path leading away from Universal Monsters and ties in the theme quite nicely. The costumes are also insanely gorgeous if you have a chance to get close to one of the monsters.
Toxic Tunnel
Toxic Tunnel, is well, Toxic Tunnel. It's back with a vengeance and is actually improved from last year. The addition of blacklight lighting gives the tunnel more of a 'toxic' vibe giving the creatures and their props an eerie glow. Otherwise it's essentially the same as what it once was.
Holidayz In Hell
My favorite scare zone this year is by far Holidayz in Hell. This is the outdoor maze/gauntlet found on the studio backlot when you walk the path to the the metro sets. Here is a mish mash of twisted holidays such as New Year's Eve, Christmas, St. Patrick's Day, Easter, Valentine's Day, Cinco De Mayo and Dia De Los Muertos. It's everything I loved about Dark Christmas a few year's back but applied to all holidays. HHN fans will also recognize props from their favorite Christmas themed maze Krampus from a few years ago.
Terror Tram: Hollywood Harry's Dreadtime Stories
Last but certainly not least, Terror Tram. Hollywood Harry (HHN Hollywood's original character) has returned to wreck havoc upon the backlot, kidnapping tour guides in order to make those who casted him away at the height of his career pay for their actions. This year Harry tells us the story of his Dreadtime Stories as you descend into the bowls of the movie studio. The walking path is split into 5 parts, each one representing a twisted version of a classic tale. This is one of the better backstories for a Terror Tram experience we've had in recent year. However, I feel like we've hit the point where there's not much else that differs the walking path one year from another. You're generally getting the same Terror Tram experience each year with different costumes and a different pre-show video. Fans will surely enjoy it. Though if Terror Tram isn't you're thing, you're not getting anything different this year. Great talent as usual!
That finally does it for this look at HHN Hollywood's opening night. Please bare in mind that it's not uncommon for things to change and improve through the duration of the 6 week run. With that said there's not much need for improvement this year. This was a year they needed to get right and they absolutely did on all fronts. Universal took a major step forward on a scenic level within the mazes. The scare zones had great atmosphere, and the talent as usual was on fire. It's really nice to see the team looking at some of the problems in years past and slowly begin to address them to make the overall guest experience (not just mazes and scare zones) and improve. From the addition of benches and a seating area on the backlot, to the inclusion of themed food offerings. This year was a big improvement for the entire guest experience and shows. As usual Halloween Horror Nights is a must-do for fans. Show up early or you'll find yourself trapped in the upside down world of Stranger Thing's queue.
Stay tuned for more from Halloween Horror Nights, and be sure to get social with us on Facebook, Twitter, and Instagram @BehindThrills for the latest updates!
For our latest theme park videos please be sure to subscribe to us on YouTube!
For more information about HHN, including tickets, visit the official website by clicking here!