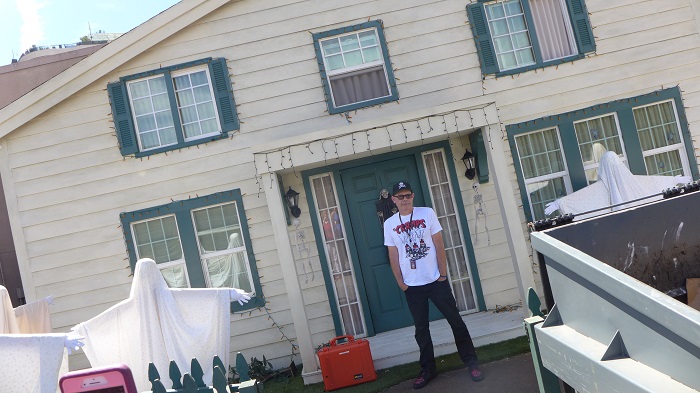 Halloween Horror Nights at Universal Studios Hollywood kicks off this Friday, September 14th, and it promises to be an amazing year. This year will see the classic Trick r Treat come to life at Universal Studios Hollywood, and it looks to be an awesome interpretation. We had the chance to get a sneak peak at the house earlier this month, and while we can't show you the whole thing, we can tell you all about it, and take you behind the scenes of how this anthology tale of terror came to life at HHN. We tagged along with HHN Creative Director John Murdy for a look at the house, and why it came to the event.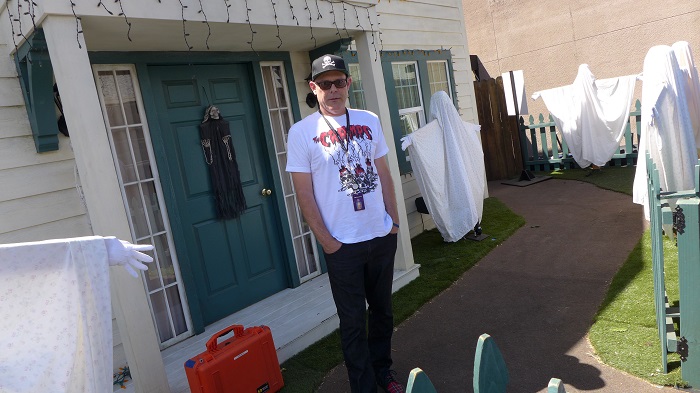 Trick r Treat is going to be extremely true to the movie. The film is an anthology that links several different stories together by the spirit of Halloween "Sam". The film starts with a lady taking down her Halloween decorations before Halloween is over, and that's a rule that you just don't break. That's where the house starts as well. The maze facade is actually that house, with the lady breaking Sam's rules. You enter through the side of the house, where you'll tons of sheet ghosts, and maybe there will be something lurking in them…or maybe not. You'll have to see for yourself. That's not all that's happening either, as you'll see Sam right from the get go. Projections in the house facade windows will show you that Sam is running through the house, causing all kinds of mischief.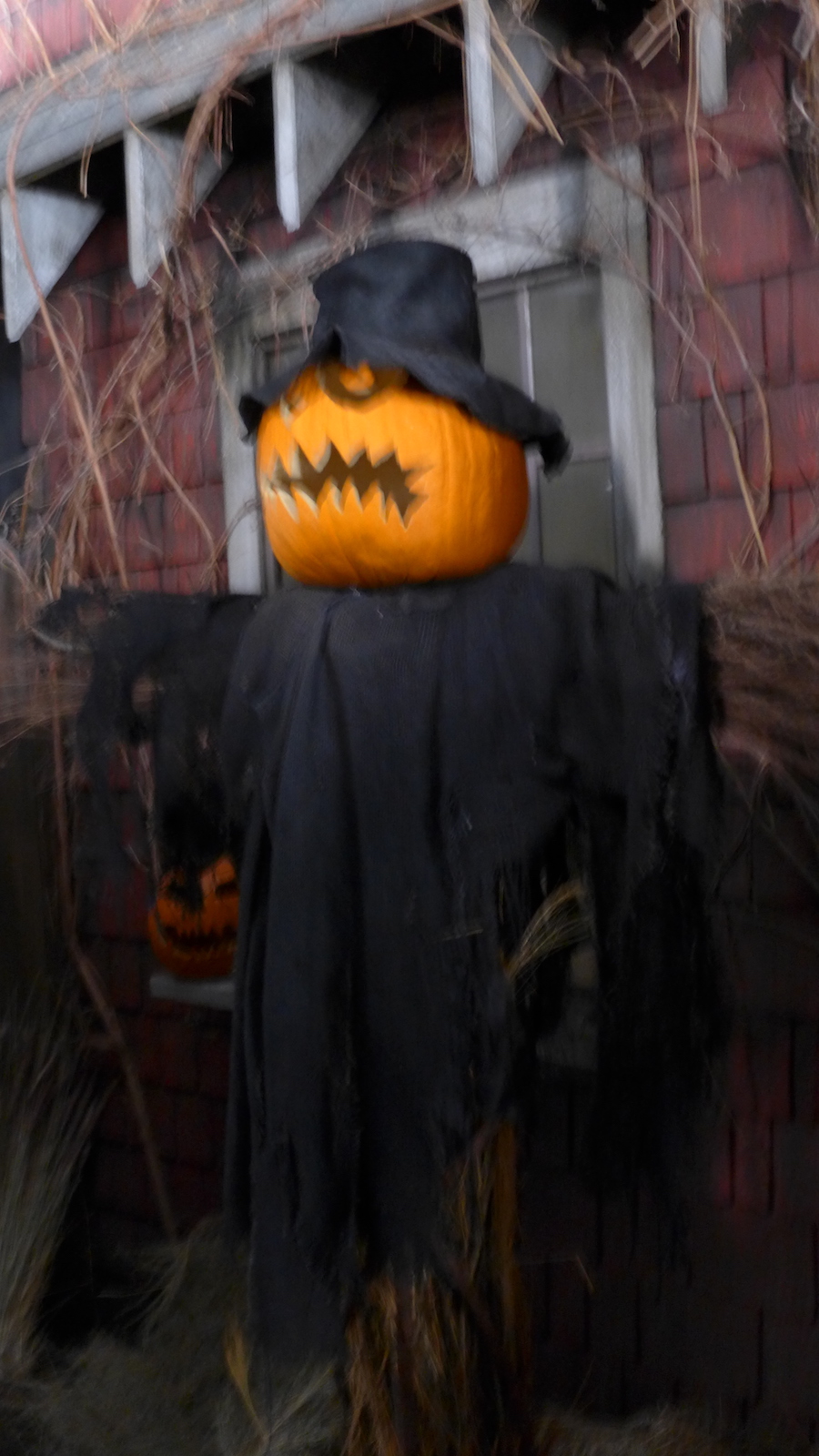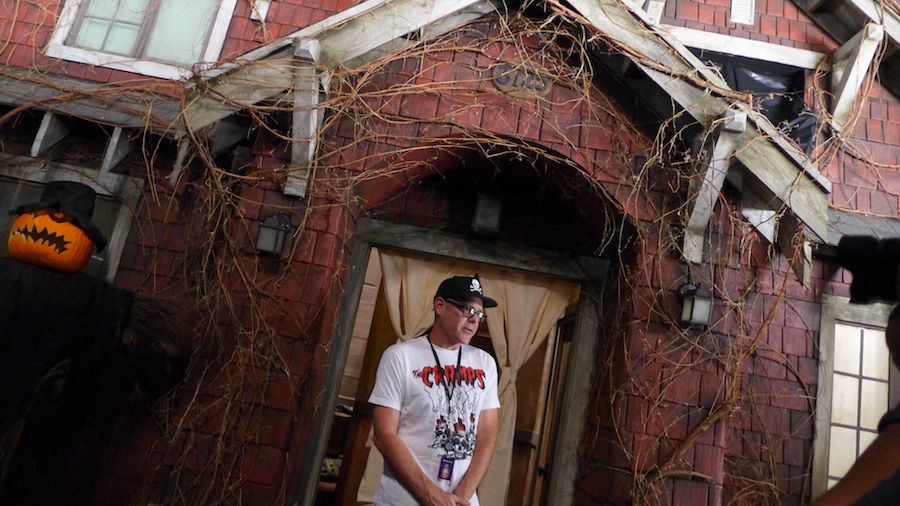 When we said the house was just like the movie, we meant it. Each room of the house will be divided up into scenes, complete with title cards. You'll go through every scene, just like the film, and in the same order. The film will kick off with the yard decorations, and go right into the scene with the school Principal and the candy check. From there you'll encounter princesses and werewolves, and even further you'll face the bus full of kids, and Kreeg.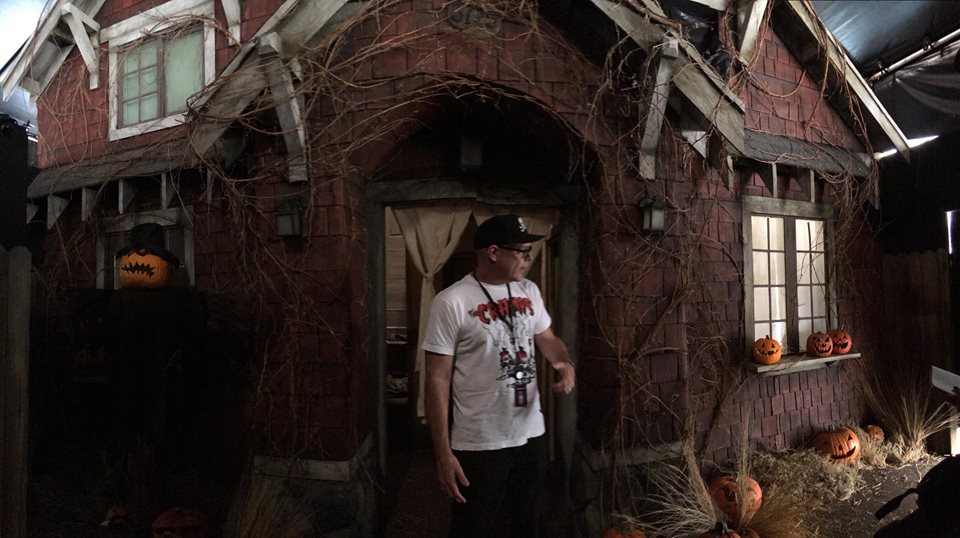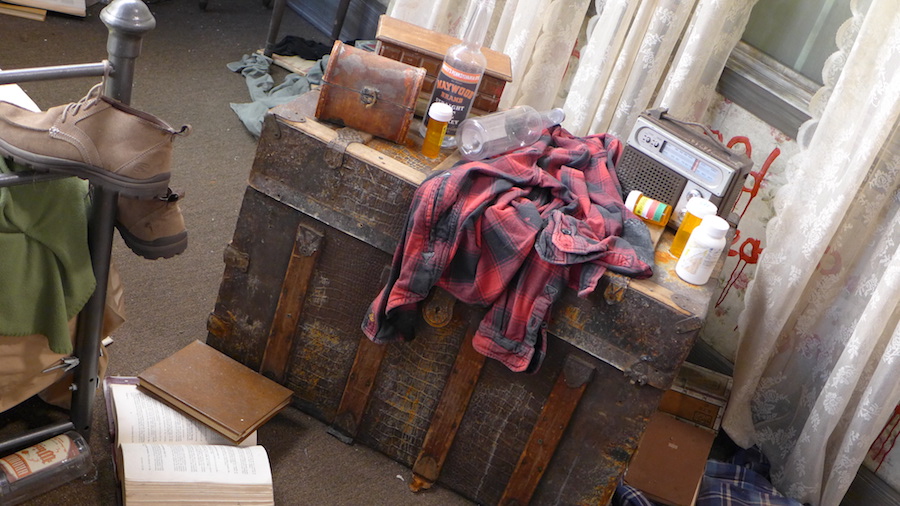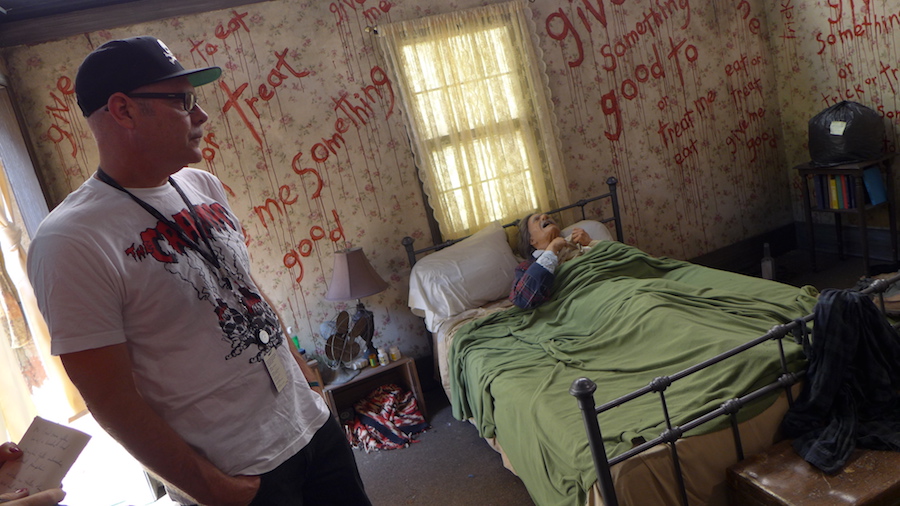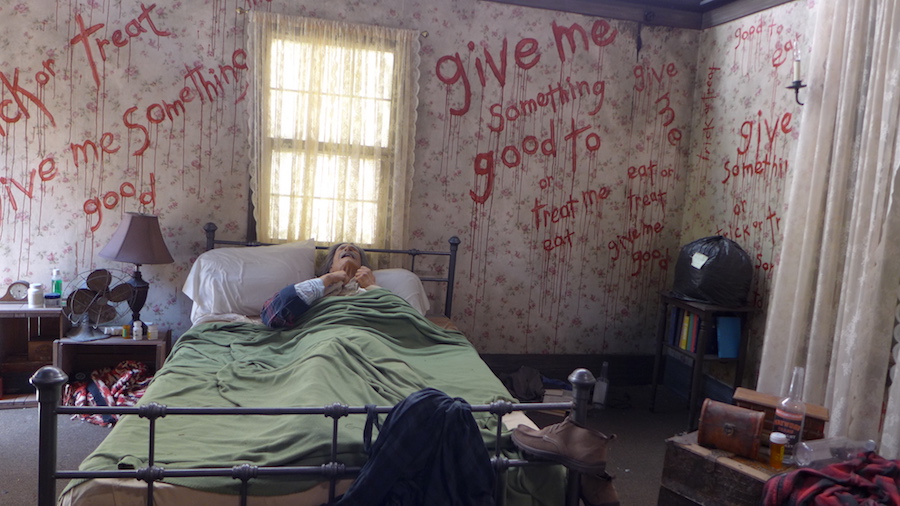 And if you think you're going to be spared, think again. Not only will you see the school bus kids as they come back, but you'll see them in the quarry. Wrong way. Wrong way. The bus will actually be there, in full scale within a huge quarry set, and you'll see everything happen before your eyes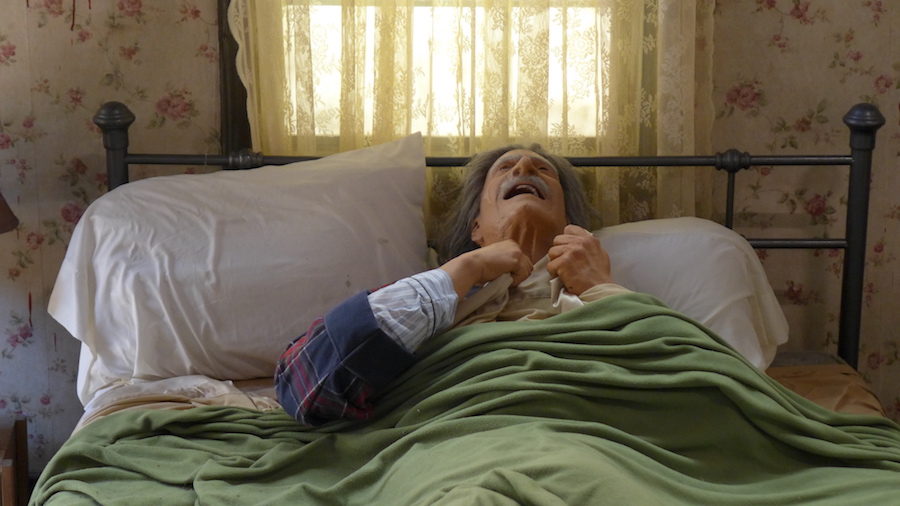 A lot of the maze will take place in Kreeg's house, where we will be mercilessly attacked by Sam. The flaming pumpkin will be used, and while we didn't see it in person, we did see a video test of the effect…and it's going to be amazing.
The set pieces for this house are pretty massive. Just the rock quarry alone is huge! The maze has been constructed in the Mummy Queue, which normally has mazes that have smaller set pieces. For that reason, the maze might seem a little short, but it's definitely larger than most of the others.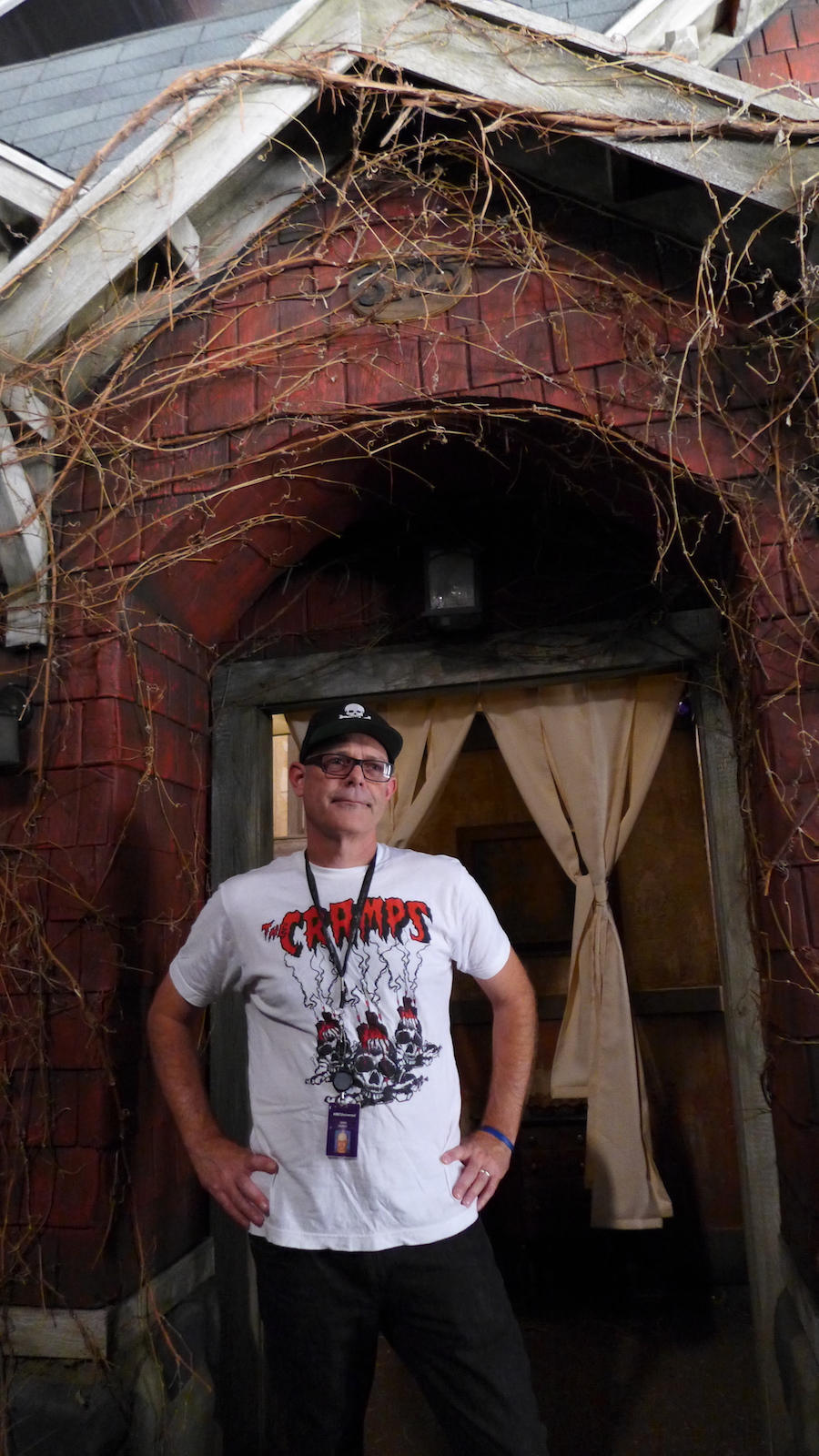 John Murdy was a huge fan of the film, and really wanted the property as a maze for quite a few years. When the sequel was announced, his initial thought was to wait for the second film to come out before he approached a maze. However, when it was announced that director Michael Dougherty was doing the Godzilla sequel, it seemed like that film may never come, and the time was right for Trick r Treat to come to life. There was no more waiting.
Speaking of Dougherty, this is the second film by the director to be used as a maze for HHN. The first one was yet another holiday themed film, Krampus. Krampus was kind of the same type of cautionary tale, in that those that don't follow the rules were punished by a being that represented the holiday. There's even a nod to Michael Dougherty's short film that inspired Trick r Treat, called "Seasons Greetings". We won't tell you what or where it is, but see if you can spot it on your own.
Trick r Treat will be part of the massive line up at Halloween Horror Nights Hollywood, which kicks off Friday, September 14th. It will run select nights through November 3rd.
Stay tuned for more from Halloween Horror Nights, and be sure to get social with us on Facebook, Twitter, and Instagram @BehindThrills for the latest updates!
For our latest theme park videos please be sure to subscribe to us on YouTube!
For more information about HHN, including tickets, visit the official website by clicking here!