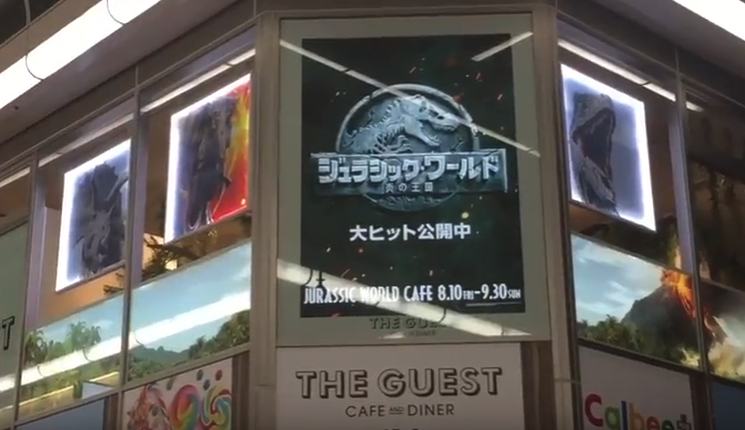 Jurassic World: Fallen Kingdom has blown up worldwide, raking in over $1.3 billion worldwide. That's not quite as large as the first film in the Jurassic World series, but it's still nothing to snort at. Part of the success of the film came from all the marketing that was done all over the world. From T-rex being shipped down the Thames River, to countless pop up experiences all over the world. One such Pop-up experience happened in Japan and was the Jurassic World Cafe.
Our friend YukenDoIt happened to stumble upon it, and took us for an awesome look inside.
While the fun seems to have worn off on the cafe, it's really a great idea on the part of Universal Pictures. Something like this could also be a great way to not only sell the movie here in the states, but what about the theme parks? We'll float that idea a little more, but first let's take a look at the fun a little closer.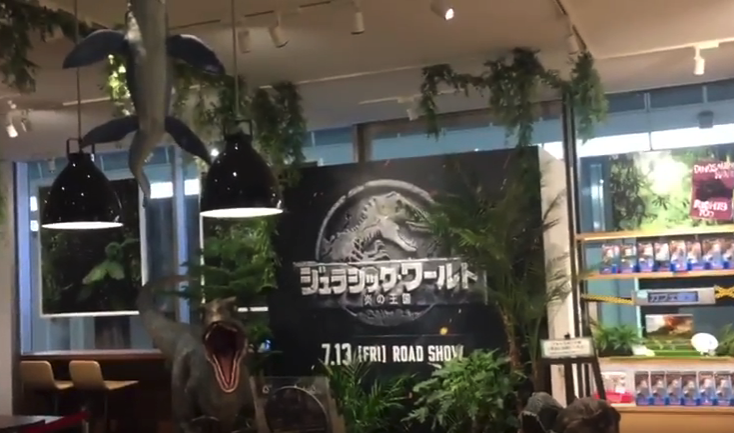 The interior is pretty simple: A few static Dinosaur figures, the Jurassic World soundtrack blasting throughout, and a gift shop where you can buy all kinds of dinosaur related items. It's your typical theme park type experience, without the high prices of a theme park.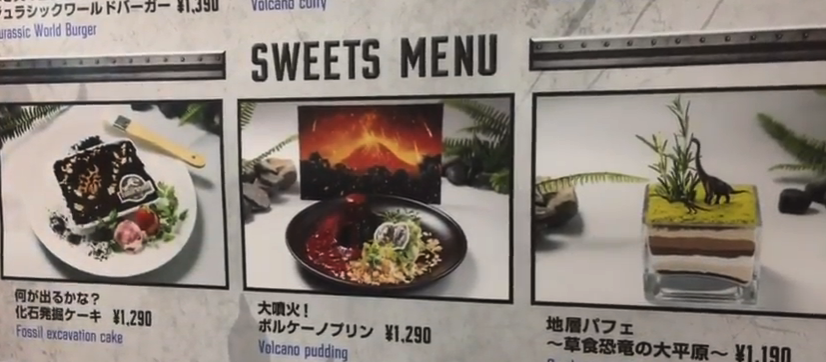 The menu is also very clever, offering several takes on food that represents the film, and with some amazing scenic added to it. From what we saw in the film, it's not the best of quality but it's definitely fun to look at and eat. It's definitely a fun idea to pop up in some smaller areas that maybe don't have access to the theme park and giant experiences of the larger theaters.
And that's where the idea comes in.
Family Entertainment Centers are popping up all over the place, and becoming more and more popular. In parts of the country where you don't have theme parks, you're seeing some of the theme park companies taking the fun to them, and doing it as a massive advertisement for their parks. Case in point-Lego Discovery Centers.
Lego Discovery Center gives families the chance to experience a small slice of Legoland Parks in California, Florida and the soon to open Legoland New York. While they aren't exactly the same, (as they don't really offer much in rides) they are a launching point for families to start discussing a Legoland Vacation. There's even a place in the Discovery Centers to get more information about the parks.
Universal is definitely in a position with their movie and television productions that they could use the synergy from films like Fast and Furious, Grinch and yes…Jurassic World to create pop up experiences, or even the "discovery center" type of family entertainment center. Think about how that could work out.
Universal has a major movie opening up based on How the Grinch Stole Christmas. From the end of October, until the middle of December, there could be a small epicenter with a slice of Grinchmas. There could be a diner serving Wholiday Who-Hash and Roast Beast, a Grinch meet and greet and even a smaller version of Grinchmas. All of that empties into a giant gift shop, where every family has to pass by a massive sales desk that just happens to have discounted tickets and vacation packages to Universal Orlando and Hollywood, where they are running Grinchmas. It's an unbelievably easy way to get your name on the tips of tongues in that small town where they may not talk much about Universal Orlando Resort, or Universal Studios Hollywood. It could work for just about every major event that Universal has as well, and every major attraction that the park plans on opening. There could be sample attractions that use VR to put the guests into the action, and even push them to explore further by taking the adventure online with the company website. It's all in an effort to get people thinking more and more about not only the Universal film, but also a Universal theme park vacation.
Of course, we are not saying that is what Universal is doing, but it does make for a fun idea to have Universal come to your town and set up a pop up shop that encourages you to visit a theme park for a bigger, more immersive vacation. It's also a great way to get the name of Universal theme parks and movies on the lips of and minds of those who may not normally be as exposed to it as those of us who are around it all the time.
Meanwhile, if you happen to be in Japan, you'll want to check out the Jurassic World Diner before it goes…extinct…(god these puns are some real fossils) on September 30th.
What do you think, and what would you put in your Universal pop up theme park experience?
Stay tuned for more from Universal, and be sure to get social with us on Facebook and follow along with us on Twitter @BehindThrills for the latest updates!
For our latest theme park videos please be sure to subscribe to us on YouTube!