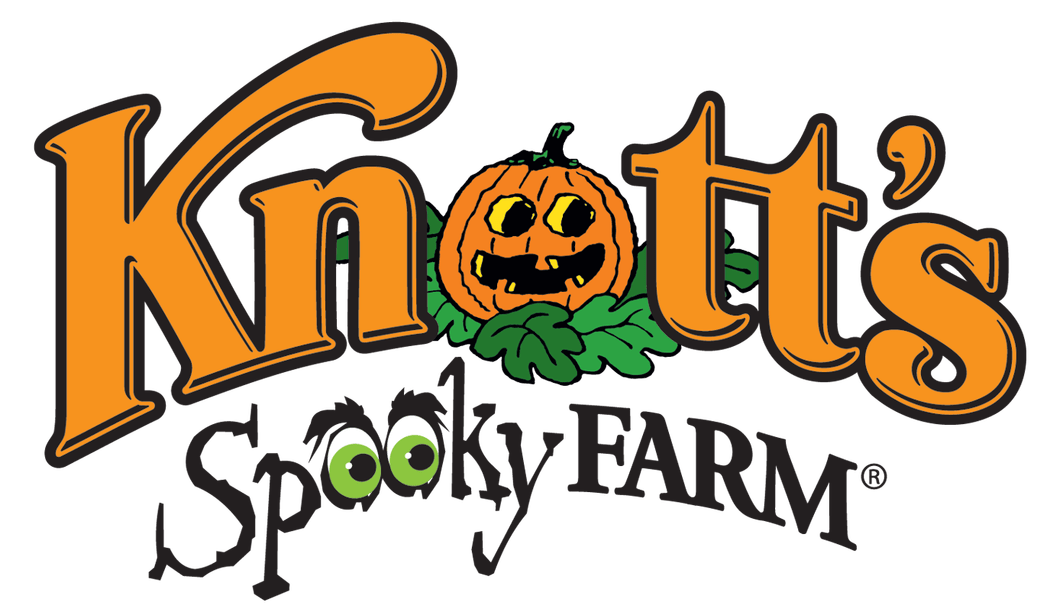 Knott's pulls out all the stops at night for their very intense and scary Halloween event. But during the day, starting September 29th, all the ghosts, ghouls and chainsaws are replaced by smiling characters, fun shows and trick or treating! Knott's Spooky Farm is back this year with tons of candy, and family fun.
Charlie Brown, his best friend Snoopy and the beloved PEANUTS Gang will all be celebrating the spooky holiday with their own Halloween costumes and will be available for special meet & greets and fun photo encounters in Camp Snoopy and Calico Park.   Kids ages 3 -11 can participate in the newly expanded trick-or-treating experience available through Ghost Town and extending all the way to Mission Row. During trick-or-treating, kids will interact with an array of spooky but friendly Shopkeepers as little ones have the opportunity to show-off their festive Halloween costumes. In Ghost Town, Stanley Scarecrow has opened the Livery Stable for guests of all ages to get close and personal with the Creepy Critters of Calico.
Whimsical jack-o-lanterns will adorn Calico Park's surroundings as it transforms into an enchanting location for families to enjoy personalizing miniature pumpkins or decorating scrumptious Halloween cookies, for a nominal fee. As a part of the exclusive festivities, Knott's Spooky Farm guests will also encounter new Halloween-themed shows with the arrival of a new friendly magician who will mystify little ones with spell-binding magic tricks at the Calico Saloon.  The Spooky Story Time at the Birdcage Theatre is where kids will find more fiendish fun as they partake in interactive group storytelling with eerie tales celebrating the season.
At Camp Snoopy, families can hop aboard the Grand Sierra Railroad to experience a one-of-a-kind adventure with A Trip to Camp Spooky as riders travel with the PEANUTS Gang® and spot fun surprises along the trail. Then at the Camp Snoopy Theatre little ghouls and gals are encouraged to show off their Halloween costume at the Peanuts Costume Contest. Additionally, families can watch the Peanuts Gang in The Monsters Are Coming, Charlie Brown, where they'll have guests of all ages singing and dancing along to classic Halloween tunes.
The residents of the Timber Mountain Log Ride will once again celebrate the Halloween Hootenanny which, adds a family friendly seasonal twist to a park favorite.  Mysterious creatures of Timber Mountain that live out in the woods and caverns join the citizens as they honor the season at the Halloween Hootenanny.  The ride's interior will feature fun surprises as guests venture past the Calico Coffin Creeper band, the town's green witch and splash down Skull Mountain through a labyrinth of jack-o-lanterns.  The seasonal ride will also feature an original song performed by Krazy Kirk and the Hillbillies. It is the perfect family experience for all to enjoy this Halloween season.
It's all part of the silly, spooky fun coming on weekends from September 29th through October 28th, and on Halloween Day, Wednesday October 31st!
Stay tuned for more from Scary Farm, and be sure to get social with us on Facebook and follow along with us on Twitter @BehindThrills for the latest updates!
For our latest theme park videos please be sure to subscribe to us on YouTube!
For more information about Knott's Spooky Farms, including tickets, visit the official website by clicking here!