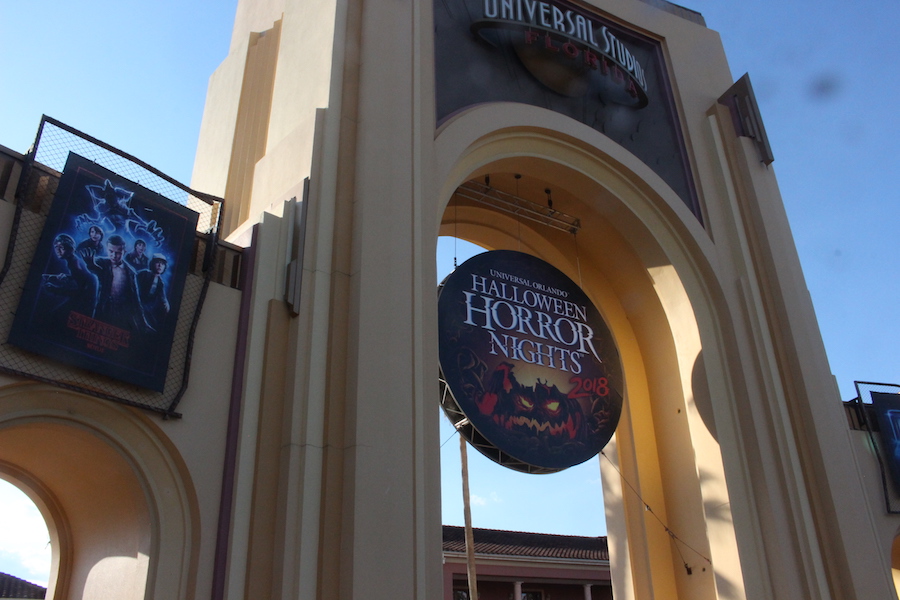 Halloween Horror Nights at Universal Orlando kicked off last Friday in huge fashion, and we were there to not only check it out, but also go inside and out of every single haunted house, scare zone and show. This year is bigger than ever, with ten houses, five scare zones (technically seven) and a brand new show. That's not even counting all the amazing rides that are also open during the event. Want a quick sneak peek? We promise we will give you more!
Video-See some highlights of HHN 28 at Universal Orlando
This year runs a gauntlet of five mazes based on tv shows and movies, and five original home grown houses. It's an even split that runs the range from deranged carnies, Demigorgons, killer plants, serial killers and a swamp yeti. To say that HHN is all over the place is an understatement, and yet that's not at all a bad thing. Variety is the spice of life, and the things that scare you the most are all here.
Note: Because the event is so massive, we will be breaking it up into three parts
We'll run down each of the houses, tell you what we liked, loved, and didn't like. This year is a solid line up with only one house that I'd skip, but we'll get to that. With ten houses this year, we're going to break up the review into three parts. This part we'll deal specifically with the IP houses. Those are houses that based on TV shows and movies. This year runs a weird mash up of films and shows with Horrors of Blumhouse 2, Halloween 4: The Return of Michael Myers, Trick r Treat, Poltergeist and Stranger Things.
The Movie Houses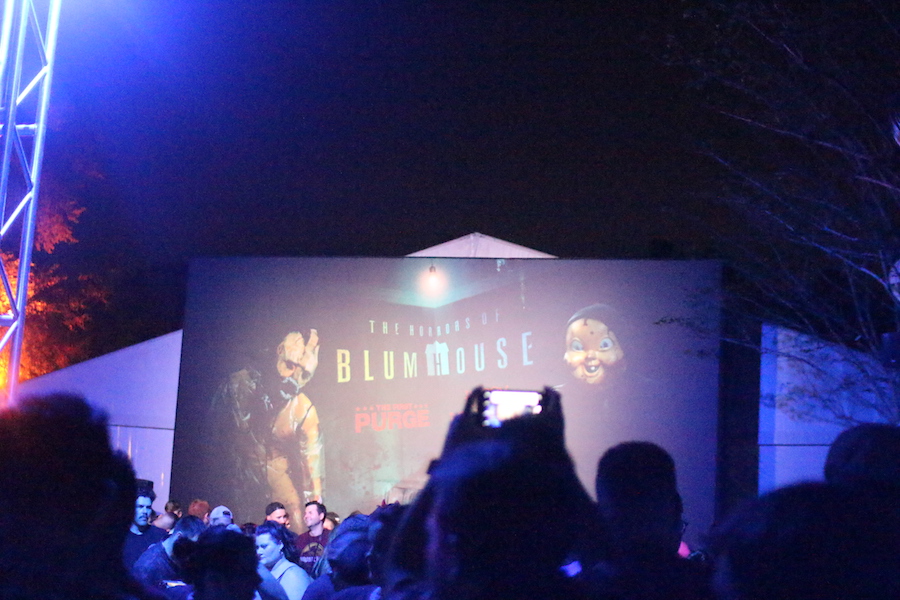 Horrors of Blumhouse 2
Blumhouse Pictures is a powerhouse of terrifying horror films. The studio is responsible for films such as The Purge series, the Insidious Series and several other films that have really redefined and kept horror alive. They are low budget, but big on story and scares and for the most part pretty great. This year's HHN sees the return of last year's mash up house, Horrors of Blumhouse. Last year mixed up three films with The Purge, Insidious 4, and Sinister. This year changes it up with The First Purge and Happy Death Day.
Video-Go in the dark with Blumhouse of Horrors 2 in Nightvision!
Last year for me was a great mix, being a fan of the Insidious and Sinister films. This year…not so much. The First Purge was a decent enough movie, but it just doesn't translate to a great haunted house. The same could be said about Happy Death Day, as that film really plays the same scenes over and over again. That's what hurt this one. You literally walked into what felt like the same room several times, and it was too repetitive.
The set pieces were great though, and the actors did a great job, it was just that the film just didn't seem to lend itself. Surprisingly the First Purge held up better, and had some genuinely terrifying scenes. But the big flaw for me felt like it was just the film. The Purge was never really true horror, more of a psychological thriller, and this latest chapter pushed the racial tones to 11.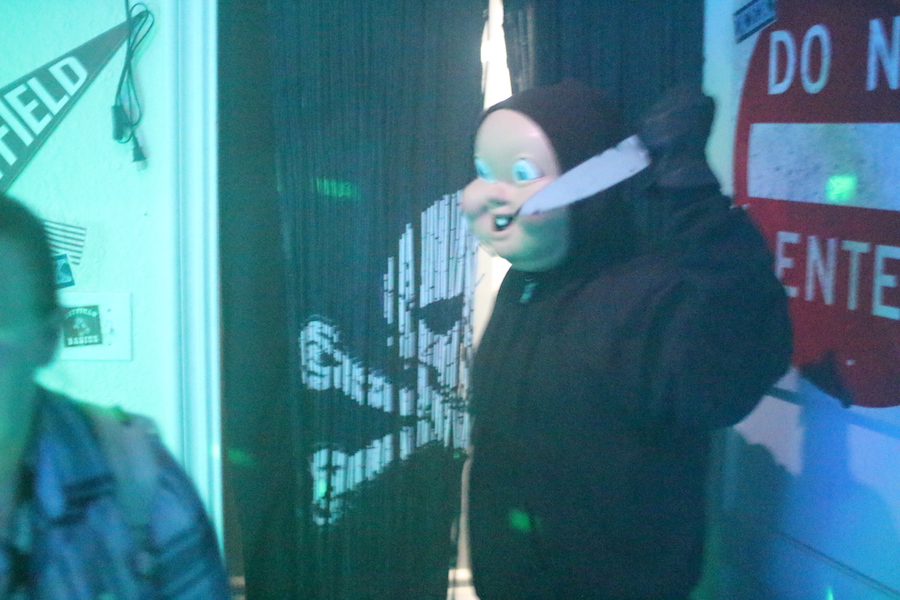 For me it was a very relevant movie and one that audiences needed to see, but just didn't need to make the jump to haunted house. It was well done, but with the rest of the event being very light hearted this year, due to the overall 80's theme, The Purge characters felt out of place. Plus, not having a third act in the house hurt it. If you're a fan of those films, you'll likely love it, but for me it's one that I'll skip.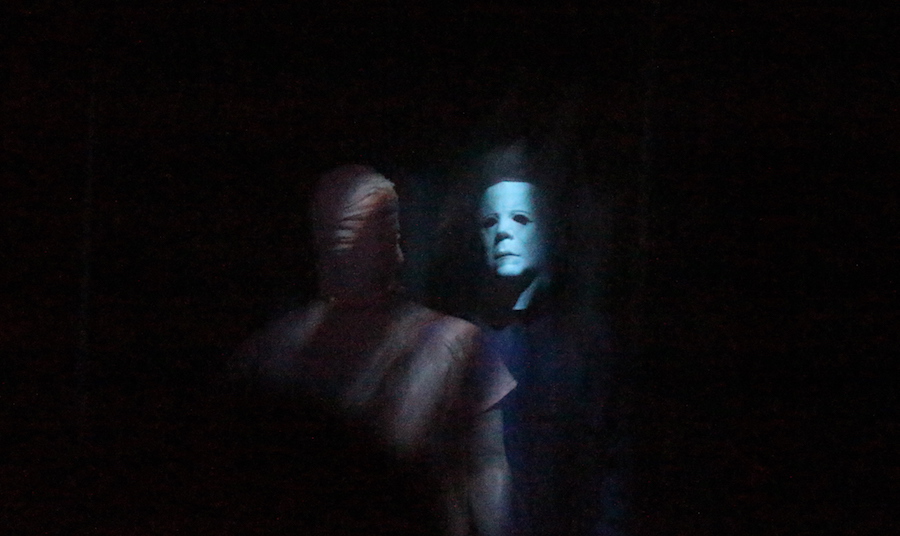 Halloween 4: The Return of Michael Myers
Universal and Blumhouse will bring back The Shape for a Halloween sequel later this year with Jamie Lee Curtis. Instead of going with that film, the creators at Universal brought back Michael Myers in the 4th installment of the film. The Return of Michael Myers sees Michael awaken from a coma, return to Haddonfield and hunt his niece. All of the things the new film will ignore.
Video-Witness the Return of Michael Myers
When Universal first did Halloween, it was a scene for scene recreation and worked so amazingly well. It was practically perfect in every way. Then they repeated a few years later with Halloween 2. It wasn't as good, but tried to be. Now comes Halloween 4. You'd think I'd have Michael Myers fatigue, but that wasn't the case. This house is short, and works because it's short. There's some great scares, and of course it's Michael Myers.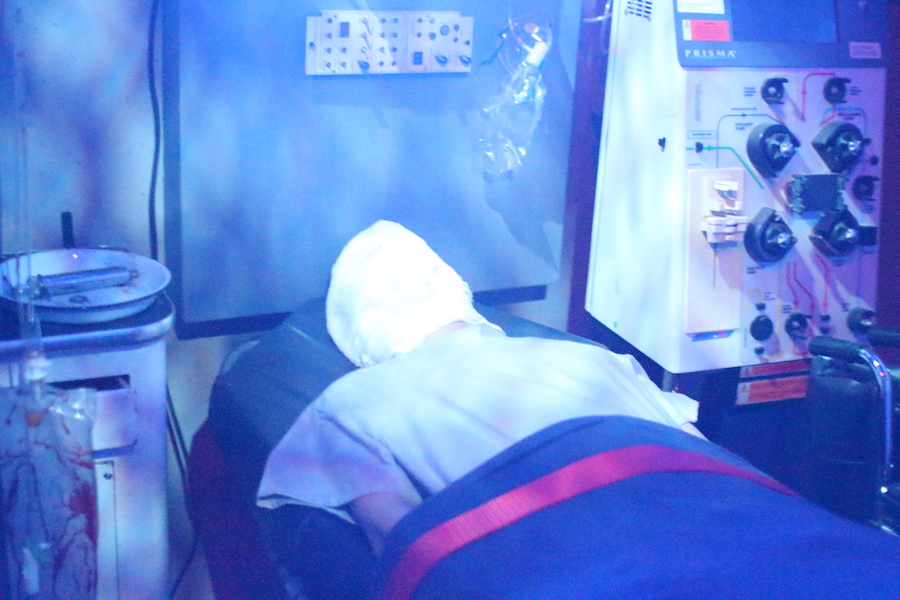 The house is fun, and while it's not my favorite, it definitely goes in different directions than previous incarnations. I love the fact that you see Myers all bandaged up, and see him becoming "The Shape" again. It's a perfect transition, even if the action does let down a little.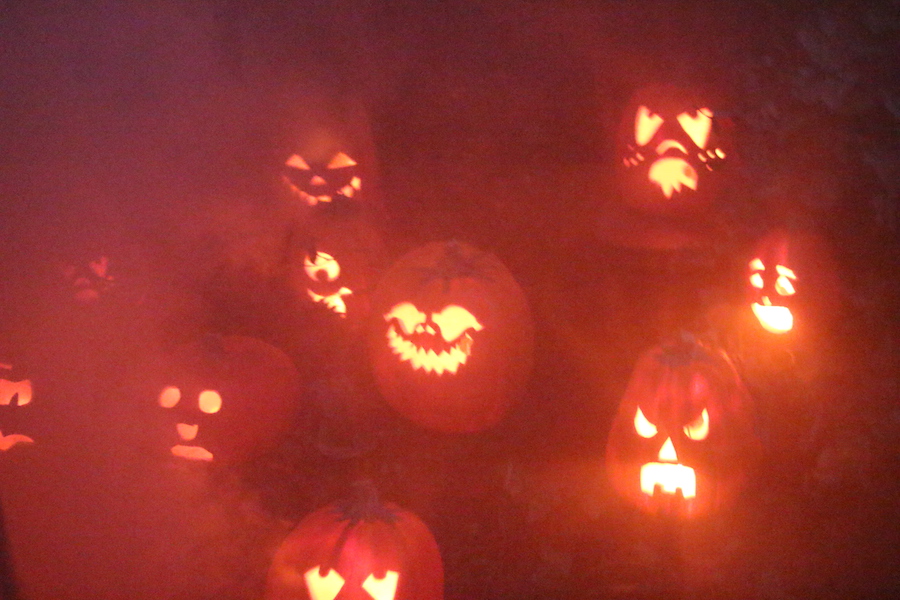 Trick r Treat
Based on the 2007 film by Michael Doughtery, Trick r Treat is an anthology house that brings several stories together. All of them are connected by Sam, the spirit of Halloween. It's a completely fun film that gives you a set of rules and guidelines to follow, most of which we've heard about Halloween our whole lives. If you don't follow those rules you are punished, and Sam is there to punish you the whole way.
Video-Trick r Treat with Sam walkthrough
The house started off as a beautiful scare zone last year, and hit all the right notes. It wasn't going to be easy to top that scare zone, but the team tried with bigger sets and more characters. The house goes through all the scenes, not necessarily in order, but you do see everything. Werewolves, the smell of dead whores, Jack o Lanterns, and of course lots of Sam.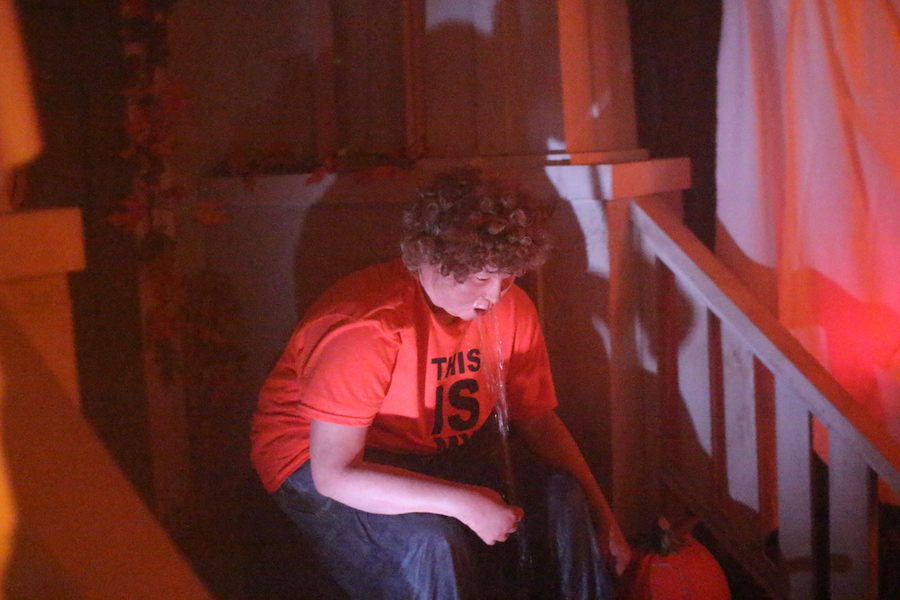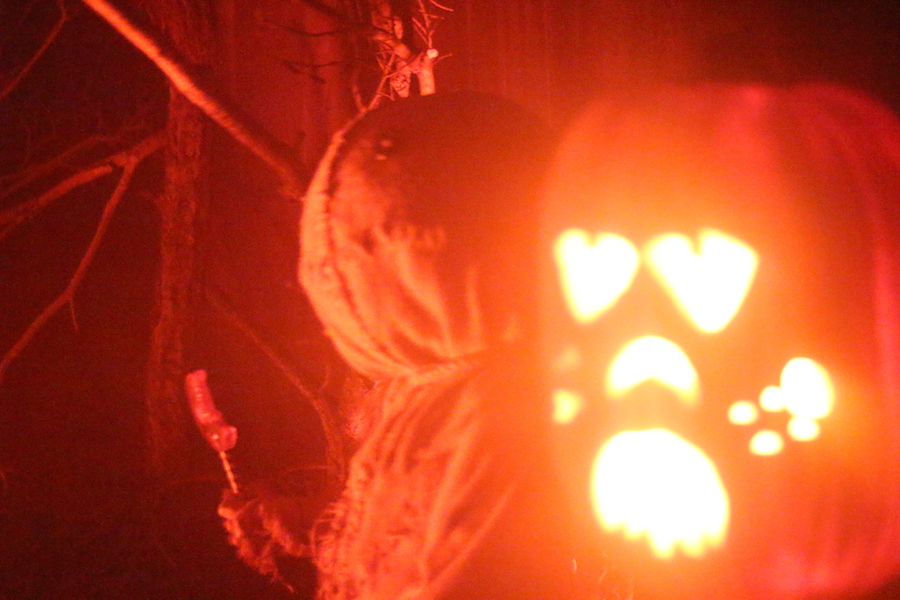 It's a very fun house that you can easily get lost in, but it seems to miss the mark just slightly. Maybe it's because the scare zone was so open and lots of fun. Maybe that kind of chaos needs to roam the streets and not be confined to a house? The house had plenty of scares, and the sets were beautiful, particularly the pieces with the bus and the quarry, and of course the smell of pumpkin is just everywhere. I just guess I wanted to see more of those zombie trick or treaters, and more of the other characters. If you're a fan of the previous house, American Werewolf in London, you'll notice that the werewolf for that house is back, and it's brilliantly used.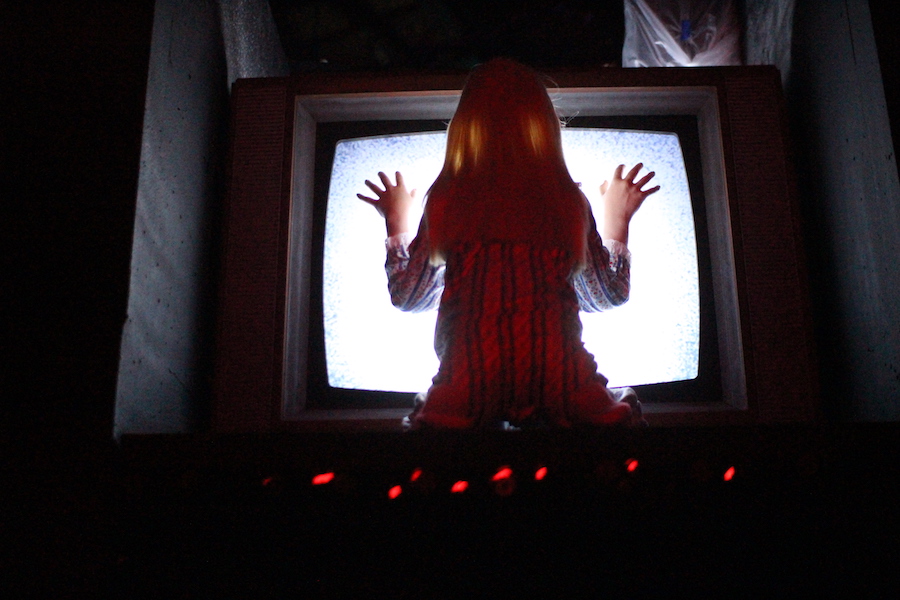 Poltergeist
Based on the hit film, Poltergeist takes guests into a haunted house where a family is being tormented by a malevolent presence. Their daughter goes missing, and they are left trying to make sense out of all of it. The film is credited as being directed by Tobe Hooper, but it has the distinct feel of Steven Spielberg everywhere. It's even said that Steven Spielberg did direct the film, while he was directing E.T. for Universal, right next door. It's a classic scary tale, and it messed up many people as kids.
Video-Walk into the light of Poltergeist!
The house doesn't follow the exact storyline, because the story has a very slow burn. Instead it focuses on the back half of the film where all the action happens, and you walk right into the stormy night where everything is going to hell. It's raining and you're walking underground into the pool, and up into the house. All of the beloved scenes are here, from Carol Anne with the TV, to the tree and even the meat crawling across the counter, and the guy ripping his face off. The Clown that terrified you is here, and so are all your childhood nightmares.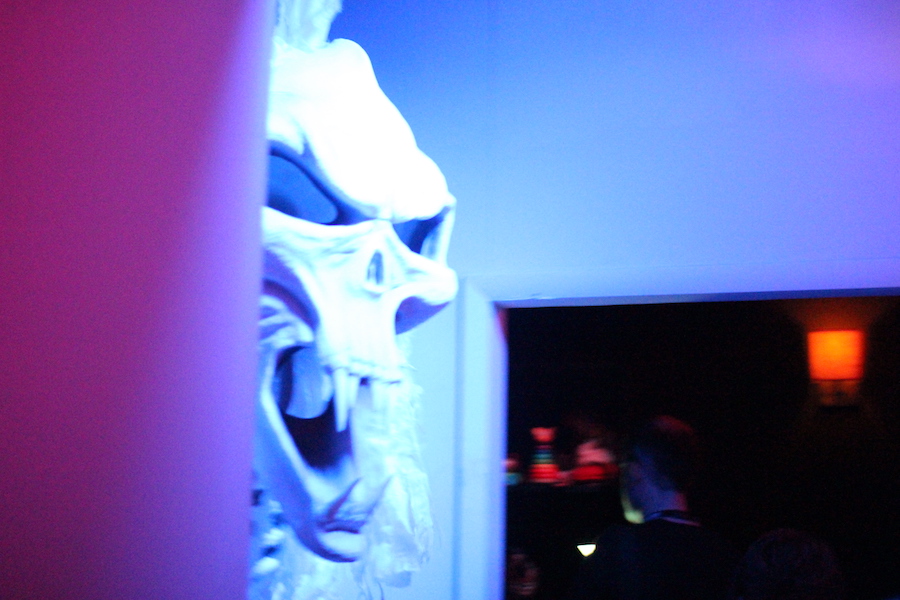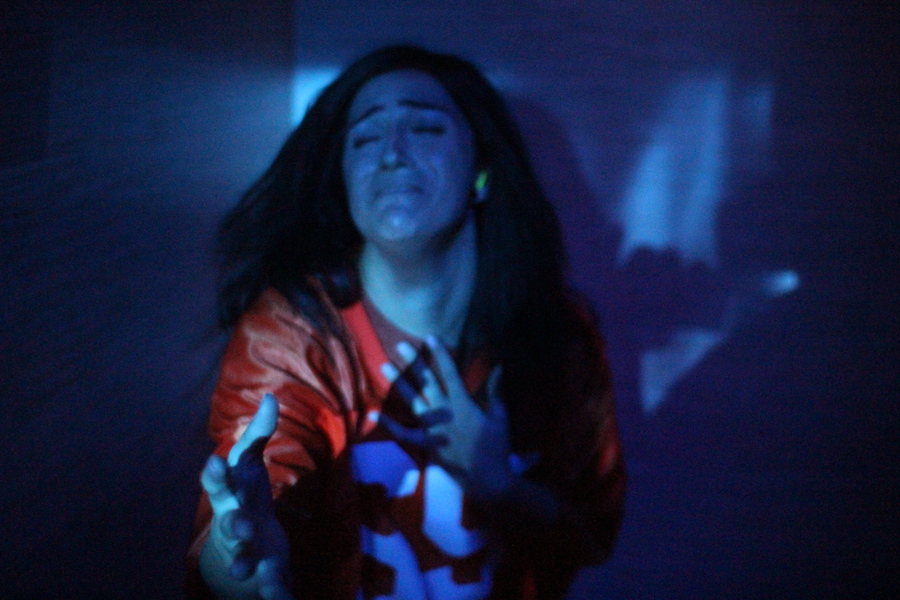 The team at Universal takes it one step further and pushes you into the light. All are welcome, all are welcome. Tangina urges you to clear your mind, but it doesn't help as you go in and face even more of the terrors. The house doesn't have the same slow burn, but it's atmospheric as hell, and that's what matters. Universal creates the atmosphere and builds on it, and while it doesn't take the same approach as the film, it captures what is a truly terrifying movie that was only rated PG at the time!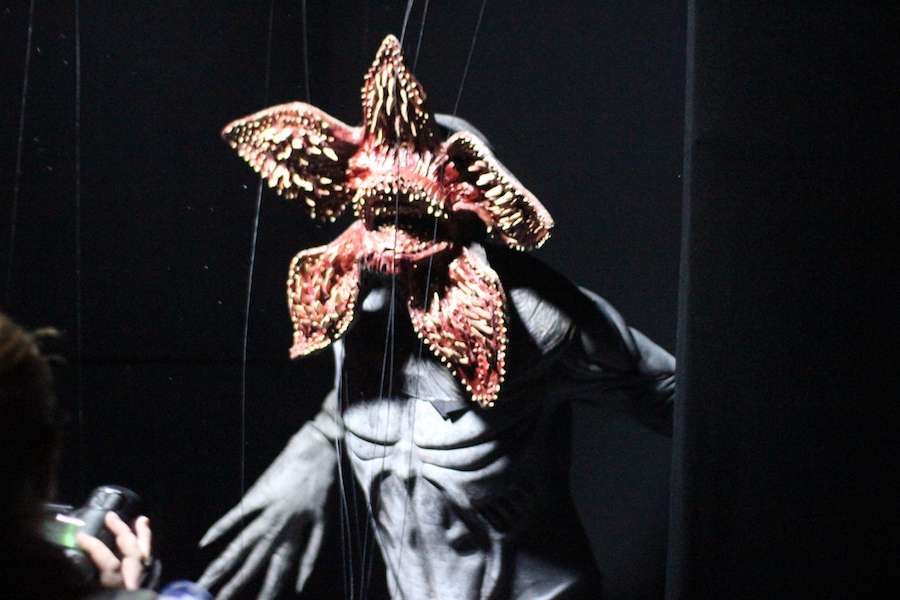 Stranger Things
Stranger Things is a sci-fi horror show on Netflix that captures the 80's with perfection. It follows a group of friends in Hawkins Indiana, as one of their group goes missing, and the appearance of a strange girl known only as Eleven throws the town into a whirlwind. There are big government conspiracies, and a place called "The Upside Down" where an evil monster dubbed the Demogorgon lives.
Video-Go Upside Down with Stranger Things
Everything you loved about the show is here, including the kids, the lab and even Hopper. The Demogorgon is EVERYWHERE and you're getting attacked at every angle and chance it gets to make it's presence known. The house is very well done and puts you right into the show.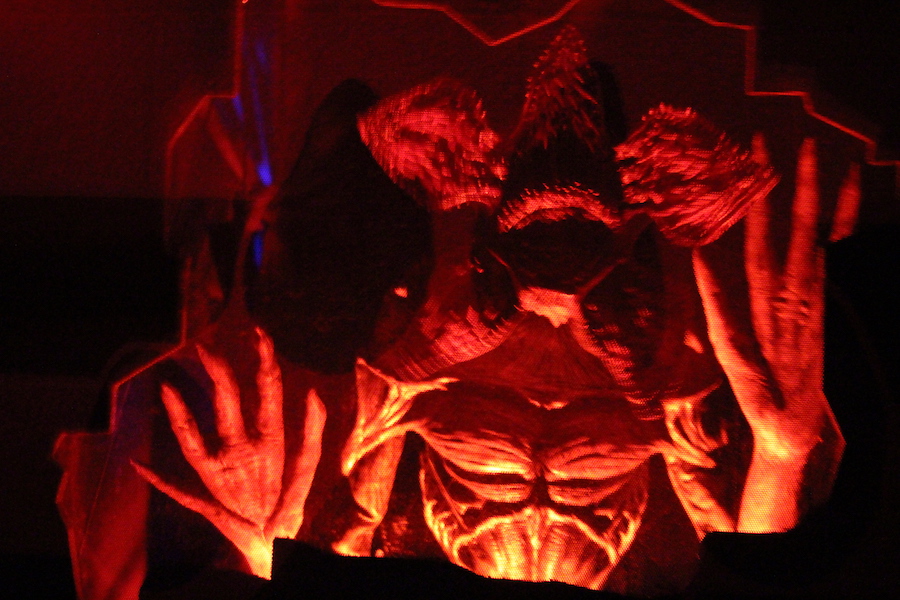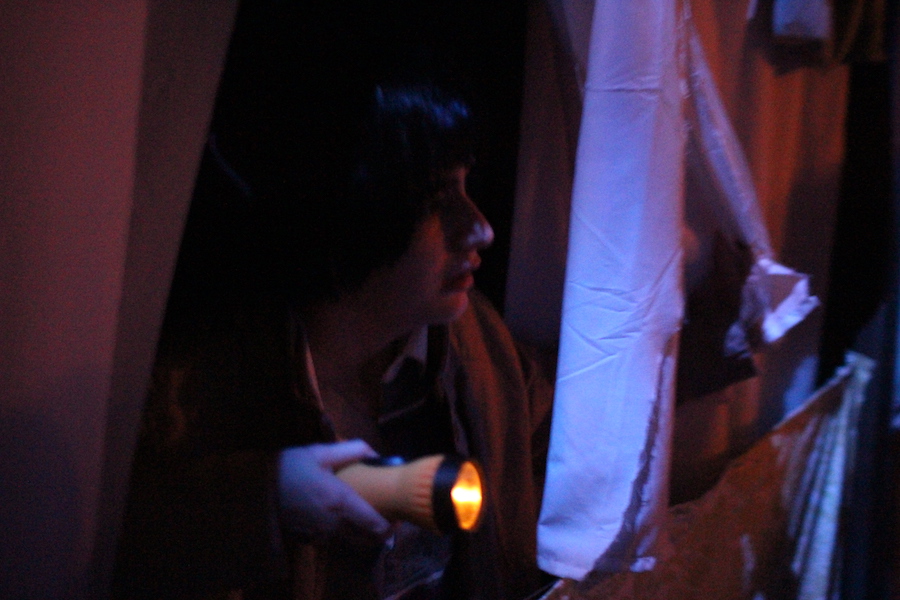 Universal worked with Netflix to bring the house to life and to bring the show to life. There are amazing little nods to the show everywhere and all of the props and costumes come directly from the 80's. It's a show based on nostalgia, and while nostalgia is great, it can't carry the whole thing. Just like the house. While the show is great, you can't just slap a name on it and expect it to be great. Universal did an amazing job with the house, and really knocked it out of the park.
That wraps up our house reviews. What do you think of this year's event? Will you be checking it out? What is your most anticipated house? We will have a list of our favorites in a later article, so stay tuned.
Want to see more from HHN 28 at Universal Orlando? Check out our HUGE Slideshow below!
[flickrpics type='flickr' view='photosets' photoset_id='72157699944272801′ media='photos' tag_mode='any' sort='date-posted-desc' layout='no-strip' caption='title-desc' thumb_size='s' main_size='z' fx='slide' controls='show' ]
The only house that isn't a must see again for me is Blumhouse, and that's a big deal. The house line up is simply epic this year, and all but Blumhouse are houses that you need to see several times. The event overall is pretty amazing, with the 80's contributing to a major feel of nostalgia. While nostalgia is cool, it's not always enough to carry an entire event, no matter how the parks may try. HHN 28 stands on it's own with a great original line up, great houses based on movies and shows, and of course Academy of Villains steals the show.
The event runs on select nights from now until November 3rd, and will have MASSIVE crowds, so make sure you go often and make plans.
Want more? OF COURSE YOU DO!
Stay tuned for more from Halloween Horror Nights, and be sure to get social with us on Facebook, Twitter, and Instagram @BehindThrills for the latest updates!
For our latest theme park videos please be sure to subscribe to us on YouTube!
For more information about HHN, including tickets, visit the official website by clicking here!