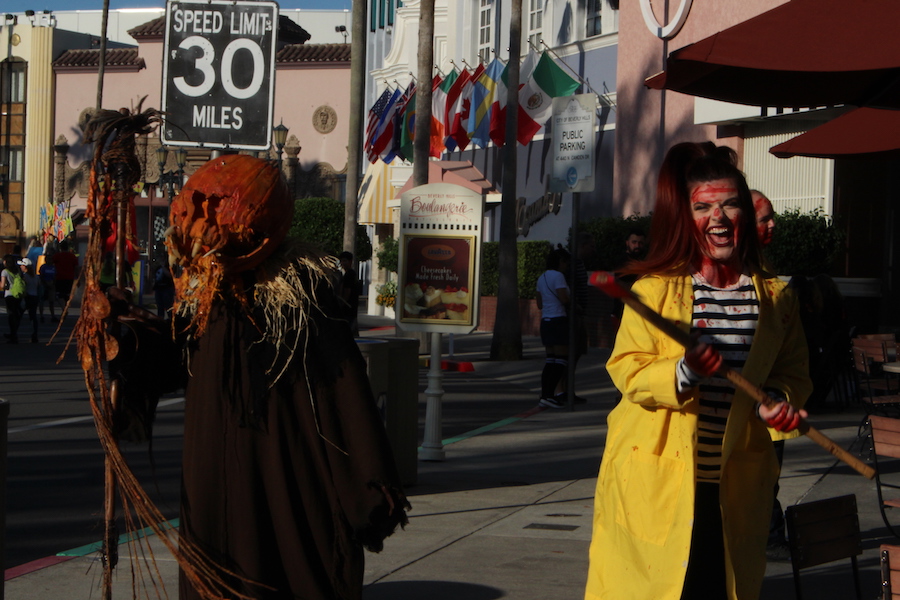 Halloween Horror Nights at Universal Orlando kicked off last earlier this month in huge fashion, and we were there to not only check it out, but also go inside and out of every single haunted house, scare zone and show. This year is bigger than ever, with ten houses, five scare zones (technically seven) and a brand new show. That's not even counting all the amazing rides that are also open during the event. Want a quick sneak peek? We promise we will give you more!
Video-See some highlights of HHN 28 at Universal Orlando
This year runs a gauntlet of five mazes based on tv shows and movies, and five original home grown houses. It's an even split that runs the range from deranged carnies, Demigorgons, killer plants, serial killers and a swamp yeti. To say that HHN is all over the place is an understatement, and yet that's not at all a bad thing. Variety is the spice of life, and the things that scare you the most are all here.
Note: Because the event is so massive, we will be breaking it up into three parts
Streets and Shows
This year, Universal has brought the streets to life in an exciting way. There are two huge properties with Revenge of Chucky and Killer Klowns from Outer Space, and three original scare zones. Plus, to fill in some "dead" space, there are two hordes of chainsaw toting maniacs throughout the park. We're going to let you see everything!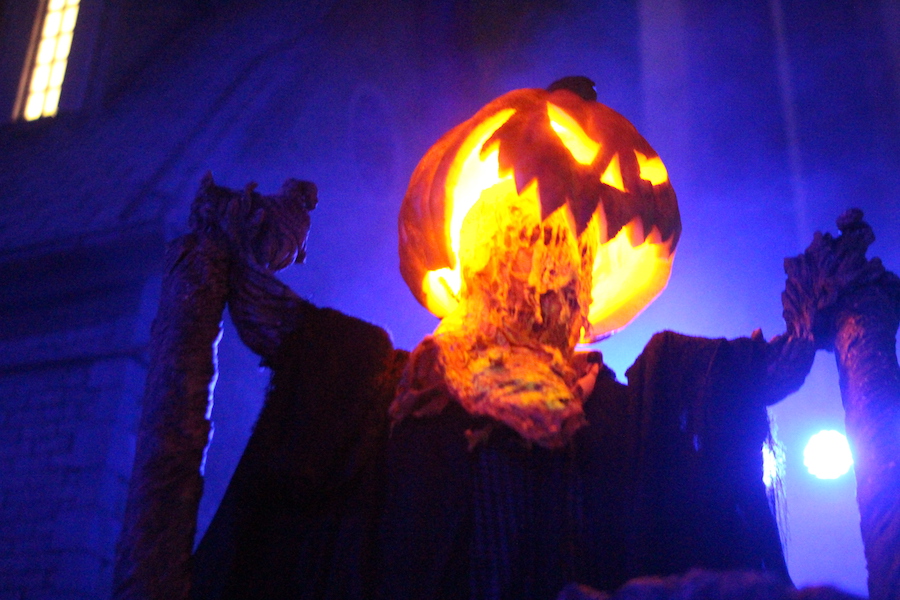 The Harvest
The barn is full, and it's time to reap the harvest of what has come to Halloween Horror Nights this year. There's strange pumpkin creatures, straw people and scare crows all over the area. Plus you can get a sneak peak at the haunted houses.
Video-Full walkthrough of The Harvest at HHN 28
While there are props for the houses, and titles that's about it. There are no characters from the houses roaming the streets this year, and there are no big names in the fog.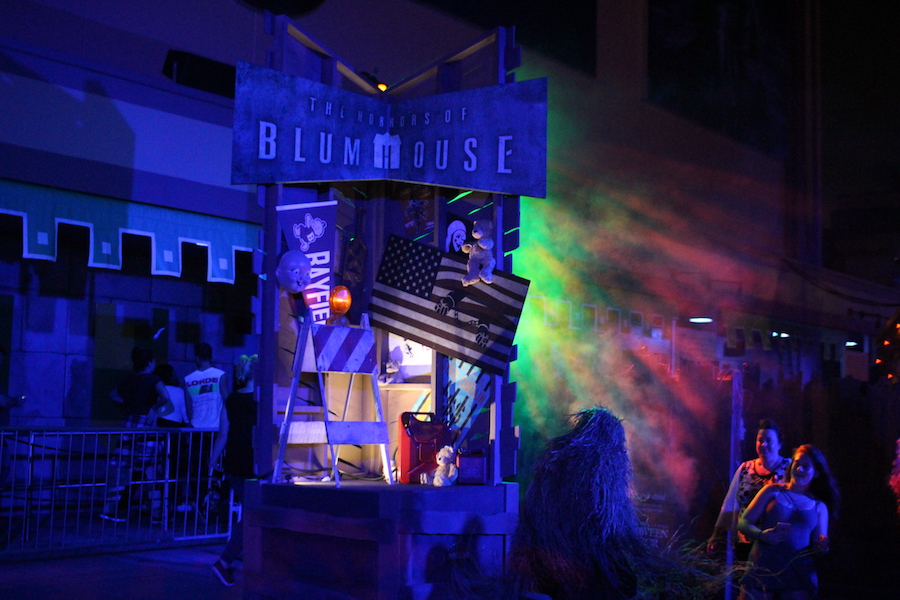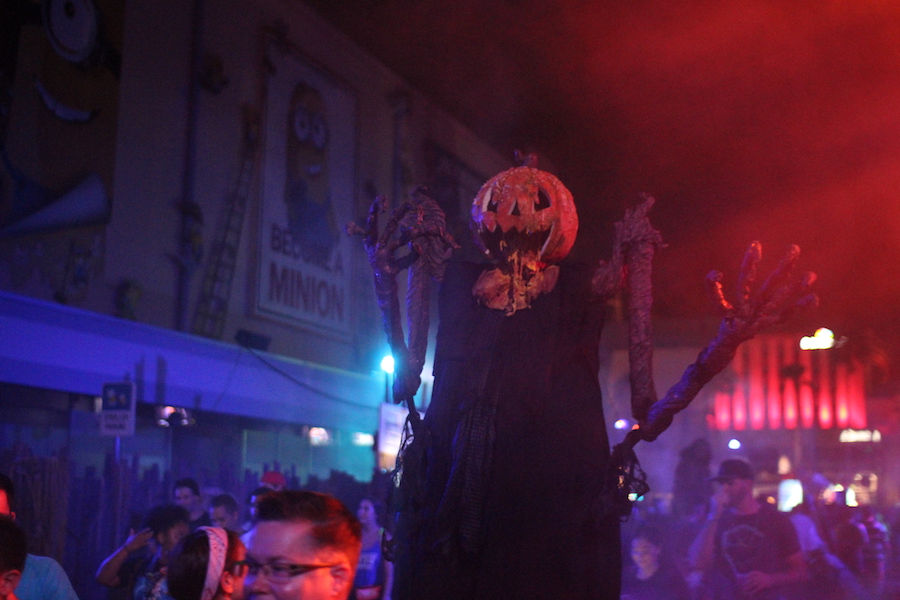 It's okay, this area is meant as an appetizer for the show and it works. The pumpkins are rotted and falling apart, it seems to be a theme throughout the event, as if they're preparing us for something else.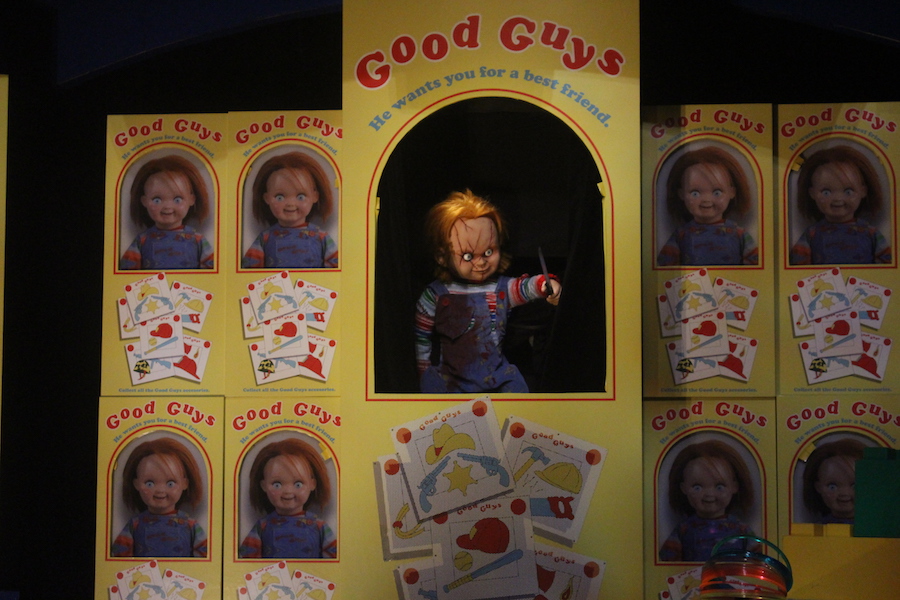 Revenge of Chucky
Good Guy Dolls are 30 years old this year, and to try and throw off the tarnished reputation of the toy, thanks to Charles Lee Ray, the company is holding a toy convention. Of course, Chucky gets wind of it and invades it. He also possesses all the toys and things go horribly wrong.
Video-Join Chucky and the toys in Revenge of Chucky 
This scare zone is meant as a tribute to all things Chucky. He's on stage, spouting all kinds of stuff at the audience, and making for a great show.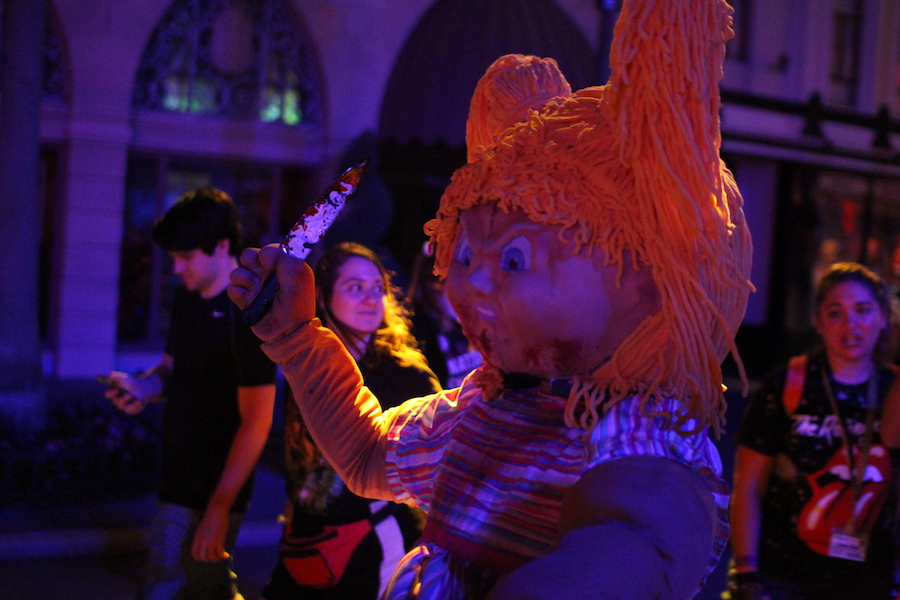 Every type of toy you remember from your childhood is here, and all screwed up. Plus there are factory workers here that are trying to kill you, or convert you to the Cult of Chucky. Its effective and fun, and a great place for photos and to people watch.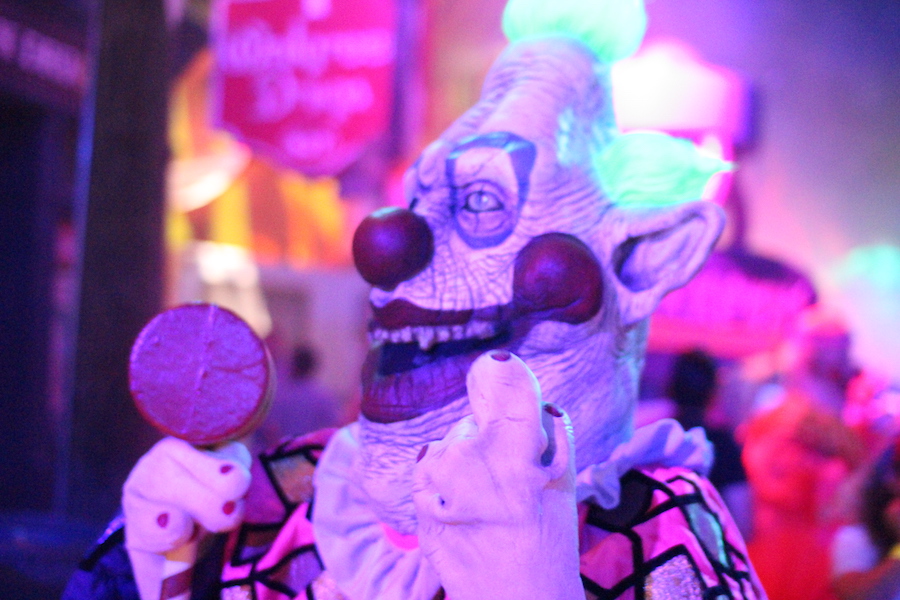 Killer Klowns from Outer Space
Another film celebrating 30 years is the campy, B-movie classic, Killer Klowns from Outer Space. Klowns have invaded the streets and are encasing people in cocoons made of cotton candy. They are roaming the streets and filling it with blood and popcorn.
Video-Walk through with Killer Klowns from Outer Space
This area is so small, but for good reason. It's filled with the scents of cotton candy, foggy bubbles and there's projections taking off every few minutes.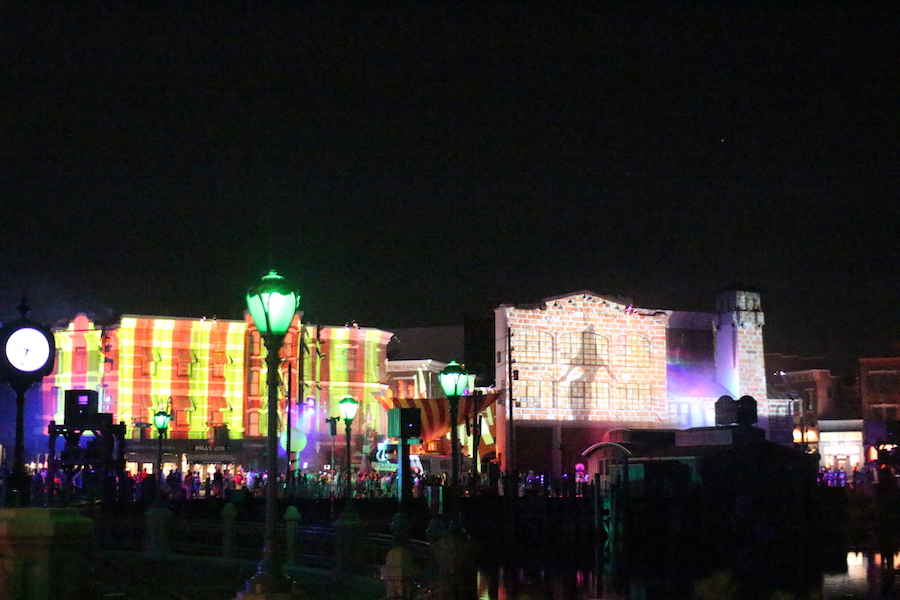 The projections are courtesy of the new Cinematic Celebration Show that happens the rest of the year. You can see spaceships, and shadow puppets and even hear that iconic soundtrack.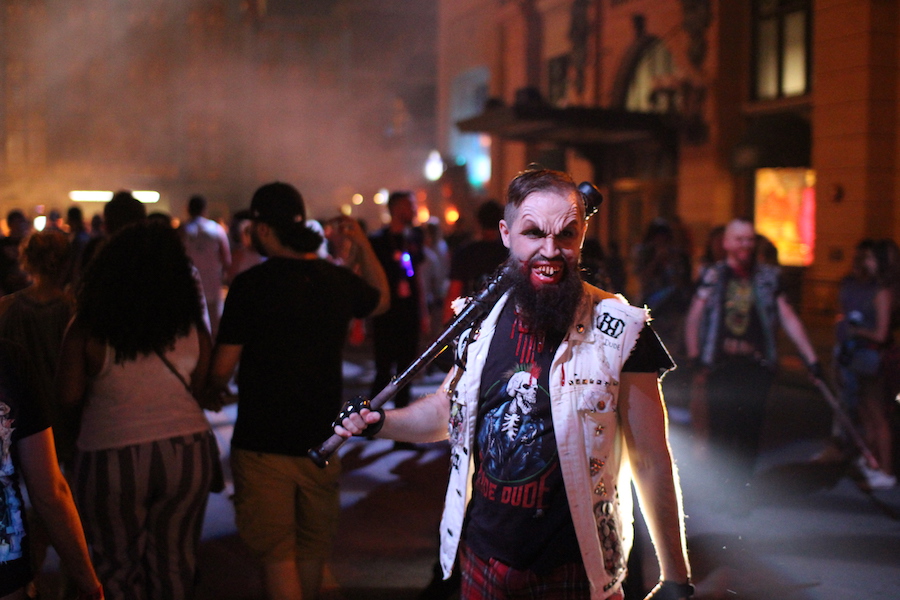 Vamp 85
New York City in 1984. There was never a more decadent, more glistening representation of what the 80's were than that. Big hair, big shoulder pads, big music and big…teeth? Vampires have taken over the New Year's Eve celebrations as 84 drifts into 85, and the blood fills the streets.
This scare zone is seriously fun. Loads of celebrity vamps roaming around, so if you know your pop culture you'll see tons of music icons floating around.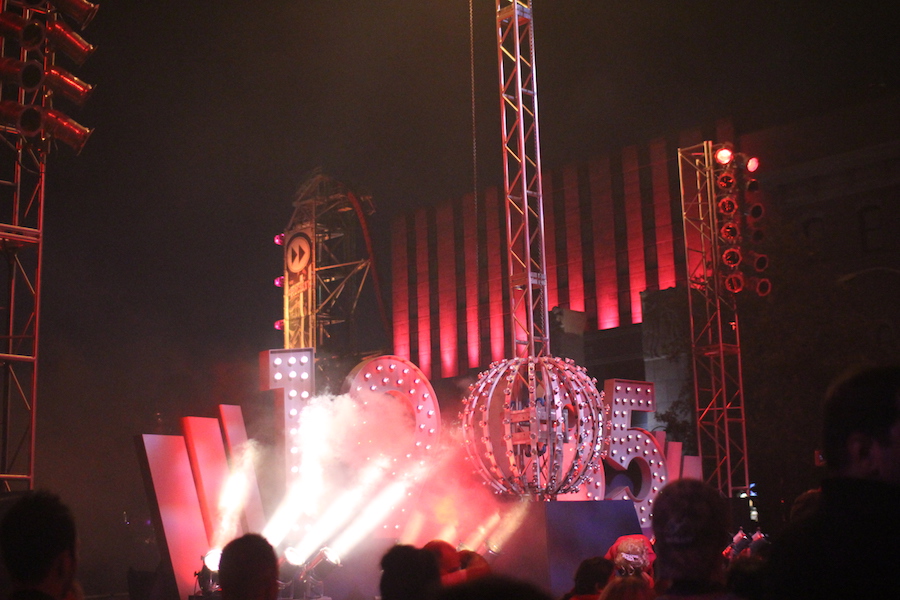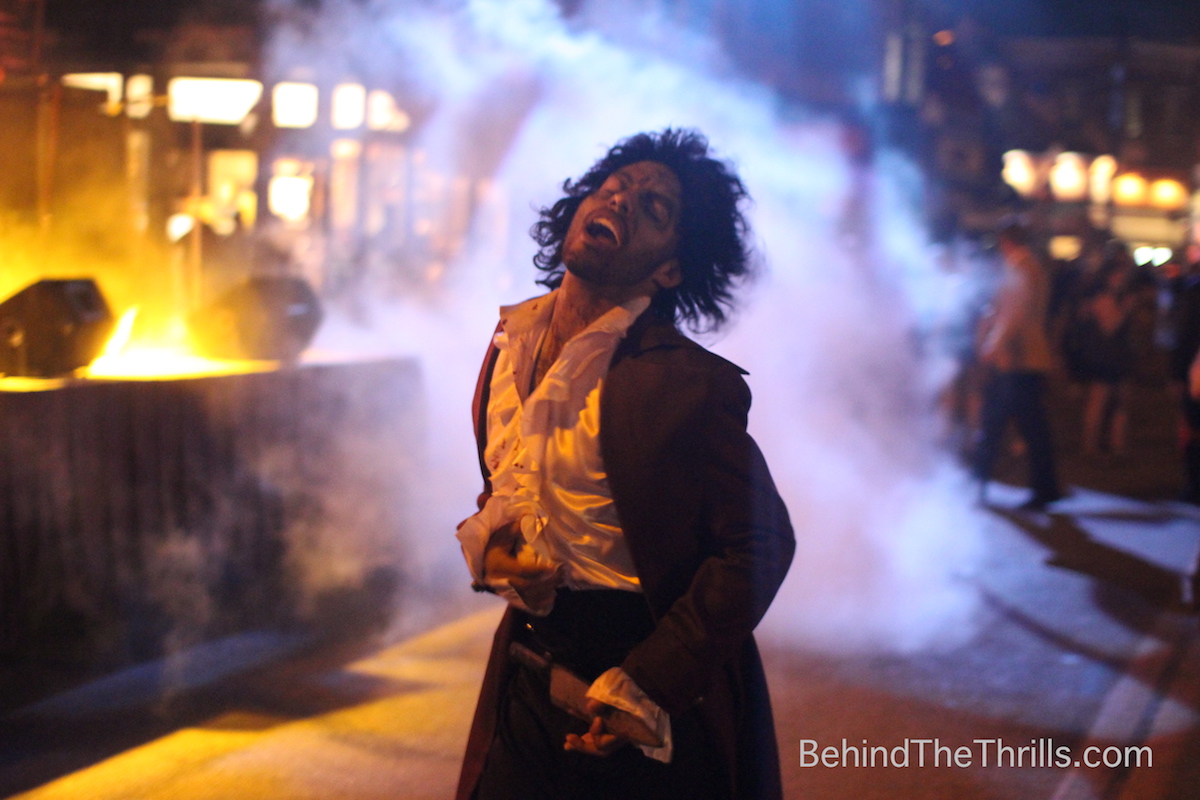 There's a ball drop every 25 minutes and loads of vampires and victims alike. It's pure fun, though there is a dark side that we'll talk about later that purely represents the true vision of the 80's.
Twisted Traditions
Everything that you love about Halloween, from the pumpkins and trick or treaters is here in Carey, Ohio. The town is home to a little patch of land that has gone wrong, and everything is just plain rotten. The pumpkins overhead are rotting, the scarecrows are rotten and decaying, even the old School House (well, maybe it's a church now) is overgrown and rotting. The traditions of old are dying, and dead.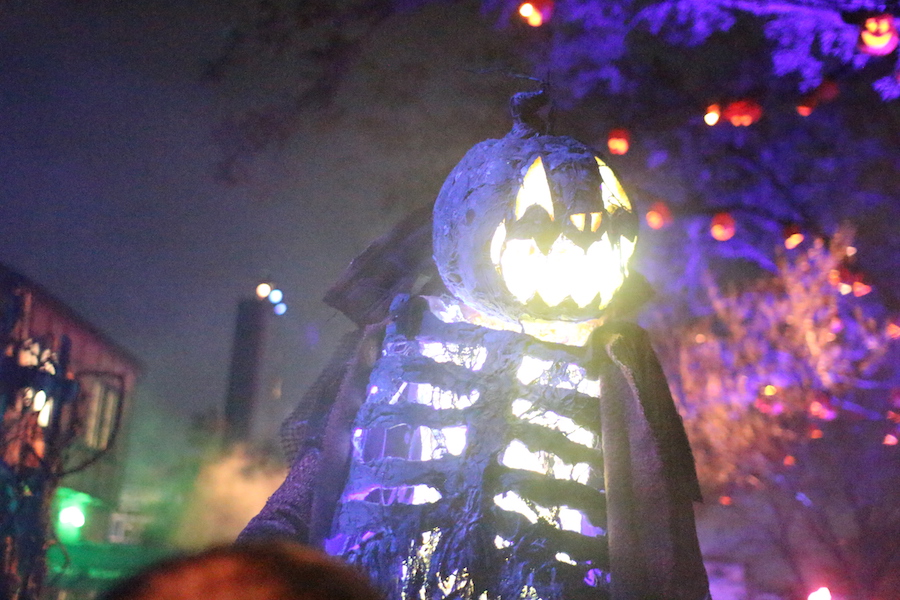 Video-Rot away in Twisted Traditions
I LOVE this area. There's an eerie calm here, as there's no chainsaws revving, only the sounds of screams and eerie music. The land is poisoned, and the traditions that once haunted us are dying. Universal, are you trying to tell us something here?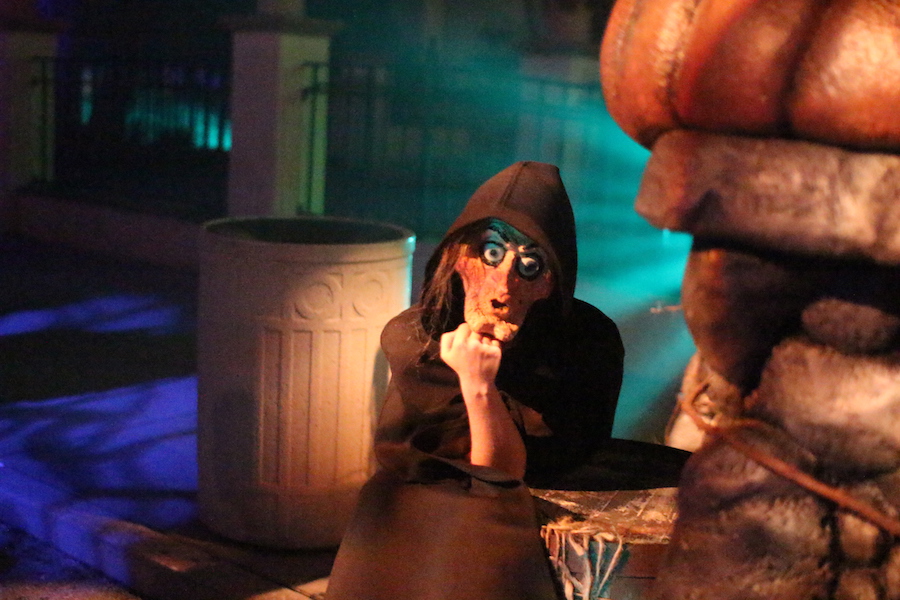 All the Jack O Lanterns are rotted away to nothing, and even the lights in the trees are dim and flickering. It's honestly like there's something else here to be seen, and like Universal is giving hints of things to come. Who knows?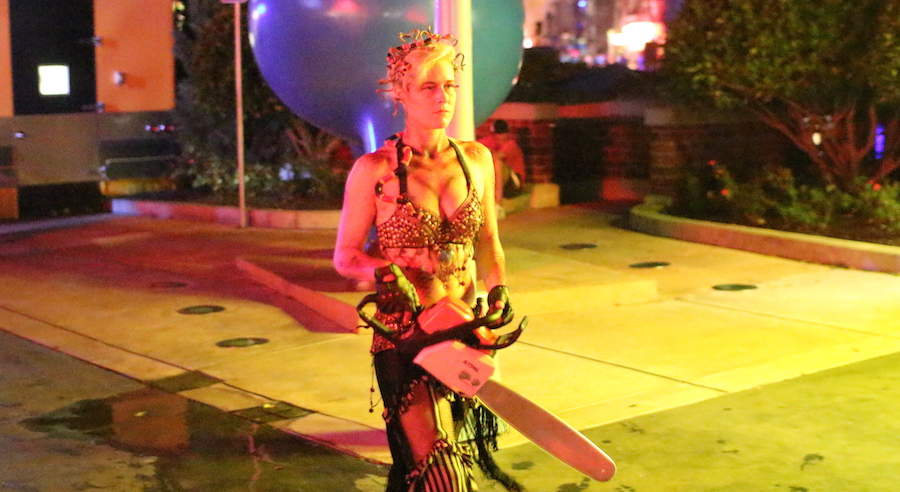 Chainsaws
We love us some chainsaws! Universal is home to the original Chainsaw Drill Team, and they're back with a vengeance this year in two hordes, in two areas of the park.
First in Springfield, there's the creepy carnival that has come to town.
Next, as you exit Fast and Furious, you have mechanics that are pissed off that you skipped your oil change!
The streets are just the icing on top of a gory cake, but we're not done yet!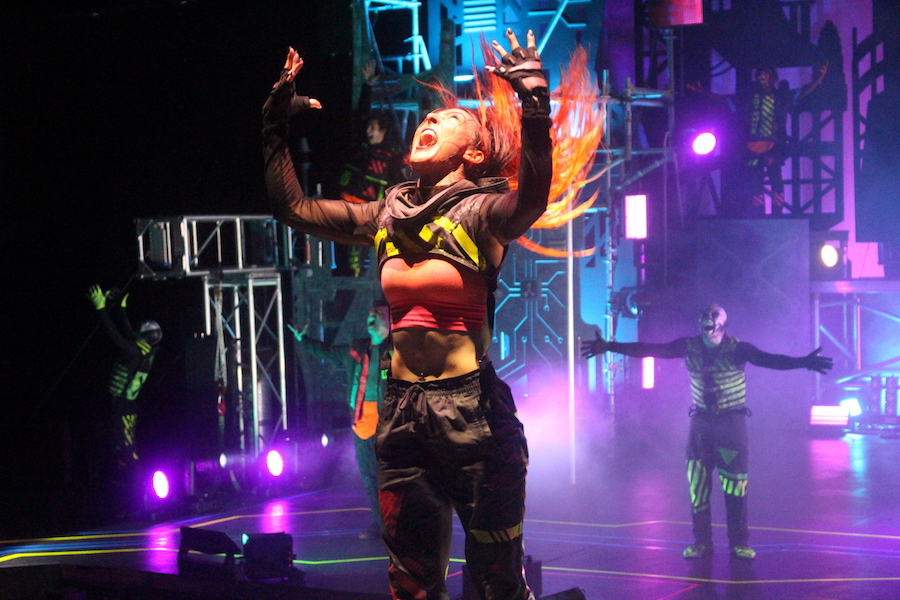 Academy of Villains
For the third year in a row, Academy of Villains have returned in an all new show, this time showcasing their storytelling skills as they take over the Fear Factor Live stage.
No, it's not Bill and Ted. Academy of Villains has a difficult role to fill, as the replacement for the long running Bill and Ted's Excellent Halloween Adventures. But they fill it well. They're not trying to be the show, they are just doing their thing, and it fits in perfectly! We'll have a much more in depth look at the show in a future article.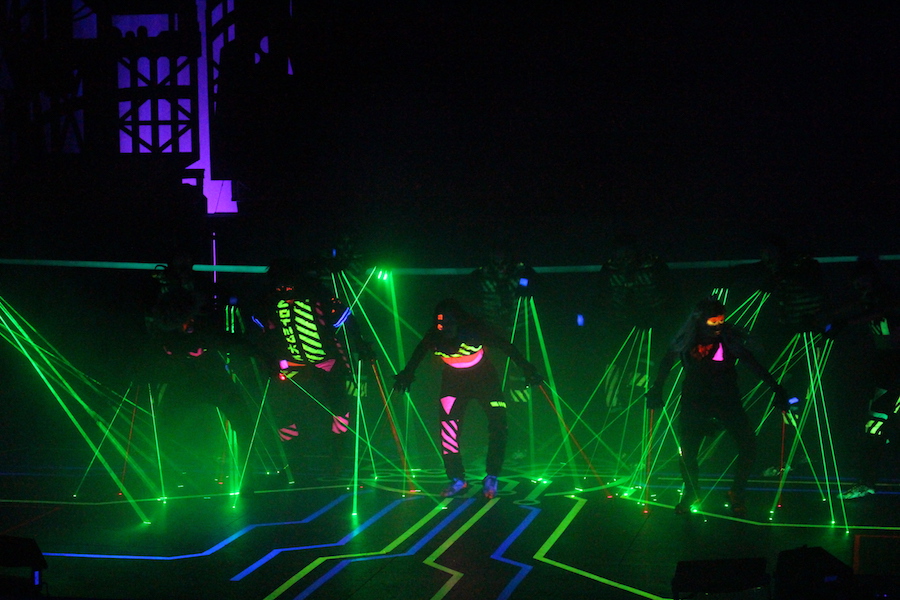 So what do you think? This year's event is a perfect storm of great original houses, strong IP houses and fun filled streets.
Plus, add Academy of Villains in there, and you have the best event I've seen since 2008. That's saying something, because there have been some strong years in the past ten years. This is going to be one that's talked about for quite some time, so you're going to want to go if you're not planning already.
Want to see more from HHN 28 at Universal Orlando? Check out our HUGE Slideshow below!
[flickrpics type='flickr' view='photosets' photoset_id='72157699944272801′ media='photos' tag_mode='any' sort='date-posted-desc' layout='no-strip' caption='title-desc' thumb_size='s' main_size='z' fx='slide' controls='show' ]
Overall, the original house line up this year is pretty amazing. The event overall is pretty amazing, with the 80's contributing to a major feel of nostalgia. While nostalgia is cool, it's not always enough to carry an entire event, no matter how the parks may try. HHN 28 stands on it's own with a great original line up, great houses based on movies and shows, and of course Academy of Villains steals the show.
The event runs on select nights from now until November 3rd, and will have MASSIVE crowds, so make sure you go often and make plans.
Want more? OF COURSE YOU DO!
Stay tuned for more from Halloween Horror Nights, and be sure to get social with us on Facebook, Twitter, and Instagram @BehindThrills for the latest updates!
For our latest theme park videos please be sure to subscribe to us on YouTube!
For more information about HHN, including tickets, visit the official website by clicking here!