Halloween is one of our favorite times of year! It's creepy, spooky and for little ones it can be altogether scary. There are tons of Halloween events out there with "Scream" and "Horror" in the name, which can be great for the bigger kids, but for the little kids who still want to have Halloween fun without
Video-Go on a Candy Hunt at Spooktacular
Normally, Happy Harbor gets the brunt of Halloween trick or treating, but this year, with the construction of Sesame Street it's scattered throughout most of the park. The Halloween path picks up at the Waterfront and wraps all the way around to the back of the park. It then picks back up near Shamu Stadium and goes through Bayside Stadium.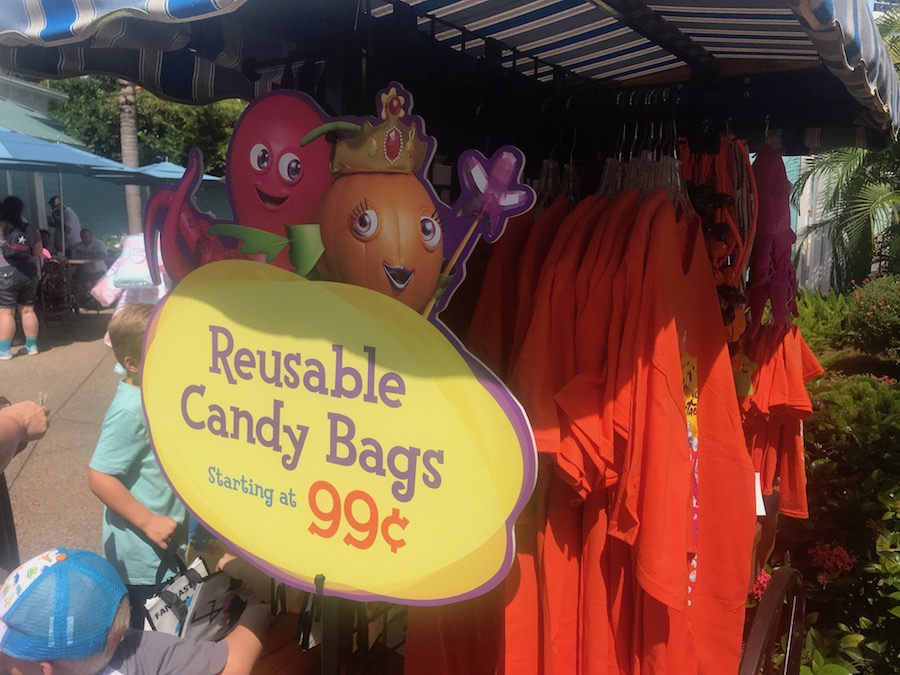 This year there's kind of a…mixed bag…The park no longer gives out free bags (at least that we saw) for Trick or Treating. Instead, they sell you a reusable bag, starting at $.99 cents. While that may make you say "rip off", keep in mind that SeaWorld JUST instituted a no plastic bag policy in the parks. You're allowed to bring your own bags for candy, but these bags are reusable, and environmentally friendly. It's a perfectly acceptable trade off, plus the bags start at less than a dollar, and they're a very cheap souvenir from SeaWorld, as they all have some kind of spooky sea creature on them. It's very responsible, pretty inexpensive and very environmentally friendly.
Also new this year is the new Story Time in the Pearl Diving area. The area is pretty perfect for a show or story time. There's plenty of seating and the background of the pearl tanks makes for a great backdrop.
Like every year, one of the biggest highlights are the awesome characters that roam the park. From mermaids, to a school of fish and even Sea Witches, there's tons of different characters to interact and play with. There's also the Sesame Street characters and the Countdown to Halloween!
Celebrate a Spooktacular Halloween at SeaWorld with The Count, Elmo, Abby, and the rest of your Sesame Street friends! The Count is feeling lonely this Halloween, and it's up to you and the loveable monsters from Sesame Street to get him into the Halloween spirit.
If you want more Sesame Street fun, there's Count von Count's Spooktacular Breakfast features a delicious buffet enjoyed with the furriest characters in town. This breakfast is a fun-filled experience sure to delight kids and parents alike. Starting at $14.99 for kids and $29.99 for adults, reservations can be made online, at the Information Counter or by calling (407) 545-5550.
But the biggest news of all is that you can get kids in for free during Spooktacular. Enjoy one free child admission (ages 3-9) with each full paid adult admission to SeaWorld Orlando. Offer valid on SeaWorld's Halloween Spooktacular weekends dates only September 22-23, September 29-30, October 6-7, October 13-14, October 20-21 and October 27-28. Offer ends October 28, 2018. Offer expires October 28, 2018.
Stay tuned for more from SeaWorld, and be sure to get social with us on Facebook and follow along with us on Twitter @BehindThrills for the latest updates!
For our latest theme park videos please be sure to subscribe to us on YouTube!
For more information about SeaWorld, including tickets, visit the official website by clicking here!