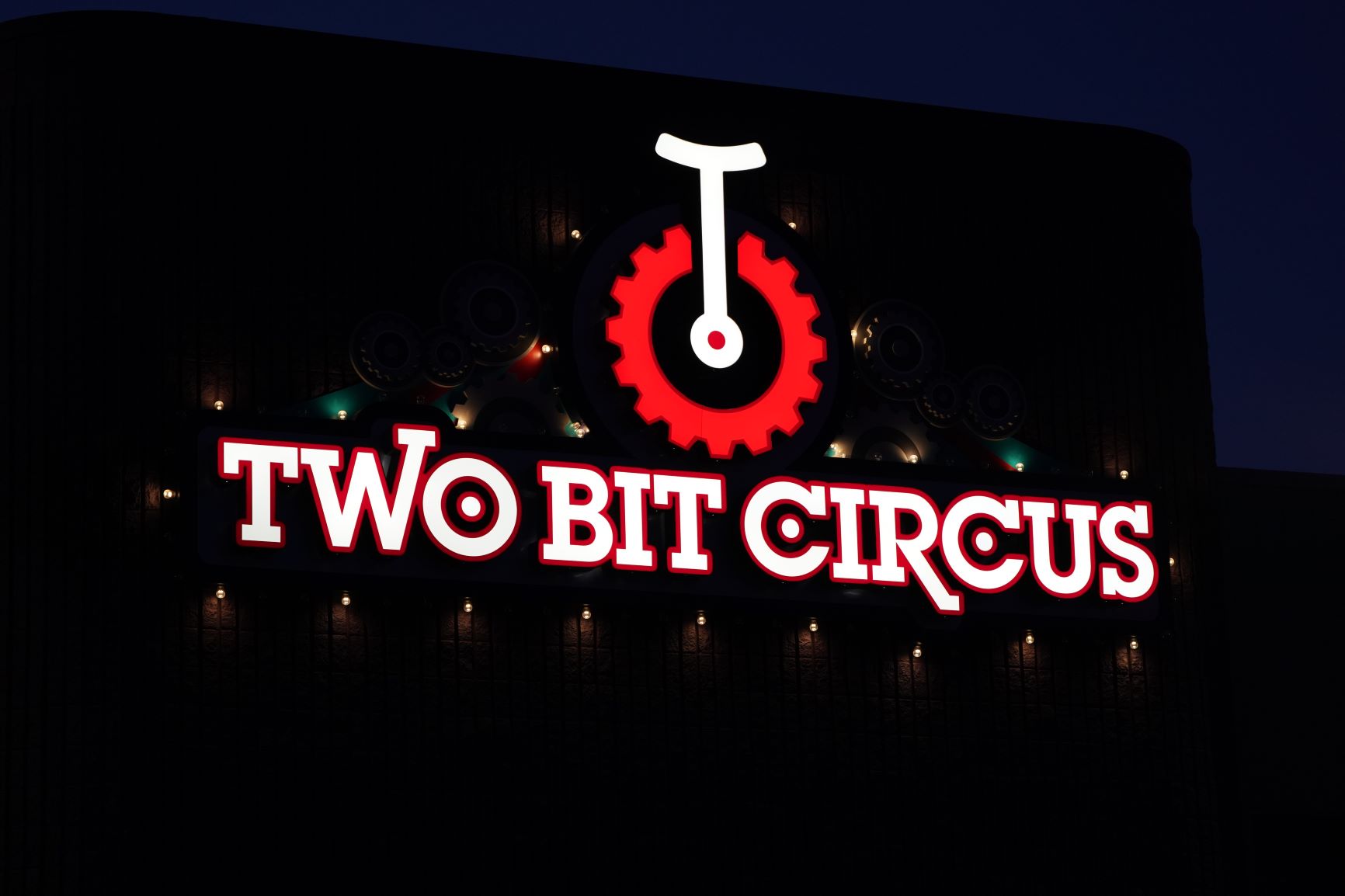 When I was in my formative years, growing up in San Diego in the 70s and 80s, I used to visit the science center at least once a month. At least once a week, my friends and I would skip lunch at school, spending our lunch money at the local arcade on the way home.  About three times a year, we'd head to Adventure Playground in Irvine – not the new politically correct version, but the one before it – a big mud pit where we'd play tug-of-war before being handed work gloves, hammers, nails, and saws to construct buildings that, when made by kids, looked like a depression-era shanty town. My heroes growing up were TRON, Indiana Jones, and Captain Kirk.  I so desperately wanted to be inside the computer, to discover the hidden temple, and to command a starship.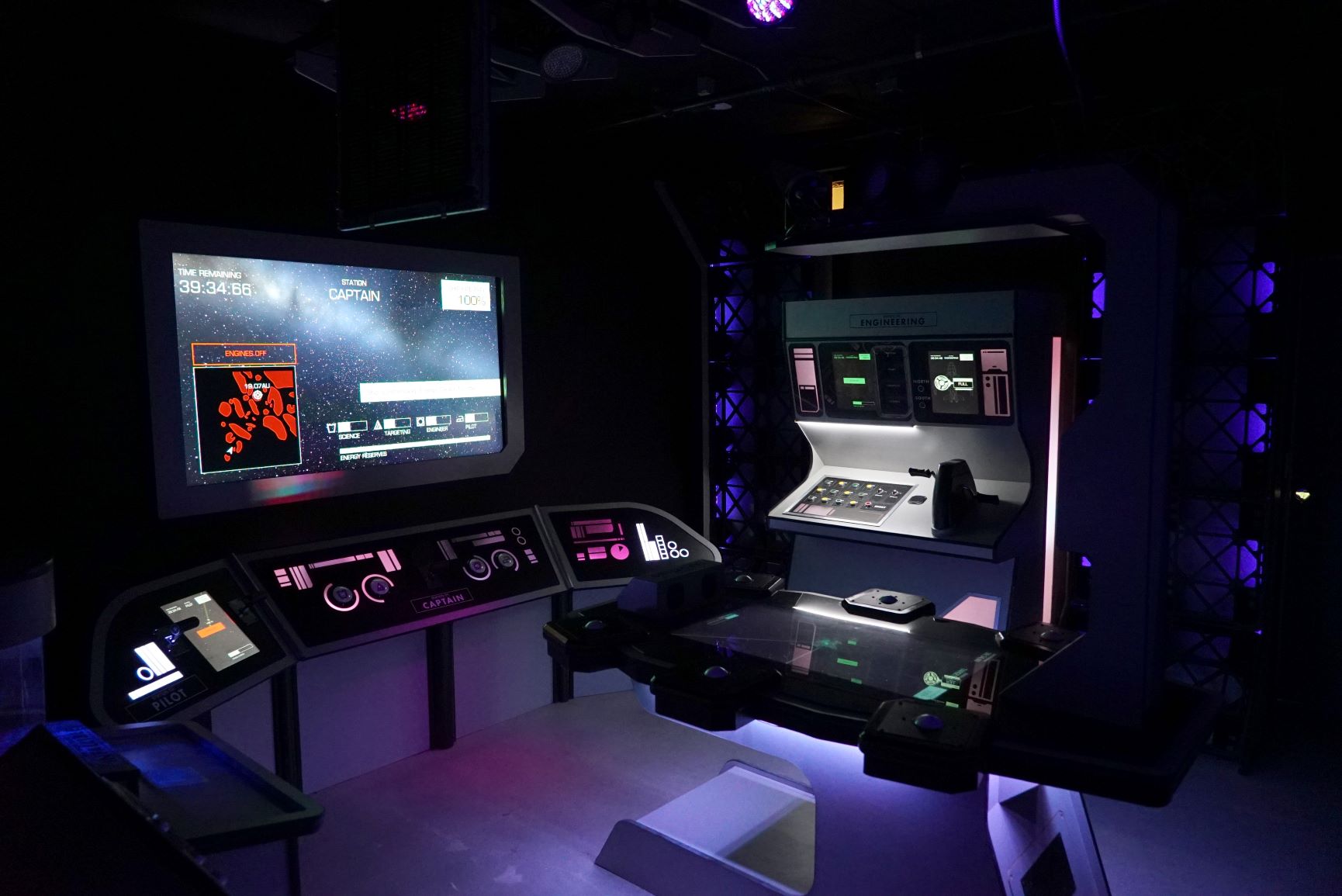 Fast forward to this year, when I entered a warehouse on the edge of Downtown Los Angeles and unexpectedly relived my childhood. Called Two Bit Circus, this new micro-amusement park opened to the public this past week.
I was met at the door for my advanced preview last month by the company's co-founders, Brent Bushnell (son of Atari founder Nolan Bushnell, and likely someone who knew where the cartridges were buried all along) and Eric Gradman. Both are tinkerers and trained circus clowns and their passions show throughout the entire facility. With the exception of a some old school skee ball machines and a few classic video game cabinets, like Ms. Pacman, everything in the park is new, and most of it is unique to this facility.
From the moment you enter, you realize that the company has a unique take on gameplay, similar to the early days of Dave & Busters and GameWorks. It also reminded me in many ways of  DisneyQuest, but it has much more to offer due the the randomness that results from its design philosophy. Two Bit Circus operates off of a nine rule manifesto, in full view when you enter the doors:
FUN INCREASES EXPONENTIALLY WHEN SHARED WITH OTHERS. SO BRING A FRIEND, MAKE A FRIEND, OR ASSEMBLE A FRIEND USING SPARE PARTS FROM THE BIN IN BACK.
COMPETITION IS HEALTHY. BUT SHARING A ROUND OF DRINKS WITH A CREW OF GOOD PEOPLE IS EVEN HEALTHIER. SCIENCE PROVES IT. PROBABLY.
ROBOTS ARE FRIENDS, NOT FOES. EVEN THE BIG SCARY LOOKING ONES WERE PROGRAMMED BY SOMEONE JUST LIKE YOU.
IF YOU ARE ABOUT TO UNDERTAKE A FANTASTIC JOURNEY ACROSS TIME AND SPACE, TO THE EDGES OF THE UNIVERSE, PAST THE LIMITS OF HUMAN IMAGINATION, THEN YOU SHOULDN'T TRAVEL ON AN EMPTY STOMACH.

YOU WERE BORN KNOWING HOW TO HAVE FUN. YOU GOT BUSY AND MIGHT HAVE FORGOTTEN. WE'RE HERE TO HELP YOU REMEMBER.

IT'S HARD TO TOP THE SIMPLE JOY OF THROWING A DART AT A BALLOON. BUT THAT WON'T STOP US FROM EQUIPPING THE DART WITH SENSORS, SPLASHING THE BALLOON WITH PIXELS, AND ADDING PEW-PEW-PEW SOUND EFFECTS.

REALITY STILL HAS THE BEST RESOLUTION, HIGHEST BANDWIDTH, AND MOST INTUITIVE CONTROLS. NOW GO OUT AND PLAY!

THE BEST ADVENTURES ARE HIDDEN IN PLAIN SIGHT. WE KNOW, BECAUSE WE HID THEM THERE.

WHEN IN DOUBT – STEP RIGHT UP.
The above video that I shot for InPark Magazine gives you an indepth look at some of the major play areas – the Midway, Story Rooms, Cabanas, Club 01, and The Arena, which is the virtual reality playground (VR only takes up only about 20% of the park).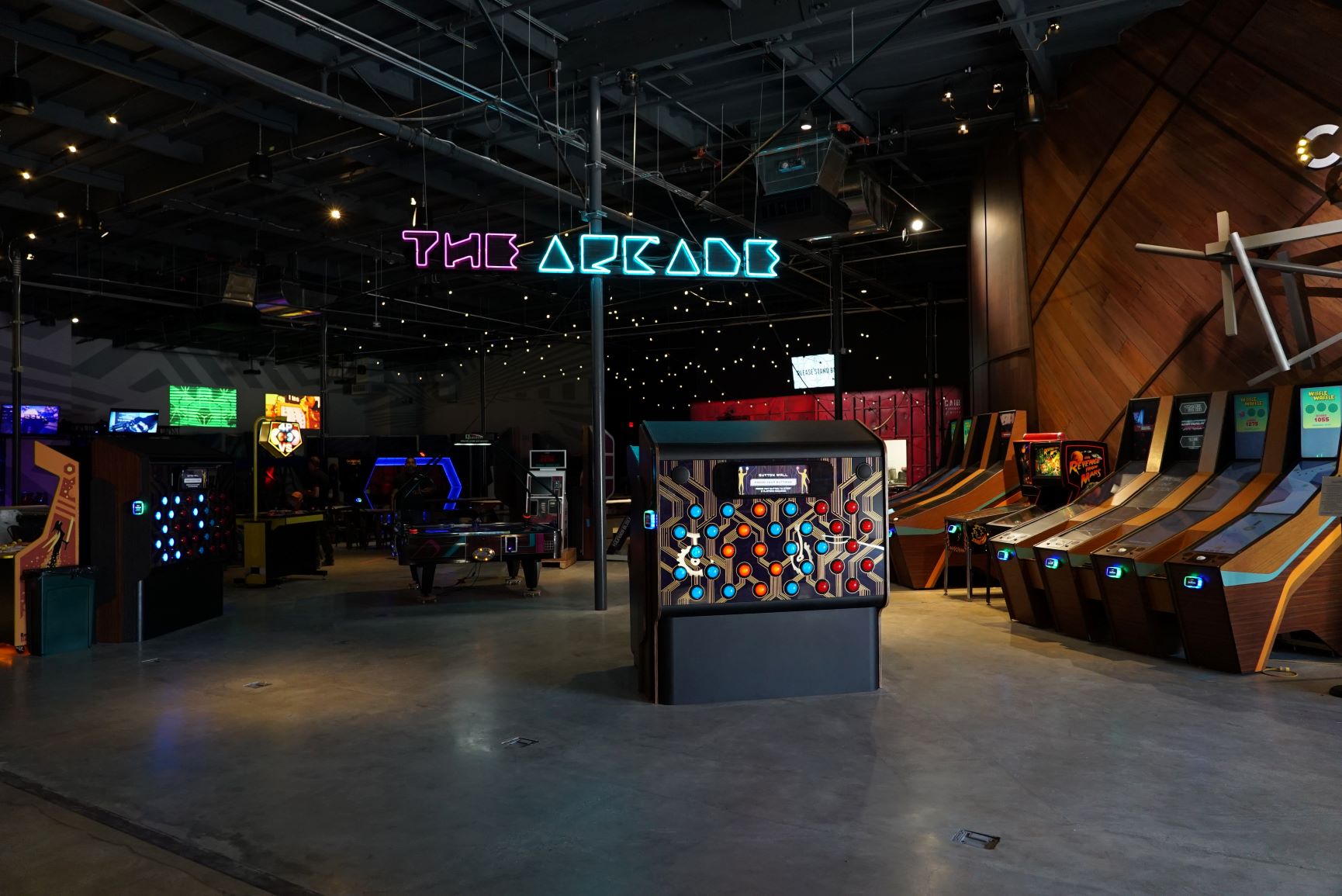 In addition, there's The Arcade, which gives a new spin on classic home and arcade games in a way to encourage socialization between strangers.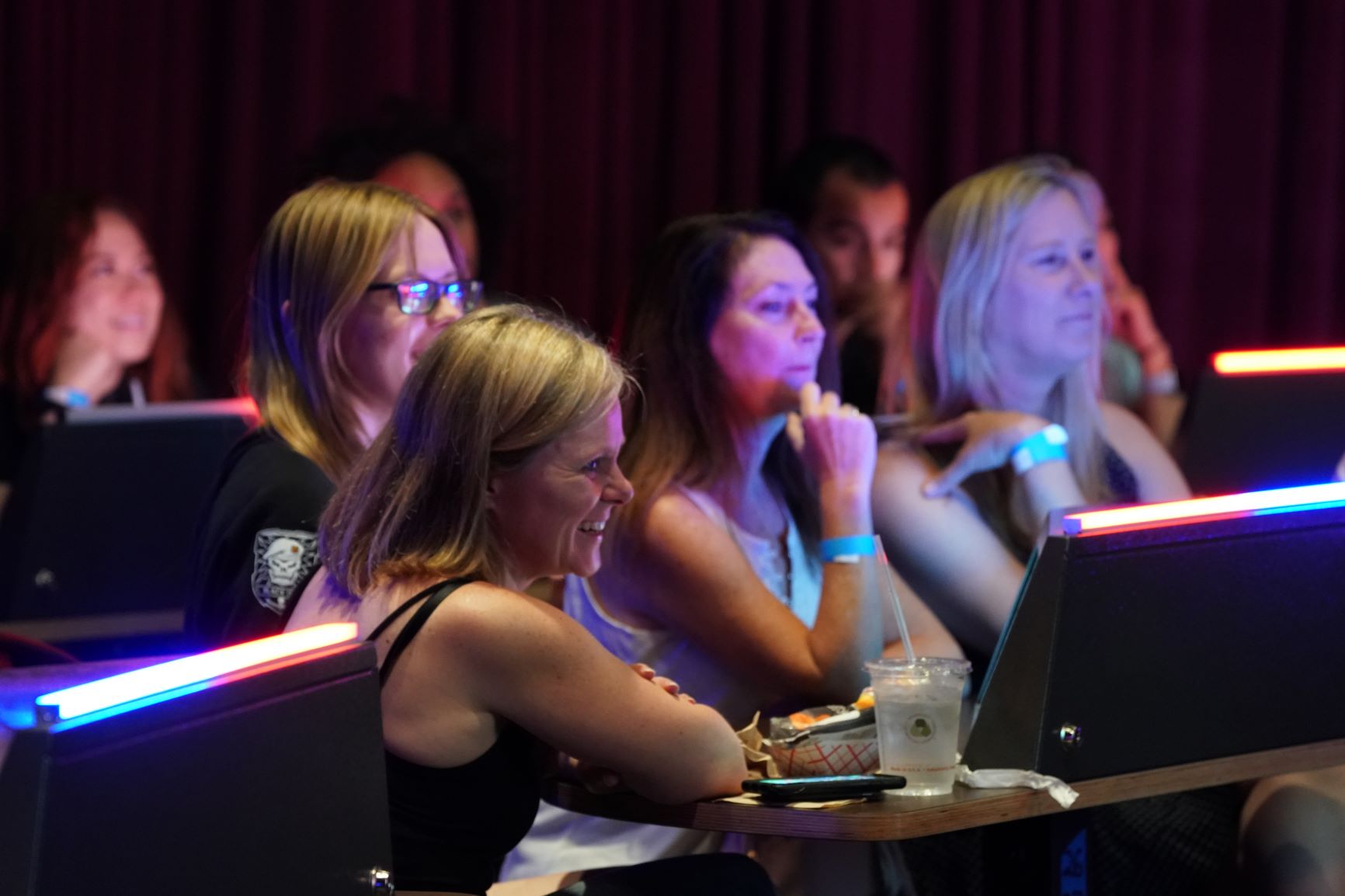 At Club 01, in addition to the regular trivia game, there's a crazy wine tasting game which is based on the belief that, rather than being told what to expect by a stranger, you should be determining what's in a wine you're sampling, and have fun doing it.
While there for my preview, I was able to play everything, not just in the Midway and Arcade, but all the virtual reality offerings as well, for which we were accompanied by Aaron Pulkka, Two Bit Circus' Head of Production. If you're a Disney aficionado, Pulkka's name might sound familiar, since as an Imagineer, his credits included Aladdin's Magic Carpet Ride at DisneyQuest.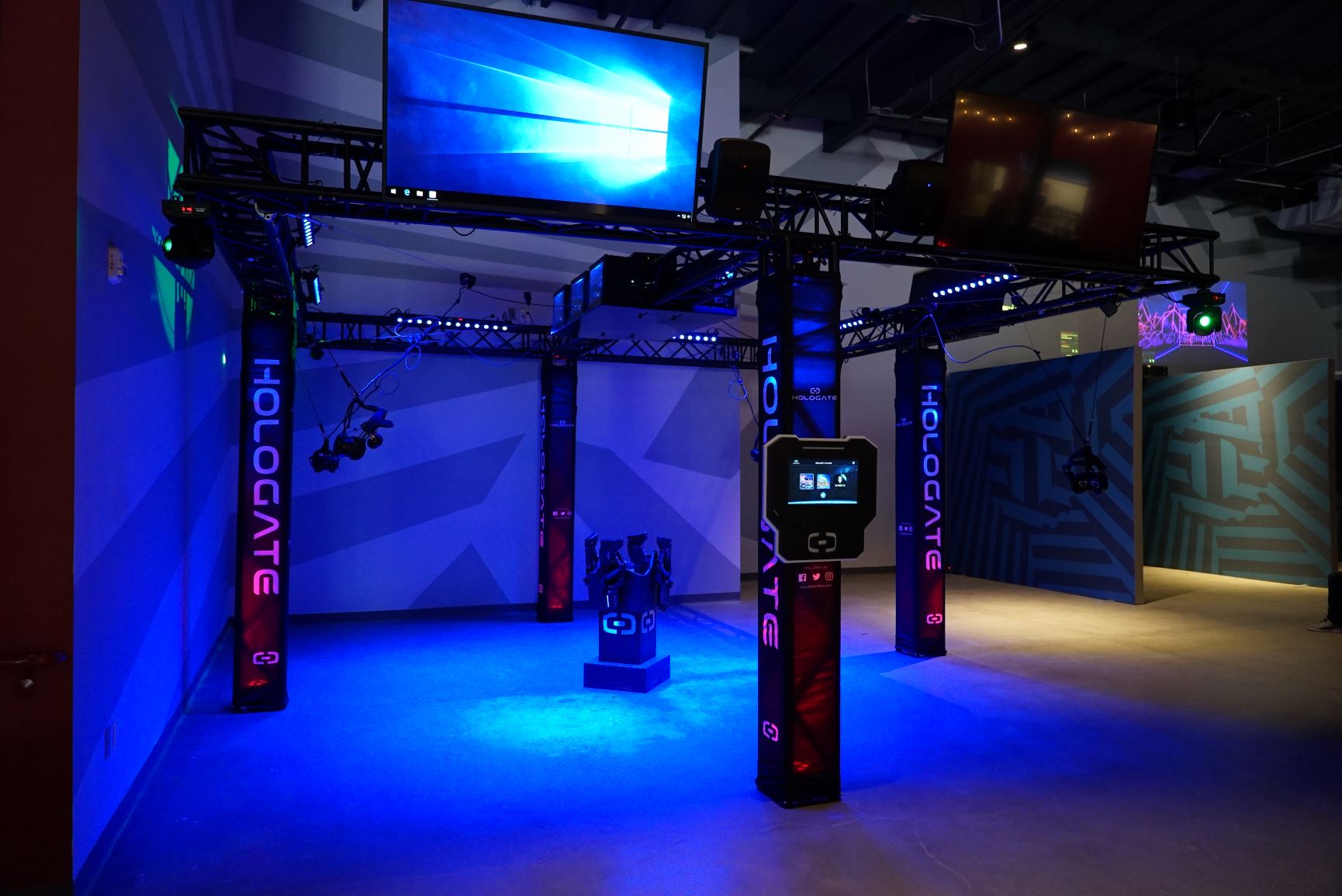 The VR offerings range from motion seats to single person tethered experiences, a four person tethered arena, and finally a VR maze and an original multi-person experience called The Raft, both of which use backpacks with tracking software.
I also spoke at length with Two Bit Circus' President, Kim Schaefer, the former CEO of Great Wolf Resorts. She pointed out the secret sauce that differentiates Two Bit Circus from its competition: There's always something to do, even if it's not obvious or out in the open. "You might get into a conversation with a robot or you could be asked to control projections on the ceiling. You might be sitting at the bar and someone will come up to you and invite you to join a quest."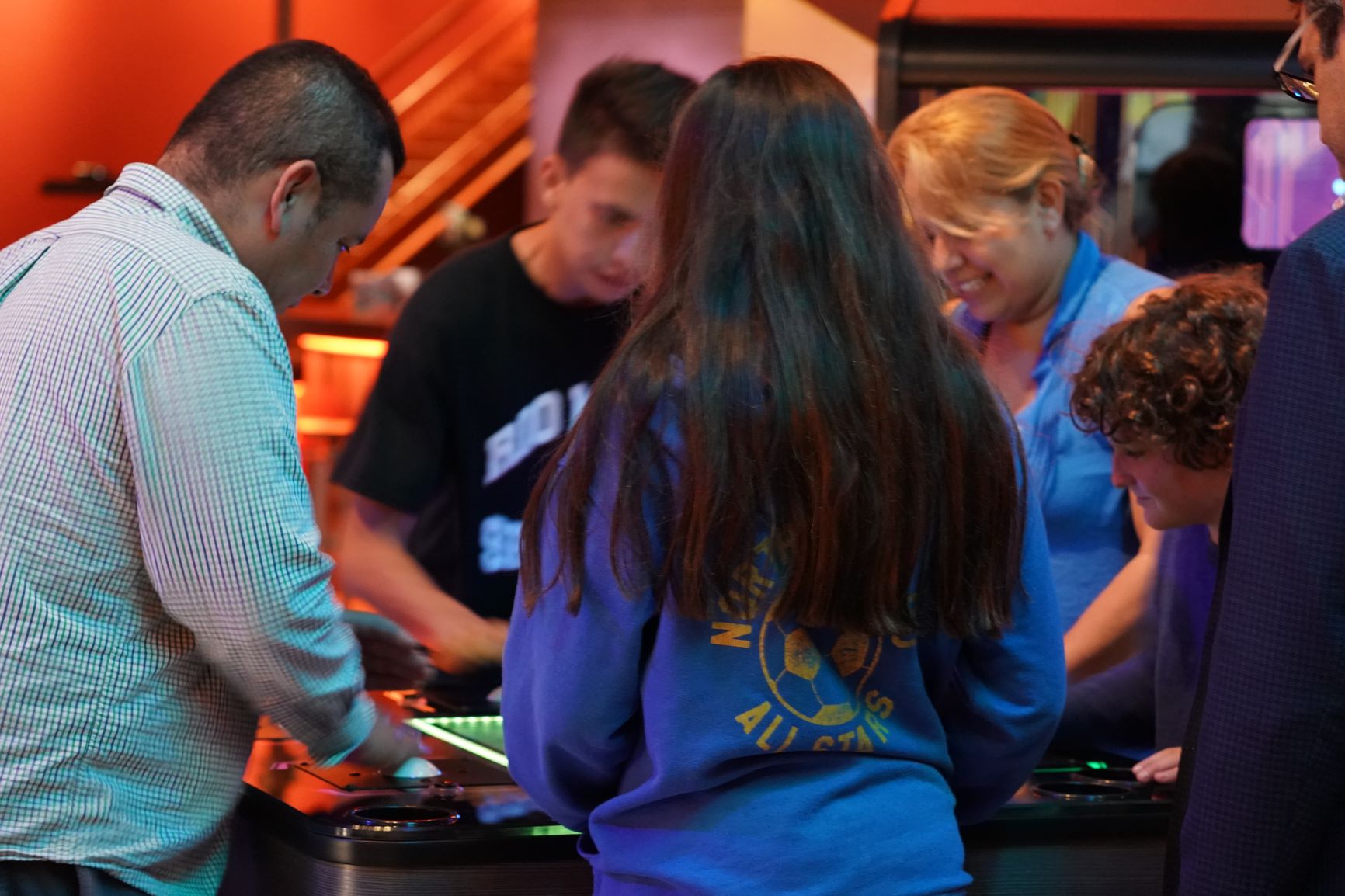 The facility is designed to promote socialization throughout. For example, Hexacade is a table top arcade game with not two, not four, but six players playing at once, which encourages complete strangers to join together for a game.  Using trackballs, the game starts with a pre-game, where players compete against each other to determine what game they're going to play.
Two Bit Circus is the perfect combination of science center, arcade, virtual reality, fun house, escape rooms, role playing, bar trivia, maker culture, socialization, gourmet "carnival fusion" food, and robots. It's a chance to jump in that mud pit again – though this time, the mud's virtual.