The Queen Mary is located in the Port of Long Beach, California, and features a rich maritime history, authentic Art Deco décor, and stunning views of the Pacific Ocean and the Long Beach city skyline. This fall, Queen Mary is offering the ultimate haunting experience with unique tours, nightly shows, delectable dining, and hotel packages.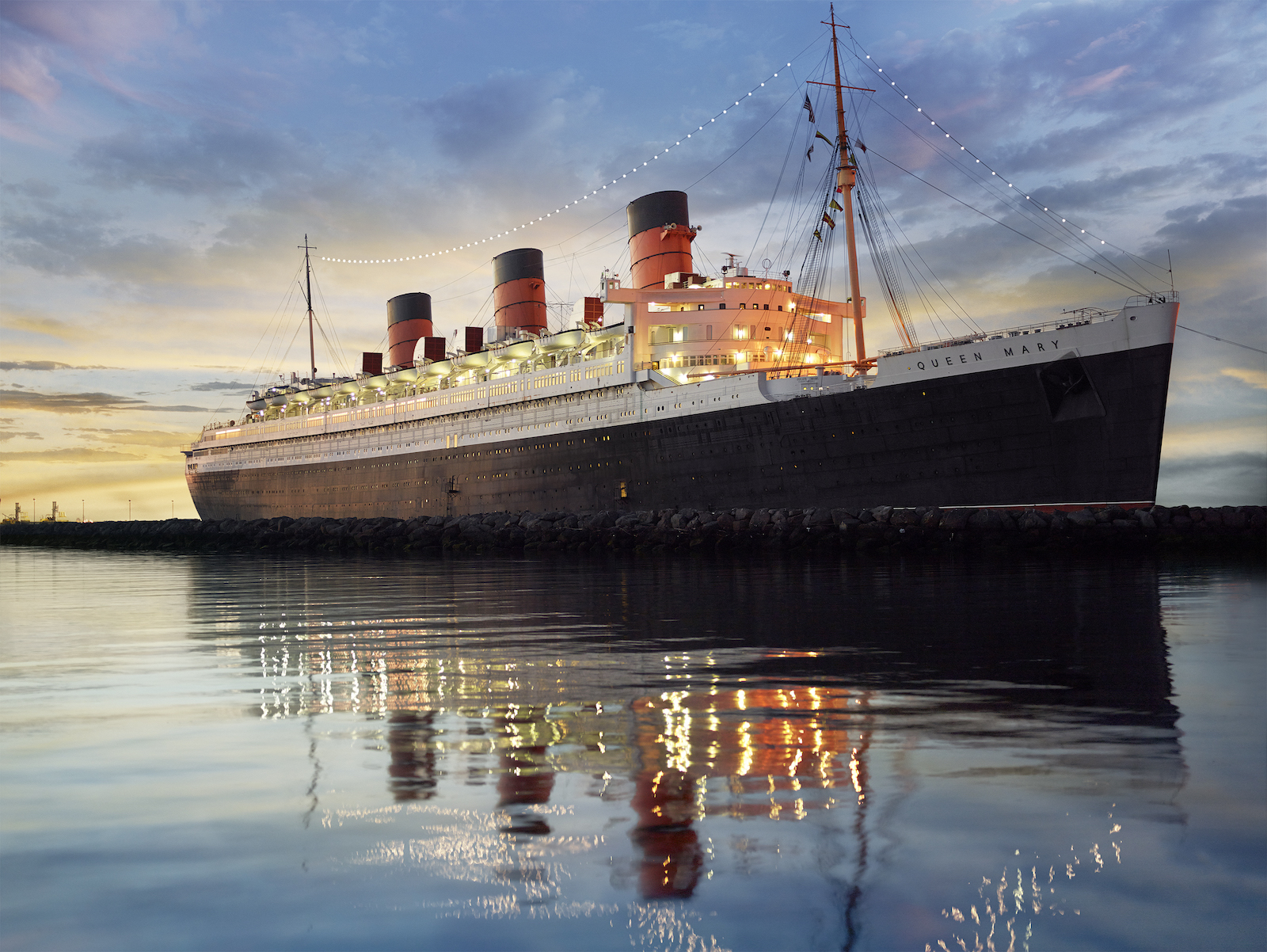 Stateroom B340
Guests can book an overnight experience in the notoriously haunted stateroom B340. The room is complete with a ouija board, tarot cards, crystal ball, and ghost hunting equipment. Read more about Stateroom B340 by clicking here.
Prices start at $499 per night.
Reservations are available by calling 877-342-0742.
Illusions of the Passed: Legends of the Queen Mary, A Theatrical Séance
Guests can meet the ghosts and legends of the ship during this 90-minute presentation. Aiden Sinclair, Master Magician and Apparitionist, creates a one-of-a-kind encounter with the spirits of the past. Illusions of the Passed takes place on select nights through January 27, 2019.
General admission tickets are $40 and VIP tickets are $55.
For more information about Illusions of the Passed, click here.
Dining with Spirits
Guests can experience a first-class group dining experience at Sir Winston's Restaurant and Lounge before embarking on a haunted history tour. On the tour, guests will visit the most notorious paranormal hotspots aboard Queen Mary and learn the tales of the ship's haunted past.
The cost is $134 per person and the total time is about 4 and a half hours. Dining with Spirits takes place on Friday and Saturday nights beginning at 7pm.
For more information about Dining with Spirits, click here.
Paranormal Investigations
Guests can venture deep into Queen Mary to investigate the paranormal with Matthew Schulz of ParaXplorer Project. During the investigation, guests will visit the Engine Room, Boiler Room System, Isolation Ward, the Captain's Quarters, and more. Paranormal Investigations take place on Friday, Saturday, and Sunday nights.
The cost is $79 per person.
For more information about Paranormal Investigations, click here.
Paranormal Ship Walk
Guests can experience Queen Mary after hours and experience a more haunted side of Queen Mary. On this ship walk, guests will visit rooms or compartments seldom seen by the general public and hear stories and legends of past passengers aboard the ship. This tour is offered daily from 8 pm -10 pm and 9:30 pm – 11:30 pm.
Ticket prices start at $44 per person.
For more information about Paranormal Ship Walk, click here.
Hotel packages and roaming the halls
Finally, guests can board Queen Mary to explore the historic ship from bow to stern. Guests can visit the Promenade deck to view the Art Deco in Shipyard Model Gallery, walk the historic halls of the Queen Mary hotel, or experience savory bites at Chelsea's Chowder Hours or the Promenade Cafe.
Guests can also book an overnight experience and stay aboard the Queen Mary. Hotel reservations and packages start at $99 per night.
Stay tuned for more from Queen Mary, and be sure to get social with us on Facebook, Twitter, and Instagram @BehindThrills for the latest updates!
For our latest theme park videos please be sure to subscribe to us on YouTube!
For more information about Queen Mary, including tickets, visit the official website.