SeaWorld Orlando, and Busch Gardens Tampa have both quietly rolled out brand new passholder programs, aimed at giving you more bang for your buck, but also more buck…for your buck. The new passes are in four tiers, and vary in price, depending on what park options you want, and of course the amount of parks.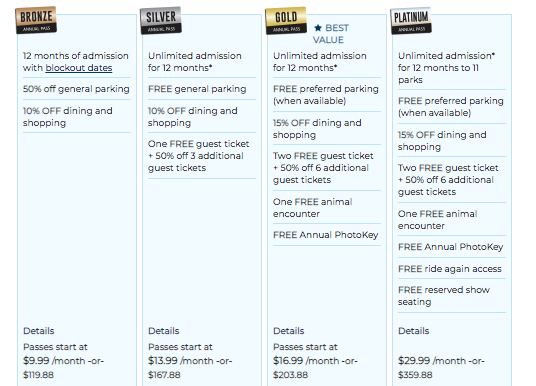 The new passes come with a plethora of new options and benefits, and of course the higher the pass level, the more benefits you get. The new tiers are Bronze, Silver, Gold and Platinum. The passes are in an introductory offer phase right now, and will have these temporary prices until November 30th, 2018.
The big news here is that SeaWorld has done away with the Fun Card option, and added blockout dates to many of it's passes. Also, the pricing on the Bronze, Silver and Gold Passes increases depending on how many parks you have added to the pass.
Let's take a look at each one.
The Bronze Annual Pass will start at $119.88 per pass, or $9.99 per month with a $9.99 payment, for one park. For two parks, you're looking at $12.99 /mo. for 12 mos. ($12.99 due today) or $155.88 per pass. Four parks will be $14.99 /mo. for 12 mos. ($14.99 due today) $179.88 per pass.
You will have Block Out Dates at each park, with about 40 at SeaWorld, about 37 at Aquatica, 15 at Adventure Island, and roughly 30 at Busch Gardens Tampa. These are during typically busy times for the park, and are times when most pass holders skip the parks anyway.
Bronze Members will get 50% off of parking at their parks, and will also get 10% discounts on food, merchandise, and discounts to Discovery Cove, and Howl O Scream at Busch Gardens Tampa. Guests will also get access to the Passholder Lounge at SeaWorld Orlando. Those are all benefits that Fun Card holders do not get currently.
Silver Pass
New Passholders will get unlimited admission to the park. Free general parking, 10% off dining and shopping, Discounts to Discovery Cove and Howl O Scream, and one free guest ticket, with three 50% off guest tickets.
The prices for one park will start at $13.99 /mo. for 12 mos. ($13.99 down payment) or $167.88 per pass. Two Parks will be $16.99 /mo. for 12 mos. ($16.99 down payment) or $203.88 per pass. Four Parks will be $18.99 /mo. for 12 mos. ($18.99 down payment) or $227.88 per pass. 
Gold Pass
With the Gold Pass, you'll see all the same benefits of the Silver Pass. Only you'll also get free Preferred Parking, Free Annual Photokey, a Free Animal Encounter, Two free guest tickets and six 50% off tickets. Prices for one park will be $16.99 /mo.for 12 mos. ($16.99 down payment)or $203.88 per pass. Two Parks $19.99 /mo. for 12 mos ($19.99 down payment) or $239.88 per pass. Four Parks $21.99 /mo. for 12 mos. ($21.99 due today) or $263.88 per pass.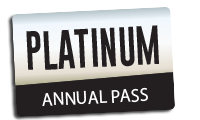 The Platinum Pass has been the best kept secret in SeaWorld's Arsenal. I've had mine for over 15 years, and pay roughly about ten bucks a month for every single park in the SeaWorld chain, except Aquatica (Aquatica wasn't around way back then!). That secret is out, and now the perks will cost you. But it's still one of the best deals in the theme park industry, and far outshines EVERYTHING that Universal and Disney have to offer.
You will get, unlimited admission with no blackout dates to EVERY single SeaWorld Entertainment park in the country, including the waterparks, and Sesame Place. You get free preferred parking, free photokey, free reserved show seating, free animal encounter, free ride again access, and two free guest tickets with six 50% off tickets. Guests used to be able to get into Howl O Scream for the first weekend, but it looks like it will be a steep discount price. There are also pretty decent discounts at Discovery Cove.
The cost is $29.99 /mo. for 12 mos. ($29.99 down payment) or $359.88 per pass. If you look at Walt Disney World, that is still cheaper than their lowest tier daily pass, at $439 per year. 
The biggest deals here are definitely the gold and the platinum passes. The platinum pass actually inspired me to travel to the various parks around the country, and opened up tons of new doors…so if you have any ideas at all, that one is the way to go. Plus for the price difference between the gold four park and the platinum (less than a hundred bucks!) you really can't go wrong with it, even if it's just for the priority access seating, and re-ride option. The addition of Photokey is also a pretty amazing deal, seeing that it's one of the biggest selling points on the Disney passes. You can have a professional photographer take your picture, and get the onride pics, and you get them all free. We're not sure if the photokey has an app yet, but we bet that SeaWorld is working on it.
Now comes the downside. You will lose the Instant rewards come January 1st, which were awesome at Busch Gardens. You got rewards that varied from free merchandise, to gift cards and even food and tours. Then there's the old timers, like myself. Once you paid off your EZ Pay commitment, the price can go up. You are no longer locked into the price. For most of us, that was the saving grace of keeping the SeaWorld passes, once you paid them off you, you kept the same price. Mine's been locked in since 2004, so my ticket is roughly $10 bucks a month. It could jump up to $30 bucks a month…or maybe it won't.
From the SeaWorld FAQ:
Price Lock Guarantee is no longer available for the new Annual Pass program. Your rate will not change within the first 12-months of your commitment. After the initial 12-month commitment, any Annual Pass is subject to price increases, with notification – but this does not mean increases are immediate or automatic.
The FAQ section pretty much says that they can raise the prices, but they may not do it right away. So, enjoy it while you can.
This was only a matter of time for SeaWorld, as the company is on the path to recovery. Attendance is up, profits are going up, and while this may hurt them for a little bit, it will eventually work itself out as well. I can see the long time passholders being upset with it at first (I know I am), but with the new passes offering so much more, it's really not that bad of a deal.
What do you think of the move? Are you excited about the new benefits?
Stay tuned for more from SeaWorld, and be sure to get social with us on Facebook and follow along with us on Twitter @BehindThrills for the latest updates!
For our latest theme park videos please be sure to subscribe to us on YouTube!
For more information about SeaWorld, including tickets, visit the official website by clicking here!