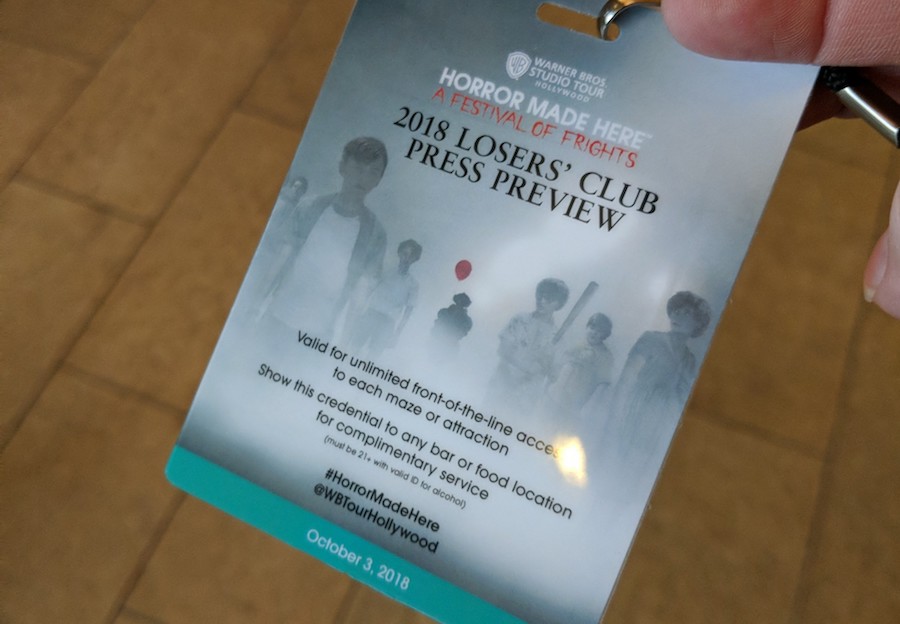 What started off as a test last year, with one singular attraction has turned into a full blown event, with the new Warner Brothers "Horror Made Here" Halloween event. The new event brings some of your favorite horror icons off the screen and in your face, and really amps up the terror by giving you the chance to walk in the places where the horror was really made. You also get the chance to see some of the actual props, and creatures that have appeared on screen.
We were privileged to be invited to the Media Preview night of Warner Bros. Horror Made Here event for 2018, and I have to say right off the bat I was impressed with what they presented us with. With any preview night you know that things are still being learned and tweaked during them, I have been to enough to know that, and they really got off to a good start here. I will state that while this review is based off of what we experienced during this preview, there have continued to be tweaks to cast, lighting, and flow in the days since. I applaud them for deciding to not take a "good enough" approach and continue to step up their game.
Video-Check out the opening comments from the creators of Horror Made Here
This event is different from the outset from any other haunt event in the fact that it is taking place strictly on a working backlot, and not in a theme park or other special venue designed for such things. As such it is limited in the amount of people who are allowed in every night, which is really quite a bonus because it means they can bring us more innovative scares without having to worry about the effects of a conga line of people walking through a house. They most definitely use this, and the fact that we are on actual movie sets, to their advantage.
Also, A big shoutout to WB for offering us complimentary drinks and food for the night, as it gave us a great opportunity to sample the wares they are offering. Things like "True Blood" and Reagans vomit don't sound very appetizing, but once you get past that factor, it's actually quite delicious, and a very clever way to bring you even further into the event.
From the moment you enter the event you know it is something different. You are whisked from the tour offices to the backlot on trams and dropped off at an entrance that resembles a carnival or circus. You pass through a clowns mouth and into the town square area of the backlot (that you may remember from countless movies and TV shows from Monster Squad, The Lost Boys, and Gilmore Girls) and everything is all decorated for the haunt. The park has a death drop and a stage in it, City Hall has become Arkham Asylum, The Neibolt house looms on the end of a street, and a church looks a little less holy than it normally would.
Our first stop was into Fangtasia, the titular bar from the TV series True Blood. With dancers outside and a bouncer making sure no one under 21 gets in (and keeping it from getting too busy). We sampled some of the drinks they had for the occasion, and I passed up my usual nightly standard of Apothic Brew to try a few of the cocktails. The one that was made with bourbon, I have forgotten the name of, but it was really good. The best bang for your buck though would be the blood bags. This lemon, grenadine, and vodka mixture is quite delicious and packs quite the punch. We came back quite a few times through the evening to make sure we could review the drink properly, of course.
After the opening speech from the creatives in charge of the event, we hit up the houses that I will review below. The street atmosphere is great, and while it could use more it was really fun and gave us some possible hints of things to come. The food was great as well, a lot of themed treats like pea soup for Reagan from The Exorcist and the "Crave In" café that is themed to A Nightmare On Elm Street and a 50's diner at the same time had some great staples like pizza and chicken tenders.
And now for the haunts:
IT Knows What Scares You: 9/10 – Pennywise is back and is looking forward to seeing you float in the Neibolt House. IT knows what scares you and is waiting with more scares and surprises at every turn.
We did this house both first and last and I highly recommend visiting it after dark, though a visit in the daylight will let you appreciate the detail put into the set design. You journey through several of the homes and locations of the film, leading to the Neibolt house and a confrontation in the sewers. A lot of very creepy moments and some good scares. They turned things up from last year for sure with an expanded experience.
Arkham Asylum: 10/10 – The Joker has taken over Arkham Asylum and will decide your fate. Escape The Joker and a host of DC Super-Villains and find out who is waiting for you as you break out of this twisted institution.
This house started off so strong and continued to improve through the night. From your first encounter with Judge Joker to your stroll through the fear gas filled halls of Arkham, they really get the feel and immersion right. I love how they change things up based on different casts so one time you may have Poison Ivy and another you may have Penguin and more. They have apparently really increased the cast for the house since to up the scare factor, but when we went through it was a truly enjoyable experience. You may even get a rescue from Gotham's protector in the end… if you make it out. Bonus points to them for giving Two Face a cattle prod. I know a lot of scareactors who would have wanted one of those over the years.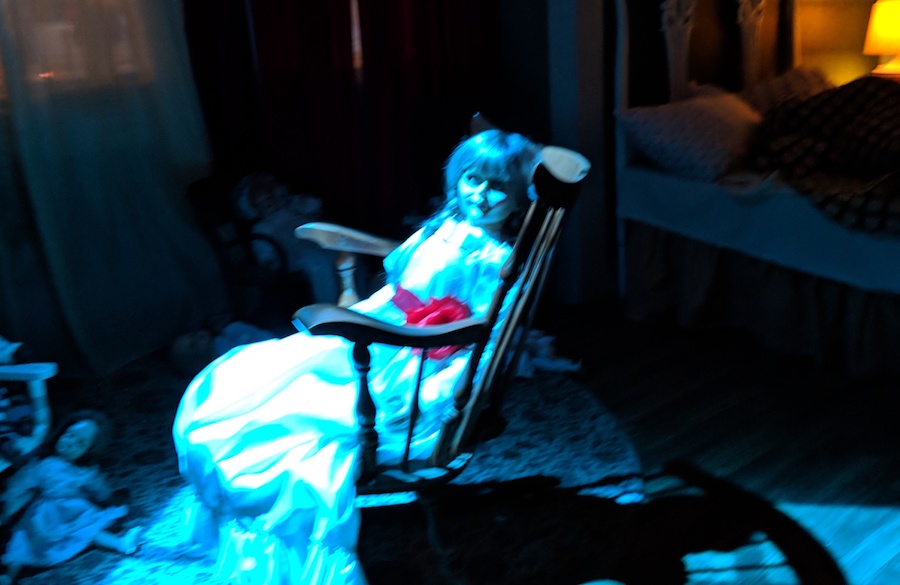 The Conjuring Universe: 9/10 – Explore and investigate the most famous paranormal cases while trying to escape the demonic spirits that are lurking in the shadows. Be sure not to disrupt anything on your journey and fall victim to Annabelle's devious games, for everything in this maze is possessed.
Video-See highlights of the Conjuring Universe
This house really does some innovative things and I look forward to seeing what they continue to do with experiences like this. You go through in small groups and are guided by a paranormal investigator through different experiences related to the Conjuring films, and that mischievous doll Annabelle. I don't want to spoil things, but you might not want to clap. This was a whole lot of fun and it sure gave a better experience in the Conjuring universe than walking through black hallways.
Nightmare On Camp Crystal Lake: 9/10 – Take a tour of the Warner Bros. lot and see filming locations from your favorite horror flicks including "Whatever Happened to Baby Jane" and "House of Wax", with a detour to everyone's favorite campground, Camp Crystal Lake.
Video-Journey into your nightmares with Nightmare on Camp Crystal Lake
This really was, what a few people on my tour referred to as, what other tram based mazes wish they were. You get a feeling of isolation while walking through the dark woods of the WB Backlot "jungle" sets. With Freddy and Jason hiding at many turns, you wont know which one you should be afraid of first. Reports are that they have added more lighting to help highlight some of the scares and added even more cast too, so this is a definite do not miss for fans of either franchise. The OBVIOUS comparison is the Universal Hollywood Backlot tour, and this is by far a better feeling tour. While the War of the Worlds set is amazing, the characters that they use in the set just don't fit. Clowns, chainsaws, and other characters just can't match the carnage of the set. The characters of Freddy and Jason matches perfectly with the sets, and instead of being in a house where you feel some sort of control, you're wide out in the open and you almost get a feeling that someone is always watching you, and that danger can come from any angle.  I cannot wait to see what they might do with these properties in the future.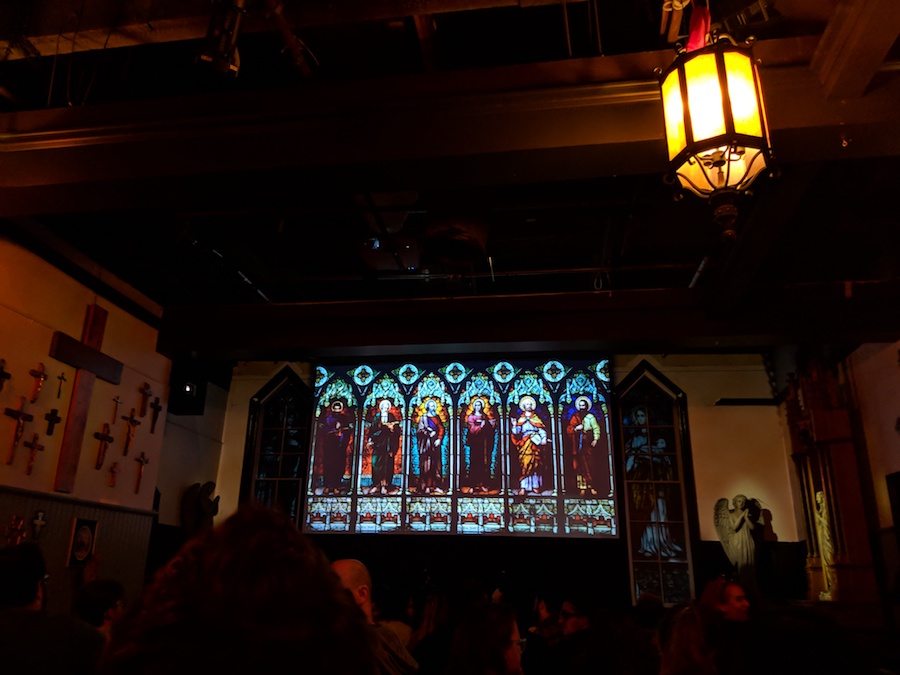 The Exorcist: Forbidden Screening: 6/10 – A church service you'll never forget. Say your prayers while unholy activity disrupts this sinister service and brings the horrors of The Exorcist to life, and witness an evil beyond this world right from the pew in this forbidden viewing.
I will not lie and say this did not have issues. It was preview however and it really had a lot of potential once they worked out the bugs. It was an innovative experience and they took some risks technology wise that sometimes are not ready for launch. I have heard many reports that it was all worked out and tightened up for opening night. The experience shows you clips from the movie, and it mixes in special effects, including water and fog effects and of course actors. The idea is there, and so is the potential, but this just wasn't EXACTLY there yet. It did have some great scares in it, and I want to see what they might do with more concepts like this.
Bette And Joan: The Ultimate Rivalry: 9/10 – Don't miss a dazzling rendition of the notorious longstanding rivalry between two of Warner Bros.' leading ladies, Bette Davis and Joan Crawford. Watch as Allusia (starring as Bette) and Cupcake Canne (starring as Joan) battle for the spotlight on the mainstage in their parody performance.
Video-Check out the Ultimate Rivalry
A really fun drag show featuring Allusia as Bette Davis and Cupcake Canne as Joan Crawford. It is a fun, if short show that brings these two legends and their rivalry to life in a hilarious parody. This is a pretty unique thing for them to do and I think a full on horror drag show would be a great way for them to build off of it in the future. Bring us more classic stars and characters killing each other for our amusement!
I also must give WB big props for the merchandise too, there is so much of it and you will easily find something for your favorite part of the night. Maybe there are some hints for the future here too, within the Little Shop of Horrors? There are tons of great merchandise for the films that are represented now, such as Freddy, Jason, Conjuring and of course IT. But there's also merchandise for Supernatural, Beetlejuice, and yes…even some Harry Potter merchandise! After all, Warner Brothers is the studio that brought Harry Potter to the big screen.
Want to see more? Check out over 400 pictures in our gallery below!
[flickrpics type='flickr' user_id='49755663@N02′ view='photosets' photoset_id='72157674502703348′ media='photos' tag_mode='any' sort='date-posted-desc' layout='no-strip' caption='title-desc' thumb_size='s' main_size='z' ]
Overall this event is a solid 9/10 and I highly recommend it to horror fans and haunt aficionados. The event is really detailed and good, and delivers solid scares. It's not overcrowded, which of course is a big plus and the library that they have to work with is unbelievable, which of course means for more diverse haunted attractions in the future at the event. The big question is, how does it compare to Halloween Horror Nights? It's not really fair to compare the two events, because they are so very different…but I will say that Universal needs to pay close attention to Horror Made Here in the next few years.
You can purchase your tickets NOW at the Horror Made Here website. 
Stay tuned for more from Warner Brothers, and be sure to get social with us on Facebook and follow along with us on Twitter @BehindThrills for the latest updates!
For our latest theme park videos please be sure to subscribe to us on YouTube!