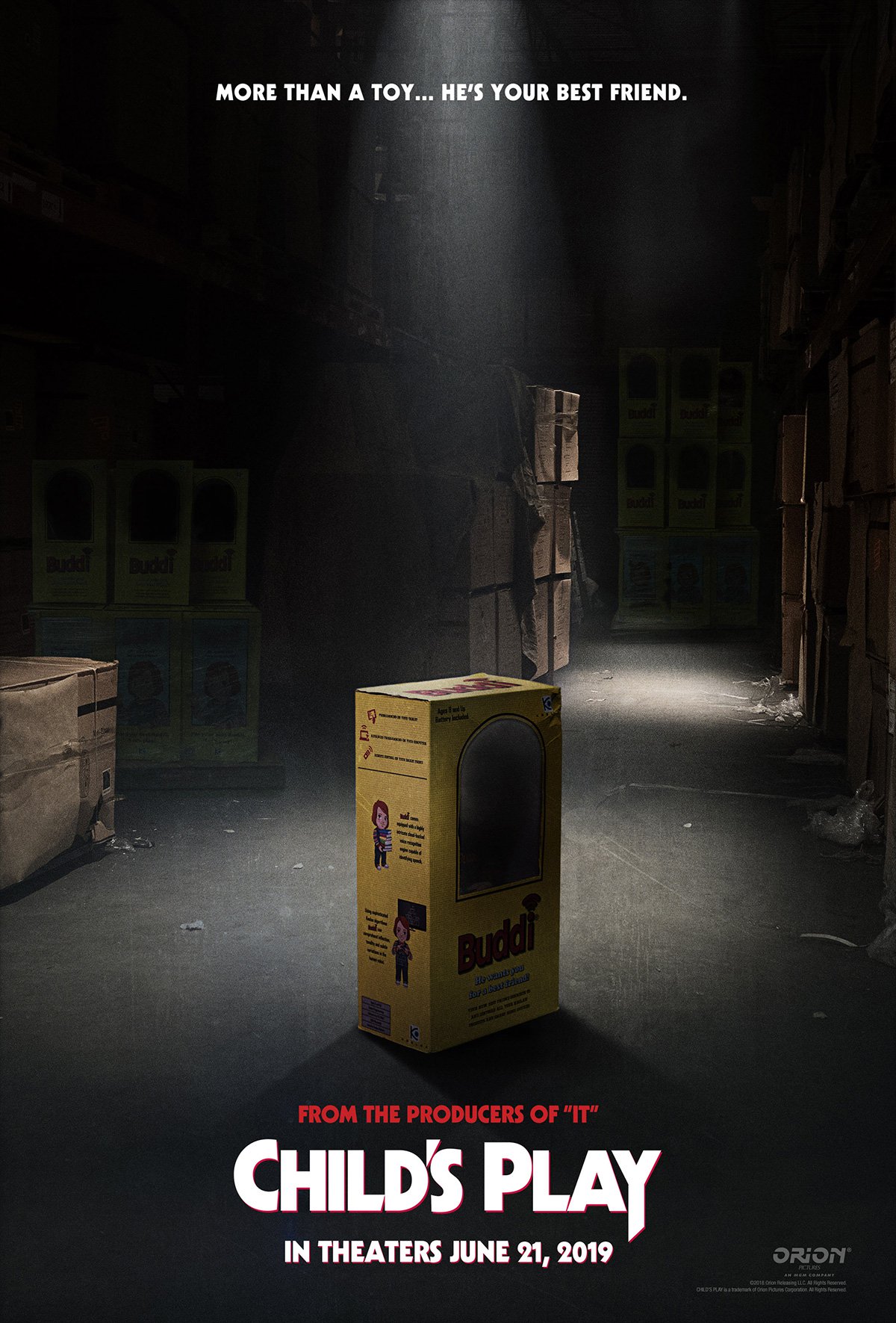 The first poster for the Child's Play reboot is here, and well…it's creepy. Kind of. It's a box that clearly holds a demented doll in, and it clearly can't use the "Good Guys" name, because we have the "Buddi" Doll. I kind of seeing the people who made the "My Buddy" Dolls in the 80's having a problem with that.
The new Child's Play will drop in theaters on June 21st, and will seriously offer a polar opposite to toys coming to life, as it goes up (and gets destroyed) by Toy Story 4.
The new film stars Aubrey Plaza as the mother of Andy, who gets a new "Buddi" doll for his birthday.
The new film will not use "Chucky" (that we know of) and the doll will not be possessed by a serial killer. Instead it will be a robotic doll that uses AI, and the doll will be hacked so that he has no limitations to learning…so that he can kill.
Don Mancini, and Brad Dourif are not involved in this version of the series. Child's Play has been terrorizing audiences for 30 years. The rights to the films have split, with this version falling under the name, but with Universal keeping rights to Chucky and Good Guy Dolls and all that other fun stuff. It's going to be interesting to see if this is actually any good, and can stand on it's own, but it's not very likely.
Meanwhile, the last we saw of Chucky was at Universal Orlando's Halloween Horror Nights, where Chucky flooded the streets with terror, celebrating 30 years of the Good Guy Dolls.

Stay tuned for more, and be sure to get social with us on Facebook and follow along with us on Twitter @BehindThrills for the latest updates!
For our latest theme park videos please be sure to subscribe to us on YouTube!