The holiday season has returned once again to the village of Hogsmeade nestled snuggley within the Hollywood hills of Universal Studios. Christmas in the Wizarding World made it's debut in 2017 at Universal Parks to much praise but with one element seemingly missing. Universal Studios Hollywood took note and delivered on the snow for 2018.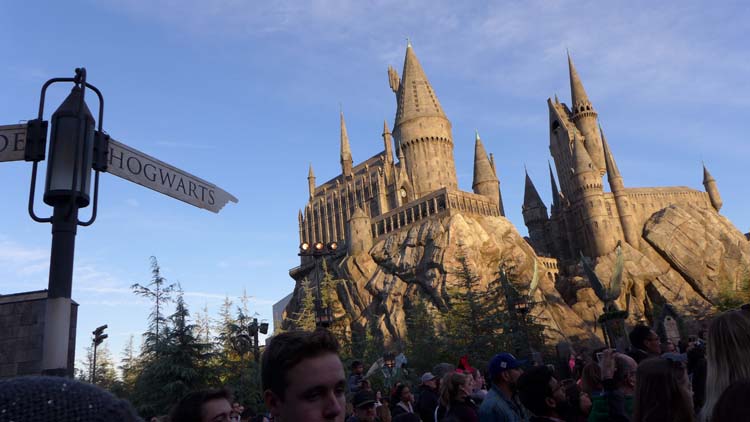 Every spire and window is decorated with rustic garland and wreaths with an Olde English flair.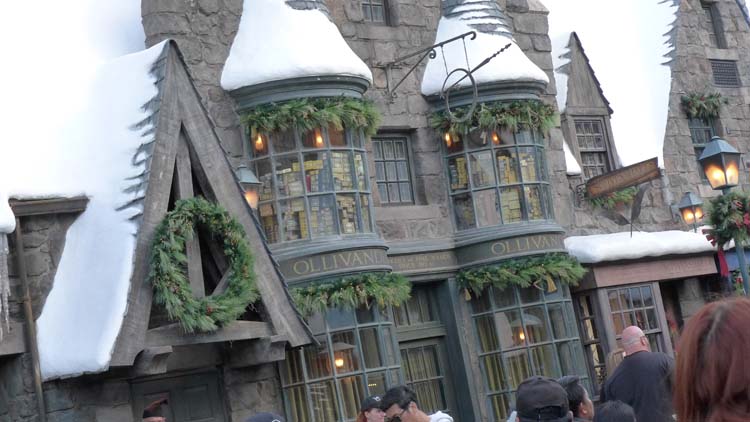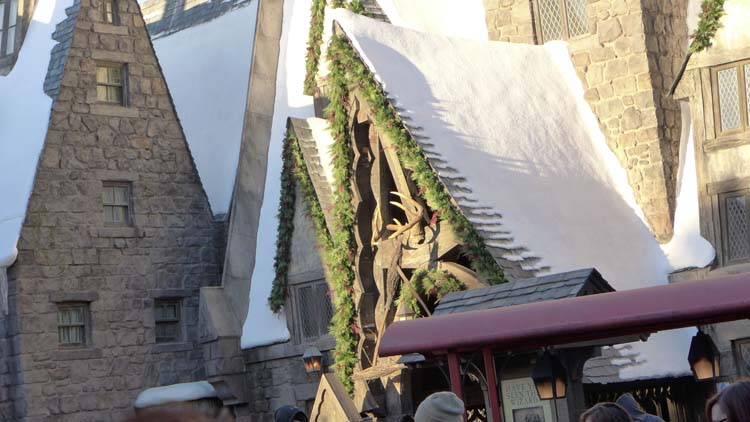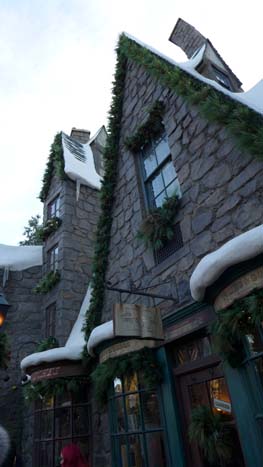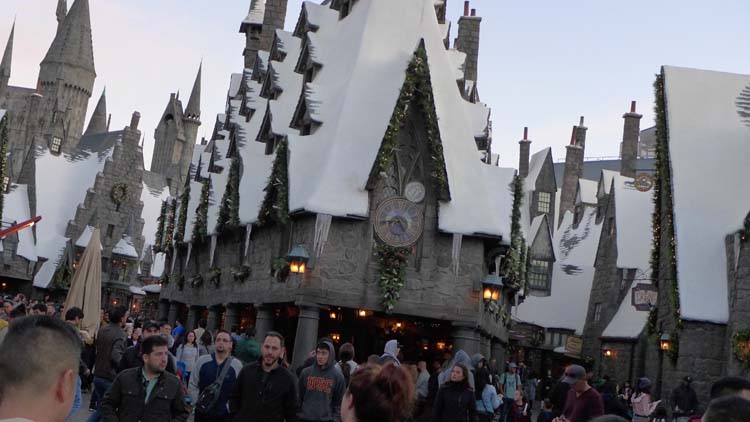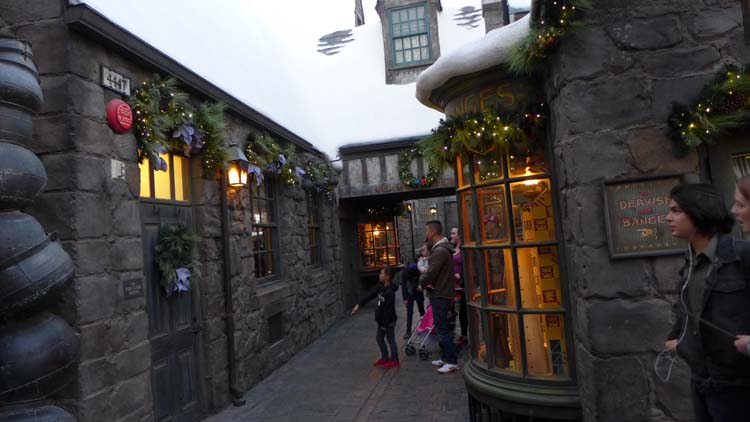 Even the performance stage has received a few festive trees decorated to the colors of the Hogwart's houses.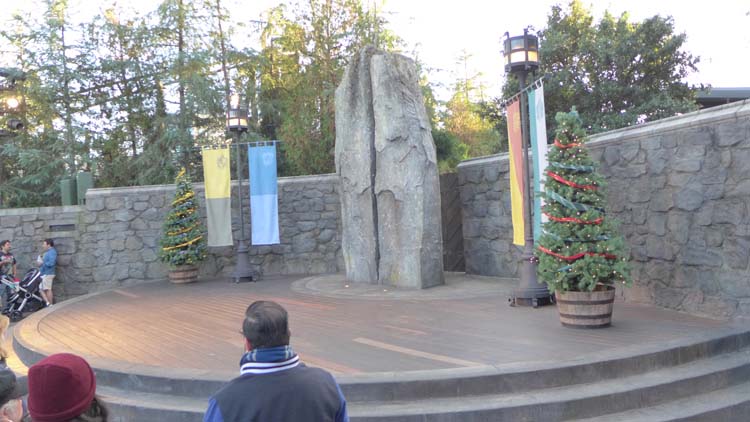 They make a nice addition to the background.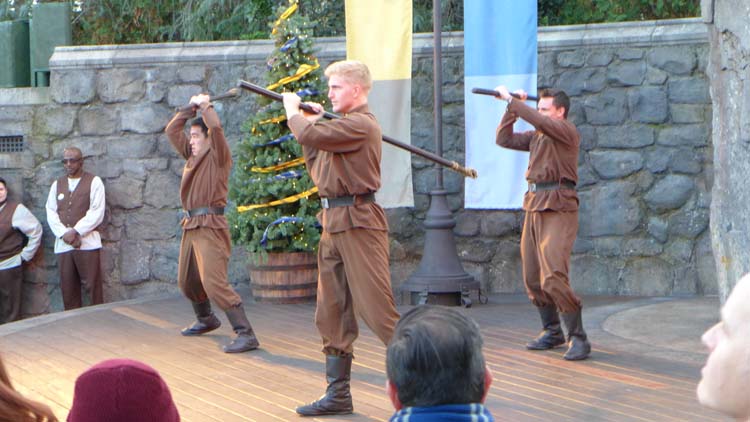 You'll also find mistletoe for those romantic witches and wizards.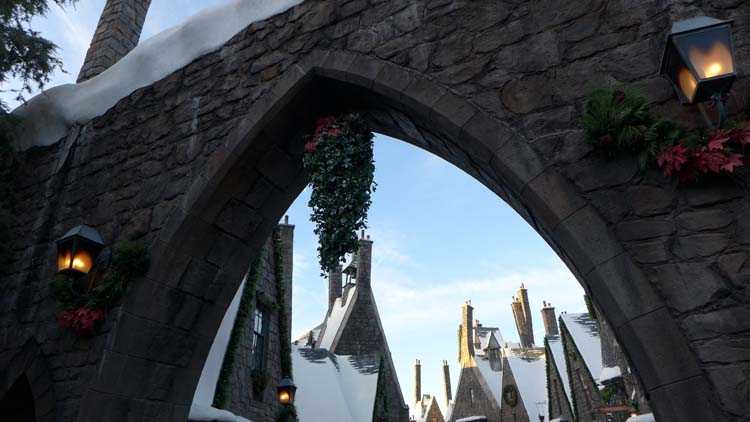 Once night falls the garlands illuminate making a much warmer feeling area despite the chilly nights.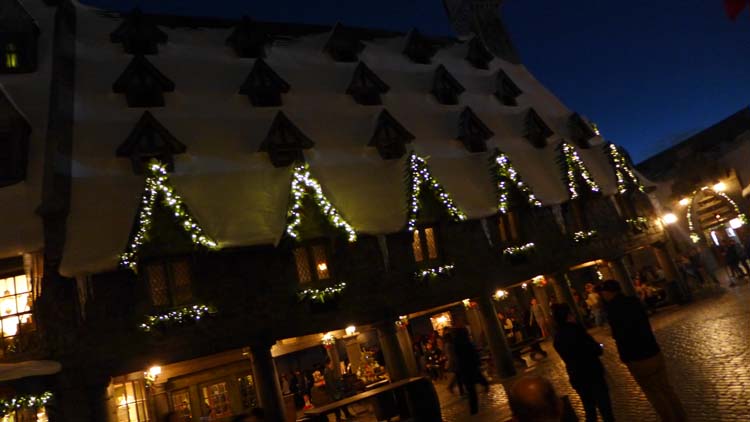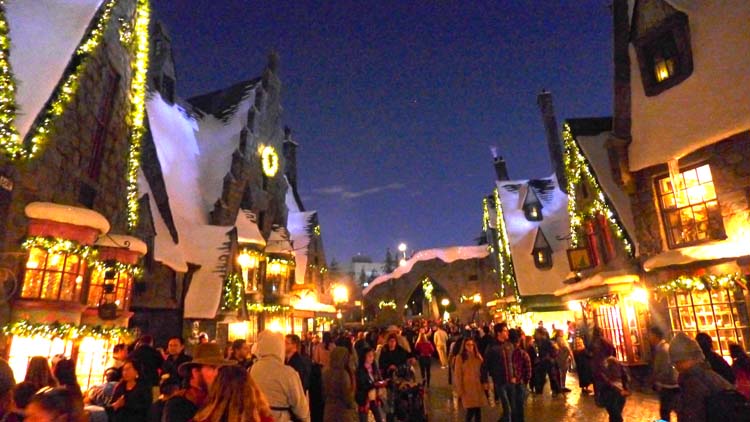 Every half hour, Hogwarts becomes enchanted and 'The Magic of Christmas at Hogwarts' projection show on the castle begins. You can watch this year's offering below.
The show is unchanged from last year and equally entertaining, though the viewing area is small and can get tight. It's best to pick a spot as soon as the prior showing ends and the first guests move out. The big different this year, and one of my biggest concerns from last, was the lack of snowfall. It seemed like such as obvious thing to include with the holiday offerings. Luckily Universal finally offers snowfall in Hogsmeade which takes place 5-7 minutes after each showing of The Magic of Christmas.
It's hard to see but check out the view below for a look at the atmosphere and snowfall in Hogsmeade.
The holiday offerings at Universal Studios Hollywood feel much more complete and polished. Christmas in the Wizarding World is wonderful and the snowfall makes it a must do once again for Potter-heads on the west coast. I'd like to see Grinchmas or some sort of new holiday offering debut on the lower lot in the coming years. The over-crowding between Grinchmas and the Wizarding World can be overwhelming for some guests and an offering of some sort on the Lower Lot would really help alleviate that. That concludes our look at the 2018 Holiday offerings at Universal Studios Hollywood. Get social with us and let us know on Facebook and follow along with us on Twitter @BehindThrills for the latest updates!
For our latest theme park videos please be sure to subscribe to us on YouTube!
For more information about Universal Studios Hollywood, including tickets, visit the official website by clicking here!