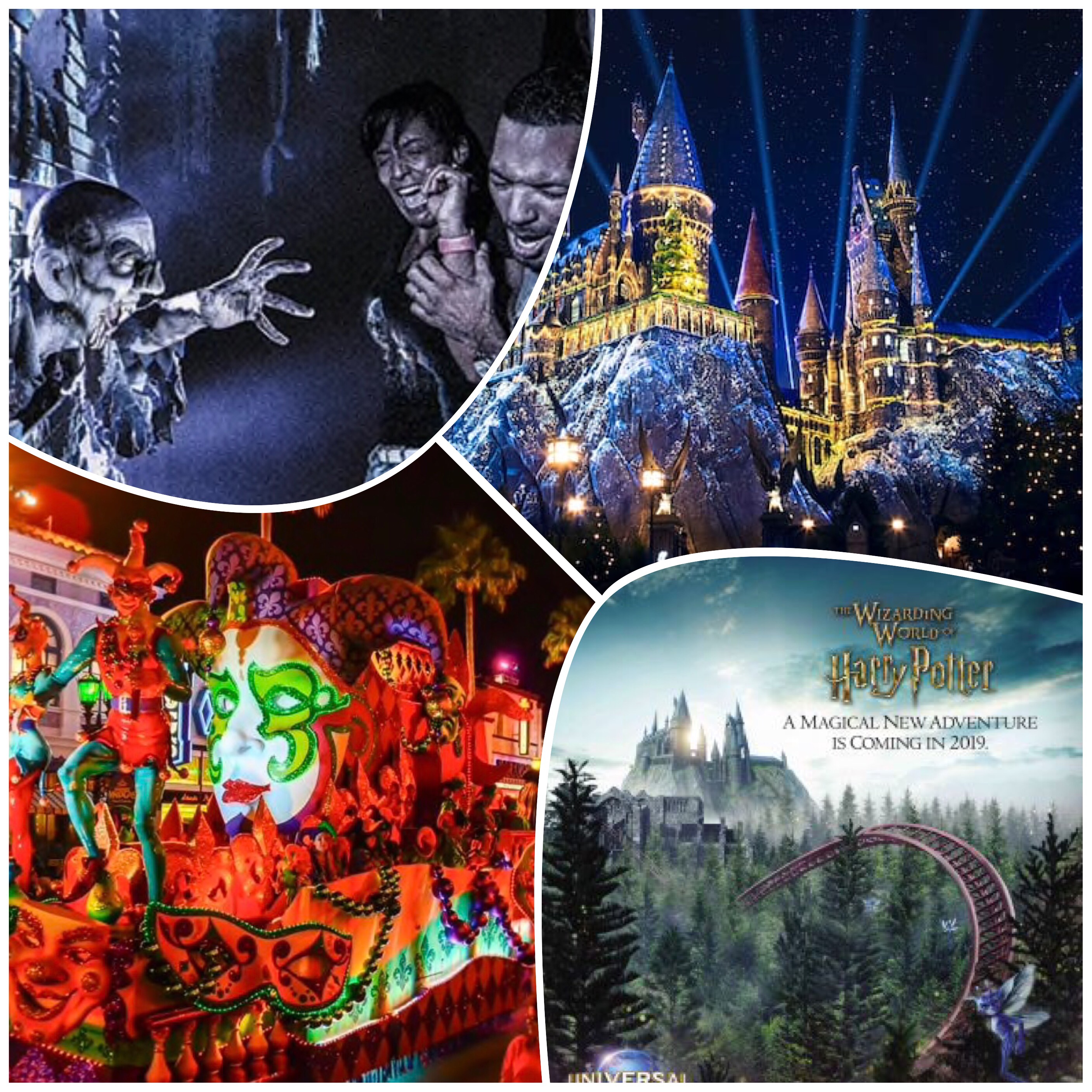 This is normally a list that you'd see around New Years or even Christmas, but there's so much happening at Universal Orlando in 2019 that we're counting them down now, as we're heading into February. Is there that much? Are we that behind? Are we that lazy? The answer is yes! There is really so much going on with Universal this year that we just couldn't ignore the list. Let's take a look at everything Universal has coming up, everything they could announce and everything we hope happens!
Bob Marley's Birthday- This is the 20th year of Universal's Bob Marley celebration. It's all happening this Saturday and will feature tons of food, live music and remembrance of the man who thought music and love was the most important thing in life.
Rock The Universe-It starts this weekend and will bring the biggest names in Christian Music, fellowship and of course all the rides you can handle.
Mardi Gras-Throw me somethin Mista! There's a massive line up of concerts, a huge number of new floats and brand new food. The fun will start every day on February 9th and be bigger than ever. 
Halloween Horror Night 29- It's too early for rumors…though we've heard a few already. HHN 29 was a record breaking year, and this year will be even bigger with more terror filled days than before, and an earlier start date. 
Holidays at Universal-You won't convince me that there's another theme park celebration that captures the spirit of Christmas in a more unique way. From the mischief of The Grinch in Grinchmas, to the beauty of the Holiday Parade featuring Macy's and of course Harry Potter everything! The magic of the holidays will return this year, and it's going to be even more magical than ever.
Back to Hogwarts-In early September of 2018, Universal welcomes everyone back to school Wizarding style. From school robes, to scavenger hunts, and even class pictures, this is one back to school celebration that even kids can get behind.
Nighttime Lights at Hogwarts Castle-The summer show is supposed to return, and we couldn't be happier. The castle show is short but the perfect cap to a day at Universal Orlando, and a definite for any Harry Potter fan as the show calls on every single house of Hogwarts for an amazing pep rally.
Harry Potter Coaster-This is the biggest new attraction at Islands of Adventure since it's opening. Taking the space once occupied by Dragon Challenge, the as of yet unnamed coaster will launch riders into an adventure that includes a trip into the Forbidden Forest. We have heard so many rumors about this coaster, that if even half of them are true, it'll be a return to the amazing technology and thrills that Islands of Adventure was built on.
T2 Replacement-It's been almost two years since Terminator closed at Universal Orlando. The replacement is still scheduled to open this year, though we have no clue what it will be. Rumors have been bouncing around from a Bourne Identity Stunt show to a Star Trek screen shooter. We should find out soon, that is if the attraction is still on slate for this year.
Endless Summer Surfside-The latest Universal hotel is the first to go offsite, as the hotel opens the first of two stages on the site of the old Wet n Wild Orlando. The new hotel will be the first in the "Value" line up and will start cheaper than most regular hotels in Orlando at just $79 a night.
Harbor Nights-This is an event that has happened for years, but every time it happens, it's something different. Harbor Nights captures the beauty of Portofino Bay Hotel and wraps it up with a romantic night full of music, great Italian food and of course wine. Held in the heart of Portofino, graze amazing dishes and sample great wine while listening to live performers sing Italian classics. 
Jake's Beer Dinner-One of our favorite events, Jake's Beer Dinner matches a beer company with a delectable menu. This event happens just about once a month, and is located at Royal Pacific Hotel. It's a different beer company and menu every month, and well worth the try. 
Wine Riffs-This monthly event revolves around music and spirits as you get a delectable gourmet menu paired with a unique wine company. It's an elegant multi-course meal with a DJ who spins a custom soundtrack to set the mood. It's a multi-sensory masterpiece (and a total blast), both lighthearted and sophisticated. And it's all at the Hard Rock Hotel
Velvet Sessions-Yet another monthly gathering at Hard Rock involving spirits and music. This time, you can have an intimate concert with some of rocks legends, musics big names and just some great musicians in a very intimate setting. It truly is the best and most chill cocktail parties on the planet, as guests get to have drinks and chill in the cocktail bar for this monthly party.
Jake's Beer Festival-Twice a year, Jake's Bar at Royal Pacific unleashes a massive amount of beer samples, and food pairings. Try about 50 types of beer paired with delicious, in house prepped food and a live band. It's an extra event, but so worth it. 
Emeril's Orlando Replacement In CityWalk-Last year, Emeril's Orlando closed it's doors in CityWalk. This follows the closing of the Tchoup Chop at Loews Royal Pacific Resort. The rumors have this one being a brand new concept called "BigFire Grill" or Big Fire…however you want to say it. The behind the scenes chatter is that this could be a huge new steakhouse, and it's prime location in the middle of CityWalk should mean a huge new presence.
Nintendo Details-File this one under things that we hope happens. Nintendo was announced several years ago now, and the rumors were hot and heavy with what was going where. We were going to have Super Nintendo World in Kid Zone, there was going to be Hyrule in Lost Continent and even Pokemon in Toon Lagoon. And then nothing happened. 
Womp womp.
Universal Japan is definitely opening the first version of Super Nintendo Land in 2020, and Universal Studios Hollywood seems to be quietly working on their version as well. What about Orlando? Permits were filed, then nothing. With any luck, we'll get some details about the next big expansion at Universal Orlando…but there's a good chance that the next park will be the place where we see Nintendo finally warp to life in Orlando. 
New Volcano Bay Attraction Details-This feels like the year that we're going to get another update to Volcano Bay. The park has already somewhat announced that they are working on a five acre expansion to the insanely themed waterpark, but we have no idea just what we can expect from that expansion. With any luck, by the end of the year, we'll have names, details and an opening date. 
New Park Details-Another one to file under "things we hope happen" and our final one on the list, simply because we doubt that it will happen this year…but there's always hope. Universal is at the point that they can easily fill a third theme park with guests and still have massive lines all day, so it's not a matter of "if" but "when". There have been leaked names and information, but nothing at all official. Personally, I'm hoping for something that is a completely different concept from the parks that you see now, with a concentration on technology and theming rather than big licenses, and familiar attraction…but I'm a purist! 
There's lots happening this year at Universal, and we're excited to see all of it! 
Stay tuned for more from Universal, and be sure to get social with us on Facebook and follow along with us on Twitter @BehindThrills for the latest updates!
For our latest theme park videos please be sure to subscribe to us on YouTube!
For more information about Universal Orlando,including tickets, visit the official website by clicking here!