A big new look at the all new Star Wars: Galaxy's Edge debuted during the annual Disney Christmas Parade. The video gives a great first look actually inside the rides and shows us what we can expect when Star Wars: Galaxy's Edge debuts at Disneyland this summer and at Disney's Hollywood Studios in the fall.
The video gave a great look at both the new rides, including the ride vehicles and the seating on the ride. While that doesn't sound like a big deal, it gives an idea of seating arrangements and what riders could expect.
Smugglers Run will seat five guests in different positions, each with a different role. Allegedly guests will be able to control the Millennium Falcon, though the random button mashing didn't look like there would be many consequences for any wrong moves.
Rise of the Resistance will have guests riding in carriers that are driven by their very own droid. The droid sits at the front of the car, much like R2D2.
The video also shows off what looks like a Kylo Ren animatronic, plus the video shows off the AT-AT vehicles in action that were built in the ride.
Plus a few tweets have given even more of an inside look at the new attractions of Galaxy's Edge, via a Disney Team Member magazine.
** BREAKING PICTURES **

Picture # 1 From the Disney Cast member magazine… pic.twitter.com/BUVOmQDYz0

— SWGalaxysEdge (@sw_edge) January 4, 2019

The first is a better look at the new Smugglers Run attraction, and it gives a better sense of just how detailed the ride is going to be. It really does look like the inside of the Millennium Falcon from the film.
** BREAKING PICTURES **

Picture # 2 From the Disney Cast member magazine… pic.twitter.com/FbfGoovQ8j

— SWGalaxysEdge (@sw_edge) January 4, 2019
The second shows off more of the transport from the Rise of the Resistance attraction, including a better up close look at that droid that will be guiding the ride on this trackless vehicle.
** BREAKING PICTURES **

Picture # 3 From the Disney Cast member magazine… pic.twitter.com/dyDDjZdnhk

— SWGalaxysEdge (@sw_edge) January 4, 2019

And finally, we get a better look at the quarters of the Falcon, which personally makes me very curious on how this is going to work in the ride. Will it be part of the walk up to the cockpit? Will it be a part of the queue? Will you actually be able to sit down and play? Will you actually walk through those amazing corridors of the Falcon like Han and Chewie??? So many questions!
Follow SWGalaxysEdge on Twitter for more detailed pictures and updates.
According to WDWNT, you can try the beers of Star Wars Galaxy's Edge now…if you want to go to Miami. If you venture to the Concrete Beach Brewery in the Wynwood Arts District of Miami, you can try not only the Kungaloosh Spiced Ale, but also Galaxy's Edge Ale.
Concrete Beach provides a lot of the specialty beers for the Epcot Festivals, and also the specialty brews for many of the restaurants at Walt Disney World, including Kungaloosh Spiced Ale at Tiffins and Nomad Lounge at Animal Kingdom.
Walt Disney World isn't the only theme park to use outside, local (ish) brewers to make their specialty beers. Universal Orlando uses Melbourne based Florida Beer Company to create their Duff Beer line as well as their Wizarding World of Harry Potter Beers. However, unlike Concrete Beach, you can't go to Melbourne to get the Universal beers.
We'll be very interested to see if the Galaxy's Edge Ale that Concrete Beach has on tap in their brewery is the same Ale that you can get at Blackspire Outpost when it opens later this year.
So what about that opening date? Yeah, it could be June. More on that in a minute.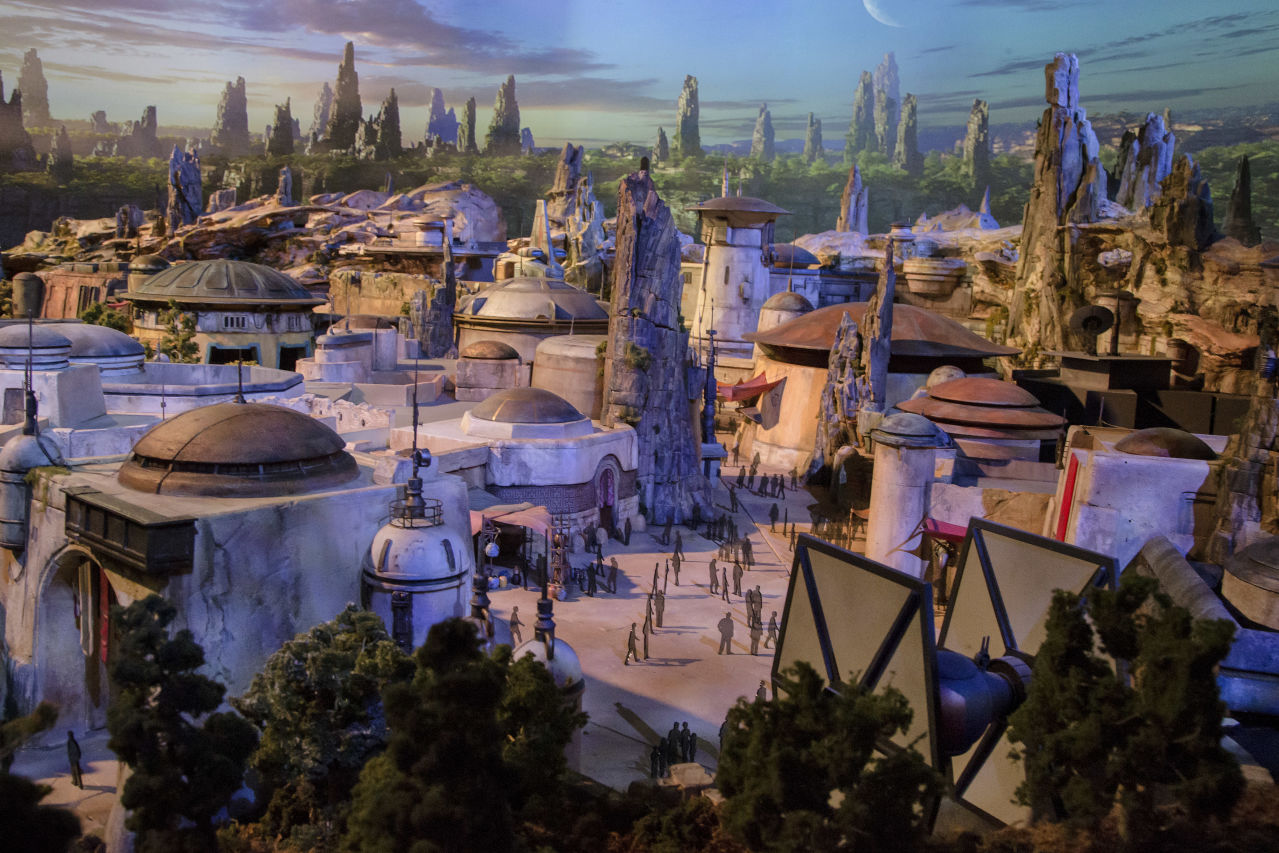 A new article from Barron's details everything that we might see in Galaxy's Edge, from a first hand experience. Smugglers Run will have not only the detailed, interactive experience, but also a straight up not so interactive version. If you do the interactive experience, you might get mentions from other residents of the outpost.
Per the article:
"After a ride, the visitor might say, stop at Oga's for a drink and be told something like, 'The boss isn't happy about how you brought the ship back.' This is part of an interactive, story-building experience throughout the land that visitors can opt in to or out of."
On Rise of the Resistance, guests will not only be immersed in the ride but also in the queue. They'll go in and out of rooms that were once rundown quarters, but are now bases of operations for the Resistance. On the ride you'll see a battalion of Stormtroopers in formation, and could be even interrogated by Kylo Ren himself (probably that animatronic we've seen). You may even be rescued from one vehicle as you try to make your escape. Sound familiar? We've heard rumors before that the ride will take you in one direction, before the story has you get out of that vehicle to make an escape in another. We're not sure if that's what they're saying here, but it certainly does seem like it.
As for the immersion in the land, the feel will be just like Pandora: World of Avatar, where you walk into the frame of the land, "like a movie fading out and then back in, to ensure that the first sight of Galaxy's Edge is a carefully framed, cinematic view."
Like Pandora, you'll also have the signs for the rides kind of blend into the background. Unlike Pandora (and probably more like Harry Potter) you'll know it's a ride, though it will fit the background and scenery better than a typical Disney ride sign.
Oga's Cantina will be the place to get actual Blue Milk. If you're worried about the "Milk" being dairy, don't because it's dairy free. Likely, it will be like the Butterbeer at Universal's Wizarding World (which has neither beer, or butter in it). Likely the milk will be a milky consistency and have a different flavor. You might also be able to get it in the marketplace, which sounds like a good thing, because Oga's Cantina is tiny. There are some tables, but the design of it seems to be more standing room and bar than anything else. You can likely be prepared to pay a premium for a spot at the tables.
Shops in the outpost will likely downplay the logos of Disney and Star Wars, much like the merchandise in Pandora does. Yes, you'll know it's a Star Wars and Disney item, but it will look more "organic" like it actually came from Batuu, and not a tourist trap gift shop.
And if you want merchandise featuring a character from the Star Wars universe, your item may look different from what you've come to know your character to look like. The story of the merchandise will be that while the merchants have heard of people like Darth Vader, Luke Skywalker, Chewbacca and the rest, they never actually MET them…so they don't know what they look like. So, it will look similar, but not exact…because they're only going on hearsay instead of an actual look at them. It sounds like a fun and weird little detail to add into the merchandise, but it definitely could work.
So…that opening date? From the Barron's article, Eiger let it out during an interview:
"When Star Wars opens in Anaheim in June and in Florida later in the year, that's adding capacity," said Iger. "You're adding 14 acres of land (each), more rides and more for people to do. It's the biggest land we've ever built."
So looks like the rumored Memorial Day opening isn't happening, though Disneyland could see technical rehearsals before then. Then there's also Florida which went from "Winter" to "later in the year". If you're reading too much into it, like me, then it sounds more and more like towards the Christmas break time of year.
So what are you looking forward to most out of the new Galaxy's Edge? We'll have more thoughts on what is surely to be the most popular area on the planet in the coming days, so stay tuned!
For our latest theme park videos please be sure to subscribe to us on YouTube!
For more information about Walt Disney World, including tickets, visit