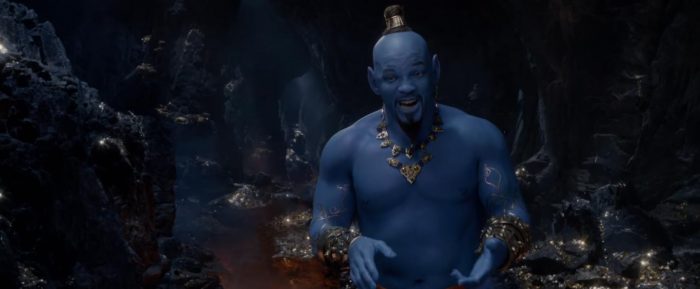 As Will Smith famously said in MIB "damn". We have the first look at Will Smith as the Genie in the new live action adaptation in Aladdin, and well…it's really hard to fill that iconic role.
Maybe it's the fact that I love the original animated film so much, but there's so much wrong here. Jafar is young, sexy and not very threatening. Let's hope he's more threatening on screen than in the trailer. Then there's the genie. Damn.
There's not a lot of energy showing off here, and that's probably the biggest issue. Will Smith sounds like perfect casting, but there's really something to be desired in not only what we've seen so far, but also the look of the genie as well.
And there's where you're going to run into problems with these remakes. Most of us grew up in some way with the classic animated films, and they're embedded into our being so much that it's honestly hard to see anyone else in the roles. Let's hope the movie nails everything else when it hits theaters on May 26th, 2019.
Stay tuned for more, and be sure to get social with us on Facebook and follow along with us on Twitter @BehindThrills for the latest updates!
For our latest theme park videos please be sure to subscribe to us on YouTube!