Today Disney has rolled back the curtain on a ton of new information on their huge new world, Star Wars: Galaxy's Edge. There's a lot of information that came out overnight and throughout the morning, so we'll do our best to sift through it. From food and drinks, to more ride experience news to casts and souvenirs, Disney hasn't really held back, as members of select media outlets have gotten a first hand look at the new land. We've gathered information from sites like Gizmodo and Nerdist, EW and OC Register who were on hand, along with the official D23 website. Check out their stories for more in depth descriptions. We've got tons of information and pics, so get ready!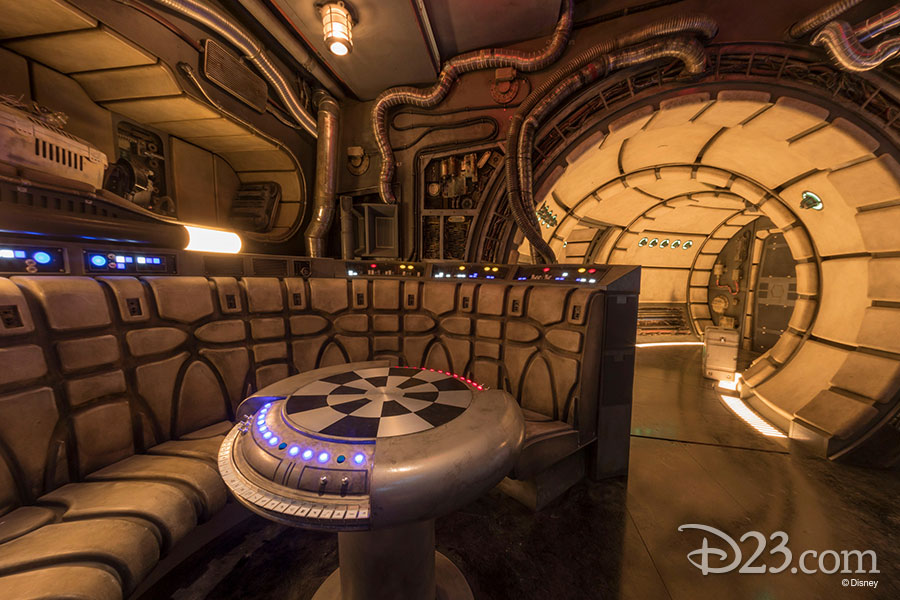 Smugglers Run
One of the most anticipated attractions is going to be Smugglers Run, where you can actually pilot the Millennium Falcon. There will be six spots on each ship, and you will be the only crew piloting the ship. That's a huge improvement over rides like Flight of Passage, where you're jumping on the attraction with other guests visible.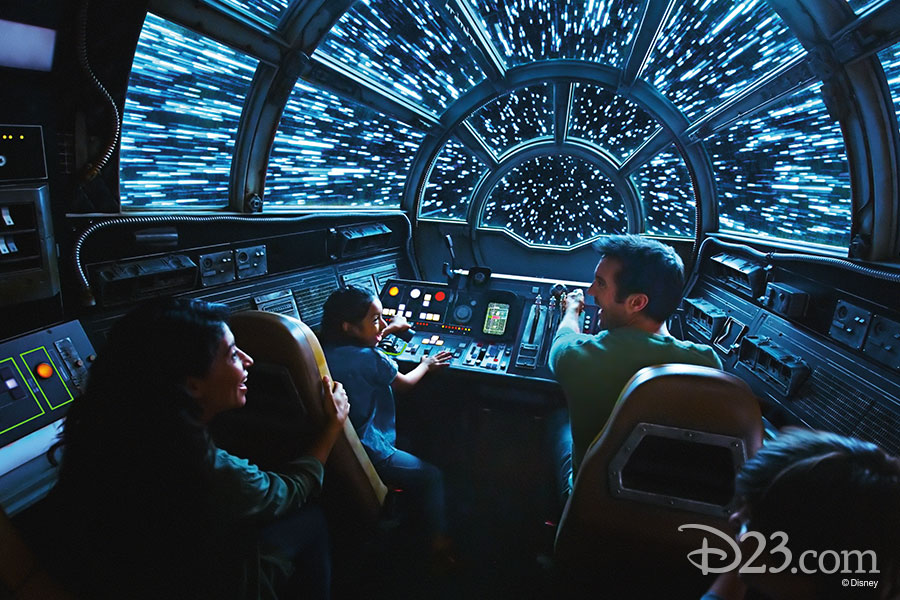 The six positions will all have three roles, and it sounds like two of each. There will be pilot, engineer and gunner. Just like everything we've been told before, you will have the chance to touch and push every single button and handle. They will actually work. Every role will have a part in how the ship does.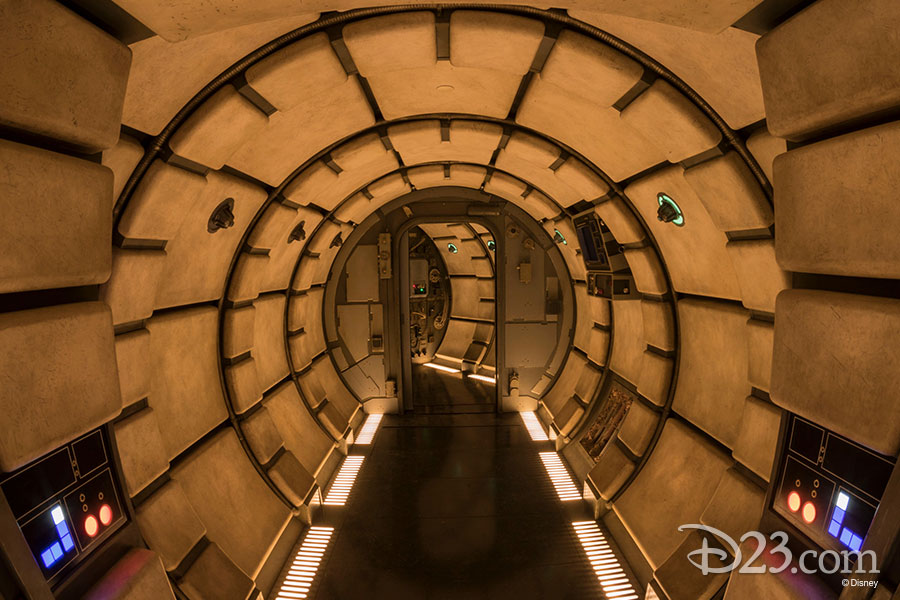 The ride will bring guests onboard the Falcon, and will see them interacting not only with the ride, but also with the ship herself. After going through the queue, guests will be given a card, and will have an area to wait in. While they're waiting on their card, or number to be called, they will have free reign of the ship. They can explore the corridors, sit on the seats, touch all the buttons. Everything you've seen in the ship from the films, it'll be there for you to play with, and explore. The consensus from all the reports is that you will feel like the only people on the ship. How's that for a preshow?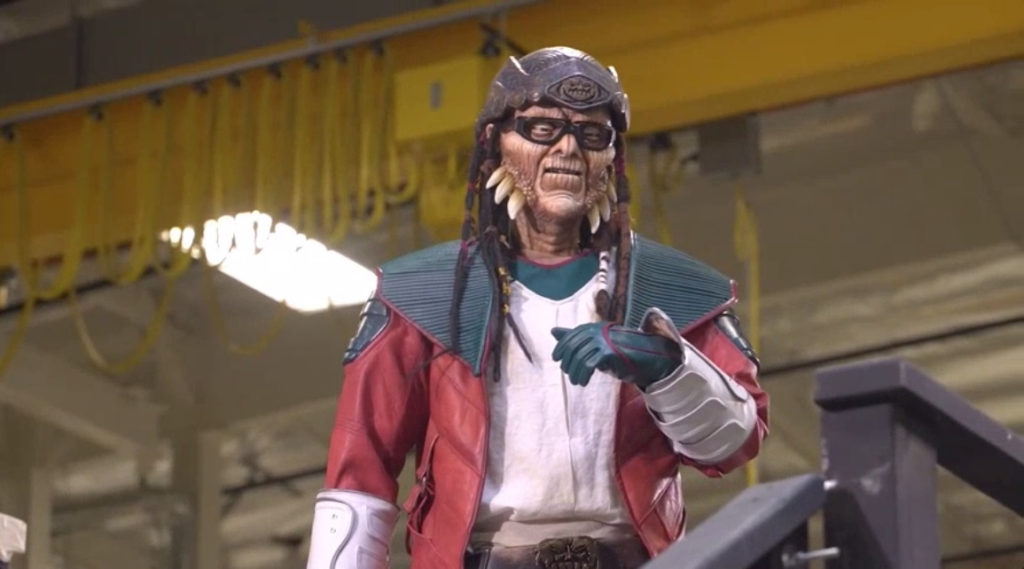 Speaking of pre-shows, guests will hear the story and get the run down of what you're doing by one of the most advanced audio animatronics to date. The A1000 will be a life like, very articulate animatronic that will be in the likeness of the Pirate Hondo Ohnaka, from Star Wars Rebels, once again voiced by Jim Cummings. Hondo, along with his droid, R5P8 will give you directions and set up the ride story, which is along the lines of Hondo convincing Chewbacca to let him use the Falcon, he just needs a crew. And that's where you come in. The ship still has some Porgs from Ahk-to. The ride will also have a single riders line.
Rise of the Resistance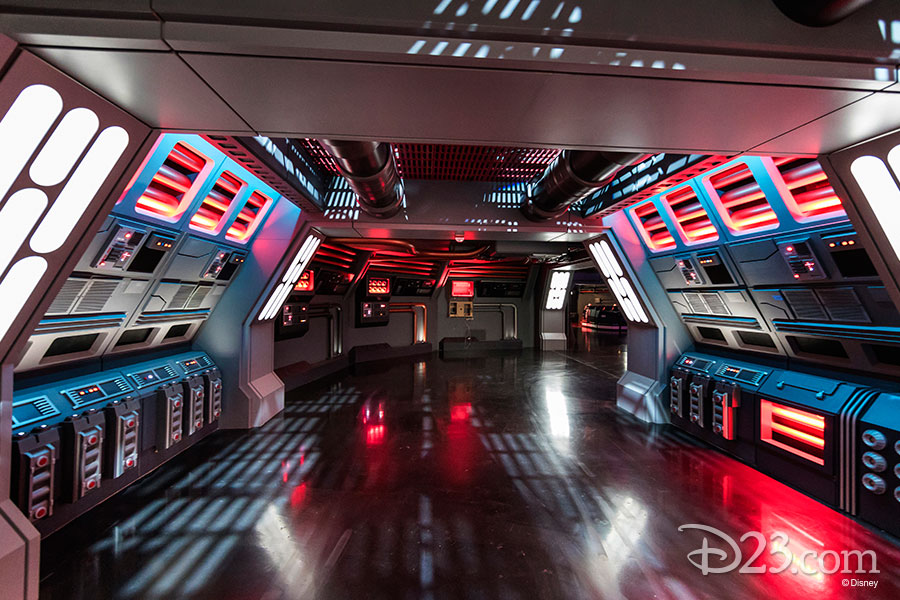 Rise of the Resistance is the marquee attraction in the park, and will the one that everyone will be talking about. You'll ride along with your favorite characters from the new trilogy, such as Poe, Rey and Finn, all played by the original actors. BB8 and Rey will be featured in a holo transmission, where they will recruit your group to go on a secret mission for the resistance. You'll wind through laser carved tunnels in an old shrine on Batuu. The entire experience will wind you in and out of caverns, barracks and put you into interrogation chambers. Guests will see Nien Nunb on a shuttle flight, and you'll also see Poe escorting the shuttle with his X-Wing.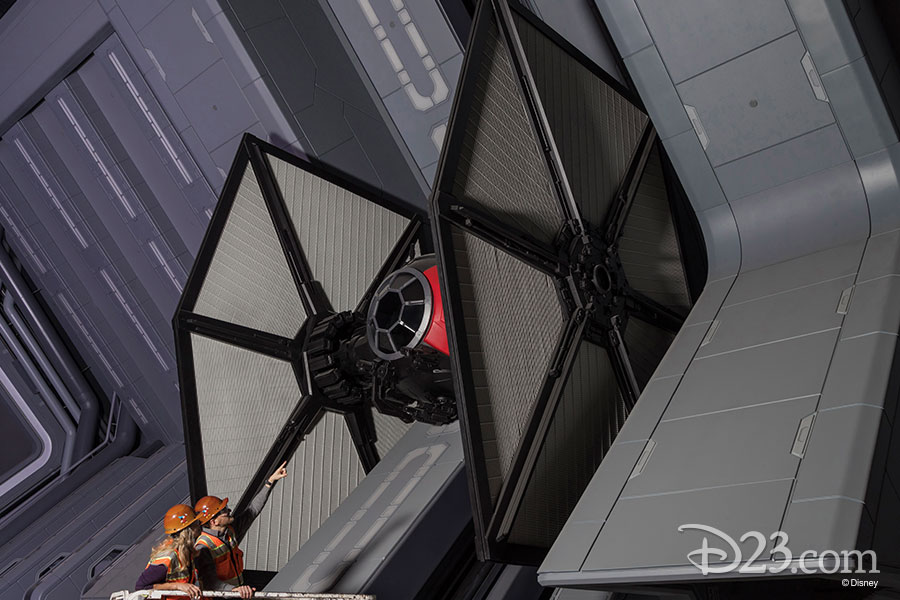 Something will go wrong, naturally, and you'll be taken aboard a Star Destroyer, where you'll see a hangar full of about 50 Stormtroopers, some of which will move, others will be static. You'll also come face to face with Kylo Ren, and you'll be able to feel his lightsaber…or rather the heat coming off of it. The entire experience will be long, but the ride portion should be around 6 minutes. The experience will also feature tons of different aspects, like different show set ups and different experiences before and after the ride. You will come face to face with AT-AT Walkers, and Tie-Fighters, all of which are life sized.
Food and Drink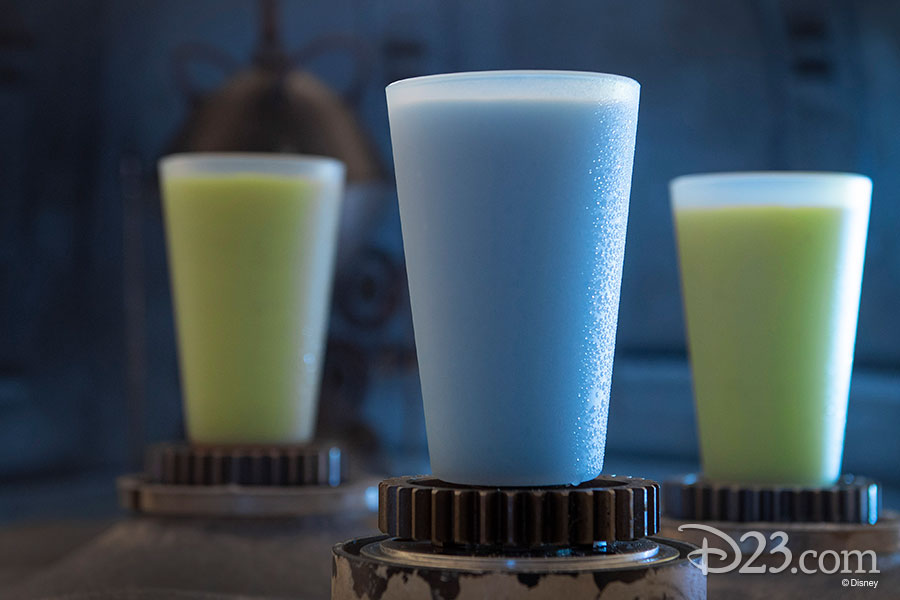 One thing that the Wizarding World of Harry Potter did was proved to the world that food and drinks can be a part of the story, and ever since Disney has been trying very hard to make their new lands and worlds brim with new and exciting food and beverage options. Galaxy's Edge will be no different, as they'll be offering a slew of different food and beverage options, all of which sound like they're from a Galaxy, Far, Far Away. The signature drink will be Bantha and Ach-to (blue and green) milk. The blue milk tastes like a melon-berry smoothie, while the green is more of a tropical taste. It is a dairy product.
Oga's Cantina will be the first place in Disneyland where you can get alcohol, so it better be good! The cantina will be where you can see former Star Tours Captain Rex (no DJ RX-3) spinning music. The songs are all original, from composers around the world.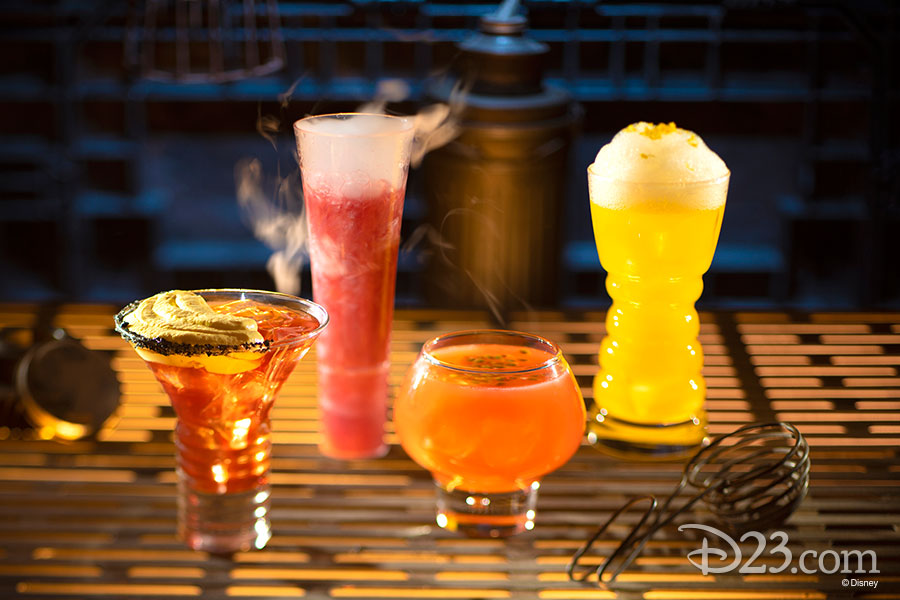 The alcoholic drinks above are left to right, The Outer Rim, Bespin Fizz, Yub Nub, and Fuzzy Tauntaun.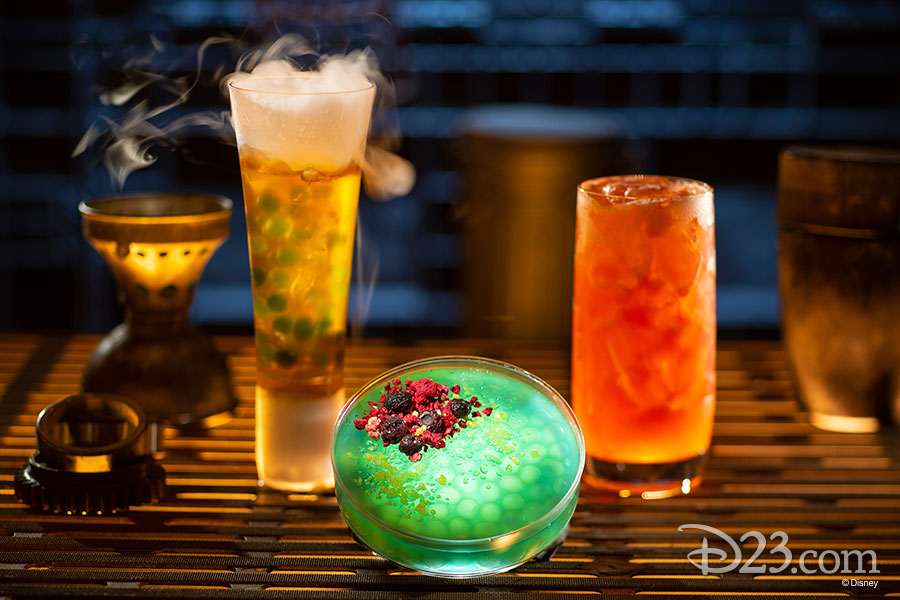 For the kids there will be non-alcoholic drinks: Carbon Freeze (left), Cantina Mix (middle), and Cliff Dweller (right).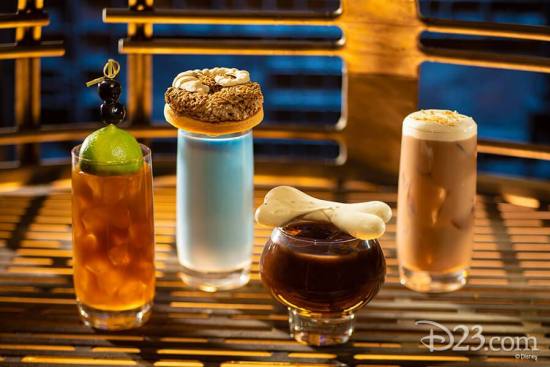 There will also be Moogan Tea, Blue Bantha, Bloody Rancor (contains alcohol), and the Black Spire Brew.
Docking Bay 7 Food and Cargo
This will be the main sit down dining of the area. It will feature a huge menu, with drinks and desserts. The story is that Docking Bay 7 is a multi-purpose transport shuttle docked atop a large hangar for traveling food shuttles. That's where Chef Strono "Cookie" Tuggs has converted his modified Sienar-Chall Utilipede-Transport into a popular mobile kitchen and restaurant. His travels across the galaxy allow him to fill his pantry with exotic ingredients, and he's proud to present Tuggs' Grub, a "traveling diner for diners traveling," inspired by dishes he created during his time working for Maz Kanata on Takodana.
Menu will include
Braised Shaak Roast, Ithorian Garden Loaf, Smoked Kaadu Ribs, Fried Endorian Tip-Yip, Yobshrimp Noodle Salad, Felucian Garden Spread, Oven Roasted Burra Fish, Oven Roasted Tip-Yip.
Drinks include Moof Juice and Phattro.
The children's menu includes Fried Chicken with Macaroni & Cheese, Chilled Shrimp with Vegetables and Rice, Noodle Salad, Sweet Orange Dressing.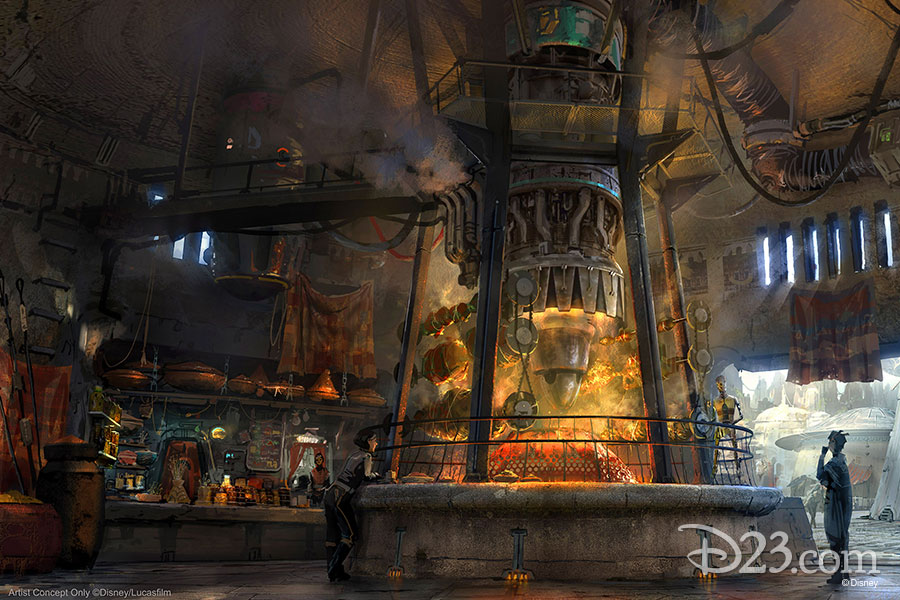 Ronto Roasters
Who said Podracing was useless? Ronto Roasters' large podracing engine will be firing up a barbecue pit for mouth-watering sandwiches. When customers line up to order, they will encounter a former smelter droid, carefully turning the spit of meats (and complaining about his job). Items include the Meiloorun Juice, the Turkey Jerky, and the Ronto Wrap filled with spiced grilled sausage and roasted pork. Guests will also be able to choose from a variety of exotic non-alcoholic drinks, like the Sour Sarlacc or Tatooine Sunset.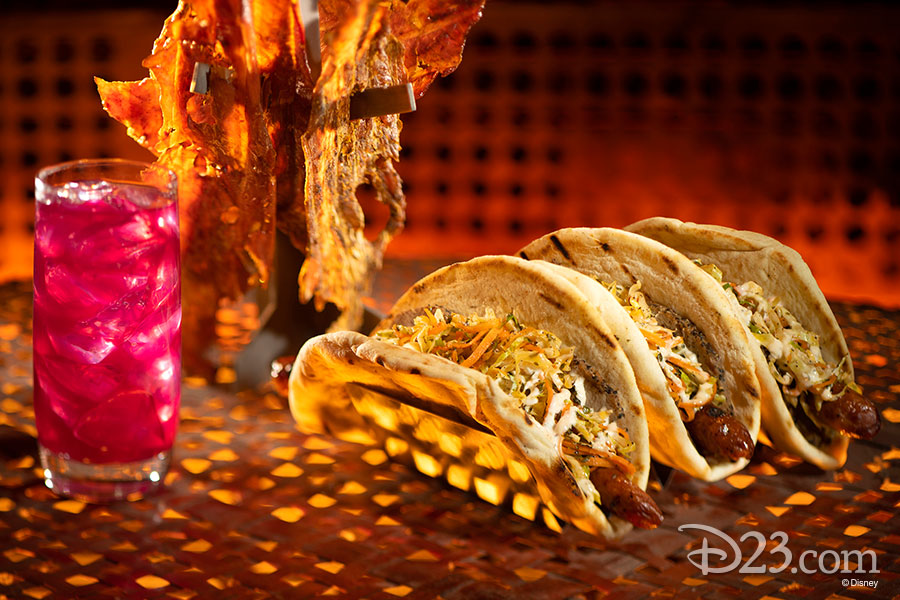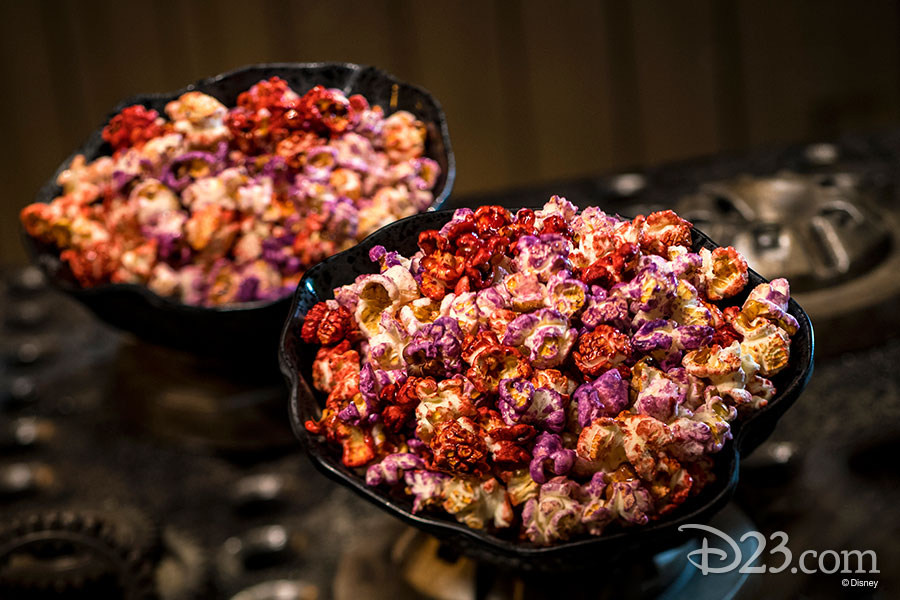 Finally you can try the Outpost Mix—a popcorn snack combining savory, spicy, and sweet flavors—available to try at Kat Saka's Kettle.
You'll be able to get not only the drinks, but also specialty beers that you can only find in Galaxy's Edge. You'll be able to get Bad Motivator IPA, White Wampa Ale, Spiced Rutter Cider, Imperial Red Cab Sav, and Toniray White from Alderaan. All amazing sounding drinks.
Merchandise
It wouldn't be Disney without a look at the merchandise, and of course Star Wars is going to be chock full of merchandise. The big thing here is that the merchandise will seem like it's from the Blackspire Outpost, and won't scream STAR WARS or DISNEY all over it. It's going to look like you bought it on Batuu at Blackspire Outpost. We're going to run through everything real quick.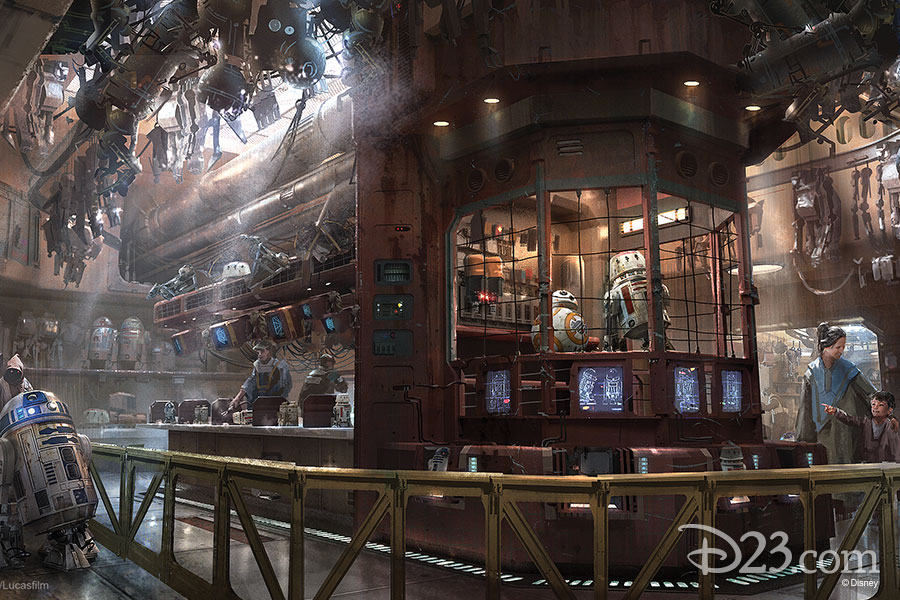 Droid Depot
Here you can build your own droid and take part in bringing your own creations to life.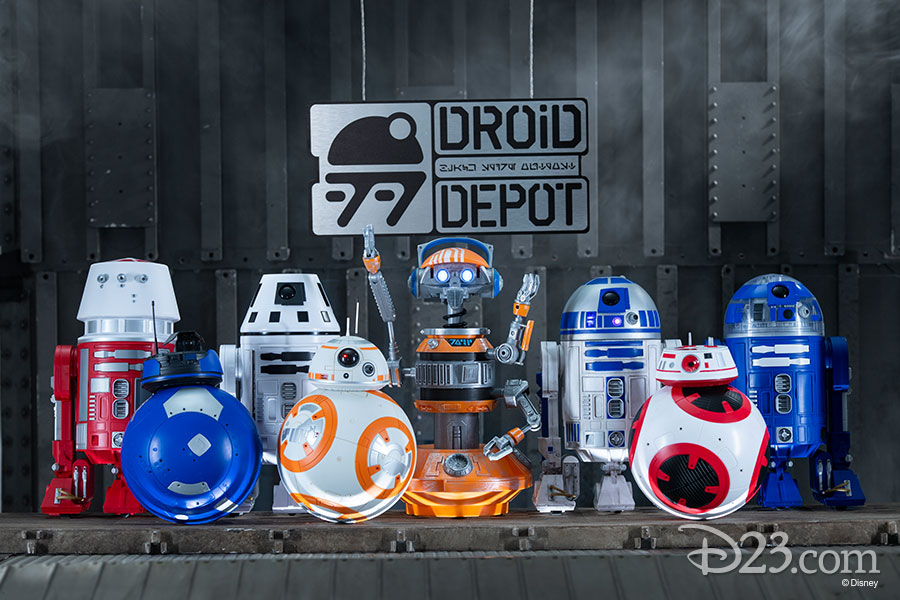 The Droid Depot is located in the market, inviting patrons to pick parts and pieces off a conveyor belt, then build and customize their astromech droids (R-series or BB-series); the droids are capable of interacting with elements in the land, responding to guests' behaviors. Additional programming chips and accessories can be added to the droids to further customize their abilities. The Droid Depot will also offer guests pre-built droids, including a C-3PO who has quite a bit to say (especially if you "accidentally" take off his head and put it on backwards!) and a Rex who will happily play whatever music you have on your smartphone through an intergalactic Bluetooth connection. The shop also offers droid-inspired products and much more—and intergalactic tourists needn't fret, as all merchandise will be labeled in dollars.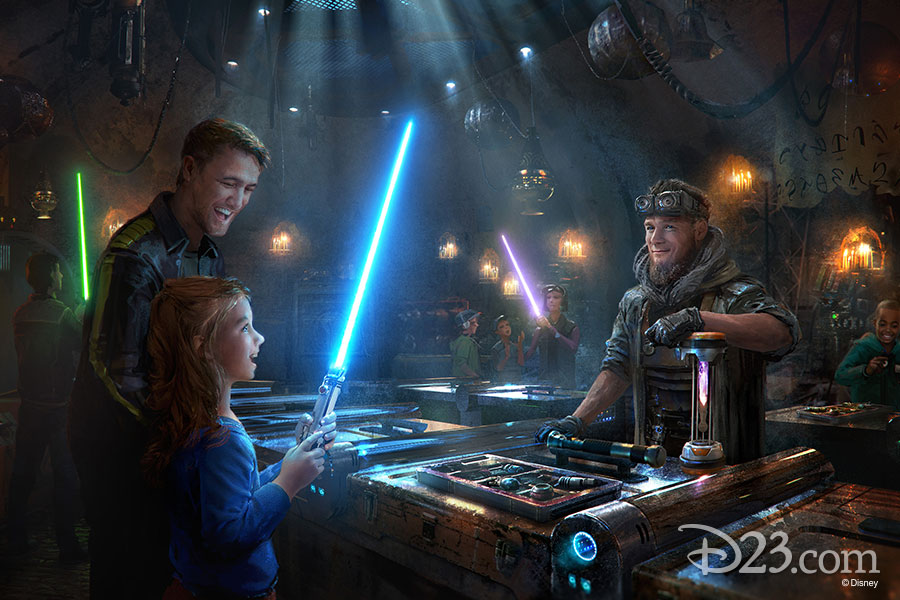 Savi's Workshop
Savi's Workshop, guests are given the opportunity to draw upon the Force as they build their own elegant lightsaber. At the heart of every saber is a kyber crystal, and during a guided tour, each guest will have four options to choose from: Peace Justice (modeled after Jedi from the Republic era); Power Control (a nod to the Sith); Elemental Nature (harnessing air, earth, fire, and water); and Defense (shrouded in mystery). Lightsabers will run around $100 dollars for the hilts, and about $50 dollars more for the blades. The Kyber Crystals will be removable and will be able to be used in a Holocron Cube, which will give you lessons on iconic characters.
Here's the other big stores:
Dok-Ondar's Den of Antiquities-Visitors will find a selection of mysterious and rare items for sale representing different eras of the Star Wars galaxy, including ancient Jedi and Sith artifacts, holocrons, lightsabers, and more. As they explore the shop's nooks and crannies, they will find Dok at his desk, checking his inventory, taking calls, and barking orders at his assistants.
Creature Stall- Fascinating and unusual beasts from all across the galaxy, ranging from the friendly (porgs, tauntauns) to the not-so-friendly (rathtars, wampas). Nearby, you'll find the Toydarian Toymaker stall, offering items crafted by its namesake alien, first seen buzzing around Anakin Skywalker­ in Star Wars: The Phantom Menace. It peddles artisan-style plush characters, wood and tin toys, and instruments.
Resistance Supply- A "makeshift" resource location at the Resistance's hidden command post, selling badges, hats, pins, and other accessories to help guests feel like part of the cause. On the flip side, First Order Cargo is a temporary storage dock located near the market. Easily identified by a never-before-seen First Order TIE echelon, it gives interstellar tourists a chance to pledge their loyalty to the First Order by purchasing caps, gear, model ships, pins, and more.
Here's all the new pics released from today:
In addition to all the merchandise, rides and food, the area will allow guests to interact with the land and characters. While we thought that it would be a wondering experience, and you have to deal with characters, that doesn't seem to be the case. The Play Disney Parks App will be the main way to interact with the Galaxy's Edge area, and characters. You'll be able to choose missions, and pick what side you want to be on. You'll get to. choose the Resistance, the First Order, or hang out with the scum and scoundrels. Scoundrel? I like the sound of that.
The app will also allow you to translate, hack and do a bunch of other stuff. It will work on Blue-Tooth enabled phones, and mostly everything will be able to be done without a cell signal.
Stay tuned for more from Disney, and be sure to get social with us on Facebook and follow along with us on Twitter @BehindThrills for the latest updates!
For our latest theme park videos please be sure to subscribe to us on YouTube!
For more information about Disneyland, including tickets, visit the official website by clicking here!