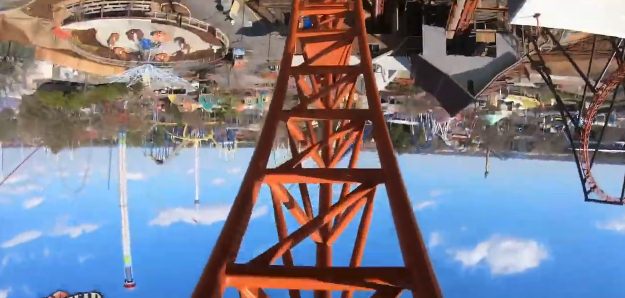 It's the only double launch coaster in the Carolinas, and it will soon be open at Carowinds later this Spring. Copperhead Strike will launch later this year at the premiere coaster park of the Carolinas, which will tell the story of Granny Byrd's secret recipe for her prize winning jam…only when you go to grab the recipe, she ain't boiling up jam.
You'll make your getaway in the all new Copperhead Strike, a coaster named because of all the copperhead snakes around Granny's Barn. Today, Carowinds released a POV of the new coaster, to give an idea of what to expect when you ride.
That first roll is amazing, and starts out the ride right off the bat. It's one of five inversions on the coaster, and it's before the first launch. The coaster will take a pause in Granny's barn before rocketing you out to your escape. The new coaster is just one of the many new things happening at Carowinds for the 2019 season. The park opens on March 23rd, and will also feature Blue Ridge Junction, and all new land with Copperhead Strike as the Centerpiece and a massive new restaurant.
Stay tuned for more from Carowinds, and be sure to get social with us on Facebook and follow along with us on Twitter @BehindThrills for the latest updates!
For our latest theme park videos please be sure to subscribe to us on YouTube!
For more information about Carowinds, including tickets, visit the official website by clicking here!