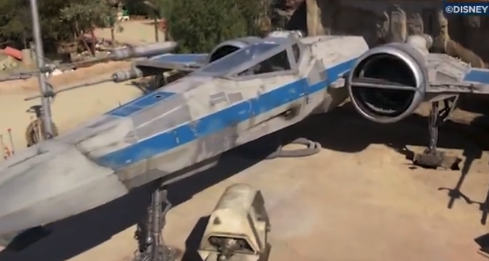 What else is there to say? Star Wars Galaxy's Edge is coming. Much hype. We want to go, and we're pretty sure there's going to be massive lines, so the chance of us actually getting in is going to be slim. However, we just can't get enough of it. ABC 7 got exclusive drone footage of the new area, meant to be just B-roll, but it's so detailed that they ran the whole thing. Can you blame them?
#EXCLUSIVE drone video of #StarWars Galaxy's Edge at #Disneyland. Opening to the public on May 31st. pic.twitter.com/EW71yKORl0— Rob McMillan (@abc7robmcmillan) March 8, 2019
The footage shows off inside the area, and everything does have that worn, weathered look. It's not an official area that we're familiar with, but it definitely has that Star Wars feel to it.
Disneyland will open their new land on May 31st, while Walt Disney World will open theirs on August 29th. Of course, it's just a piece of the land, as only one ride will be open.
Stay tuned for more from Disneyland, and of course Star Wars!
For our latest theme park videos please be sure to subscribe to us on YouTube!
For more information about Disneyland, including tickets, visit the official website by clicking here!