If you've been reading this site for any amount of time, you'll know that I am pretty messed up. I laugh at misfortune, and crave carnage. Blood guts and gore are the mainstays of both of my kids upbringing and we celebrate Halloween harder than most people celebrate Christmas and every other holiday. I love scary stuff. The majority of that love for the dark and creepy, can be attributed (like many 80's kids) to the book series, "Scary Tales to Tell in the Dark".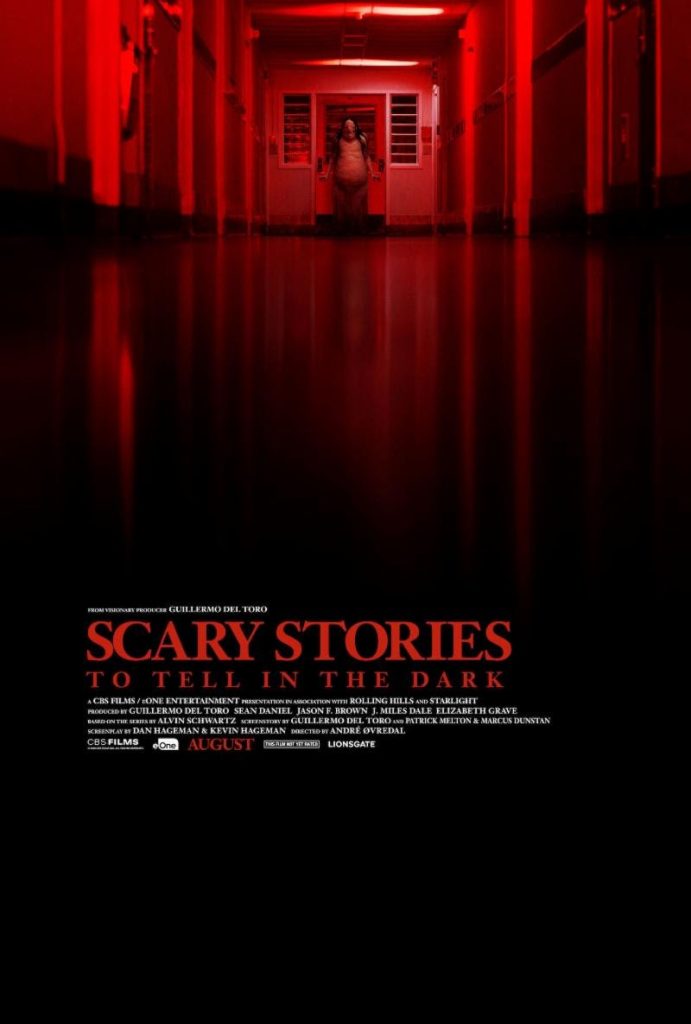 The series of books were basic, creepy little campfire stories, adapted from folktales in a variety of languages by Alvin Schwartz, but the real terror came from the simple yet terrifying illustrations by Stephen Gammell.
In August that is going to be a movie, and it's going to many of the best stories and combine them for one movie…aimed at kids.
"It's 1968 in America. Change is blowing in the wind…but seemingly far removed from the unrest in the cities is the small town of Mill Valley where for generations, the shadow of the Bellows family has loomed large. It is in their mansion on the edge of town that Sarah, a young girl with horrible secrets, turned her tortured life into a series of scary stories, written in a book that has transcended time—stories that have a way of becoming all too real for a group of teenagers who discover Sarah's terrifying home."
Guillermo Del Toro, one of the most visual storytellers of our time, has written and is producing the film. He's also helping with things like the effects, and the monsters, going with more practical effects than CGI. He's the creative mind behind Pan's Labyrinth, the first two Hellboy movies, and the Oscar winning Shape of Water. To say that he has a grasp on the monster genre is a bit of an understatement. He was supposed to be making a Haunted Mansion movie that would see a lot of involvement with the Hatbox Ghost, but that and the adaptation of the Lovecraft horror "At the Mountains of Madness" have fallen by the wayside in recent years. Still, we're going to get what looks like an awesome PG-13 creepfest on August 9th, 2019.
Stay tuned for more, and be sure to get social with us on Facebook and follow along with us on Twitter @BehindThrills for the latest updates!
For our latest theme park videos please be sure to subscribe to us on YouTube!