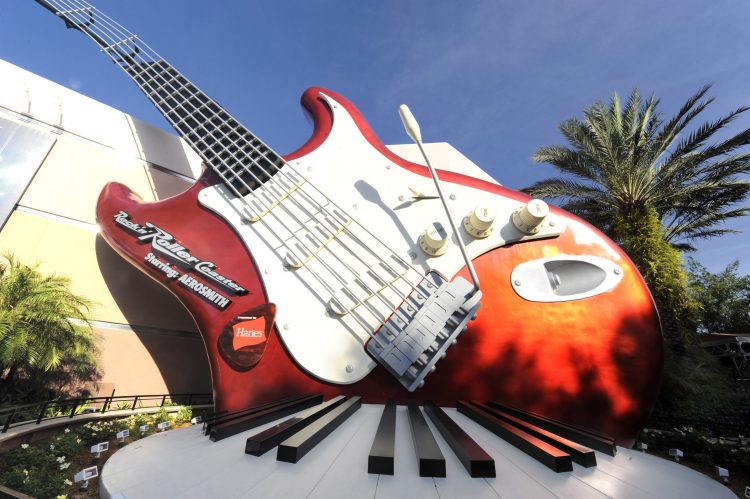 Get a big ole grain of salt as you read this, but our friends over at Attractions Magazine has a few bits of information from a cool sounding tour that they took from Disney that took them to Walt Disney Imagineering. The tour showcased many of the things that Imagineering is working on, including a look at a model of the new Zootopia Land, and the new Frozen attractions coming to Hong Kong Disneyland and Tokyo DisneySea. The article is definitely worth a look, just for the sheer speculation of what they saw alone.
The biggest thing to come from the article, and probably from the tour was that they were told from Imagineers that the fate of Rock n Roller Coaster at Disney's Hollywood Studios is up in the air.
From the article:
"He [Imagineer] told me Disney's contract with Aerosmith is coming up soon at the Rock n' Roller Coaster at Disney's Hollywood Studios and they are exploring different options for that coaster's theme. "
That's a huge revelation, especially since it's been a pretty solid rumor for a few years now. The article also mentions that there is a new version of the attraction being rethemed to an Avengers Attraction in Disneyland Paris, hinting that it's possible we'll get that same layover here. But the big thing to remember is that Universal holds most of the power of Marvel in Orlando, so while that's a great idea, and still a possibility, we'll toss that as a maybe.
The big thing that we're going to say comes from a rumor a few years back, with Radio Disney stars being the catalyst for the new ride. That's something that we're still hearing is possible, though Radio Disney is not the working title anymore. Instead, it will be a variety of "Disney Friendly" artists that will be seen on the Disney Channel, and more importantly Disney+. The attraction will be ever changing, and rotate new artists out periodically. The ride itself will change, but the appeal to it will be that you never know who you will see at G-Force Records.
Another rumor is that it will change completely, and become another Mickey Mouse ride, with the gang in a rush to a big concert. Same idea, same studio, but different decorations. Of course there's also the crazy idea that it could become a makeshift Radiator Springs Racers, and have the coaster faces change into different characters from the Cars franchise. That would lend itself to the new Lightning McQueen's Racing Academy right next door. This one is a little far fetched, but still possible. Personally I'd love to see them keep the "music" aspect of the ride and work it into the personality of the new aesthetic of the park.
The only thing we know is that the contract that Aerosmith and Disney has is expiring, which has been pretty much confirmed by Attractions and their conversations with an Imagineer. That contract is going to be the big catalyst for change, since Disney wants to bring more things in house with their huge catalog of properties. Could the contract be renegotiated? Aerosmith has announced that they were retiring, then they changed their minds, and now they have a Las Vegas residency. That alone shows that anything can change within a heartbeat, and we could see renewed contract. BUT the fact does remain that Disney has been moving away from external properties, and doing more with their own in house properties. A retheme does seem likely.
Now. Should we even start talking about Twilight Zone and Tower of Terror?
Stay tuned for more from Disney, and be sure to get social with us on Facebook and follow along with us on Twitter @BehindThrills for the latest updates!
For our latest theme park videos please be sure to subscribe to us on YouTube!
For more information about Walt Disney World, including tickets, visit the official website by clicking here!