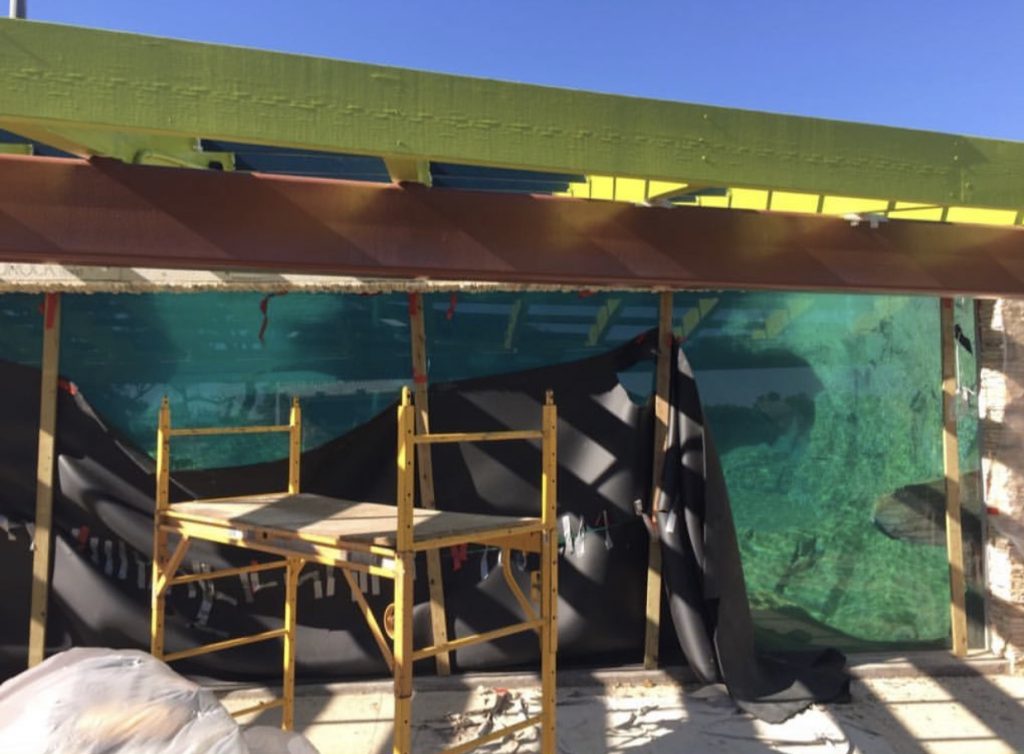 We have a pretty big update from SeaWorld San Antonio today. There's talk of a new trademark from the park, and we have a bit of insight it might be for. We also have a look at the new 2020 project, but first we take a look at the all new Turtle Reef, which is opening on May 3rd. We have a great new shot of the attraction taken from a great vantage point in a guest area that shows off a little of what guests can expect from the new underwater viewing area. Turtle Reef looks fairly big and will give a great look at the parks Green Sea Turtles.
Work on the other two attractions of Turtle Reef are also wrapping up, as they will be open for Passholder preview this weekend. The new attractions are a huge part of SeaWorld San Antonio for 2019, but what about 2020? Well, we have a bit of news about that as well.
Work on the new attraction for 2020 is progressing along at a rapid pace. While we know it's going to be a roller coaster, the exact layout, elements and type isn't known. What we do know is that it will likely be a wooden coaster. It will also likely be a family coaster by Great Coasters International, the same company that brought Invadr at Busch Gardens Williamsburg to life. Thise have been the rumors since the first inkling of the project, and we keep hearing that it's still planned that way. Trees are cleared, and footers are now poured for the new coaster. We should be getting details later this year. With the placement of footers, we might see beams and possibly track early in the summer.
But what will the name of it be? A new trademark might shed some light on that.
It is by going down into the abyss that we recover the treasures of life.-Joseph Campbell
On April 12th a new SeaWorld Trademark was filed. We're not sure where the discovery originated, but it is on the official Trademark website. The new name is for use of a theme park ride, according to the filing. Keep in mind that companies like SeaWorld file for tons of names annually, with some that don't end up being used. But others? The new coaster at SeaWorld San Antonio needs a name, and Abyss is a straight up ocean feature, one that could make for a hell of a great coaster. While I love the idea, I think the name would be better suited for an indoor coaster, or dark ride. Of course we don't know everything about the new coaster just yet.
There are several new attractions slated to open in the next few years at SeaWorld Parks nationwide, why does this one scream SeaWorld San Antonio? We know SeaWorld San Diego is getting Mako. We know that SeaWorld Orlando is getting a Wavebreaker coaster. Busch Gardens Tampa is getting a Gwazi remake, and the name "Abyss" doesn't really fit the African theme. Busch Gardens Williamsburg is getting a mega coaster that will dive into the Rhine River, and while Abyss will fit that coaster, it doesn't sound Italian or European enough. That doesn't mean a whole lot, because Invadr doesn't either, but out of all the parks and projects Abyss makes the most sense for SeaWorld San Antonio. An Abyss, is a deep sea fissure with crushing depths and otherworldly creatures. Usually we find things like Angler Fish and other bioluminescent creatures. Could the park be looking to create a deep sea environment for the park, as well as a cool sounding coaster? It's possible. Again, we'll be learning more later this year, but it's as good a theory as any.
The only concern would be with the James Cameron movie "The Abyss". Disney now owns the rights to the film, and they COULD slow the name up with a lawsuit. It is unlikely, since this is for a completely unrelated coaster and nothing to do with the movie, but it's possible.
In the meantime, get hyped for the new Turtle Reef, opening May 3rd!
Stay tuned for more SeaWorld park updates, and be sure to get social with us on Facebook and follow along with us on Twitter @BehindThrills for the latest updates!
For our latest theme park videos please be sure to subscribe to us on YouTube!
For more information about SeaWorld San Antonio, visit the official website by clicking here!