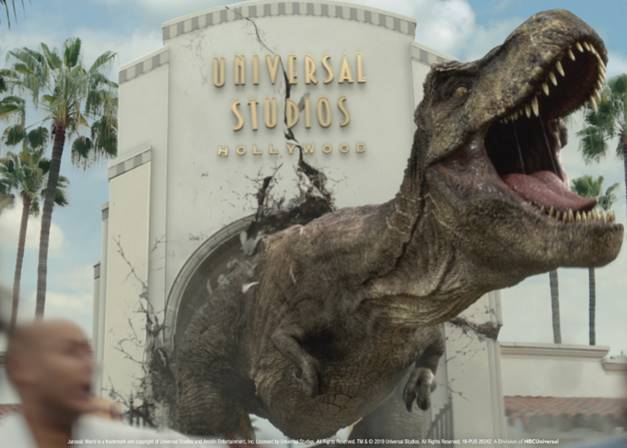 Life, uh, finds a way, as Time the ever flowing river moves forward. Either way Jurassic World will reopen later this year and bring us face to face with new dangers and new dinosaurs at Universal Studios Hollywood.
Today, Universal Studios Hollywood revealed that things just got real.
From the press release:
"Jurassic World—The Ride" will debut an original storyline that takes place within the theme park as depicted in Universal Pictures and Amblin Entertainment's film, JURASSIC WORLD, on the day the Indominus rex escapes.
The exciting thrill ride will soar to new heights with the addition of several iconic dinosaurs from the movie, including the colossal Indominus rex and the magnificent aquatic Mosasaurus that will mesmerize onlookers in her natural habitat from behind a three million gallon glass encased Aquarium Observatory tank.
"Jurassic World—The Ride" comes to life under the direction of the award-winning and inspired minds at Universal Creative, the Academy Award®-winning special-effects visionaries at Industrial Light & Magic (ILM), a division of Lucasfilm, Ltd., Universal Pictures and acclaimed filmmakers Steven Spielberg, Colin Trevorrow and Frank Marshall.
The aesthetics of "Jurassic World—The Ride" will be dramatically enhanced welcoming guests to a reimagined space reflective of the JURASSIC WORLDfilms. In addition, there will be a fresh new entry statement, stonework landscaping and a contemporary redesign of the iconic JURASSIC WORLD gates, illuminated with billowing flames.
Engaging and interactive queue-line videos featuring facts and information about the dinosaurs within the ride will set the tone for the expedition ahead, as guests learn more about these imposing prehistoric creatures that first roamed the earth more than 65 million years ago.
This is a cool first look at the new attraction, even though it's a little bit more Hollywood Magic than we'll see on the ride.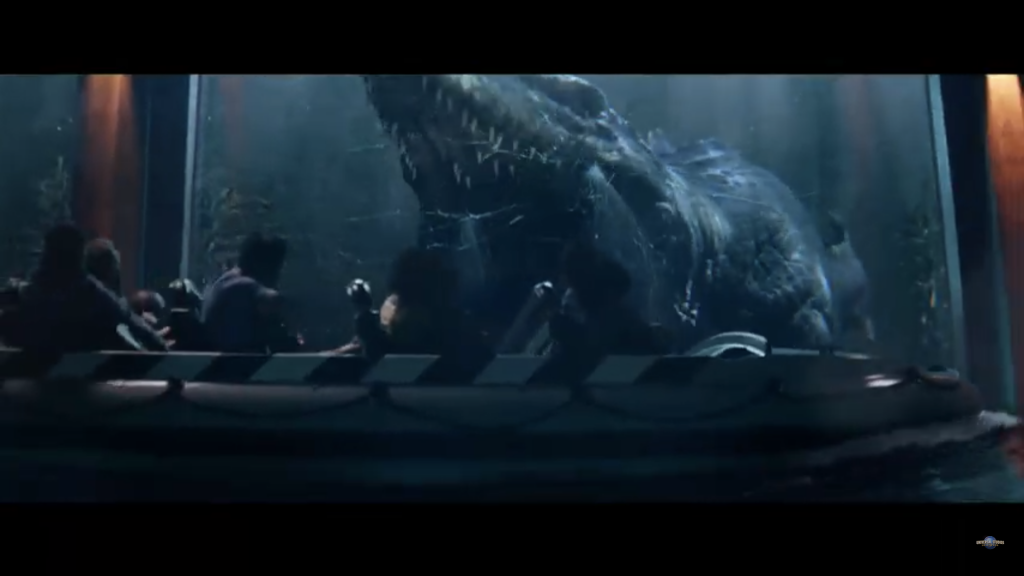 We get a great look at the Mosasaur that will appear in the ride, as guests float by on specially designed boats. We're likely going to see this effect with screens and animatronics combined.
The new ride will also feature a refurbished and reimagined Raptor Encounter, as well as a Dino Play area that will combine educational exhibits with interactive play areas where guests can explore and excavate giant dinosaur fossils.
Right now I'd the perfect time to get tickets with the the new California Neighbor Pass invites guests to experience 175 days of fun for $149 when purchased online.
Stay tuned for the latest from Universal Studios Hollywood, and CityWalk Hollywood! Get social with us and let us know on Facebook and follow along with us on Twitter @BehindThrills for the latest updates!
For our latest theme park videos please be sure to subscribe to us on YouTube!
For more information about Universal Studios Hollywood, including tickets, visit the official website by clicking here!