You have to buy the whole seat, but you'll only need the EDGE! Monster Jam is one of the coolest experiences that every kid has to have growing up. Seeing the legendary huge trucks roar, smash and fly was one of the highlights growing up. From BigFoot to Grave Digger and some of the later trucks, Monster Jam was definitely a cool experience.
Now, you'll be able to see that experience up close and personal at three Cedar Fair Parks this year, as Monster Jam-Thunder Alley comes to life at Cedar Point, Kings Dominion and Dorney Park later this year. The new experience will put you right in the middle of the fun as you will be able to see legendary trucks, see how they work, and even go for a ride on one.
Here's what you'll get to see:
Monster Jam Thunder Alley
Get up close and personal with five of Monster Jam's biggest superstars on display in unique, immersive and interactive ways. Fan favorite trucks Grave Digger®, Max-D®, Megalodon®, Zombie and El Toro Loco® will be on display in unique positions for the perfect photo moment. You can even climb behind the wheel and pretend you are a real-life Monster Jam athlete!
Monster Jam Pit Stop Play Area
Fans will enjoy the chance to get even more hands-on at the Pit Stop Play Area! Guests can create their own perfect Freestyle run with mini die-cast trucks. For an additional fee, you can also build your own Monster Jam truck to take home for the perfect personalized souvenir.
Monster Jam Treats
Some of the exciting food and beverage offerings found at Monster Jam live events are coming to the parks and will feature unique, exclusive Monster Jam food and beverage options.
Monster Jam Freestyle Ride Truck Experience
Ride along in an all-new customized 10 passenger Grave Digger® or the first-ever Megalodon® ride-along truck for a ride on a thrilling freestyle-inspired course built by the real Monster Jam track team. The ride experience is included with park admission; however, space is limited. Reservations are available in advance online to secure your ride with our VIP package.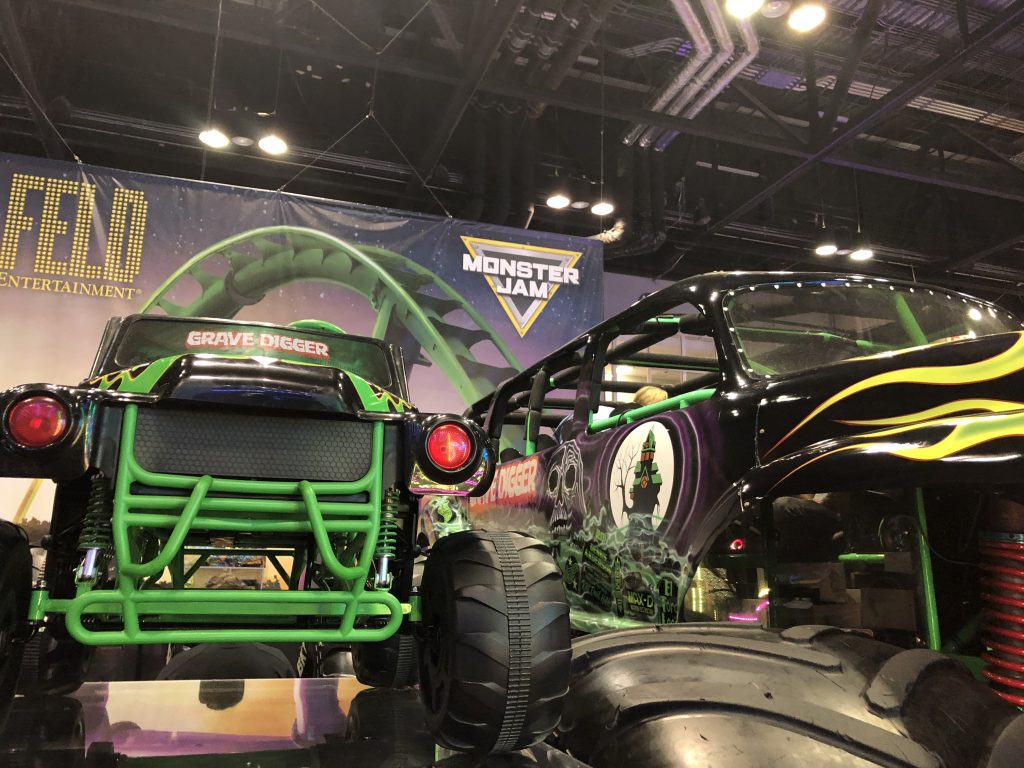 We had the chance to check out this very ride along truck at last year's IAAPA, along with a VR experience in which you could ride along on the actual track of Monster Jam. The experience is put on by FELD Entertainment, and other plans that were being sold at IAAPA include a Monster Truck roller coaster, which would have tons of airtime hills and simulate riding a legendary truck like Grave Digger or BigFoot. There's no word on whether or not Cedar Fair has bought into a permanent installation, but we definitely could see the touring production as a test to see how well the public responds to Monster Jam. If the production does well, it's very well within the realm of possibility that a larger, permanent area could very well be in the future of parks like Kings Dominion and Cedar Point. Themed areas with strong commercial recognition are in high demand, especially if you can offer more than one type of attraction that appeals to all audiences.
The tour will kick off a Cedar Point on May 18 through June 30. It will then head to Kings Dominion from July 20 through September 2, and finally head to Dorney Park from September 14 through November 3. The experience will be included with theme park admission at all three parks, though VIP experiences can be purchased to skip the lines at certain attractions, such as the Ride Truck Experience.
Stay tuned for the latest from Cedar Fair and get social with us on Facebook and follow along with us on Twitter @BehindThrills for the latest updates!
For our latest theme park videos please be sure to subscribe to us on YouTube!
For more information about Monster Jam, visit the official website by clicking here!