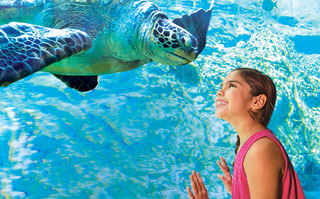 SeaWorld San Antonio has already kicked off their massive 2019 with two attraction openings. Super Grover has rocked the Bay of Play, while Ihu's Breakaway Falls has dropped guests at Aquatica San Antonio. Now, three more attractions are set to open at SeaWorld, bringing together family thrills and animals. Turtle Reef will open on May 3rd.
A 126,000-gallon habitat with floor-to-ceiling underwater viewing, Turtle Reef, will provide guests with an immersive and educational look at the underwater world of threatened and endangered sea turtles and hundreds of multi-colored tropical fish. The habitat also features a unique natural bio-filtration process, the only one of its kind in a zoological setting in the United States.
"We are really excited to share this amazing new attraction so early in the season with our guests," said Carl Lum, SeaWorld and Aquatica San Antonio park president. "The opening of Turtle Reef on May 3rd will give guests even more reasons to visit SeaWorld this summer."
While the Turtles are definitely the centerpiece of the new area, there will also be two thrilling family rides. Riptide Rescue will spin riders around on special SeaRescue boats, while Sea Swinger will spin and rotate guests head over heels. The new investments mark the fifth year in a row for SeaWorld San Antonio, as the park continues to bring a very different range of attractions.
This is also the first specific animal attraction at any of the parks in the past few years, bringing guests up close and personal to the sea. We can't wait to get nose to nose with the turtles of Turtle Reef on May 3rd.
Passholders need to get ready! There will be Pass Member Exclusive Ride time for Sea Swinger and Riptide Rescue as well as an exclusive opportunity to check out Turtle Reef, those dates and times will be released later this week, so stay tuned.
Update
SeaWorld San Antonio has released tons of information about passholder previews. Riptide Rescue and Sea Swinger will have previews on April 20th and April 21st from 10am-Noon. Turtle Reef will have an exclusive event on May 3rd at 11 am.
Find more information on the official Facebook Page.
Stay tuned for more SeaWorld park updates, and be sure to get social with us on Facebook and follow along with us on Twitter @BehindThrills for the latest updates!For our latest theme park videos please be sure to subscribe to us on YouTube!For more information about SeaWorld San Antonio, visit the official website by clicking here!