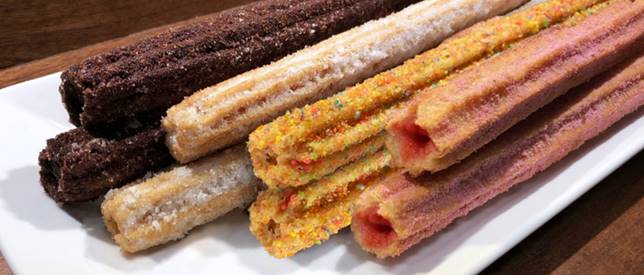 Churros are pretty standard equipment. You take some amazing dough, deep fry it and push it through a load of sugar and cinnamon. Kind of perfect, and hard to imagine anyone trying to change it. Now, Universal Studios Hollywood has taken your regular churro and kicked it up a few notches with four new churro flavors.
·       The Strawberry Shortcake Churro: This delightful treat is not only dusted with graham cracker crumbs and strawberry powder – it's also filled with a sticky sweet strawberry jam
·       The Double Dark Chocolate Churro:This sinfully decadent churro is chocolatey all the way to its core, and coated in a combination of sugar and rich, cocoa powder – just for good measure
·       The Toasted Coconut Churro:For those of you who like the sweet and unique taste of coconut in your treats, we have the perfect churro for you. Dusted with sugar and sweet toasted coconut flakes
·       The Fruity Pebbles Churro:If it wasn't already clear from its name, this churro is coated in delicious Fruity Pebbles cereal
While I'm not a huge fan of coconut, the rest sound pretty amazing. It sounds like Universal is going the Voodoo Donut route and doing unique twist on the standard theme park staple. How about we get a little crazy with the churros and try glazed donut flavors, a sweet and spicy or even a fish stuffed churro? Okay, maybe not…but the possibilities are endless and someone is bound to come up with some crazy flavors that takes the churro from a theme park food to a household staple.
Stay tuned for the latest from Universal Studios Hollywood, and CityWalk Hollywood! Get social with us and let us know on Facebook and follow along with us on Twitter @BehindThrills for the latest updates!
For our latest theme park videos please be sure to subscribe to us on YouTube!
For more information about Universal Studios Hollywood, including tickets, visit the official website by clicking here!