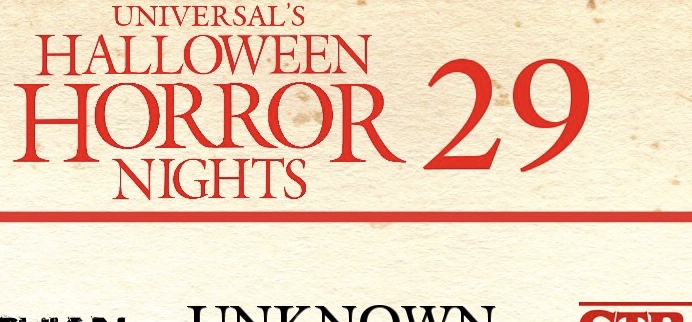 So far Halloween Horror Nights 29 at Universal Orlando has unleashed three of ten haunted houses for this years event, which will start earlier than ever in September. We have already speculated on what we COULD possibly, maybe, see earlier this year, based on nothing other than popularity and past trends, read it here.
Today we've got a little more speculation to go on, thanks to our friends at Horror Night Nightmares. Every year the HHN fansite rolls out a map that speculates on what we can expect the layout to be. Keep in mind, this is in now way official, and based purely on rumors.
So lets run down the list and talk about them.
Ghostbusters(Rumored)-This seems like a weird choice for Horror Nights, simply because it's more comedy than horror. But it does make a ton of sense. There's a new movie (next year), it's the 35th anniversary this year, and Universal used to have a Ghostbusters attraction. Universal creative can make an amazing house out of just about anything, so there's tons of hype for this one to be true!
Stranger Things(Confirmed)-We knew about this one. Location of sound stage is a great choice and means big meaty sets.
Tooth Fairy-An original house (Rumored)-The subject isn't new to haunts, as Knot's does their own Tooth Fairy house. Will we see a diabolical doctor or actual demented monsters? I'm hoping for monsters! Knowing Universal Orlando, they'll do the fantasy route, with actual faeries stealing teeth, and eating them. Ya know, like the good ole days!
Appalachian Yeti(Rumored)-I'm guessing like Swamp Yeti, only in the mountains? As long as there's no Disco Mode, this could be extremely scary…or maybe there should be a disco mode?? Another original house that sounds amazing. If it's true, and anything like last year's Slaughter Sinema, which featured Swamp Yeti's, then it's a house that is going to be a pure blast.
House of 1000 Corpses(Rumored)-This was the first big movie that Rob Zombie did, and it was with Universal. It's synergy, especially since Zombie is coming out with the third film in the series this year with 3 From Hell. This house has been done in Hollywood, and it's been a huge hit. The East Coast has been clamoring for it for years…so it could be very likely.
Depths of Fear(Rumored)-Another original house, but we don't know the details. Underwater? Are we talking submarines, or actually underwater? Either way it could make for a fun time.
Nightingales:Blood Pit (Confirmed)-This house is a prequel to one of the greatest of all times. It's allegedly going in a tent, which shouldn't make a difference on quality, but that does mean that the large set pieces that we've seen in the first one could possibly be lacking. Still, the Nightingales are fierce and terrifying.
Graveyard: Hide & Shriek (Rumored)-I don't even have a clue. Are we playing hide and seek in a graveyard? I'm guessing things don't go well…and I get a very Pet Semetary vibe here. However it's an original house, and Universal does graveyard houses amazingly well. Remember Winters Night in 2011? One of the best houses to date, and it only stands to reason we'll get something similar this time around
Universal Monsters (Confirmed)- The monster kid in me loves this. For gods sake I have a Creature From the Black Lagoon tattoo! So, when this was announce, I was hoping for a great spot to let the monsters play. Universal doesn't really have any bad locations anymore. There's some that are better for big sets than others, and some that will make due, but I was honestly hoping for a soundstage for this one, with loads of mist and fog, and loads of room to create a black lagoon! Ah, well…one can dream.
Killer Klowns from Outer Space(Rumored)-While this house has not been confirmed, it only makes sense, especially given last year's adaptation of Trick r Treat into a house. Like TrT, this one was a scare zone before, and it was wildly popular. We can hopefully expect this one to expand on that story, and take us further into the film, and show us things we only glimpsed before. It's going to make for a wild ride, regardless.
Shows
While we are hearing that street shows are coming back in full force, it's likely to see Academy of Villains return yet again. They have an amazing presence at HHN, and fans absolutely adore them. Of course, for some, it's hit or miss, but we love them, so we'd love to see them come back. As for street shows, yeah, we'd love to see more blood and gore happening in the streets, as well as something to drag the crowds away from the haunted house lines.
Streets
As of right now, there's no clue to what they're going to do. We do know that there will be five scare zones in the streets again this year, and we know that there will be a mix of original and properties. We just don't know what that mix will be. It usually seems likely that you'll have two properties and three original scare zones, but who knows for sure. And which properties? That's a tough call. We're not going to even try to narrow down the possibilities of original streets, because you just don't know what you're going to get out of the creative/art & design team. Just when you think you have them figured out, they take things back to basic and you end up getting rotting pumpkins that walk around. Regardless, so far it's shaping up to be another epic year of HHN.
Stay tuned for more from Halloween Horror Nights, and be sure to get social with us on Facebook, Twitter, and Instagram @BehindThrills for the latest updates!
For our latest theme park videos please be sure to subscribe to us on YouTube!
For more information about HHN, including tickets, visit the official website by clicking here!