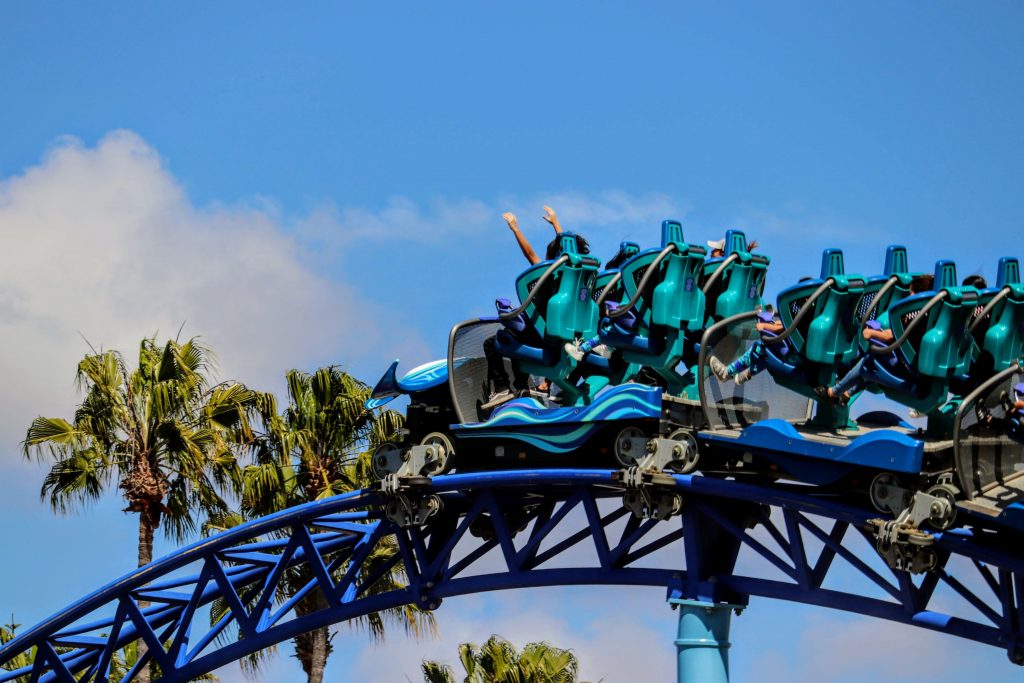 If you haven't heard, 2020 is set to be a blowout year for every major park in the SeaWorld Parks and Entertainment chain. In January of this year, it was announced that SeaWorld San Diego would be receiving its tallest coaster yet, a B&M Dive Coaster. In March, Busch Gardens Tampa announced that Gwazi would return in 2020 as a re-imagined RMC Hybrid Coaster. And while those are the only two coasters that have been announced, permits and construction have already begun on a launch coaster at Busch Gardens Williamsburg and a family wooden coaster at SeaWorld San Antonio.
Plans for a new coaster at SeaWorld Orlando were leaked in September 2018, describing a launch coaster with airtime and inversions that would reach a max speeed of 55 mph.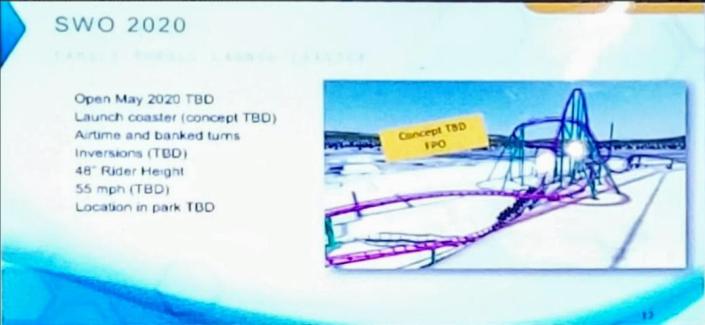 In March, theme park blog TheCoasterKings.com discovered that SeaWorld was filing permits for a 2020 attraction. Now, they have also located proposed building plans.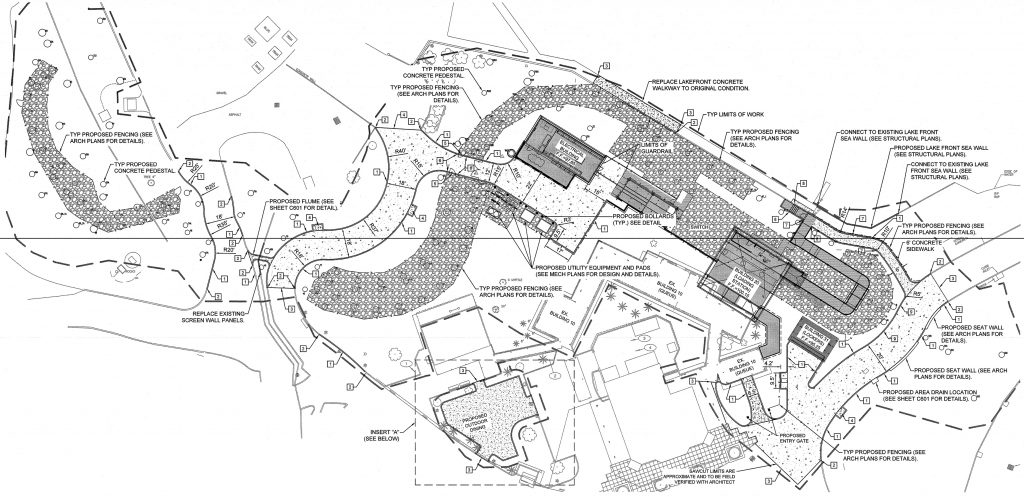 The new coaster will be located in the area around Shamu Stadium and Mango Joe's restaurant. Mango Joe's will not be demolished, but some of the outdoor seating will be used for the ride's queue. A new seating area will be constructed farther away from the lake. The ride's station seems to look like an addition to Mango Joe's, likely using the same Carribean style.
Here is a simulation that TheCoasterKings put together: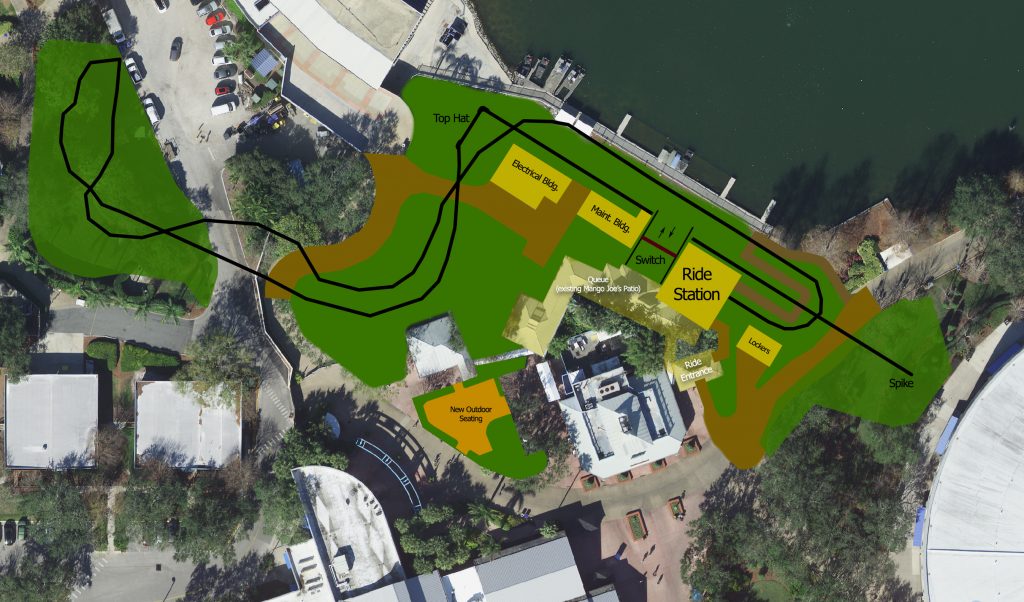 After boarding, riders will be launched backwards into a vertical spike. The spike will be closest part of the coaster to Shamu Stadium, but a large hill with trees will mask most of the noise produced. Gravity will then take over and the train will move forwards. A transfer track will allow the train to go into a second launch up a top hat element. The top hat will be located near the Bayside Stadium, and will provide some great airtime in addition to a breathtaking view. The train will then hop over a guest pathway into a relatively undeveloped area near Ports of Call. There will probably be a few helixes and airtime hills, then the train will go back over the pathway and roll into the station.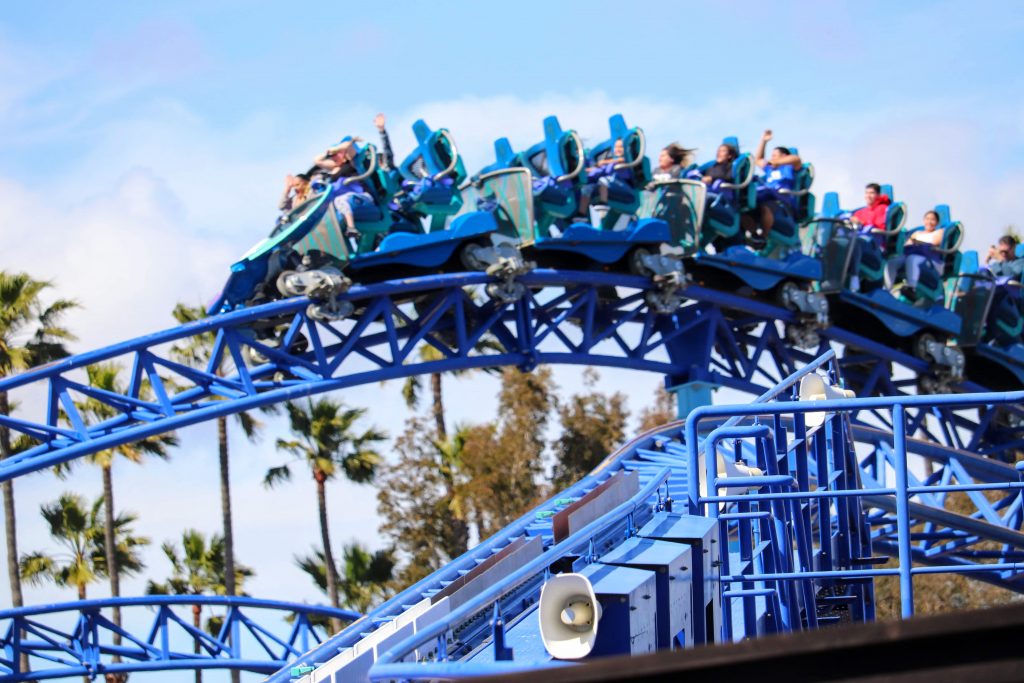 All in all, this coaster seems like a fun, quick ride that will appeal to a wide range of park guests. SeaWorld Orlando's Mako, Kraken, and Manta are known for being extreme thrill coasters, and this one will be a better fit for those who are just getting into roller coasters.
While Intamin is the go-to brand when it comes to transfer track coasters, it's possible that other manufacturers like Premier Rides may be experimenting with new coaster layouts. SeaWorld has worked extensively with Premier, adding three SkyRocket II coasters to SeaWorld San Diego and the two Busch Gardens parks. In 2013, Premier Rides built Full Throttle, a custom shuttle launch coaster, at Six Flags Magic Mountain. Full Throttle also features backwards launches and a large top hat element. At this point, however, the ride's manufacturer is anyone's guess.

So far, SeaWorld has only trademarked one coaster name this year – Abyss. We think that Abyss will be the name of the new SeaWorld San Antonio coaster, so either SeaWorld will trademark another name, or re-use an existing coaster name.
Again, all credit goes to TheCoasterKings.com for finding this information.
Overall, exciting things are happening at SeaWorld Orlando. Management is in the process of designing new rides, attractions, and animal exhibits. This looks to be a fun ride, and will be a great addition to an already amazing coaster collection.
Stay tuned for more from SeaWorld, and be sure to get social with us on Facebook and follow along with us on Twitter @BehindThrills for the latest updates!
For our latest theme park videos please be sure to subscribe to us on YouTube!
For more information about SeaWorld, including tickets, visit the official website by clicking here!