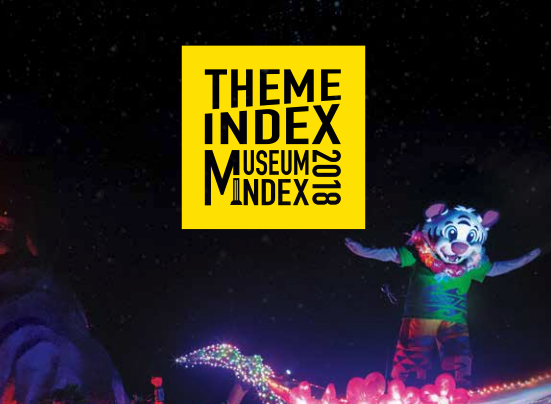 The 2018 Themed Entertainment Association TEA/AECOM attendance report is out, and the results show one definitive thing. People STILL love theme parks. The TEA/AECOM annual, calendar-year report tracks growth and evolution in the global themed entertainment industry and tourism destination development. And this year's report shows not only huge growth, but a huge chunk of the world's population going to theme parks.
In 2018, over a half a billion people worldwide attended theme parks around the globe. That's almost 7% of the world's population, and it definitely shows no signs of slowing.
John Robinett, Senior Vice President – Economics, AECOM, said, "Our figures show that attendance at themed attractions at the major operators has exceeded a half billion visits for the first time in history. This is equivalent to almost 7% of the world population. Factors that have led to this strong performance include the addition of second gates, the continued leveraging of blockbuster intellectual property (IP), and the building of resort hotels adjacent to park properties."
The report is broken down into three major categories, theme parks, waterparks and museums. We'll run down the major categories worldwide and in the Americas for theme and waterparks.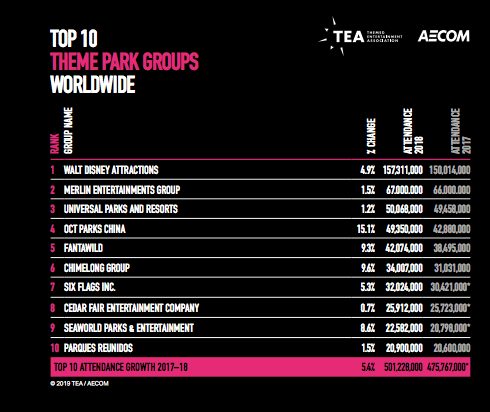 The top theme park companies come really as no big surprise, as worldwide each of the companies have a huge presence in key areas. The king is still The Walt Disney Company with over 150 million visitors in 2018! The next closest is Merlin with almost 100 million less! Think about that. Disney is responsible for the largest amount of theme park visitors in the world!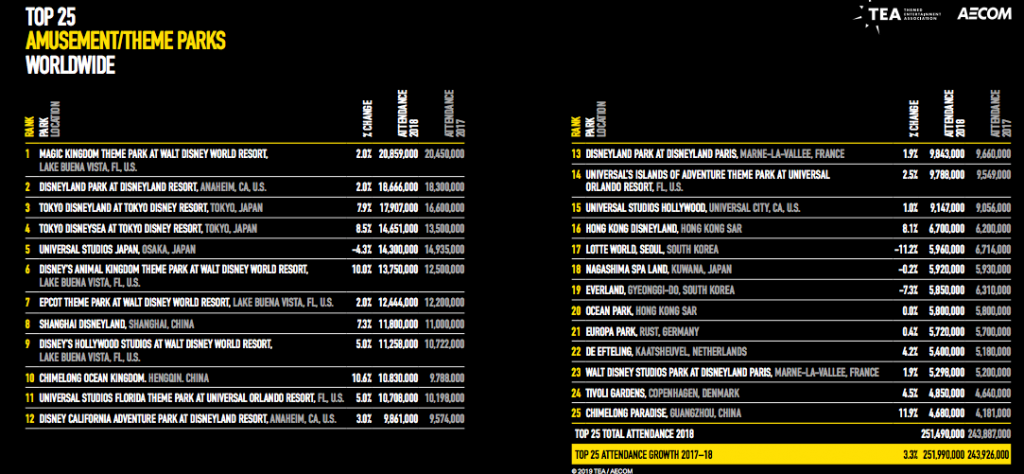 The top 25 worldwide is an amazing mix of theme parks, but the top 4 are all Disney parks! What's more amazing is that, with the exception of Universal Studios Japan, each park had a fair amount of growth in the top 10 spots.
Here's the top 10 breakdown:
Magic Kingdom at Walt Disney World Orlando-20,859,000 +2%
Disneyland Park California-18,666,000 +2%
Tokyo Disneyland, Tokyo Japan-17,907,000 +7.9%
Tokyo DisneySea, Tokyo Japan- 14,651,000 +8.5%
Universal Studios Japan- 14,300,000 -4.3%
Disney's Animal Kingdom Park at Walt Disney World Orlando- 13,750,000 +10%
Epcot at Walt Disney World Orlando-12,444,000 +2%
Shanghai Disneyland 11,800,000 +7.3%
Disney's Hollywood Studios 11,258,000 +5%
Chimelong Ocean Kingdom 10,830,000 +10.6%
Disney is still strong, especially in Asia as the Tokyo and Shanghai Parks both jumped over 5% in every case. It shows that Disney still has so much pull, as it dominates the top ten. And the staggering thing is that more guests visit the Magic Kingdom than any other park in the world, despite the fact that it's one of the most expensive theme parks in the world.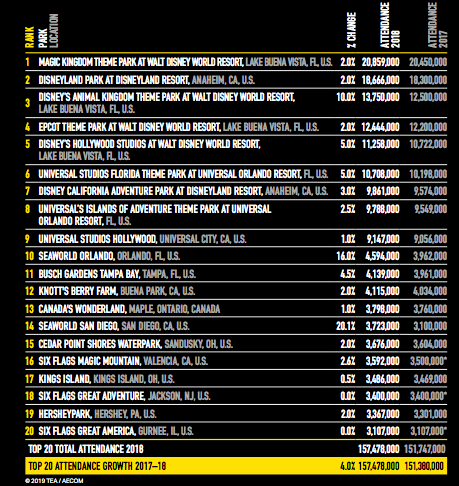 Here in the states the top 20 shows that not only is Disney dominating, but also dwarfing other chains, like Universal. Still, Universal is right behind the mouse with over 10 million visitors at Universal Studios Florida. Islands of Adventure and Universal Studios Hollywood both also secure the top ten for the group with over 9 million each. Both Islands of Adventure and Universal Studios Hollywood will see new major attractions this year, which will catapult the two parks into huge growth for the year.
A happy note, the once struggling SeaWorld chain is back in the top ten and top 20 as SeaWorld Orlando and California both made huge jumps. SeaWorld Orlando jumped up 16% to not only take the top ten spot away from Knotts Berry Farm, but also climb to it's highest point pre-Blackfish. Busch Gardens Tampa also managed a huge increase, thanks in large part to it's huge concert and festival line up. Then of course there's SeaWorld California, which jumped a massive 20%! That's a huge improvement, and shows that the past management of the company knows exactly how to bring in guests. Knott's Berry Farm also did amazing work with their huge festivals and events, not to mention their huge new coaster Hang Time.
Overall the report shows that theme park growth is starting to level out everywhere, as many theme parks add not only new rides and attractions, but also diversify their offerings to include huge new festivals and events.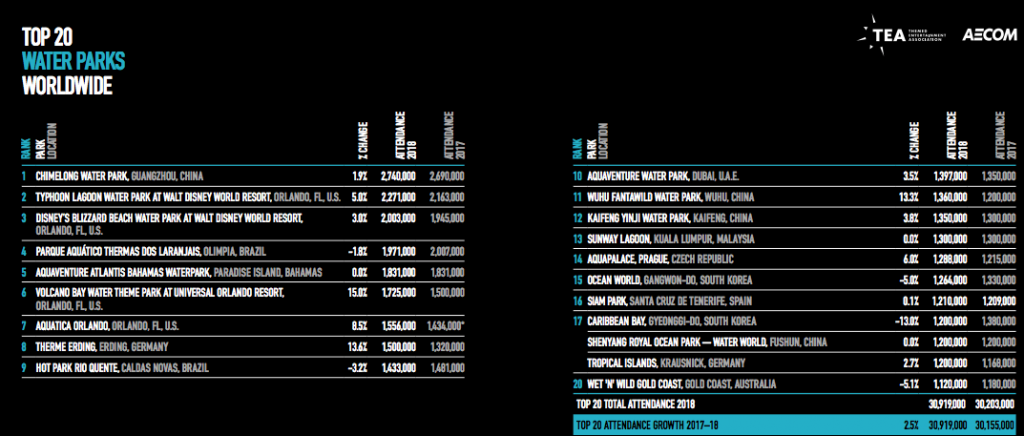 Worldwide Waterparks show a huge showdown brewing with Typhoon Lagoon and Chimelong. Disney's two waterparks are edging up on the huge waterpark giant, and could take over as the growth in Orlando continues to push along.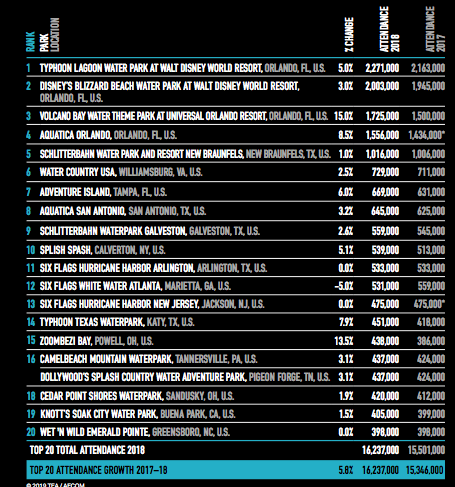 Volcano Bay made an impressive start in 2017, but once all the bugs were worked out, it did even more impressive in 2018 with a huge 15% increase. Also impressive was the jump for Adventure Island in Tampa which saw a 6% increase, as well as Zoombezi Bay in Ohio which jumped 13.5% and Aquatica Orlando, who used Ray Rush to push over 1.5 million visitors!
While Asia parks are still doing amazingly well, the other parks worldwide, specifically here in the United States are doing even more to bring in guests from all around the world. Parks like SeaWorld, Knotts, and Six Flags are tapping into locals with huge festivals and events to bring guests back not just yearly, but in many cases weekly. The growth is definitely not slowing, and with huge projects at big parks, we should see shakeups next year. Star Wars is going to be a huge rallying point for Disney, as Toy Story and Avatar were, but will it be big or too big that it turns off guests? And Universal could see massive increases thanks to their huge new rides at both Orlando and Hollywood. But the real story will be the smaller parks like Six Flags, Cedar Fair and SeaWorld. With huge projects at the bigger parks, what will these smaller parks offer to bring guests back?
Be sure to check out the full TEA/AECOM report to see all the results!
Stay tuned for more, and be sure to get social with us on Facebook and follow along with us on Twitter @BehindThrills for the latest updates!
For our latest theme park videos please be sure to subscribe to us on YouTube!