Construction is in full swing at SeaWorld San Antonio, and as we reported last year, a wooden coaster is definitely in the works for 2020. Turtle Reef just opened across the midway, and this coaster will run between Rio Loco and Orca Theater. The park has yet to tell any details at all about the new coaster, or even acknowledge it…yet.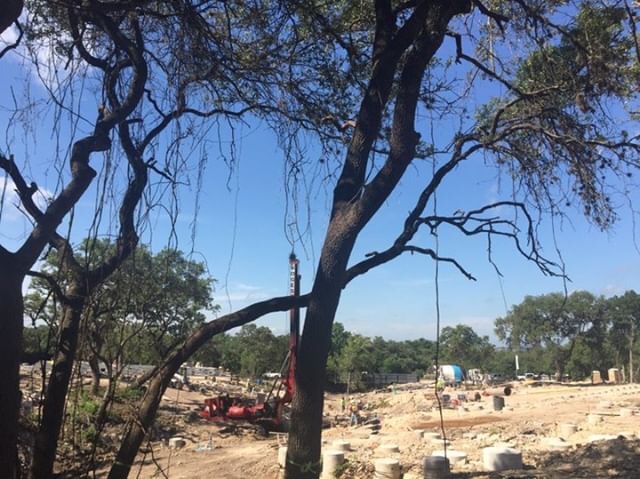 While nothing has been announced yet the park, we have speculated (fairly accurately) that the new coaster will be called "Abyss" and themed to the creatures that inhabit the dark depths of the ocean. If it turns out to be the case, hopefully the coaster will utilize multiple tunnels to create several transitions that plunge riders from light into almost total darkness.
So far, what look like sections of track for the station and lift hill are in the process of being assembled. The coaster will technically be a hybrid since the structure will be made of steel and the track will be made of wood. And although the coaster has not reached its tallest point yet, it is already towering over the area.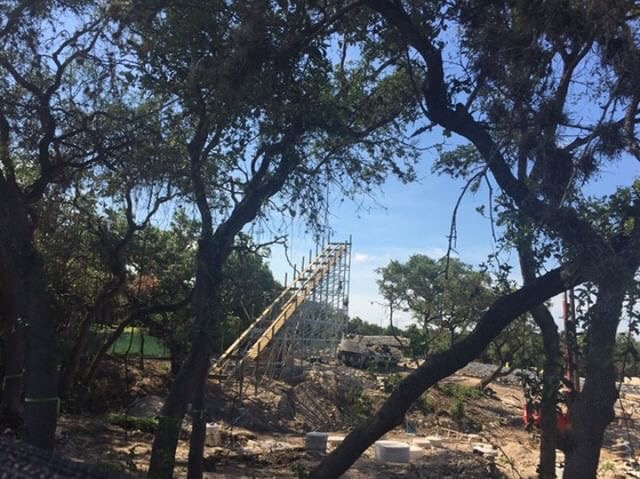 While the manufacturer has been rumored to be Great Coasters International (GCI), we have evidence that the coaster will actually be manufactured by the Gravity Group. SeaWorld Parks & Entertainment has worked with both GCI and the Gravity Group in recent years, so it makes sense that the coaster will come from one of those manufacturers.
If we look at InvadR and Wicker Man, two recent GCI coasters, you'll see that the lift hills feature walkways on both sides of the track: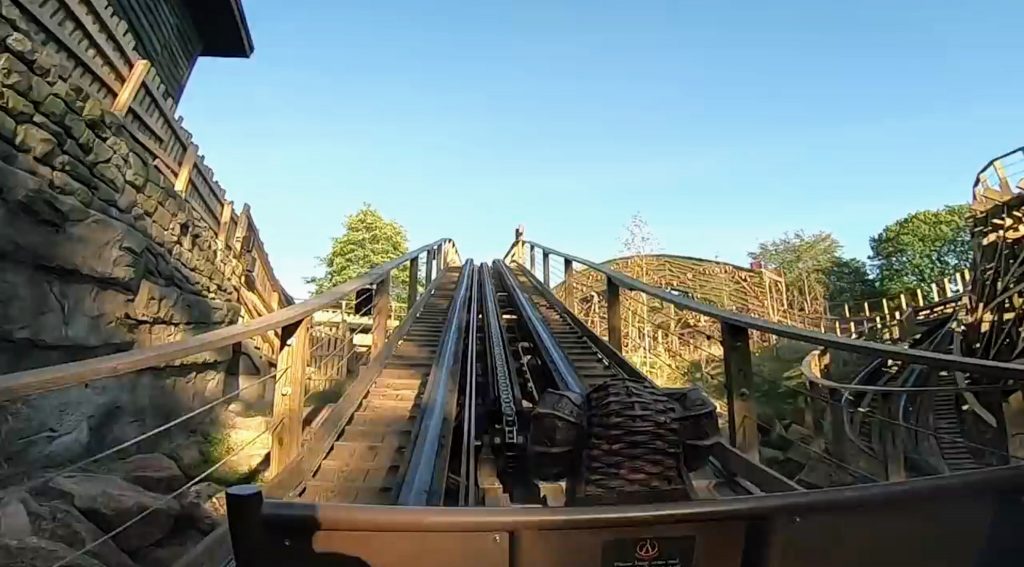 However, recent construction photos show a different lift hill design.
The SeaWorld coaster features a large walkway on the right side of the track, and a slim walkway on the left side of the track, opposed to two equally-sized walkways seen on GCI coasters. This happens to be the style found on Gravity Group coasters. Shown below are the lift hills from Oscar's Wacky Taxi and Kentucky Flyer, the Gravity Group's latest creations.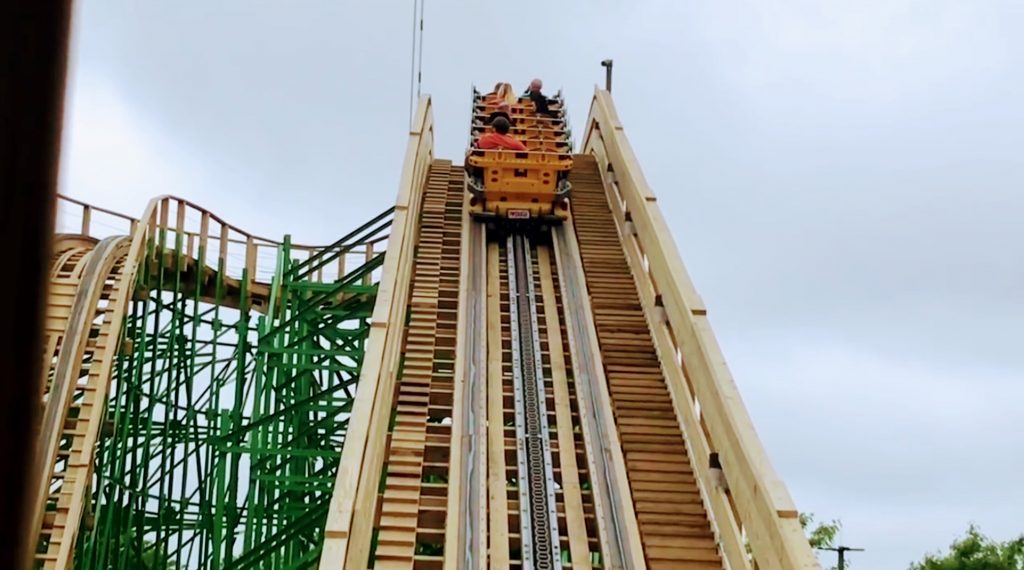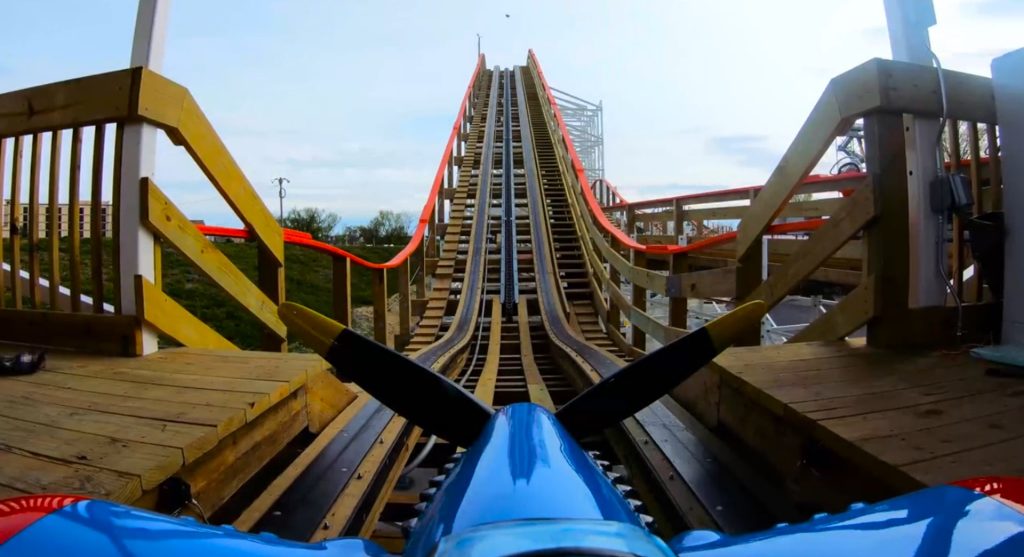 Taking all the evidence into account, it is very likely that the Gravity Group will be responsible for manufacturing SeaWorld San Antonio's 2020 wooden coaster. SeaWorld has already worked with the Gravity Group and the lift hill design is analogous to other Gravity Group coasters.
The Gravity Group hasn't produced a large-scale coaster recently, but they've done amazing work with compact coasters that appeal to all members of the family. If what we've seen with previous Gravity Group rides is any indication of what will be coming to SeaWorld San Antonio in 2020, it will be an awesome addition to the park.
BUT WAIT!
However…we have heard from sources in the park, and contractors that Great Coasters International stamps have been seen on boxes and shipments that are now sitting in the park. Which, obviously indicates that Gravity Group IS NOT involved with the project. And that strikes up another interesting conversation, these seem to be new designs from Great Coasters, if what we are hearing is indeed true. Great Coasters International has an amazing working relationship with SeaWorld, having constructed Invadr. This might be one of those wait and see moments, but it doesn't look like we're going to have to wait very long!
Check out more pictures from the new 2020 coaster:
Stay tuned for more SeaWorld park updates, and be sure to get social with us on Facebook and follow along with us on Twitter @BehindThrills for the latest updates!
For our latest theme park videos please be sure to subscribe to us on YouTube!
For more information about SeaWorld San Antonio, visit the official website by clicking here!
Thank you to NickDee3 on YouTube for letting us share his recent construction pictures, and for our own in park photographer for the gallery!