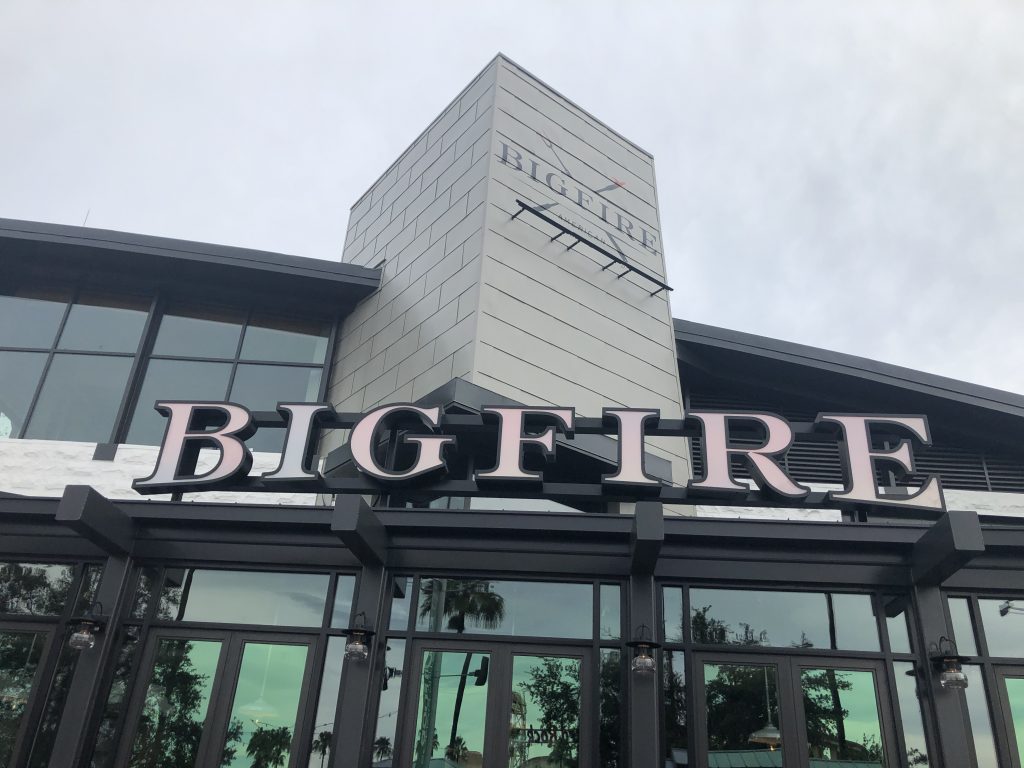 Universal Orlando is at it once again as they are transforming CityWalk with the addition of the brand new Big Fire Grill. It's the 15th new addition in five years, in the ongoing evolution of CityWalk, and of Universal Orlando Resort. The new restaurant replaces Emeril's Orlando, which was a staple at CityWalk since the beginning of the venue. The restaurant closed in July of 2018 to make room for this new addition. BigFire doesn't open for a few more weeks, but we were able to get a special look and more importantly, taste of what you can expect.
First, let's take a walk through the new restaurant with our huge walkthrough video!
The restaurant, like so many different things at Universal Orlando has a story behind it. And BigFire's story is definitely unique for Central Florida. BigFire started out as a family lakeside retreat, a place where people came together to share meals and stories around the …Big Fire. It's where they all came to cook, and it just evolved from there. When you walk in you're greeted by the namesake "BigFire Grill" which is in the kitchen. Roasting woods, make up the ambiance of the place, and it's decked out with little hints to it's campfire, lakeside roots.
As you enter, you see the signature "BigFire" grill which is completely wood burning. The grill doesn't use gas at all and instead uses a blend of woods to give a rich flavor to everything.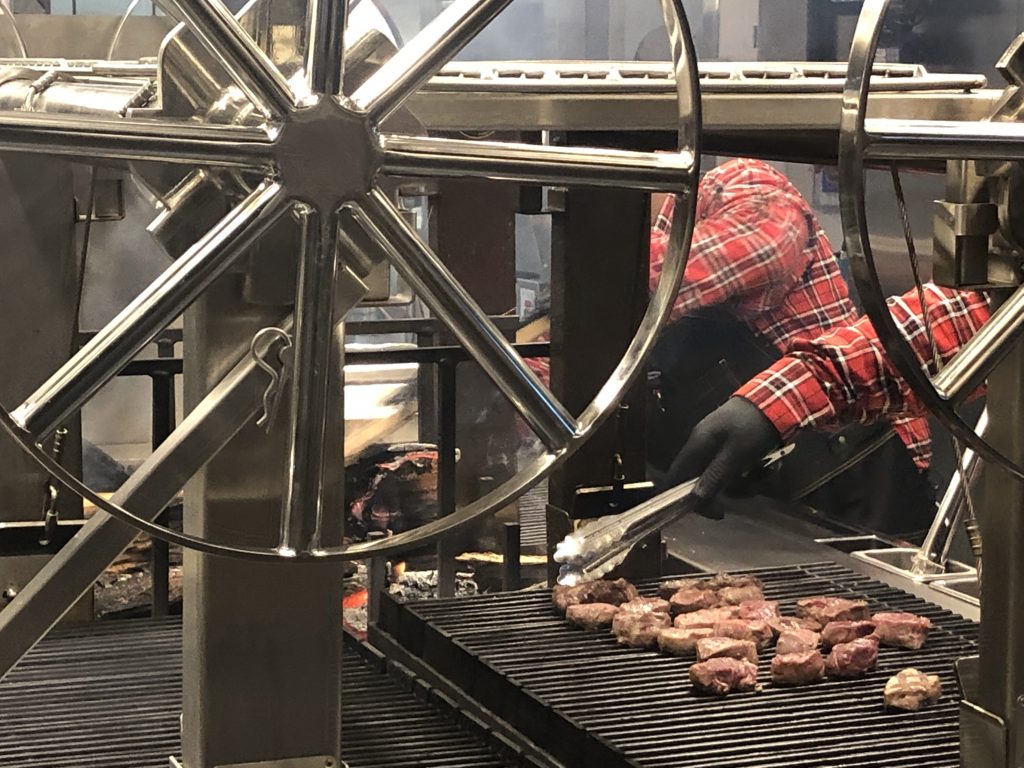 The restaurant is all about gatherings and big meals. From the amazing atmosphere and music to the drinks and of course the meats. There is a great mashup of feels here, and also of flavors.
We got the chance to talk to Universal's Ric Florrel about the experience.
While we didn't get to try any of the big centerpiece meals, such as the Cauliflower Steak, the food here is definitely the focus. Sure, there's your typical theme park fare, such as hamburgers and chicken, but what we always like about Universal is that they're not afraid to experiment and do different things. That's very evident in the menu at BigFire.
The food is also the heart of the place. The flavors come from all over and have different things that you may not have tried before, or familiar things that you have done before.
Shown above is just a sampling of everything that was available to us during the preview. One of the highlights will be the "make at your table smores". You will have an actual fire pit brought to your table, and you'll get to roast homemade marshmallows and mix them with either regular chocolate, white chocolate or even peanut butter and chocolate. We had the chance to try it and it was absolutely yummy.
The chili was another favorite, as we kept going back for that and of course the Fried Green Tomatoes were done so well that we had a hard time deciding if we actually wanted to try it on a burger, or just wanted a plate of it for ourselves. What we had was just a highlight of the menu, and the sizes and portions are not what you'll get as a guest. We are going to go back as guests, just to give some of our favorites a try as full sized portions and to see the prices.
Check out our interview with Universal Orlando head creative Chef, Chef Steve Jayson.
The signature tastes range from big steaks to really new takes on comfort food. There's lots of different meats such as bison and lamb, but there's also steak chicken and of course that huge cauliflower steak that doesn't sound appetizing for carnivores, But is said to be just as filling.
And of course, we can't go to a restaurant without a look at the food
Of course the other big feature for BigFire are the signature drinks, and there are a lot of great signature drinks that matches the flavor of the restaurant.
Where do we start? All of the drinks fit the restaurant. The park even has a special Kentucky Bourbon made for the park, and we hope that we can buy bottles of the stuff. It's rich, smokey and full of flavor and in just about that you drink. Some of our favorites include the Smoked, Smoked Maple which is made by actually setting oak on fire, catching the smoke in a glass and then resting a giant stamped ice cube on the oak plank. It's topped with Beef Jerky and is delicious.
Another favorite of our was the white old fashioned, which takes the normal recipe and uses vodka.
Want to see even more pictures? Check out the gallery below!
There is no definitive opening date as of yet, but officials tell us that BigFire will open before the end of June. It's going to be a must see for guests, and will definitely be on your favorites list.
Stay tuned for more from Universal, and be sure to get social with us on Facebook and follow along with us on Twitter @BehindThrills for the latest updates!
For our latest theme park videos please be sure to subscribe to us on YouTube!
For more information about Universal Orlando,including tickets, visit the official website by clicking here!