Mystery Lodge has been an essential part of the Knott's Berry Farm story since its debut in 1994. It was a collaboration between Knott's own creative story tellers and the visual effects geniuses at BRC Imagination Arts, helmed by Bob Rogers. The 10 minute special effects show was one of the last attractions added to the park under the ownership of the Knott's family prior to the sale of the park to Cedar Faire.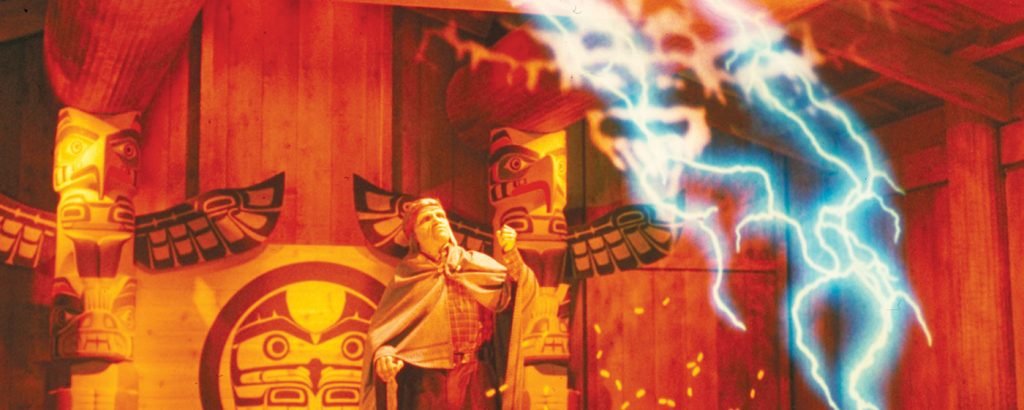 Today guests at Knott's have discovered that the iconic show has been closed indefinitely with no return date confirmed by the park.
The show itself centers around a nameless elder who is only ever referred to as "The Storyteller". He appears (as if magically) from thin air to tell you the story of his life, as well as the traditions of the Native Americans from the Pacific Northwest through the smoke of a dying fire, symbolic for the story teller's life. The show combines the use of pepper's ghost smoke effects with a live performer who enchants the flames before him and brings the smoke to life to help tell his story.
So what does this closure mean?
The most likely scenario is that it was removed from operations due to an unforeseen circumstances or in need of unexpected repairs and Knott's just doesn't know exactly how long the necessary repairs will take to be completed. This is very common in all theme parks and should be considered the most likely of circumstances.
It could be closed for refurbishment, as it is beloved by fans. That would fall in line with the park's ongoing revitalization and implementation of more up-to-date story telling. Seems unlikely but possible with Calico Rapids just opening next door.
The worst case (depending on your opinion of the show) and most unlikely scenario for fans of the show would be its removal entirely, which would fall in line with early rumors of a major multi-attraction Ghost Town expansion adjacent to that specific area of the park. The rumored expansion is suggested to celebrate Knott's 100th Anniversary in 2020, though the new area may not be ready until 2021.
It's still way too early to tell what the future holds and it's very easy to jump to conclusions, but we'd hate to see such an emotional, wonderful theme park show leave the farm at any point in time.
Stay tuned for more from Knott's Berry Farm, and be sure to get social with us on Facebook and follow along with us on Twitter @BehindThrills for the latest updates!
For our latest theme park videos please be sure to subscribe to us on YouTube!