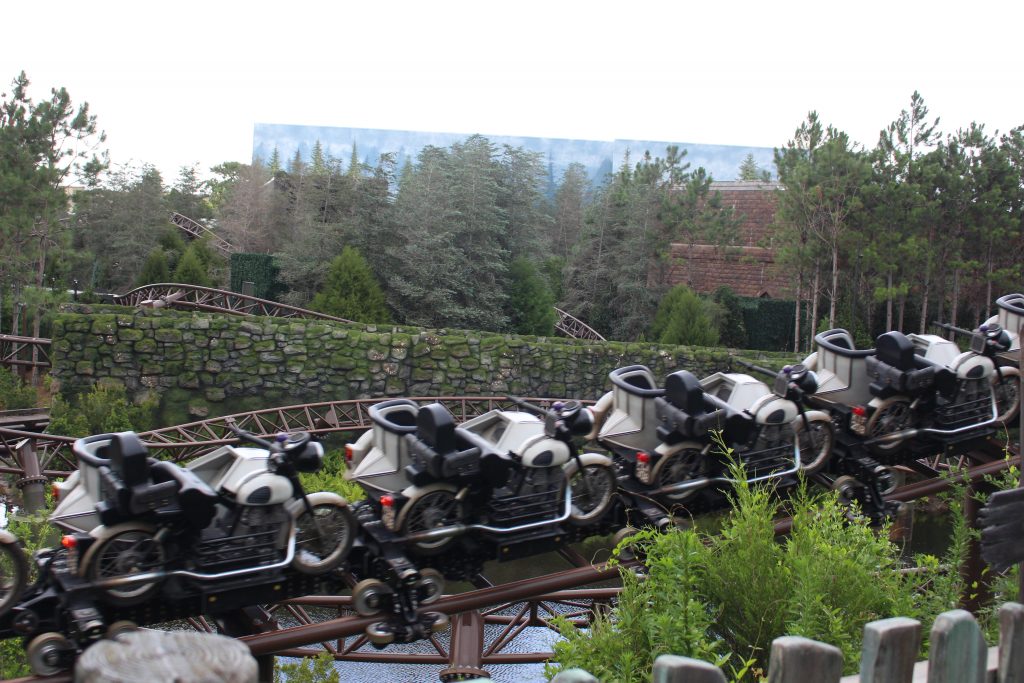 Universal Orlando's newest coaster, Hagrid's Magical Creature Motorbike Adventure, has experienced it's first full weekend. With a full weekend of full operation comes a ton of different issues, from long lines, to weather delays and even rollbacks.
Yep, even the most technical and awesome of coasters experiences a few issues every once in a while, and rollbacks are one of the most common. For those who don't know coaster speak, a rollback is where a coaster, most commonly a launch coaster, is going from one brake section to another, and doesn't get enough momentum to make it. That causes the coaster to "rollback" down the track. While it previously meant that the ride had to be evacuated, and the train reset, coasters now are built to take rollbacks into account. It just so happens that a. guest at Universal Orlando caught one on film.
This is the magical part of Hagrid's Magical Creatures Motorbike Adventure #HagridsMotorbikeAdventure pic.twitter.com/5I9WAF1tgX

— Scott Sanders (@TheDCLBlog) June 16, 2019
As many people pointed out on Twitter, no that WASN'T supposed to happen. But it happens. A lot. It doesn't mean that there's an issue, or that the coaster is broken. It just means that it missed. What I mean by that is that the launch motors didn't grab a hold of the coaster the way it was supposed to, and didn't give it that "push" it was supposed to get. No big deal, the coaster simply rolled back and they tried again.
It happens a lot on coasters, and happened to us during the media opening for another Florida Coaster with Cheetah Hunt at Busch Gardens Tampa.
See? No big deal. The thing to remember is that if this happens, stay calm. It's normal. Don't try to get out of your seat, and don't try to leave the coaster. You're not going to crash, and another coaster is not going to come crashing into you. The way it works with a launch coaster is that the launch system, also works as a brake run, and they are blocked off. If the coaster hasn't reached the next brake run/launch area then the other trains will stop in the previous brake run. It's all a system of checks and balances, and of course made to be as safe as possible.
So don't worry, these things happen, you'll likely get to ride again.
Want to see a ton of pics from the opening of Hagrid? Of course you do! Check out our massive gallery below!
Stay tuned for more from Universal, and be sure to get social with us on Facebook and follow along with us on Twitter @BehindThrills for the latest updates!
For our latest theme park videos please be sure to subscribe to us on YouTube!
For more information about Universal Orlando,including tickets, visit the official website by clicking here!