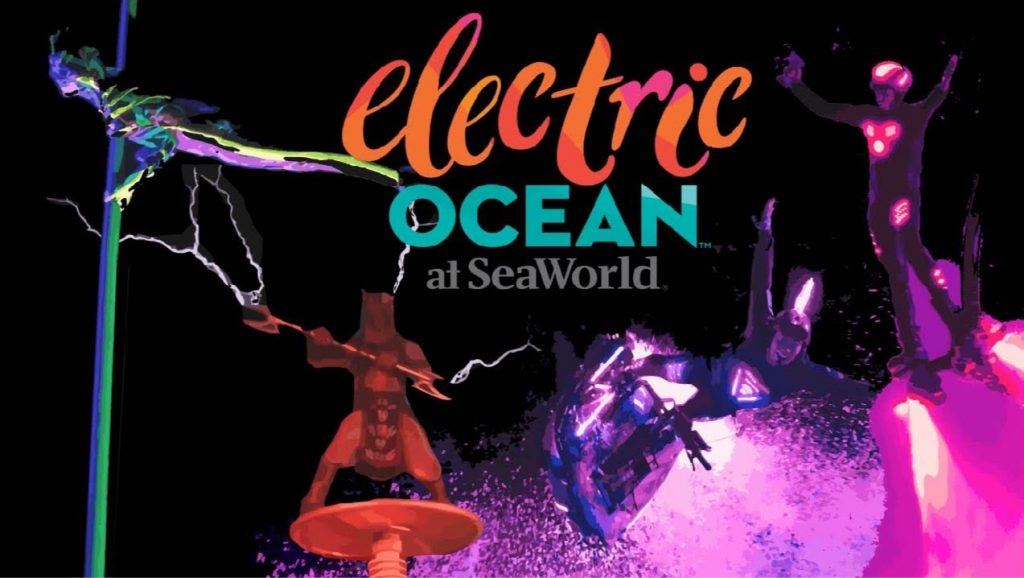 Summer is always the best season to visit a theme park, and SeaWorld is home to San Diego's premier summertime event – Electric Ocean. Electric Ocean highlights the dazzling bioluminescent creatures found throughout the seas with dazzling color displays and fun shows and activities for the whole family.
We had the opportunity to attend multiple nights of Electric Ocean, and it is by far one of the best theme park events. This year marks the third iteration of the event, so let's see what makes Electric Ocean so awesome!
The Waterfront
This summer, SeaWorld opened up a bayside park with lounge chairs, family games, and live music called 'The Waterfront.' Alcoholic drinks and fruit trays are served from a trailer, and family-friendly snacks are also available at a nearby food booth. Whether you want to play games with your group, take selfies by the bay, or relax in a relatively quiet area of the park, 'The Waterfront' is your place to be.
'The Waterfront' is only open on weekends from 4 – 7:30 p.m. throughout the summer, so make sure to check it out while it's still open!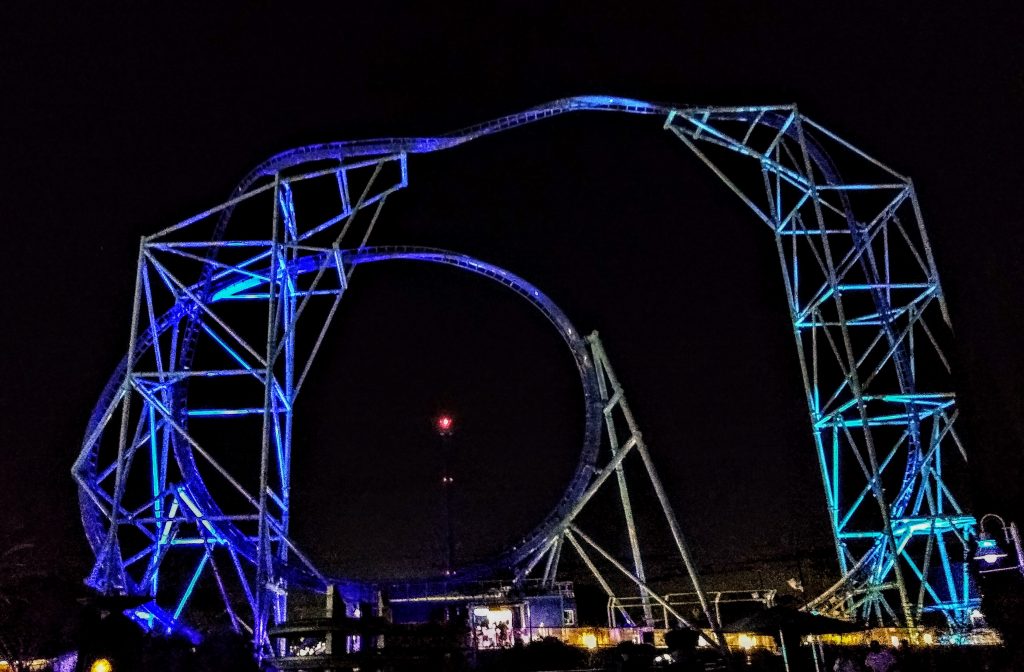 SeaWorld at Night
Starting at 7 p.m., the park comes to life with dazzling light displays. All the coasters shine with amazing lighting packages, which are totally new this year. Many areas of the park are illuminated with multi-colored lights, lasers, and art pieces such as a school of glittery fish.
Near the front of the park, "Club Current" features a DJ, dance floor, and interactive characters. While adults might be hesitant to dance in front of everyone, younger guests absolutely love it!
Sea Lions Tonite
California Sea Lions Clyde and Seamore put on their own renditions of SeaWorld's shows and attractions at Sea Lions Tonite. And although the show highlights the amazing Sea Lion behaviors, Biff really takes the focus of the show. Before the show starts, Biff does an amazing lip-sync sequence of songs from popular bands, including Prince, the Backstreet Boys, and Ariana Grande (and Baby Shark might have made its way into the mix, too).
Next, Clyde and Seamore poke fun at SeaWorld's most popular attractions. They get a ride on Tidal Twister before it experiences lengthy down-time. An orca behaviorist goes over some common questions, most of which pertain to his romantic life. And last but not least, stereotypical dolphin trainers attempt to inspire the next generation of conservationists.
The show is a must-see due to the hilarious performances. They show that SeaWorld can laugh at itself, too.
Manta Re/CHARGED
Night rides on roller coasters provide a totally distinct experience. This summer, Manta received a spectacular lighting package in addition to the launch tunnel overlay. Multiple LED floodlights illuminate the track as you soar through the airtime hills and intense helices.
After pulling out of the station, riders find themselves immersed in a smoke-filled tunnel complete with synchronized LED lights, lasers, and Electronic Dance Music. As the beat gets louder, the lights turn red and the train launches out. As you traverse the course, you get a new thrilling feeling when you go through pitch-black turns and twists that you can't expect.
Manta is a world-class coaster, and the lighting package helps tie it into the whole "Electric Ocean" theme of the park.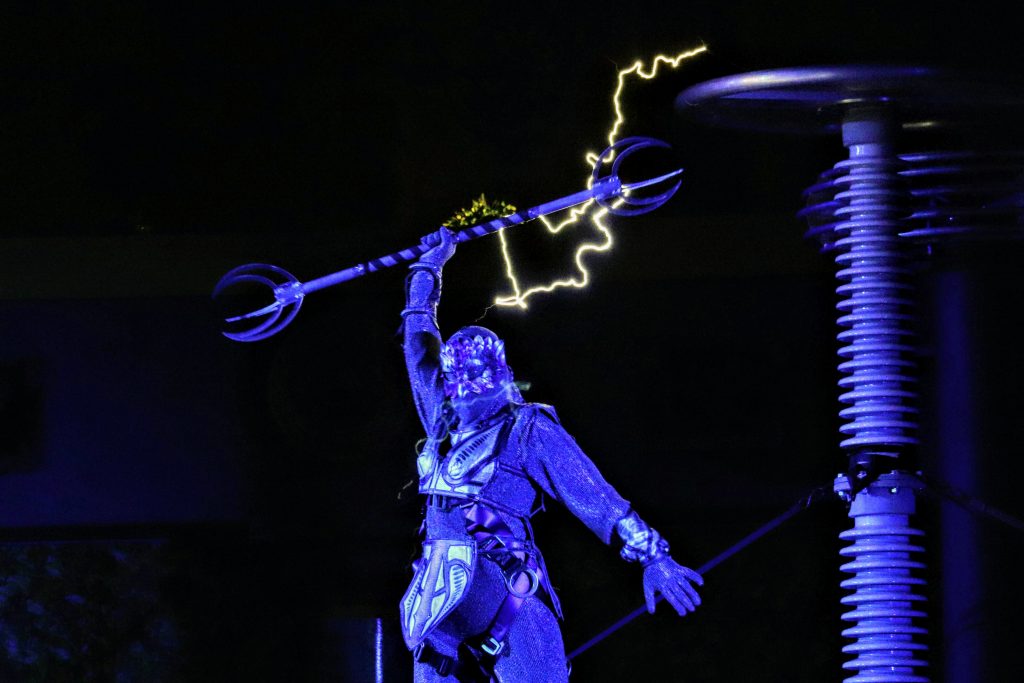 Atlantis Ignites
Atlantis Ignites is definitely the best-kept secret of Electric Ocean. This newly re-imagined show combines a live Tesla coil performer with a state-of-the-art projection mapping show on the towers of the Journey to Atlantis water coaster.
The show starts when an Atlantian Guard comes out and begins to wield the electric power of the sea by using his trident to direct electricity from a large Tesla coil. Next, the lights dim and the projection mapping show begins. Sea creatures such as turtles, jellyfish, and orcas seem to swim around to electro-dance music. Finally, the Atlantian comes back, but is now standing on top of the giant Tesla coil. Flashes of electricity come out of the Trident and are absorbed by adjacent lighting rods.
This show is truly astounding. The brightness of a million Volts is impossible to imagine, and the projection mapping adds a nice complement to the Tesla coil show.
Cirque Electrique
Cirque Electrique is the must-see, award-winning event of Electric Ocean. The show features a myriad of eye-opening acrobatic performances, showcasing their amazing strength and agility. Chinese pole and dual trapeze acrobats demonstrate their almost inhuman upper-body strength, holding themselves above Mission Bay with only their grip.
The jet ski performer never ceases to amaze the audience while pushing the envelope of what is possible to do on a jet ski. I'm pretty sure we counted seven consecutive flips during his performance.
Using water propulsion, the flyboard performer ascends to a height of about 50 feet, then flips, sprinkling the audience in the first few rows of the amphitheater.
Cirque Electrique is the by far the best show at Electric Ocean, and it's easy to see why. The stunning acrobatic performances are unlike anything you've probably ever seen. The amphitheater tends to fill up very quickly, so make sure to be there no less than half an hour before the show starts.
Laser Reef
What better way to end your night at Electric Ocean than with an amazing laser show? Laster reef begins five minutes before park closing and lasts for 35 minutes. Lasers synchronized to EDM music dance above your head, and you feel as if you're at a dance party instead of a regional theme park.
Overall, Electric Ocean is an amazing event that you need to experience. The event runs on select dates through September 2nd, so make sure to visit soon!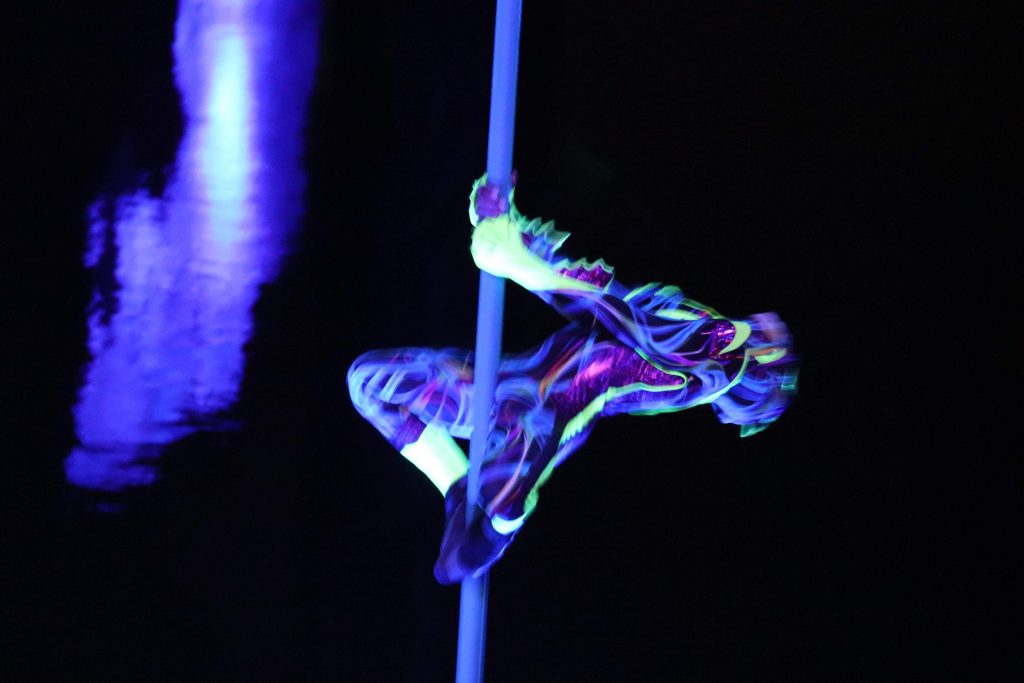 Stay tuned for more from SeaWorld, and be sure to get social with us on Facebook and follow along with us on Twitter @BehindThrills for the latest updates!
For our latest theme park videos please be sure to subscribe to us on YouTube!
For more information about SeaWorld San Diego, including tickets, visit the official website by clicking here!