After long last, Howl O Scream is breaking the silence about this year's event. And, dear lord, what have they done. The event is celebrating their 20th anniversary with the obligatory "20 years of fear", but they are definitely bringing the terror back by unleashing all of the horror from their past.
While we don't know exactly what all this means yet, or what the haunted house line up will be, we do have a good look at what we think the direction is that we can expect them to take.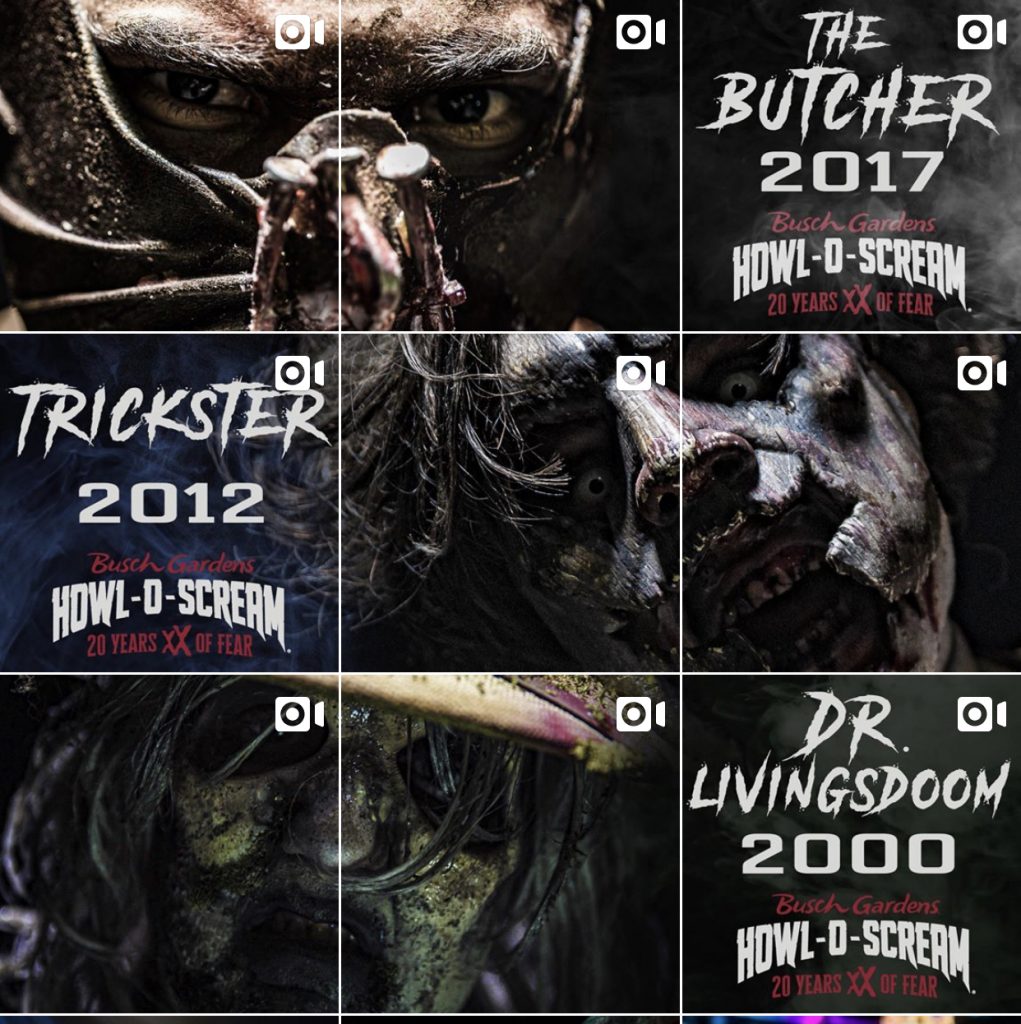 First of all, you really need to follow Howl O Scream on Twitter. The park has unveiled small clips of past icons and characters, going all the way back to the first Howl O Scream in 2000, and they're promising more. Could we see all of these characters in park in a scare zone? How about in a haunted house? Last year Busch Gardens Williamsburg featured their past in "The Vault" and it's likely a theme that could carry down to Tampa as well.
So who are these characters? Let's go from the top. The Butcher was introduced in 2017, and was part of the Meat Market scare zone, and also (I believe) the short lived haunted house Dead Arena. Trickster from 2012 was the last solid icon, and was basically a man in a doll mask. He wasn't really used much in the event, other than just the face.
Then we have Dr. Livingsdoom. He was the first icon of Howl O Scream, and a fun one…but he doesn't look so good now.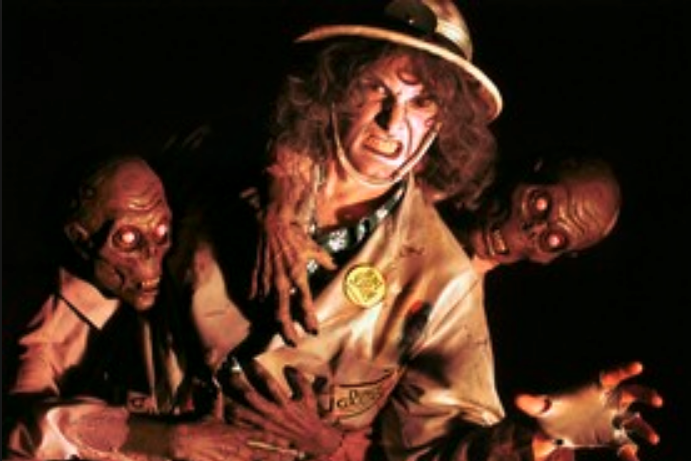 The picture above is what Dr. Livingsdoom looked like in 2000, when he was a main focus of not only Howl O Scream, but also the Haunted Jungle Trail. It was the unofficial themed house of the event. We was the mad scientist that stalked the African plains, and was played by who would be the creative director, Scott Swenson. While it's unlikely we'll see THAT version of the character, it does look like Dr. Livingsdoom was left to rot somewhere, and he's none to happy about it.
The park has promised more characters in the coming days, and it has to be leading up to something bigger. It's pretty safe to say we'll see them return in some shape or form, but just how is unsure. The park has been unusually quiet about Howl O Scream this year, and this first tease comes almost two months later than last year. So we're very curious to see what becomes of it.
Stay tuned for more from Busch Gardens Tampa, and be sure to get social with us on Facebook and follow along with us on Twitter @BehindThrills for the latest updates!
For our latest theme park videos please be sure to subscribe to us on YouTube!
For more information about Busch Gardens Tampa, including tickets, visit the official website by clicking here!