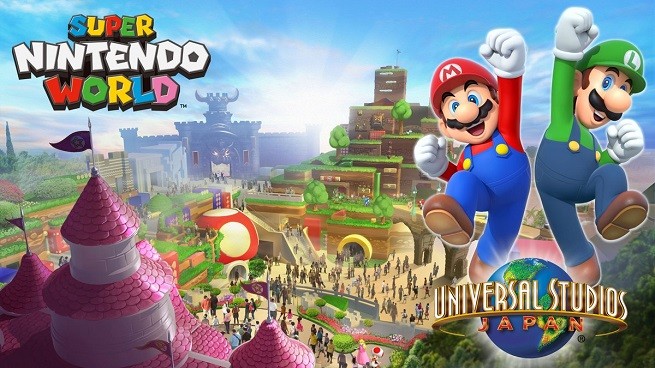 While all eyes are currently on Star Wars Galaxy's Edge at Disneyland, one of the most anticipated new lands will be Super Nintendo World at Universal Parks across the globe. The new land was first announced in 2015, and has yet to make it's debut. The first installation will be at Universal Studios Japan, hopefully in 2020. While details of what exactly will be in the new land have been scarce, we do know that it will incorporate the characters of Super Mario. Everything else past that is just speculation and rumor.
However, now, we may have a better look at what to expect, thanks to an Instagram post by the Unofficial Universal Orlando Podcast.
The models seem to be legit, though who really knows at this point. As we always say, until it's officially announced, it's just a rumor.
If you scroll through the pics you'll find exact replicas of the concept art, only in model form. We can see the iconic mushroom tops, and green pipes, as well as Bowser's Castle.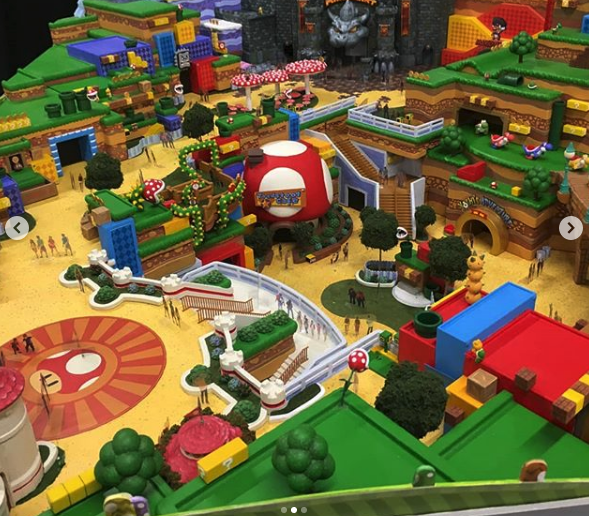 The area will likely be filled with tons of static characters for photo ops, as indicated by the model. Iconic pieces of Super Mario Brothers will include Yoshis, Piranha Plants and of course the pixelated waterfalls and mushroom trees. Coin boxes will be everywhere, and are rumored to be interactive and make sounds.
The main attraction of the land is rumored to be a Mario Kart attraction, which will take place in Bowsers Castle. The new attraction will likely be a mix of VR, motion control rides and physical sets.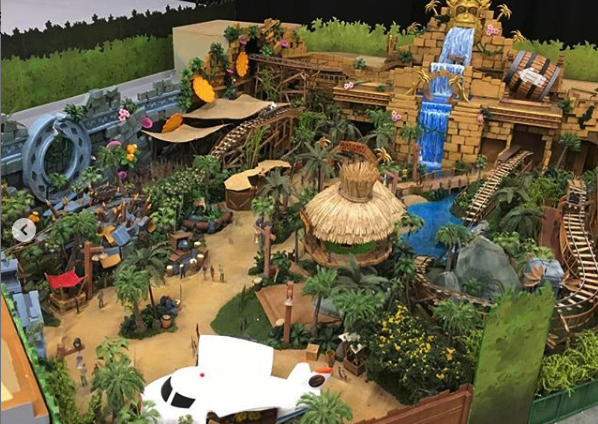 One surprising area in the models, is that of the Donkey Kong Country land. That land is the home of what is being called the "barrel coaster" and will allegedly have parts where guests can jump the tracks, thanks to a special patented design that we reported about a few years back. The design will have a robo arm attached to the coaster, and will ride along a separate rail. When the coaster track "gaps" riders can jump the gap, or simply fall to their doom. All rumors and speculation points to multiple endings and scenarios of the ride endings, just like you would experience in a video game.
If we had to guess, based on the signs in this model, we would say that the attraction is for Universal Studios Japan, as the signs seem to be in Japanese. It's possible that the same land layout and attractions could be coming to Universal Studios Hollywood, though a larger land is expected for Universal Orlando. While Universal Orlando was rumored to get the new land at Universal Studios Florida, then later at Islands of Adventure, the latest rumors have Nintendo being a large and key land at the fourth park.
Follow along with The Unofficial Universal Orlando Podcast for more information and rumors like these.
Again, we must stress that these images are not official, and we have no way of knowing if they are real, nor do we claim them to be. However IF they are, then fans are in for a real treat when Super Nintendo World opens worldwide!
Stay tuned for more from Universal, and be sure to get social with us on Facebook and follow along with us on Twitter @BehindThrills for the latest updates!
For our latest theme park videos please be sure to subscribe to us on YouTube!
For more information about Universal Orlando,including tickets, visit the official website by clicking here!